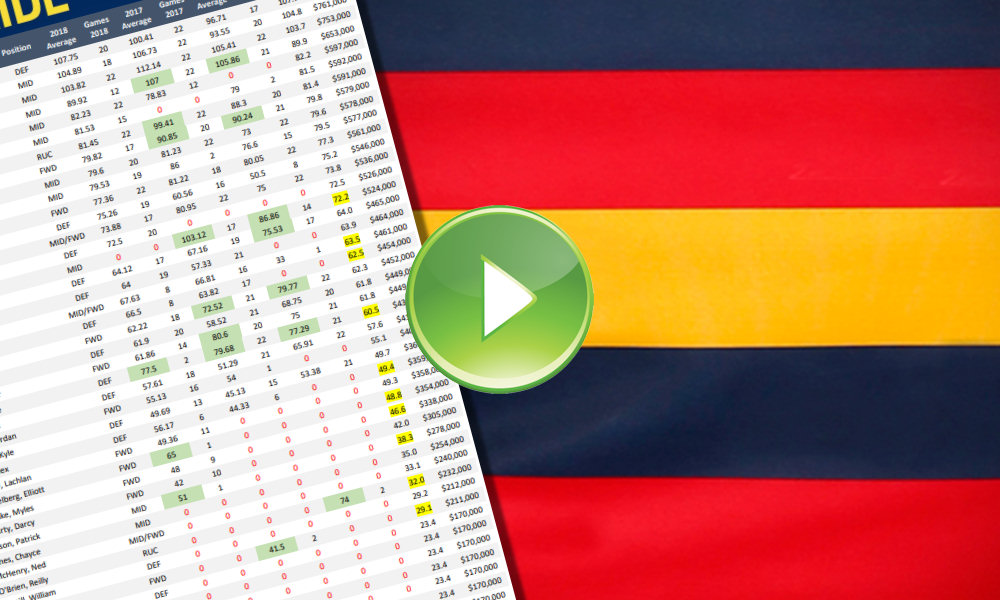 Injuries hit Adelaide hard last season providing a volatile situation for fantasy coaches to navigate through; Rory Laird (107.8pts) was the highest averaging player at the Crows but managed only 20 games, Matt Crouch (104.9pts) was the 2nd highest averaging player and managed only 18 games, Rory Sloane played only 12 games for an average of 89.9pts and Brad Crouch did not play at all in 2018.
Bryce Gibbs (103.8pts) was the only premium midfielder at the Crows to complete a full 2018 H&A season, Adelaide averaged 383.0 Disposals in the 2018 H&A season which was a regression compared to their 2017 H&A season when they averaged 397.3 Disposals.
Adelaide were ranked 5th averaging 1617.1 fantasy points in 2018, the Crows averaged 1785.7pts when they scored 100pts more in a game last season.
Adelaide were ranked 8th in the 2018 H&A season averaging 88.2pts FOR per game, they were the highest ranked team in the 2017 H&A season averaging 109.8pts FOR per game.
If you think Adelaide can bounce back in 2019, then there will be a few options to choose from.
Click here to download.
Find The Traders' podcast on: Apple Podcasts, Google Podcasts and Spotify.
2019 Potential Targets:
Rory Laird DEF $782K
Despite missing 2 games last season Laird provided stability at a volatile position for fantasy coaches, he scored 100pts or more in 70.0% of games & 120pts or more in 35.0% of games last season.
Laird wasn't significantly impacted by the poor form of the Crows in 2018, he averaged 110.2pts from winning games & 104.1pts from losing games. Laird averaged 112.5pts when Adelaide scored 100pts or more last season.
With the long term injury to Sam Docherty the ownership for Laird will likely be high again next season, based on his recent fantasy history Laird will likely be a comfortable own in 2019 providing a generous amount of ceiling games.
Matt Crouch MID $761K
Crouch was another that had an interrupted season after sustaining a hamstring injury in Round 2, he averaged 116.2pts from his final 9 games which could be an indicator of his value at Round 1 next season.
Crouch scored 100pts or more in 66.7% of games & 120pts or more in 33.3% of games last season, he averaged 106.4pts from losing games.
There a multiple premium midfield options to choose from to begin the 2019 season, Matt Crouch is one of those options based on his previous scoring history.
Brad Crouch MID $524K
After missing the entire 2018 season with Osteitis Pubis Brad Crouch is severely discounted entering the 2019 H&A season, of course his pre-season needs to be monitored but at this stage there are no issues.
"He's tracking really well, he's pain free.. He's excited about coming back & getting into full training" Don Pyke on Brad Crouch in mid-December.
Crouch averaged 103.1pts in the 2017 H&A season, he averaged 121.0pts from 3 Finals. During the 2017 season Crouch scored 100pts or more in 70.0% of games & 120pts or more in 25.0 of games, if he can replicate those numbers in 2019 then he will be a bargain selection.
Download prices, positions and stats pdf.
Player
Position
2018
Avg
2018
Gms
2019
Price
Laird, Rory
DEF
107.75
20
$782000
Crouch, Matt
MID
104.89
18
$761000
Gibbs, Bryce
MID
103.82
22
$753000
Sloane, Rory
MID
89.92
12
$653000
Greenwood, Hugh
MID
82.23
22
$597000
Ellis-Yolmen, Cameron
MID
81.53
15
$592000
Jacobs, Sam
RUC
81.45
22
$591000
Lynch, Tom
FWD
79.82
17
$579000
Atkins, Rory
MID
79.6
20
$578000
Seedsman, Paul
MID
79.53
19
$577000
Jenkins, Josh
FWD
77.36
22
$561000
Milera, Wayne
DEF
75.26
19
$546000
Douglas, Richard
MID/FWD
73.88
17
$536000
Doedee, Tom
DEF
72.5
20
$526000
Crouch, Brad
MID
0
0
$524000
Mackay, David
DEF
64.12
17
$465000
Kelly, Jake
DEF
64
19
$464000
Knight, Riley
MID/FWD
67.63
8
$461000
Otten, Andy
DEF
66.5
8
$454000
Betts, Eddie
FWD
62.22
18
$452000
Brown, Luke
DEF
61.9
20
$449000
Walker, Taylor
FWD
61.86
14
$449000
Smith, Brodie
DEF
77.5
2
$439000
Talia, Daniel
DEF
57.61
18
$418000
Gallucci, Jordan
FWD
55.13
16
$400000
Hartigan, Kyle
DEF
49.69
13
$361000
Keath, Alex
DEF
56.17
6
$359000
Murphy, Lachlan
FWD
49.36
11
$358000
Himmelberg, Elliott
FWD
65
1
$354000
Poholke, Myles
FWD
48
9
$338000
Fogarty, Darcy
FWD
42
10
$305000
Wilson, Patrick
MID
51
1
$278000
Jones, Chayce
MID
0
0
$254000
McHenry, Ned
MID/FWD
0
0
$240000
O'Brien, Reilly
RUC
0
0
$232000
Hamill, William
DEF
0
0
$212000
Stengle, Tyson
FWD
0
0
$211000
McPherson, Andrew
DEF
0
0
$170000
Sholl, Lachlan
DEF
0
0
$170000
Butts, Jordon
DEF/FWD
0
0
$170000
Davis, Ben
FWD
0
0
$170000
McAdam, Shane
FWD
0
0
$170000
Hunter, Paul
RUC
0
0
$170000
Strachan, Kieran
RUC/FWD
0
0
$170000