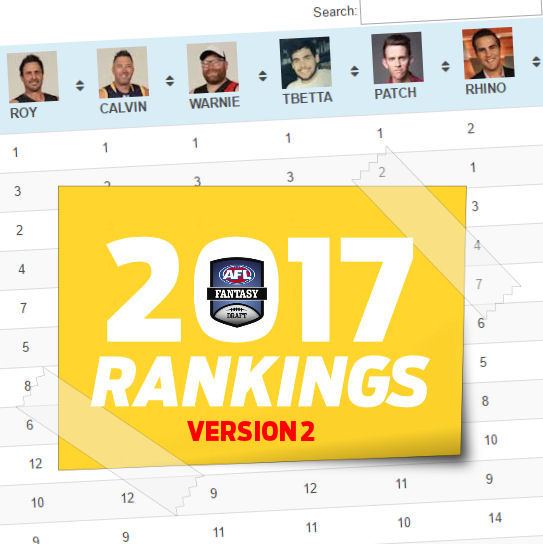 The 2017 AFL Fantasy Draft Rankings compiled by Roy, Calvin and Warnie with the help of some of their draft guru friends – Tbetta, Patch and Footy Rhino. These rankings – by position – aim to help you for your leagues on Draft Day. Each contributor was asked to rank their top 80 defenders, 100 midfielders, 24 rucks and 80 forwards for Draft. These have been sorted as a 'site average' using everyone's picks. We do aim to update this in early March after watching some JLT Community Series and so it is closer to when most people will be drafting.
If viewing on mobile, you should be able to see the site rankings just fine. We recommend using a desktop to get all of the info that you need. To get back to the Draft Rankings page at any time, there is a link in the top menu on the site.
NEW DRAFT CHEAT SHEET
Don't forget you can head to afl.com.au/fantasy for our official Draft Kit we produced, but for those who would like to print these DT Talk rankings – compiling all six opinions, you can grab a 2 page pdf to sit next to you as you draft. Scribble on it, change what you want but this will be a handy resource for your draft day.
DOWNLOAD: 2017_draft_cheat_sheet_dttalk.pdf (0.98mb).
Big thanks to:
Alex Trombetta – aka Tbetta – No stranger to followers of DT Talk. An absolute guru when it comes to Fantasy footy… and Tinder. Has been playing many forms of the draft game across different sports with NBA being a huge one for his group of mates. Hit him up on Twitter: @tbetta9.
Damon Adams – aka Patch – Recently appointed editor of Footy Prophet, he's been a champion Fantasy coach across all formats but most notably he is a member of the biggest draft league in the country, the DT Shiva. Patch is a member of Div 1. Follow on Twitter: @DT_Adams_.
Ryan Daniels – aka Footy Rhino – Probably the biggest name in Fantasy footy in Australia and the man behind the awesome Footy Rhino website and podcast. Although currently on hiatus, the Channel 7 reporter from Perth will still be winning plenty of Draft premierships. Get the good oil on Twitter: @FootyRhino.
LAST UPDATED: 2 March, 2017.
(Click for rankings by position).