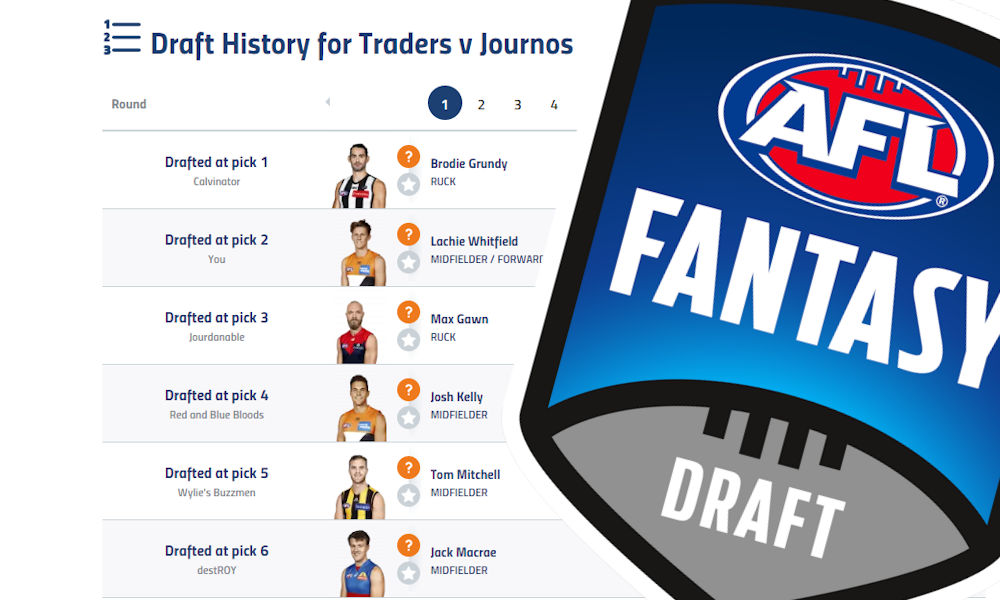 Roy, Calvin and Warnie participated in the annual Traders v Journos draft on Tuesday night. Hear each of the boys' picks and running commentary as they complete the 10-team league and 2-3-1-2/4 set up with 120 players being picked up – yes, this is the smallest draft league we've ever been involved in! Members of the league include: Roy, Calvin, Warnie (The Traders) up against Ben Sutton, Chris Correia, Jourdan Canil, Michael Rogers, Lee Gaskin, Nathan Schmook and Mitch Cleary (AFL.com.au).
Episode guide
1:00 – Round one with Calvin taking Brodie Grundy at 1, Warnie going with Lachie Whitfield at 2 and Roy snapping up Jack Macrae at 6.
12:00 – Mitch Cleary joins the boys after taking Matt Crouch.
21:00 – Nathan Schmook drafts on the turn and chats through his strategy.
36:20 – Lee Gaskin discussed auto-drafting Tim Taranto.
45:45 – Roy and Calvin talk what they're doing with this Fantasy Classic rucks.
53:00 – The boys look at their 12 players they drafted.
Find the podcast