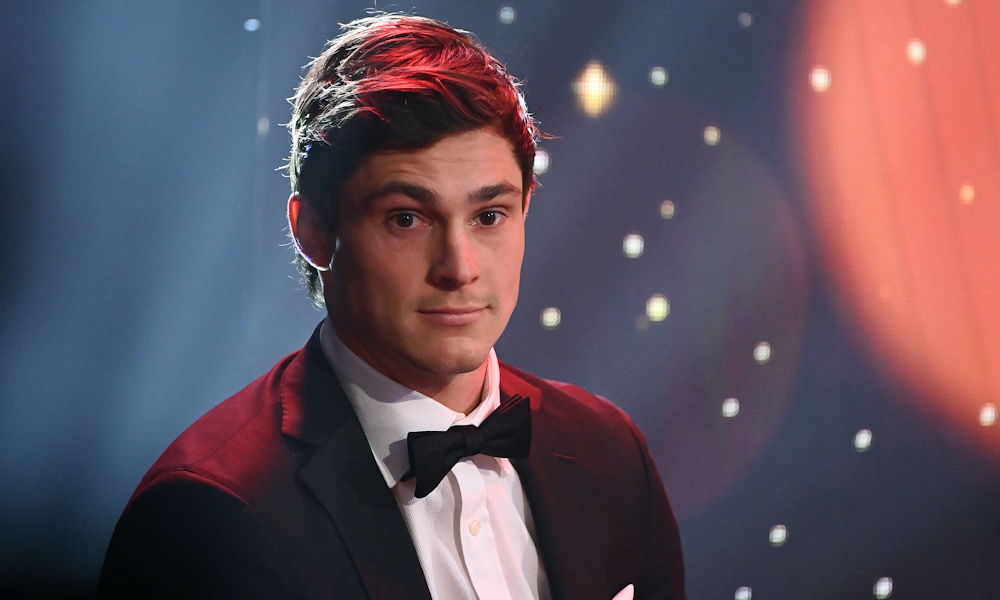 Everyone has a story or two about how they drafted. Looking at the average draft picks (ADP) for the year in hindsight can be an interesting experience. Which players outperformed their ADP and who cost you big time with where you picked them.
Let's take a look at picking the best and worst possible Fantasy Draft teams based on ADP from 2021. We'll pick the onfield 18 for a 10 team league in a 5/7/1/5 set up. Players selected will only come from the round the ADP shows.
Big thanks to Heff from Keeper League Podcast for the data!
Click here to download ADP data in a spreadsheet.
Best team
Taking into account total points, games played, average (as you do), here's the best pick from each each round to put together a team. You could argue for a better pick from any given round, however, in making sure the full onfield squad is selected, some different thinking was there based on position.
1. Jack Steele (MID) 121.4 / 22
The highest points scorer of the year was ranked 8th on ADP (5th for midfielders). Incredible season after a real Fantasy breakout the year before where he improved  his PB in 2019 of 96 to 113 (BCV). Averaged 133 from round 10 on.
2. Rory Laird (DEF) 111.7 / 22
Lloyd (5) and Whitfield (12) were ahead of him in ADP, but that midfield role was a big selling point for Classic coaches. Ended up as the best 'defender' in the game.
3. Jack Crisp (DEF) 101.8 / 22
Death, taxes and Crisp playing 22 games. You're not only getting a great average from him, you're getting someone who suits up every week.
4. Jarryd Lyons (MID) 117.1 / 22
His best season by far and some coaches may have questioned even being picked at 35, but he finished with the third best average and third most points for the year. A big end-of-season saw him average 128 in last six rounds.
5. Callum Mills (DEF) 110 / 18
Despite only playing two games in the last six rounds, what Mills did prior to this was enough to counter the four games missed. Even when he did pop back at for the first week of Fantasy finals, he knocked up a 152.
6. Touk Miller (MID) 122.1 / 21
Quite possibly the midfielder pick of the Draft. Missed the one game due to suspension, but to finish as the highest averaging player, after coming off his first season knocking up a Fantasy ton with 100.6, it was one hell of a season for the join Dane Swan Medallist (with Steele).
7. Ollie Wines (MID) 111.9 / 22
There were plenty of misses in this range with the last pick in the seventh being the best of all… and a Brownlow to boot. Wines has only averaged over 100 once (back in 2016) and was coming off seasons of 12 and 15 games, this was a mid-draft selection that got a big tick.
8. Nic Naitanui (RUC) 85 / 22
Probably the 'worst' of the best team but for all the other rucks, he was one of only three rucks to play all 22 games. If you were astute, drafting Sean Darcy (93.7 average, 21 games) for your bench in the 20th round would have seen you play him over NicNat.
9. Daniel Rich (DEF) 98.1 / 22
Significantly outplayed his ADP (89) to rank as the 35th best player on average this year but 4th for defenders for total points.
10. Bailey Smith (MID) 87.4 / 22
A round where very few players were hits. Smith was the best of a bad bunch.
11. Isaac Smith (MID/FWD) 93 / 21
Some may have drafted for the name, but to get a 90+ average from Smith was a nice return with his FWD status. Quite a few players who end up at the Cats play different roles and don't hit the Fantasy numbers they've done in the past… especially as a 30+ year old.
12. Jy Simpkin (MID) 95.5 / 22
Averaged 105 after the bye, you'd be happy with him as your M6. Brandon Ellis, had he stayed on the park, may have grabbed this spot.
13. Jaidyn Stephenson (MID/FWD) 84.8 / 19
Talked up during the pre-season, the former Pie was solid for most of the season, pumping out 11 scores of 80 or more.
14. Jack Lukosius (DEF) 86 / 22
A bit of a need for the team here to get Lukosius, but was the only player in this round to play all 22 games and a mid-80s average isn't bad for your final defender on field.
15. Jack Ziebell (DEF/FWD) 100.1 / 21
That move to half-back was a winner! A sleeper for a lot of coaches who ignored his sub-40 average next to his name. Gained DEF status during the season to add flexibility for the 30-year-old who averaged the first Fantasy ton of his career.
16. Aaron Hall (DEF/FWD) 109 / 20
I'm not sure there's ever been a better 16th round pick. Starting the season not making the team for round one, then came in as sub for 11 in round two and also having a 35 (injured), from round 7 on, Hall averaged 120 in his new role in the backline. There's a good chance he possibly had this ADP due to auto-drafting and then was dropped to free agents early in the season. What a gun!
17. Ben Keays (MID) 108 / 22
Who would have predicted the guy with an ADP of 170 to be the 11th highest scoring midfielder? He was coming off his best season to date (average of 79) and said goodbye to any tagging responsibilities to smash out an average 40+ better than his career Fantasy average.
18. Nick Hind (DEF/FWD) 84.5 / 22
Had a great season as the Bombers' recruit was played as a defender. Another FWD who added DPP and was among the best for both lines.
Best Draft Team
DEFENDERS
Rory Laird (2), Jack Crisp (3), Callum Mills (5), Daniel Rich (9), Jack Lukosius (14)
MIDFIELDERS
Jack Steele (1), Jarryd Lyons (4), Touk Miller (6), Ollie Wines (7), Bailey Smith (10), Jy Simpkin (12), Ben Keays (17)
RUCK
Nic Naitanui (8)
FORWARDS
Isaac Smith (11), Jaidyn Stephenson (13), Jack Ziebell (15), Aaron Hall (16), Nick Hind (18)
Worst team
Selecting the worst team takes into account firstly the drop in expected output followed by games played/total points. While it may have been easier to say someone was a shocking pick due to injury (and yes there are a few in here and they kill you), it's those who you picked instead of a much better player that hurts the most.
1. Lachie Neale (MID) 94.5 / 15
From the No. 1 MID last year with a Brownlow around his neck to the 46th ranked player on average, Neale was a big bust for Fantasy Draft coaches who spent their first pick on him. He had the worst average of top 10 on ADP behind Reilly O'Brien while Taylor Adams only played fewer games.
2. Matt Crouch (MID) DNP
Didn't get on the park this year… work out where he might fall in 2022!
3. Dustin Martin (MID/FWD) 81.3 / 16
Hasn't averaged less than 93 since 2012, his third season. Injury ended his season in round 18, but the damage was done before that.
4. Stephen Coniglio (MID) 59 / 5
Just five games to his name, including one as a sub when returning from injury. Cogs was a disaster of a pick for a lot of M2 or M3s.
5. Jeremy Howe (DEF) 73.4 / 8
Another knee injury thwarted his season, but numbers weren't going to hit close to the 107 (BCV) that sat next to his name from 2020 which probably gave him a higher ADP than he warranted.
6. Michael Walters (MID/FWD) 61.5 / 16
A couple of years of 90s made him a F1/F2 target but the midfield time wasn't there with the development of the young blokes in the engine room.
7. Zac Williams (DEF) 71.5 / 14
Flashbacks to Roy in the pre-season… but the Blues ended up playing him in the backline (which actually gave him better numbers than in the MID at times). Worst part was the injury niggles.
8. Luke McDonald (DEF) 68.1 / 11
Only 11 games, but was hot property last year and a few bought in due to a run of scoring in Coronaball. Looks like the points could have been there if he was what Ziebell/Hall were able to.
9. Trent Dumont (MID) 70.3 / 14
Lowest average of the players in the 9th round. Took him until round 9 to get into the team following injury.
10. Zak Butters (MID/FWD) 76.2 / 10
Many were hoping for a breakout, but injury didn't allow him to get going. Half of his scores were good (119, 83, 99, 90, 91) but there were 50s and 40s in the other half.
11. Sam Naismith (RUC) DNP
An auto-draft drama? Naismith didn't play after injuring his ACL last year.
12. James Sicily (DEF) DNP
Some thought he would play in the back-half of the season. He didn't.
13. Connor Rozee (FWD) 67.6 / 19
Breakout? Not yet.
14. Jared Polec (MID) 51 / 5
Five games at 51. Oh boy!
15. Josh Jenkins (RUC/FWD) 35 / 1
One game. Auto-draft? Or was it his 86 that he scored in the pre-season game? Whatever, this pick hurt.
16. Will Setterfield (MID) 60.4 / 8
Wasn't part of the Blues' plans this year and when he was, scores weren't fantastic. A lot of coaches were looking for improvement, but with MID only status, it was a shocker.
17. Marc Murphy (MID) 55.9 / 14
Probably lucky to have 14 games to his name as the Blues nursed him as sub to his 300th and subsequent retirement.
18. Jason Johannisen (DEF) 48.2 / 20
Generally has been a solid enough late round pick (maybe 18th round is too high even based on previous season's numbers), but a half-forward role… and plenty of time in the sub tracksuit, made for his worst return of his entire career despite playing 20 games.
Worst Draft Team
DEFENDERS
Jeremy Howe (5), Zac Williams (7), Luke McDonald (8), James Sicily (12), Jason Johannisen (18)
MIDFIELDERS
Lachie Neale (1), Matt Crouch (2), Stephen Coniglio (4), Trent Dumont (9), Jared Polec (14), Will Setterfield (16), Marc Murphy (17)
RUCK
Sam Naismith (11)
FORWARDS
Dustin Martin (3), Michael Walters (6), Zak Butters (10), Connor Rozee (13), Josh Jenkins (15)
Average Draft Position 2021
Top 200 sorted by ADP.
| ADP | PLAYER | POS | GMS | AVG | PTS |
| --- | --- | --- | --- | --- | --- |
| 1 | Max Gawn | RUC | 22 | 108.6 | 2389 |
| 2 | Brodie Grundy | RUC | 20 | 106.5 | 2129 |
| 3 | Lachie Neale | MID | 15 | 94.5 | 1417 |
| 4 | Zach Merrett | MID | 22 | 110.3 | 2427 |
| 5 | Jake Lloyd | DEF | 21 | 98.2 | 2063 |
| 6 | Clayton Oliver | MID | 22 | 108.7 | 2391 |
| 7 | Jack Macrae | MID | 22 | 115.9 | 2550 |
| 8 | Jack Steele | MID | 22 | 121.4 | 2670 |
| 9 | Reilly O'Brien | RUC | 20 | 86.2 | 1724 |
| 10 | Taylor Adams | MID | 14 | 100.9 | 1412 |
| 11 | Tom Mitchell | MID | 22 | 115.6 | 2543 |
| 12 | Lachie Whitfield | DEF | 15 | 94.8 | 1422 |
| 13 | Patrick Dangerfield | MID/FWD | 13 | 86.8 | 1128 |
| 14 | Steele Sidebottom | MID/FWD | 21 | 88.4 | 1857 |
| 15 | Lachie Hunter | MID/FWD | 21 | 85.2 | 1790 |
| 16 | Matt Crouch | MID | 0 | 0 | 0 |
| 17 | Rory Laird | DEF | 22 | 111.7 | 2457 |
| 18 | Andrew Gaff | MID | 21 | 97.2 | 2041 |
| 19 | Josh Dunkley | MID/FWD | 11 | 91.5 | 1007 |
| 20 | Tom Rockliff | MID | 1 | 27 | 27 |
| 21 | Adam Treloar | MID | 13 | 87.2 | 1133 |
| 22 | Marcus Bontempelli | MID | 22 | 107.9 | 2373 |
| 23 | Christian Petracca | MID | 22 | 110.9 | 2439 |
| 24 | Josh Kelly | MID/FWD | 21 | 103.7 | 2178 |
| 25 | Dustin Martin | MID/FWD | 16 | 81.3 | 1300 |
| 26 | Dayne Zorko | MID/FWD | 21 | 108.9 | 2287 |
| 27 | Scott Pendlebury | MID/FWD | 18 | 84.4 | 1519 |
| 28 | Rowan Marshall | RUC/FWD | 13 | 89.7 | 1166 |
| 29 | Todd Goldstein | RUC | 22 | 85.8 | 1887 |
| 30 | Jack Crisp | DEF | 22 | 101.8 | 2239 |
| 31 | Tom Stewart | DEF | 20 | 96.8 | 1936 |
| 32 | Tim Taranto | MID | 22 | 107.8 | 2371 |
| 33 | Luke Parker | MID | 22 | 99.3 | 2185 |
| 34 | Mitch Duncan | MID | 10 | 100.3 | 1003 |
| 35 | Jarryd Lyons | MID | 22 | 117.1 | 2576 |
| 36 | Travis Boak | MID | 21 | 97.7 | 2051 |
| 37 | Sam Walsh | MID | 22 | 109 | 2397 |
| 38 | Nat Fyfe | MID/FWD | 15 | 84.5 | 1267 |
| 39 | Cameron Guthrie | MID | 20 | 109.9 | 2198 |
| 40 | Stephen Coniglio | MID | 5 | 59 | 295 |
| 41 | Jeremy Howe | DEF | 8 | 73.4 | 587 |
| 42 | Dylan Shiel | MID | 7 | 63.1 | 442 |
| 43 | Matt Rowell | MID | 12 | 55.3 | 663 |
| 44 | Callum Mills | DEF | 18 | 110 | 1980 |
| 45 | Brayden Maynard | DEF | 22 | 81.5 | 1792 |
| 46 | Jayden Short | DEF | 22 | 93.4 | 2054 |
| 47 | Sam Docherty | DEF | 14 | 98.6 | 1381 |
| 48 | Caleb Daniel | DEF | 21 | 86.9 | 1824 |
| 49 | Jordan Ridley | DEF | 21 | 80 | 1681 |
| 50 | Patrick Cripps | MID | 20 | 81.8 | 1635 |
| 51 | Josh P. Kennedy | MID | 21 | 88.9 | 1866 |
| 52 | Isaac Heeney | FWD | 20 | 76.2 | 1523 |
| 53 | Tim English | RUC/FWD | 18 | 80.3 | 1446 |
| 54 | Michael Walters | MID/FWD | 16 | 61.5 | 984 |
| 55 | Andrew McGrath | MID | 14 | 84.6 | 1184 |
| 56 | Jed Anderson | MID | 7 | 79.7 | 558 |
| 57 | Toby Greene | FWD | 17 | 84.8 | 1441 |
| 58 | Touk Miller | MID | 21 | 122.1 | 2565 |
| 59 | James Worpel | MID | 20 | 78.8 | 1576 |
| 60 | Andrew Brayshaw | MID | 20 | 104.3 | 2085 |
| 61 | Sam Menegola | MID | 20 | 86.6 | 1732 |
| 62 | Dan Houston | DEF | 21 | 79.9 | 1678 |
| 63 | Tim Kelly | MID | 19 | 84.3 | 1601 |
| 64 | Zac Williams | DEF | 14 | 71.5 | 1001 |
| 65 | Tom Phillips | MID/FWD | 22 | 73.1 | 1608 |
| 66 | Brad Crouch | MID | 20 | 95.2 | 1904 |
| 67 | Bachar Houli | DEF | 12 | 91.6 | 1099 |
| 68 | Alex Witherden | DEF | 9 | 87.8 | 790 |
| 69 | Luke Dunstan | MID | 12 | 94.6 | 1135 |
| 70 | Ollie Wines | MID | 22 | 111.9 | 2462 |
| 71 | Nic Naitanui | RUC | 22 | 85 | 1869 |
| 72 | Jarrod Witts | RUC | 3 | 86.3 | 259 |
| 73 | Hugh McCluggage | MID | 22 | 100 | 2201 |
| 74 | Christian Salem | DEF | 21 | 92.9 | 1951 |
| 75 | Luke Ryan | DEF | 19 | 87.4 | 1660 |
| 76 | Luke McDonald | DEF | 11 | 68.1 | 749 |
| 77 | Shai Bolton | MID/FWD | 20 | 77.7 | 1553 |
| 78 | Kyle Langford | MID/FWD | 17 | 86.6 | 1472 |
| 79 | Jaeger O'Meara | MID | 18 | 95.9 | 1726 |
| 80 | Jordan De Goey | MID/FWD | 20 | 84.3 | 1686 |
| 81 | Hugh Greenwood | MID | 15 | 87.7 | 1315 |
| 82 | Trent Dumont | MID | 14 | 70.3 | 984 |
| 83 | Nick Haynes | DEF | 19 | 70.3 | 1335 |
| 84 | Dion Prestia | MID | 9 | 81.1 | 730 |
| 85 | Shaun Higgins | MID/FWD | 15 | 78.9 | 1183 |
| 86 | Ed Curnow | MID | 22 | 89 | 1958 |
| 87 | Jack Billings | MID/FWD | 18 | 83.3 | 1499 |
| 88 | Chad Wingard | MID/FWD | 16 | 88.3 | 1413 |
| 89 | Daniel Rich | DEF | 22 | 98.1 | 2158 |
| 90 | Brodie Smith | DEF | 21 | 79.6 | 1672 |
| 91 | Brad Sheppard | DEF | 20 | 71.3 | 1426 |
| 92 | Tom Hawkins | FWD | 22 | 75.6 | 1664 |
| 93 | Bailey Smith | MID | 22 | 87.4 | 1922 |
| 94 | Zak Butters | MID/FWD | 10 | 76.2 | 762 |
| 95 | Liam Duggan | DEF | 14 | 78.5 | 1099 |
| 96 | Taylor Walker | FWD | 17 | 75.4 | 1282 |
| 97 | Elliot Yeo | MID | 12 | 83 | 996 |
| 98 | Scott Lycett | RUC | 18 | 85.6 | 1540 |
| 99 | Ed Langdon | MID | 21 | 85.1 | 1787 |
| 100 | Adam Saad | DEF | 22 | 69.9 | 1537 |
| 101 | Isaac Smith | MID/FWD | 21 | 93 | 1954 |
| 102 | Taylor Duryea | DEF/FWD | 21 | 71.5 | 1501 |
| 103 | Sam Naismith | RUC | 0 | 0 | 0 |
| 104 | Dom Sheed | MID | 22 | 91.4 | 2010 |
| 105 | Jack Viney | MID | 12 | 88.2 | 1058 |
| 106 | Rory Sloane | MID | 18 | 85.6 | 1540 |
| 107 | Caleb Serong | MID | 22 | 82.4 | 1812 |
| 108 | Zac Bailey | MID/FWD | 22 | 72.7 | 1600 |
| 109 | Jordan Dawson | DEF | 22 | 88.8 | 1954 |
| 110 | Jarrod Berry | MID | 9 | 50.1 | 451 |
| 111 | Jacob Hopper | MID | 21 | 88.9 | 1866 |
| 112 | Zak Jones | MID | 13 | 88.6 | 1152 |
| 113 | Jy Simpkin | MID | 22 | 95.5 | 2100 |
| 114 | Luke Shuey | MID | 7 | 87.6 | 613 |
| 115 | Brandon Ellis | MID | 18 | 93.8 | 1689 |
| 116 | Jye Caldwell | MID/FWD | 2 | 76.5 | 153 |
| 117 | James Sicily | DEF | 0 | 0 | 0 |
| 118 | Jack Martin | FWD | 11 | 62.8 | 691 |
| 119 | Damon Greaves | DEF | 6 | 49.7 | 298 |
| 120 | Darcy Byrne-Jones | DEF | 22 | 76.7 | 1688 |
| 121 | Tom Lynch | FWD | 12 | 71.4 | 857 |
| 122 | Jack Higgins | FWD | 19 | 69.1 | 1312 |
| 123 | Hunter Clark | DEF | 13 | 72.6 | 944 |
| 124 | Josh Daicos | MID/FWD | 17 | 71.4 | 1213 |
| 125 | Shannon Hurn | DEF | 15 | 87.8 | 1317 |
| 126 | Jaidyn Stephenson | MID/FWD | 19 | 84.8 | 1611 |
| 127 | Toby Nankervis | RUC | 16 | 83.4 | 1335 |
| 128 | Peter Ladhams | RUC/FWD | 15 | 72.7 | 1091 |
| 129 | Adam Cerra | MID | 18 | 87.3 | 1572 |
| 130 | Connor Rozee | FWD | 19 | 67.6 | 1285 |
| 131 | Kane Lambert | FWD | 13 | 77.2 | 1004 |
| 132 | Tom Liberatore | MID | 21 | 90.3 | 1896 |
| 133 | Blake Acres | MID | 18 | 66.1 | 1189 |
| 134 | Jared Polec | MID | 5 | 51 | 255 |
| 135 | Jack Bowes | DEF | 19 | 80.6 | 1531 |
| 136 | Jack Lukosius | DEF | 22 | 86 | 1892 |
| 137 | Robbie Gray | FWD | 16 | 72.6 | 1162 |
| 138 | David Swallow | MID | 21 | 89.5 | 1879 |
| 139 | Devon Smith | MID/FWD | 19 | 64.7 | 1230 |
| 140 | Harry Perryman | DEF | 16 | 85.4 | 1367 |
| 141 | Darcy Parish | MID | 22 | 105.5 | 2320 |
| 142 | Lance Franklin | FWD | 17 | 70.4 | 1196 |
| 143 | Liam Shiels | MID | 21 | 84.2 | 1769 |
| 144 | Josh Jenkins | RUC/FWD | 1 | 35 | 35 |
| 145 | Jordan Clark | DEF | 8 | 56.4 | 451 |
| 146 | Jeremy Cameron | FWD | 12 | 65.4 | 785 |
| 147 | Jack Ziebell | DEF/FWD | 21 | 100.1 | 2102 |
| 148 | Bailey Williams | DEF | 19 | 67.4 | 1280 |
| 149 | Ben Ainsworth | FWD | 17 | 69.5 | 1181 |
| 150 | Tom Papley | FWD | 22 | 65 | 1430 |
| 151 | Oscar McInerney | RUC | 21 | 76.7 | 1610 |
| 152 | Gryan Miers | FWD | 12 | 64.6 | 775 |
| 153 | Angus Brayshaw | MID | 22 | 66.5 | 1463 |
| 154 | Will Setterfield | MID | 8 | 60.4 | 483 |
| 155 | Ben McEvoy | DEF/RUC | 22 | 80 | 1759 |
| 156 | Sam Draper | RUC | 12 | 57.3 | 687 |
| 157 | Mark Blicavs | DEF | 21 | 71.9 | 1510 |
| 158 | Rhys Stanley | RUC | 16 | 77.6 | 1241 |
| 159 | Aaron Hall | DEF/FWD | 20 | 109 | 2179 |
| 160 | Dan Butler | FWD | 22 | 54.8 | 1206 |
| 161 | Lachie Weller | MID/FWD | 13 | 79.8 | 1038 |
| 162 | David Mundy | MID | 22 | 89 | 1958 |
| 163 | Nick Vlastuin | DEF | 12 | 76.1 | 913 |
| 164 | Karl Amon | MID | 22 | 98.7 | 2171 |
| 165 | Marc Murphy | MID/FWD | 14 | 55.9 | 782 |
| 166 | Steven May | DEF | 20 | 72.6 | 1452 |
| 167 | Joe Daniher | FWD | 22 | 72.2 | 1589 |
| 168 | Brandan Parfitt | MID/FWD | 21 | 76.6 | 1609 |
| 169 | Ben Cunnington | MID | 15 | 99.2 | 1488 |
| 170 | Ben Keays | MID | 22 | 108 | 2376 |
| 171 | Charlie Dixon | FWD | 22 | 68.4 | 1505 |
| 172 | Nick Coffield | DEF | 16 | 61.1 | 977 |
| 173 | Bailey J. Williams | RUC/FWD | 6 | 36.3 | 218 |
| 174 | Jason Johannisen | DEF/FWD | 20 | 48.2 | 964 |
| 175 | Jamie Elliott | MID/FWD | 13 | 73.9 | 961 |
| 176 | Matthew Kennedy | MID/FWD | 12 | 85.9 | 1031 |
| 177 | Nick Hind | DEF/FWD | 22 | 84.5 | 1859 |
| 178 | Sam Powell-Pepper | MID/FWD | 14 | 63.7 | 892 |
| 179 | John Noble | DEF | 22 | 74.6 | 1641 |
| 180 | Dyson Heppell | DEF | 18 | 94.8 | 1707 |
| 181 | Jack Gunston | FWD | 1 | 31 | 31 |
| 182 | Liam Baker | DEF | 22 | 72.8 | 1601 |
| 183 | James Harmes | DEF | 15 | 82.3 | 1235 |
| 184 | Liam Ryan | FWD | 14 | 56.5 | 791 |
| 185 | James Cousins | MID/FWD | 9 | 79 | 711 |
| 186 | Rory Lobb | RUC/FWD | 13 | 70.5 | 917 |
| 187 | Noah Anderson | MID | 20 | 81 | 1619 |
| 188 | Michael Gibbons | FWD | 11 | 61.5 | 676 |
| 189 | Harris Andrews | DEF | 21 | 67.5 | 1417 |
| 190 | Matt Taberner | FWD | 16 | 62.5 | 1000 |
| 191 | Trent Cotchin | MID | 17 | 75.8 | 1289 |
| 192 | Oliver Florent | MID | 22 | 72.6 | 1597 |
| 193 | Marc Pittonet | RUC | 13 | 70.1 | 911 |
| 194 | Tom Doedee | DEF | 21 | 64.1 | 1347 |
| 195 | Will Day | DEF | 5 | 68.8 | 344 |
| 196 | Orazio Fantasia | | 13 | 64.5 | 838 |
| 197 | Joel Selwood | MID | 21 | 87.5 | 1837 |
| 198 | Jack Newnes | MID/FWD | 19 | 65.7 | 1248 |
| 199 | Sean Darcy | RUC/FWD | 21 | 93.7 | 1968 |
| 200 | Bradley Hill | DEF | 22 | 71.2 | 1567 |