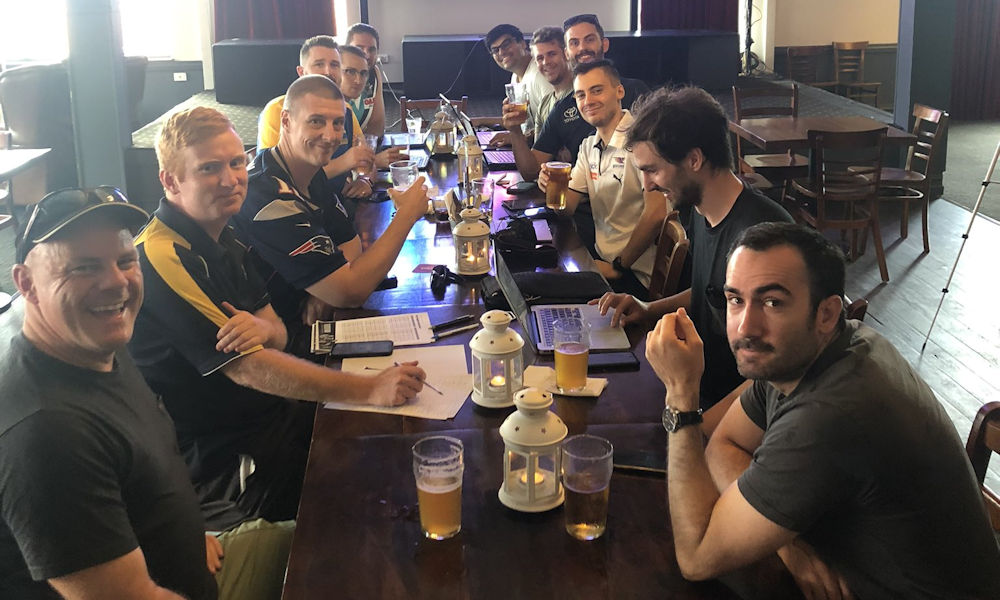 On Saturday the 7th of March a group of WA based Fantasy players decided to get together to have a live Fantasy Draft. This was the first time many of this group had never met, and it was bound to be a very interesting draft with many different strategies. The majority of the players were regular fantasy players including some of DT Talks best in Jeppa, and Warnie joined remotely.
Our league settings were:
3-4-1-3-(4) team structure
18 coaches
Top 8 Finals
snake draft
byes on
captains on
The draft order was picked the day prior by @leighroyDT out of a hat and was as follows:
Bake for 2 Hours at 180C – Keeshan @spiderpig333
Sons of Seahorse – Aiden @aiden_niehaus13
Half Back Flanks – Steve @RuxinS
Leighroy's Legends – Leighroy @leighroyDT
Chronic Underachievers – James @James3lms
Behemoths of Matt – Matt @ScratchedLens_
The Ruck Pigs – Aidan @tweaks97
Gumbys Finest – Michael @Scaff_3
Mean Jerk Time – Justin @Merilvingien
Belly boys – Timothy
Warne Dawgs – Warnie @WarnieDT
Trigger FC – Jack @Triggywiggy
Taking-it-one-week-at-a-time – Adam
Mush Squad – Alexander @Triceratops5X
The Red Snapp3rs – Noah
Jeppas Juniors – Jeppa @JeppaDT
Vic Bias – Michael @MWL152
Vegan Vikings – Coen
Here's how it went down pick-by-pick.
| PICK | PLAYER | POSITION | TEAM |
| --- | --- | --- | --- |
| 1 | B.Grundy | Ruck | 2 Hours at 180oC |
| 2 | L.Whitfield | Mid/Fwd | Sons of Seahorse |
| 3 | J.Macrae | Mid | Half Back Flanks |
| 4 | J.Kelly | Mid | Leighroy's Legends |
| 5 | M.Gawn | Ruck | Chronic Underachievers |
| 6 | J.Dunkley | Mid | Behemoth's of Matt |
| 7 | T.Mitchell | Mid | The Ruck Pigs |
| 8 | J.LLoyd | Def | Gumby's Finest |
| 9 | S.Coniglio | Mid | Mean Jerk Time |
| 10 | T.Taranto | Mid | Bellys Boys |
| 11 | A.Treloar | Mid | Warne Dawgs |
| 12 | A.Gaff | Mid | Trigger FC |
| 13 | S.Docherty | Def | Taking-it-one-week-at-a-time |
| 14 | P.Dangerfield | Mid | Mush Squad |
| 15 | B.Crouch | Mid | The Red Snapp3rs |
| 16 | Z.Merrett | Mid | Jeppas Juniors |
| 17 | R.O'Brien | Ruck | Vic Bias |
| 18 | L.Neale | Mid | Vegan Vikings |
| 19 | D.Martin | Mid/Fwd | Vegan Vikings |
| 20 | C.Oliver | Mid | Vic Bias |
| 21 | J.Crisp | Mid | Jeppas Juniors |
| 22 | R.Laird | Def | The Red Snapp3rs |
| 23 | M.Bontempelli | Mid | Mush Squad |
| 24 | M.Crouch | Mid | taking-it-one-week-at-a-time |
| 25 | R.Marshall | Ruck | Trigger FC |
| 26 | D.Smith | Mid/Fwd | warne Dawgs |
| 27 | J.Witts | Ruck | Bellys Boys |
| 28 | T.Greene | Fwd | mean Jerk Time |
| 29 | P.Cripps | Mid | Gumby's Finest |
| 30 | B.Houli | Def | the ruck Pigs |
| 31 | S.Pendlebury | Mid | Behemoth's of Matt |
| 32 | N.Fyfe | Mid | Chronic Underachievers |
| 33 | D.MacPherson | Mid/Fwd | leighroy's Legends |
| 34 | D.Houston | Def/Mid | Half Back Flanks |
| 35 | B.Smith | Def | Sons of Seahorse |
| 36 | Z.WIlliams | Def | 2 Hours at 180oC |
| 37 | M.Walters | Mid.Fwd | 2 Hours at 180oC |
| 38 | T.Boak | Mid | Sons of Seahorse |
| 39 | E.Yeo | Mid | Half Back Flanks |
| 40 | J.Martin | Mid/Fwd | Leighroy's Legends |
| 41 | D.Zorko | Mid | Chronic Underachievers |
| 42 | S.Lycett | Ruck | Behemoth's of Matt |
| 43 | I.Heeney | Mid/Fwd | The Ruck Pigs |
| 44 | S.Martin | Ruck | Gumby's Finest |
| 45 | T.Stewart | Def | Mean Jerk Time |
| 46 | T.Kelly | Mid | Bellys Boys |
| 47 | J.Lyons | Mid | Warne Dawgs |
| 48 | P.Lipinski | Mid/Fwd | Trigger FC |
| 49 | J.O'Meara | Mid | Taking-it-one-week-at-a-time |
| 50 | J.Sicily | Def | Mush Squad |
| 51 | J.Dawson | Def/Fwd | The Red Snapp3rs |
| 52 | J.Steven | Mid/Fwd | Jeppas Juniors |
| 53 | C.Daniel | Def | Vic Bias |
| 54 | S.Sidebottom | Mid | Vegan Vikings |
| 55 | S.Hurn | Def | Vegan Vikings |
| 56 | M.Duncan | Mid | Vic Bias |
| 57 | T.English | Ruck | Jeppas Juniors |
| 58 | T.Adams | Mid | The Red Snapp3rs |
| 59 | A.Brayshaw | Mid/Fwd | Mush Squad |
| 60 | L.Hunter | Mid | taking-it-one-week-at-a-time |
| 61 | K.Simpson | Def | Trigger FC |
| 62 | D.Prestia | Mid | Warne Dawgs |
| 63 | L.Shuey | Mid | Bellys Boys |
| 64 | T.Goldstein | Ruck | Mean Jerk Time |
| 65 | T.Rockliff | Mid | Gumby's Finest |
| 66 | S.Jacobs | Ruck | the ruck Pigs |
| 67 | J.Gresham | Mid/Fwd | Behemoth's of Matt |
| 68 | S.Ross | Mid | Chronic Underachievers |
| 69 | R.Lobb | Ruck | leighroy's Legends |
| 70 | J.Hopper | Mid | Half Back Flanks |
| 71 | C.Wingard | Mid/Fwd | Sons of Seahorse |
| 72 | R.Sloane | Mid | 2 Hours at 180oC |
| 73 | H.Greenwood | Mid/Fwd | 2 Hours at 180oC |
| 74 | S.Walsh | Mid | Sons of Seahorse |
| 75 | J.Worpel | Mid | Half Back Flanks |
| 76 | C.Petracca | Fwd | Leighroy's Legends |
| 77 | N.Newman | Def | Chronic Underachievers |
| 78 | H.McCluggage | Mid | Behemoth's of Matt |
| 79 | J.P.Kennedy | Mid | The Ruck Pigs |
| 80 | J.Ziebell | Mid/Fwd | Gumby's Finest |
| 81 | J.Billings | Mid | Mean Jerk Time |
| 82 | B.Fiorini | Mid | Bellys Boys |
| 83 | D.Byrne-Jones | Def | Warne Dawgs |
| 84 | J.Steele | Mid | Trigger FC |
| 85 | L.Shiels | Mid | Taking-it-one-week-at-a-time |
| 86 | L.Ryan | Def | Mush Squad |
| 87 | H.Clark | Def | The Red Snapp3rs |
| 88 | J.Viney | Mid | Jeppas Juniors |
| 89 | J.Cameron | Fwd | Vic Bias |
| 90 | C.Salem | Def | Vegan Vikings |
| 91 | R.Henderson | MId | Vegan Vikings |
| 92 | L.Weller | Def | Vic Bias |
| 93 | D.Shiel | Mid | Jeppas Juniors |
| 94 | A.Brayshaw | Mid | The Red Snapp3rs |
| 95 | J.Ceglar | Ruck/Fwd | Mush Squad |
| 96 | L.Parker | Mid | taking-it-one-week-at-a-time |
| 97 | E.Langdon | Mid | Trigger FC |
| 98 | R.Stanley | Ruck | warne Dawgs |
| 99 | S.Higgins | Mid | Bellys Boys |
| 100 | C.Blakely | Def | mean Jerk Time |
| 101 | D.Heppell | Mid | Gumby's Finest |
| 102 | T.Lynch | Fwd | the ruck Pigs |
| 103 | D.Rich | Def | Behemoth's of Matt |
| 104 | D.Parish | Mid/Fwd | Chronic Underachievers |
| 105 | M.Murphy | Mid | leighroy's Legends |
| 106 | J.De Goey | Fwd | Half Back Flanks |
| 107 | T.Nankervis | Ruck | Sons of Seahorse |
| 108 | B.Sheppard | Def | 2 Hours at 180oC |
| 109 | D.Hannerbery | MId | 2 Hours at 180oC |
| 110 | W.Milera | Def/Mid | Sons of Seahorse |
| 111 | K.Lambert | Fwd | Half Back Flanks |
| 112 | A.Cerra | Def | Leighroy's Legends |
| 113 | M.Suckling | Def | Chronic Underachievers |
| 114 | W.Brodie | Mid | Behemoth's of Matt |
| 115 | H.Shaw | Def | The Ruck Pigs |
| 116 | M.Robinson | Mid | Gumby's Finest |
| 117 | C.Rozee | Fwd | Mean Jerk Time |
| 118 | J.Redden | Mid | Bellys Boys |
| 119 | G.Ablett | Fwd | Warne Dawgs |
| 120 | J.Westhoff | Mid/Fwd | Trigger FC |
| 121 | E.Curnow | Mid | Taking-it-one-week-at-a-time |
| 122 | T.Phillips | Mid | Mush Squad |
| 123 | T.Membrey | Fwd | The Red Snapp3rs |
| 124 | B.Acres | Mid/Fwd | Jeppas Juniors |
| 125 | J.Harmes | Mid | Vic Bias |
| 126 | B.McEvoy | Ruck | Vegan Vikings |
| 127 | R.Gray | Mid/Fwd | Vegan Vikings |
| 128 | J.Stephenson | Fwd | Vic Bias |
| 129 | H.Cunningham | Def | Jeppas Juniors |
| 130 | D.Roberton | Def | The Red Snapp3rs |
| 131 | D.Swallow | Mid | Mush Squad |
| 132 | D.Beams | Mid | taking-it-one-week-at-a-time |
| 133 | A.Witherden | Def | Trigger FC |
| 134 | N.Haynes | Def | warne Dawgs |
| 135 | T.Miller | Mid | Bellys Boys |
| 136 | B.Hill | Mid | mean Jerk Time |
| 137 | C.Mills | Def | Gumby's Finest |
| 138 | B.Ellis | Mid | the ruck Pigs |
| 139 | J.Patton | Ruck/Fwd | Behemoth's of Matt |
| 140 | D.Sheed | Mid | Chronic Underachievers |
| 141 | J.Selwood | Mid | leighroy's Legends |
| 142 | B.Ebert | Fwd | Half Back Flanks |
| 143 | J.Johannisen | Def | Sons of Seahorse |
| 144 | O.Wines | Mid | 2 Hours at 180oC |
| 145 | T.Scully | Mid | 2 Hours at 180oC |
| 146 | S.Powell-Pepper | Mid/Fwd | Sons of Seahorse |
| 147 | T.Dumont | Mid | Half Back Flanks |
| 148 | N.Jones | Def/Mid | Leighroy's Legends |
| 149 | T.J.Lynch | Fwd | Chronic Underachievers |
| 150 | C.Ward | Mid | Behemoth's of Matt |
| 151 | M.Wallis | Mid/Fwd | The Ruck Pigs |
| 152 | T.Papley | Fwd | Gumby's Finest |
| 153 | C.Ellis-Yolmen | Mid | Mean Jerk Time |
| 154 | J.Polec | Mid | Bellys Boys |
| 155 | L.Dahlhaus | Fwd | Warne Dawgs |
| 156 | B.Fritsch | Def/Fwd | Trigger FC |
| 157 | I.Smith | Mid | Taking-it-one-week-at-a-time |
| 158 | J.Short | Def | Mush Squad |
| 159 | T.McDonald | Fwd | The Red Snapp3rs |
| 160 | B.Smith | Mid/Fwd | Jeppas Juniors |
| 161 | Z.Jones | Mid | Vic Bias |
| 162 | B.Cunnigton | Mid | Vegan Vikings |
| 163 | C.Cameron | Fwd | Vegan Vikings |
| 164 | J.Lienert | Def | Vic Bias |
| 165 | S.Petrevski-Seton | Def/Mid | Jeppas Juniors |
| 166 | S.Menegola | Mid | The Red Snapp3rs |
| 167 | B.Ainsworth | Mid/Fwd | Mush Squad |
| 168 | M.Taberner | Fwd | taking-it-one-week-at-a-time |
| 169 | M.Hibberd | Def | Trigger FC |
| 170 | J.Howe | Def | warne Dawgs |
| 171 | L.Austin | Def | Bellys Boys |
| 172 | N.Vlastuin | Def | mean Jerk Time |
| 173 | J.Darling | Fwd | Gumby's Finest |
| 174 | J.Watts | Def | the ruck Pigs |
| 175 | D.Tucker | Mid/Fwd | Behemoth's of Matt |
| 176 | B.Maynard | Def | Chronic Underachievers |
| 177 | L.Dunstan | Mid | leighroy's Legends |
| 178 | S.Darcy | Ruck | Half Back Flanks |
| 179 | M.Rowell | Mid | Sons of Seahorse |
| 180 | B.Gibbs | Mid | 2 Hours at 180oC |
| 181 | T.Doedee | Def | 2 Hours at 180oC |
| 182 | J.Berry | Mid | Sons of Seahorse |
| 183 | D.Rampe | Def | Half Back Flanks |
| 184 | H.Crozier | Def | Leighroy's Legends |
| 185 | J.Gunston | Fwd | Chronic Underachievers |
| 186 | B.Bewley | Fwd | Behemoth's of Matt |
| 187 | A.Miles | Mid | The Ruck Pigs |
| 188 | M.Hurley | Def | Gumby's Finest |
| 189 | B.Parfitt | Mid/Fwd | Mean Jerk Time |
| 190 | S.Savage | Def | Bellys Boys |
| 191 | A.McGrath | Mid | Warne Dawgs |
| 192 | P.Seedsman | Mid | Trigger FC |
| 193 | A.Phillips | Ruck | Taking-it-one-week-at-a-time |
| 194 | N.Naitanui | Ruck | Mush Squad |
| 195 | Q.Narkle | Mid | The Red Snapp3rs |
| 196 | C.Mayne | Mid | Jeppas Juniors |
| 197 | S.Lloyd | Fwd | Vic Bias |
| 198 | S.Edwards | Def/Fwd | Vegan Vikings |
| 199 | L.Franklin | Fwd | Vegan Vikings |
| 200 | X.Duursma | Mid | Vic Bias |
| 201 | W.Snelling | Fwd | Jeppas Juniors |
| 202 | S.Naismith | Ruck | The Red Snapp3rs |
| 203 | J.Aish | Def | Mush Squad |
| 204 | H.Hartlett | Def | taking-it-one-week-at-a-time |
| 205 | P.Ryder | Ruck/Fwd | Trigger FC |
| 206 | A.Tomlinson | Mid | warne Dawgs |
| 207 | J.Finlayson | Fwd | Bellys Boys |
| 208 | M.Kruezer | Ruck | mean Jerk Time |
| 209 | I.Soldo | Ruck | Gumby's Finest |
| 210 | G.Birchall | Def | the ruck Pigs |
| 211 | R.Burton | Def | Behemoth's of Matt |
| 212 | R.Atkins | Mid | Chronic Underachievers |
| 213 | O.Florent | Mid | leighroy's Legends |
| 214 | J.Battle | Def | Half Back Flanks |
| 215 | D.Zaharakis | Mid | Sons of Seahorse |
| 216 | D.Cameron | Ruck/Fwd | 2 Hours at 180oC |
| 217 | J.Jenkins | Fwd | 2 Hours at 180oC |
| 218 | J.Ridley | Def | Sons of Seahorse |
| 219 | C.Constable | Mid | Half Back Flanks |
| 220 | Z.Tuohy | Def | Leighroy's Legends |
| 221 | B.Mihocek | Fwd | Chronic Underachievers |
| 222 | A.Bonar | Mid/Fwd | Behemoth's of Matt |
| 223 | A.Hall | Mid | The Ruck Pigs |
| 224 | J.Caddy | Mid/Fwd | Gumby's Finest |
| 225 | J.Graham | MId | Mean Jerk Time |
| 226 | J.Macmillan | Def | Bellys Boys |
| 227 | T.Cotchin | Mid | Warne Dawgs |
| 228 | K.Amon | Mid | Trigger FC |
| 229 | C.Hooker | Def | Taking-it-one-week-at-a-time |
| 230 | A.Neal-Bullen | Fwd | Mush Squad |
| 231 | T.Liberatore | Mid | The Red Snapp3rs |
| 232 | R.Wills | Mid | Jeppas Juniors |
| 233 | D.Mundy | Mid | Vic Bias |
| 234 | S.Stack | Def | Vegan Vikings |
| 235 | M.Pickett | Mid | Vegan Vikings |
| 236 | J.Lukosius | Def/Fwd | Vic Bias |
| 237 | C.Sinclair | Ruck | Jeppas Juniors |
| 238 | P.Ladhams | Ruck/Fwd | The Red Snapp3rs |
| 239 | J.Anderson | Mid | Mush Squad |
| 240 | T.Hawkins | Fwd | taking-it-one-week-at-a-time |
| 241 | C.McKenna | Def | Trigger FC |
| 242 | B.Williams | Def | warne Dawgs |
| 243 | K.Langford | Mid/Fwd | Bellys Boys |
| 244 | Z.Langdon | Fwd | mean Jerk Time |
| 245 | J.Noble | Def | Gumby's Finest |
| 246 | L.Breust | Fwd | the ruck Pigs |
| 247 | A.Kennedy | Def | Behemoth's of Matt |
| 248 | S.Hill | Def/Fwd | Chronic Underachievers |
| 249 | J.J.Kennedy | Fwd | leighroy's Legends |
| 250 | O.McInerney | Ruck/Fwd | Half Back Flanks |
| 251 | T.Cutler | Mid | Sons of Seahorse |
| 252 | J.Pittard | Def | 2 Hours at 180oC |
| 253 | B.Brown | Fwd | 2 Hours at 180oC |
| 254 | L.Davie-Uniacke | Mid/Fwd | Sons of Seahorse |
| 255 | L.Baker | Def/Fwd | Half Back Flanks |
| 256 | J.Hately | Mid | Leighroy's Legends |
| 257 | W.Hoskin-Elliot | Fwd | Chronic Underachievers |
| 258 | H.Perryman | Mid | Behemoth's of Matt |
| 259 | S.Mumford | Ruck | The Ruck Pigs |
| 260 | C.Rayner | Fwd | Gumby's Finest |
| 261 | M.Blicavs | Def | Mean Jerk Time |
| 262 | T.McLean | Fwd | Bellys Boys |
| 263 | J.Elliott | Fwd | Warne Dawgs |
| 264 | A.vanderBerg | Mid/Fwd | Trigger FC |
| 265 | J.Melksham | Fwd | Taking-it-one-week-at-a-time |
| 266 | P.Ahern | Def/Mid | Mush Squad |
| 267 | P.Hanley | Def | The Red Snapp3rs |
| 268 | T.Duryea | Def | Jeppas Juniors |
| 269 | J.Clark | Mid | Vic Bias |
| 270 | T.Hickey | Ruck | Vegan Vikings |
Below are how the teams looked after the draft: