Tbetta's Bullets: Round 14
Welcome to another edition of the Bullets, brought to you with a slightly different feel this week; it's less about rookies from now on, and more about maximising your points with the big dogs of the fantasy world.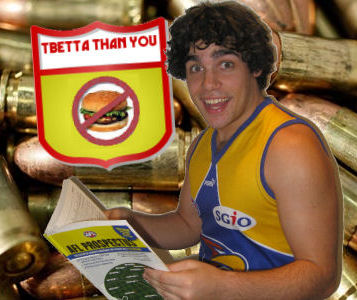 Welcome to another edition of the Bullets, brought to you with a slightly different feel this week; it's less about rookies from now on, and more about maximising your points with the big dogs of the fantasy world.
But firstly, some retrospection. There was a huge range of scoring this week (1850 through to 2200 in quality leagues), usually indicative of unavoidable carnage or some kind of late withdrawal -and wouldn't you know it, it was the backline once again that had our boats sinking or sailing.
Birchall (knee) was the big culprit leading in to Round 14, while Vlastuin's late withdrawal (shin) left coaches shell-shocked post-lockout without the usual assistance from Thurlow (emergency) and Goodes (wrist) off the bench.
Donuts were eaten, loopholes were thwarted and Captains were scorned. How did you squad fare?
3. Ryan Griffen (136)
The man I affectionately think of as Cyclops (there is something seriously going on there in the peepers region…) has been in ripping form lately, averaging 128 DT in his last three games – ranked first in the League. He also boasts the fourth-highest average in the competition, just a lazy 111.6 points per game. I've always been wary of Griffen because of his propensity to get tagged; he's much more a game-winning type (like Ablett, Pendlebury, Dangerfield) that attracts the tags rather than a pure stat-slut like Priddis, Boyd or Swan, who usually avoid the run-with roles. With Boyd out, could Griffen be the answer to the midfield crisis?
2. Dean Terlich (112)
We've had a trio of reasonably reliable D6's over the past month or so of footy; Terlich, Goodes and Vlastuin. In Round 14, only Terlich of those three took the field, belting out his third ton of the season under interim coach Neil Craig's potent altered playing style. He was the difference for a lot of coaches with more backline pain this week; if I had him, I'd be holding him at D7 (in a complete backline) for the foreseeable future.
1. Jobe Watson (122)
Class. Definiton: Copping crap from all angles, and with all eyes on you on the big stage, you carve out a Brownlow vote-worthy performance at a hostile arena. No one modern player has answered his critics more over his career; once pegged as a chunky, one-paced midfielder with shoddy disposal, he's emerged as a powerful, composed and highly efficient possession machine. Oh, and he scores pretty well in fantasy too.
3. Vlastuin (LW) ft. B. Goodes (wrist)
What I don't understand is why Vlastuin was named on the field (Tigers had a 7-man interchange due to a Sunday match) at Thursday Teams if he was always in doubt with shin soreness? The small rationalisation that "he'll definitely play now, named on the field" may have lulled a few coaches into a false sense of security, where they possibly may have made moves to cover a possible Vlastuin late withdrawal had they known his woes. That left many straight-jacketed coaches with a donut on Sunday afternoon, particularly with popular coverage options in Goodes and Thurlow on the sidelines also.
2. Captain Expectation
All the numbers pointed to a massacre at the hands of three of the biggest fantasy assassins this week; the deadly Ablett against his bunny team in the Crows, the relentless Swan in hot form and the brutal Boyd against a timid Demons outfit. I honestly expected and average of 135 from these guys this week. We got a slither over 90. I guess the lesson here is that we need to take historical data with a little grain of salt in the future.
1. Ryan Crowley
If there's one thing that kills DT scoring more than the finality of a substitute vest, its taggers. I hate them. Unfortunately, they're so bloody effective that there will always be a place for them in the game as long as superstars like Ablett, Pendlebury and Crowley's target this week, Selwood (38), exist. Ryan Crowley is one of the best in the worst business in town, kind of like being The Rock at the peak of the WWE. Keep an eye on possible upcoming Crowley targets: Montagna (R15), Cotchin (r17) and Dangerfield (R18).
Over the next couple of weeks, we'll take a quick look at a few DT sides than can teach us a thing or two about how to play the evolving game that is Dream Team in 2013. First up is one squad that has been in Black Caviar-like form, sprinting around the outside lane while other sides have been cracking the whip over the MBRs, but seemingly going nowhere.
destROY (see the squad here) has surged in from an overall ranking of almost 14,000 pre-byes (and well outside the top 30,000 earlier in the year) to the 2,130 he's currently sitting – a massive effort! How did he turn it around, using the same amount of trades as the rest of us mere mortals?
1. Teach Your Boys a Lesson
Got an under-performing Premo? Let's be honest, we all do. Burgoyne was brought into destROY as a Premium, but failed to fire in recent rounds, notching 44 and 55 leading into Round 14. Now, the accepted protocol is "always back the Premium in", but Roy used the oldest trick in the book and dropped old Shaun back to the bench, playing new boy Terlich ahead of him – that unconventional wisedom boosted his score by a massive 72 points this week!
Tbetta Than You members in Rocky and Hanley… you've been warned.
2. When It Hits the Fan, Bring In the Old Man
destROY was in a heap of early trouble with new kids on the block, the statistical fiends in Beams and Greene, who derailed his start to the year. As we all know, Beams suffered the world's longest thigh injury (was it amputated or something? Honestly), while Greene struggled with a serious case of the 2nd-year blues.
Beams' replacement was the evergreen O'Keefe, while Boyd was turned to in the midst of MBR pain. Both are at least 30 years old, both have been reliable options in year's gone past and both players feature in the top six players competition-wide for DT points score in their last 5 games. When things get tough, you turn to the guys who have got the job done in the past.
With that in mind, should we be taking a serious look at Enright to right the ship in defence?
3. Take A Risk, Grow A Pair
One of my favourite traits of Roy is that he's big on the break-out guys. He successfully jumped on Suckling and Shiels in their break-out seasons in 2011, and he's had a 'no stone unturned' approach to 2013 once again.
Ibbotson, Ellis and Griffen were all risky trade-in propositions at the time, but they've all come up trumps so far. Where my DT lizard brain was screaming "AVOID!", Roy's was crunching the numbers and taking calculated risks.
So there's a few lessons we can learn from the big fella this week. Is there a DT side that you want reviewed next week? Let us know in the comments!
As promised last week, Fixture Trading analysis will slower become more in-depth and critical as we head into finals with all these trades, yet also with 'complete' sides with no obvious improvements to be made. This week, I've combined the Form Ticker (correct as of pre-R15, which includes all the data of DT points for and against, plus a focus on Tons conceded) with the Fixture Study (R15 Update) (again, correct as of pre-R15, including a focus on upgradability and fruitful fixture sprees) to somehow qualify just how 'soft' a club's upcoming draws are.

The excel files are reasonably self-explanatory and contain more useful data than I'll be able to highlight here, so I recommending perusing them if you're interested in a little more detail.
The Soft Six
Sorting clubs by DT points attained versus the amount they allow gives us the DT Points Differential (in %). Ranking the data this way shows that we have a clear 'Soft Six' sides, and these teams are reliably close to the bottom 6 placed sides in almost every measure of fantasy prowess so far this season.
Melbourne, GWS, Gold Coast, Brisbane, St. Kilda and the Bulldogs are the only sides that allow more points than they earn, which is skewed by the two-tier nature of the competition. Obviously, these are the teams we all want our players to come up against, so keep an eye on their opponents in the latter half of 2013.
Points Against versus Tons
Often you'll hear the rationale that while some teams (such as the Soft Six) leak points, it's the mid-range players that see the boost in scoring, and not the 'Premium' players. This is an interesting theory, and hard to prove or disprove.
I've looked at which teams give up the most 100+ scores, and it's no surprise that there is a strong relationship between Points conceded and Tons conceded. There are however, a couple of discontinuities that buck the trend:
As you can see, both Port and Fremantle are middle-of-the-range in terms of Points conceded, but significantly stingier when it comes to allowing 100+ scores. I have my theories; Port's 'stinginess' is likely a by-product of their soft fixture to date (easiest fixture to date based on DT figures), whereas Fremantle's looks like being Ross Lyon-influenced, as Fremantle's game plan involves continually strangling the opposition of easy possessions.
On the flip side, Collingwood and North Melbourne are in the Top 8 in terms of Points Against, but ranked significantly lower in terms of Tons conceded. Again, I have my theories; North's lack of a shut-down option in the midfield might account for the big scores they allow, while Collingwood's midfield has traditionally gone head-to-head, allowing the opposition's prime movers to score well ever if their side doesn't necessarily win.
Fixture Quality
Basically, we want to know which teams have a soft run coming up, so we can load up on Premiums from those teams. To do that, I've ranked each team on a scale based on how many points they concede to the opposition on average (check out the excel file for an exact formula), then attributed these values to their upcoming opponents.
For any trade you're considering this week, it's probably best to look at their 'Next 4' fixture quality for instant reward:
As you can see, teams like Sydney, Essendon, Geelong and Collingwood have the softer upcoming runs (based on the amount of points their opposition usually concedes). Players like Kieren Jack and Ryan O'Keefe might be worth a hard look (Giants and Melbourne in next two), as well as Brent Stanton (Bulldogs and Giants in R16 & R17); but definitely Stevie J for the run of Melbourne, Adelaide and St. Kilda once his suspension ends.
Port Powerful
I owe Port Adelaide an apology based on last week's purely intuitive assessment they contributed to Essendon's 'cakewalk' run – that simply isn't the case. Not only have they knocked out wins against Sydney and Collingwood in the past fortnight (both at home, however), the numbers suggest they are restrictive fantasy opponents regardless. They've only conceded 1700+ once (Melbourne and GWS have 7 times), second only to Essendon and North in that respect. They also concede just 2.7 tons per match, fourth in the competition.
Port are no longer an easy proposition, as Swanny learnt in Round 14.
Melbourne Resurgent
Probably the biggest point to take away from this exercise is how different Melbourne scores under Neil Craig.
As you can see, their own scoring has been significantly up and the points conceded considerably less, attributing to what is essentially an extra 11 points per player at the Demons, while conceding 11 points less per player to the opposition. That's huge. They're sharing the ball much more than under Neeld, which is great; but more importantly for us, it means it's spending less time in the opposition's hands. They conceded 5.45 tons per game before the bye, but only 4 per game since – that might not sound like much, but it is, especially when it comes to Captain decisions – they'll still leak points, but expect more of a trickle than a trickle than a flood from now on.
Operation Get Stevie J / Bridging Trades 
As I alluded to before, Stevie J for his run of Melbourne, Adelaide and St. Kilda and the resulting point spree is an absolute must – if you're holding the slippery midfielder in your side, then you're set. If you don't (like me), it becomes a case of Operation Stevie J. Luckily, we still have a week to plan our attack…
Boyd to Stevie
If you have other things that need doing this week (Duffield injury, upgrading D6 or R2, etc), then holding Boyd one week with a view to go sideways to Stevie J next week isn't the worst idea. As he's proven so far this year, Stevie J is easily a Top 6 Forward, and getting him is an absolute must – a straight swap from Boyd would save you from any money-related woes as it's a Lindsay Thomas headbutt away from a straight swap.
You could re-establish a Mid/Fwd DPP link off the bench (proving quite handy with all these high-profile injuries), or you could simply leave Stevie J in the guts where he can hold his own in the Top 8 Mids. Obviously, the downside here is that you're holding a $540k points machine on your bench this week.
Upgrade/Downgrade
This is the most common way to skin the cat, and it's worked for us pretty well so far. Unfortunately, one disadvantage of this tactic is that you have to make a downgrade to get the transaction through;  I'm not sure how many of the 1st gamers from Round 14 (Ceglar, Boston, Tunbridge, Richards, Michie, Arnot and Sheridan) will be worth jumping on next week. Of course, downgrading your R4 (Blicavs, Daw or Rowe) to an $89k rookie isn't out of the question as it's unlikely you'll need that 4th ruckman post-byes.
As I said, this is the way we've done things in the past. It does require some careful planning to make sure you have enough capital to clear the $541k that you'll need to welcome in Johnson… but with 2 trades per week, is there another viable option on the table?
Bridging Trades
This brings me back to bridging trading, a popular tactic earlier in the season when cash was king. The Westhoff and Ellis (and to a lesser extent, Mullet) were successful in the way they allowed us to bank points while generating cash, whereas rookies often do the latter exclusively… Realistically, these guys won't make enough in one week to these types of trades worthwhile for most coaches, but they're certainly worth looking at for the medium term, post Stevie J.
There are a few options that have caught my eye. Firstly, in a West Coast midfield without Selwood (at least three more out) and Shuey (1-2 more), Dalziell and Hutchings are worth a cheeky short-term look. Dalziell costs just $256k with a breakeven of -23, coming off a team-high 113 DT points last Thursday. Likewise, Hutchings will set you back just $249k (-13BE) and has posted scores of 84, 97, 83 and 91 so far this year – he's even someone you could plug in at M8, a la Tom Mitchell, if you really needed it. This pair should shoot up around $40k (even with modest projections) just this week alone, and close to $100k over three solid weeks; this makes them slow-burn cash cow options looking past the immediacy of Stevie J.
And finally, there's Kurt Tippet. A BE of 89 at $373k sounds very 'Blurgh',  but when you consider that he's playing Melbourne (118 last season) and GWS (90) in his next two whilst getting silver service from a reigning Premiership midfield… I mean, he looked excellent with 95 and some very clean hands last week in torrential rain – imagine what he could do with a dry footy? I'm liking him as an F7/bridging option, and possibly someone who could replace Rockliff on the field while he and Vossy sort their beef out…
What do you think? How are you getting Stevie J into your side? Will you consider any of Dalzeill, Hutchings or Tippett this week? As usual, let us know in the comments below!
100 words on: Round 15 issues
# Heppell, Goddard, Gibbs then Daylight
That's what our Top 6 Defender list looks like at the moment… Who will fill those last 3 slots over the run home? Ibbotson ($465k, 102BE) and his Fremantle teammates have a promising run home, while Enright ($441k, 133BE) has been under the radar with his consistent output lately, going at 92 per game in his last five starts. Even Waters ($414k, 89BE) has been showing great signs with 90 and 88 in his two weeks back from injury.
With most coaches scrambling for a D6 with the Vlastuin/Goodes issues, this will be a huge focus at the trade table for R15.
# Rookie Bonanza
After a lean fortnight with rookie in terms of quantity, there's been an explosion of fresh meat available at the local market. Mitch Clisby ($89,300 DEF, -84 BE) is the leading option and rightly so, but Joe Daniher ($143,200 FWD, -52BE), Brad McKenzie ($108,500 MID, -66BE) and Lachie Hunter ($102,700 MID, -39) are all bubble options that deserve a look when contemplating cash-making targets this week.
# Blitz over?
With Awesome Dawson (Simpson) making a splash in his return to the Geelong ruck stocks, is that game-over for Blicavs fantasy-wise? His run of 80+ scores ended last week (58), coinciding with less time in the guts and attaining his peak price of $324k – All the signs point to moving him on this week if you haven't already. Nicholls is a solid R3 for the foreseeable future, and Blicavs –> Naismith nets you a massive $235k to use elsewhere.
# Underperformers
What do we do with guys like Tom Rockliff and Shaun Burgoyne? Rocky has been sent forward and hasn't posted a 90+ score since West Coast in Round 7, while Burgoyne's three scores under 60 on the trot is just unacceptable. If you can relocate Burgoyne to D7 and upgrade around him (as he's only worth $309k now!) then I'd look at that, while Rockliff might get one more week to show something before Stevie J takes over in the forward line and Rocky slides to F7 if he continues his current form.
# Double D's?
With so many rookies on the bubble, should we be thinking about double-downgrading?
The short answer is no, and the long answer is "Hell no". It's all about points on your field at this point in the year, so fielding the best possible starting 22 should be your only concern at the moment. As I suggested earlier, downgrading at R4 in a lean rookie week is something you can do to bridge the cash gap; there's no need to set your team back this week to grab a couple of rookies.
# Boyd has a Broken Face
Sorry guys, I wrecked him for everyone. Of course, after I say Boyd's off my Watchlist for 2013 then proceed to trade him in a month later, karma was always going to curb-stomp that kind of contradiction. My bad.
Leading replacements at this stage include his teammate Griffen, as well as the consistent Kieren Jack (great run in his next two, remember) and the unique Montagna… Even the out-of-form Stanton at $475k with his upcoming run will coming into calculations.
# Barlow 'Likely'
Yep, the Injury List says 'Test', but the club says 'Highly Likely" in the piece of PR bliss. Well done to those who held him… If you believe anything a club with Ross Lyon at the helm says!
Who are you looking at to replace Boyd? Will you be acquiring Clisby, or looking at another rookie ahead of him? Discuss in the comments below, or tweet me at @Tbetta9. Good luck!
PS. Make sure you check out the FootyRhino Podcast featuring yours truly here, or go straight to the MP3 download here – All about what to do with Boyd and the Unique All-Stars for 2013!