Tbetta's Bullets: Round 13
In times of great pain or loss, patients are often encouraged to look at the bright side, to dig for a silver lining. Round 13 is such an event, so try and focus on the positives – read on to see exactly what those are in this week's Bullets!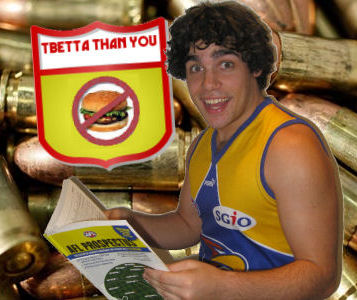 In times of great pain or loss, patients are often encouraged to look at the bright side, to dig for a silver lining. Round 13 is such an event, so while you may be reeling from a terrible week scoring-wise, or dealing with the loss (read: injury) of much-loved team members, you can always focus on the positives.
Follow the script below, and you should be feeling optimistic by the end.
1.  How did your Overall Ranking change from pre-byes to now?
You have to look at Round 13 as just one third of a whole, with that 'whole' being the giant pain in the ass that we call the MBRs. Personally, my overall ranking went from 1,612 after Round 10 to the 706 it is currently, despite slipping slightly after Round 12. I look at that as a big positive, and hopefully, if you follow this article weekly and employed some of the strategies we've talked about, you saw a similar improvement over the MBR's overall. So smile!
But Tbetta, I actually went backwards in The MBRs….
2. Think about how wonderful it will be to have Ablett and Swan back!
A week in Dream Team without Ablett and Swan is a nightmare in itself. I checked the stats – Both Dane and Gary (we're on first-name basis by now) have been in the top 5 DTers by average every year since 2008. That's six seasons of superiority – no wonder I feel like Quinton Lynch without his glove on without them sitting side-by-side in my squad, fighting over the 'C' and 'VC' armbands.
But Tbetta, I tried to go unique so I don't have Swan or Ablett….
3. Focus on the fact that we have no more Byes for the rest of 2013!
That's right. Of course we all know that there are no more byes, but have we stopped to embrace it yet? No more 6 games per week, no more 'Best 18' bull. No longer do we have to worry about whether your upgrade target has the R11 Bye or R12 Bye, no longer will we be forced to trade in rookie hacks (Hrovat), and no longer will we be forced to wait for the Bye to pass before we can bring in our favourite option at the trade table (Gibbs/Heppell). It's whoever we want, whenever we want! How good does that feel?
But Tbetta, I could actually do with the Best 18 system with all the injuries this week….
Well, you're screwed.
3. Bartel (125)
Just when we thought we had these club medicos figured out (you know, how "1 week" actually = 3 weeks, "4-6 weeks" really = a 2-week miracle, "in doubt" means you take their number, divide it by 6 and subtract the day of the month, and that'show many games they'll miss, obviously) the Bartel Case comes along to muddy the waters once again. Apparently, when you send your best player over to the US to shoot hoops with Patty Mills, then claim he's suffering jet lag while seemingly buttering up the football public with a "50-50 chance" prognosis, it actually means he's going to play and bust out a 125-point game. Good to know.
2. Boyd (152)
Old man Boyd went old school this week, busting out a throwback 152-point total against a rampaging Tigers unit. He easily cleared a Triple Trouble (34t, 10m, 9t), and he even did it with a decent disposal efficiency rate of 76.5% – miles above his normal 65.1% output. I tweeted (how hip of me) a few weeks ago that with two calf injuries this year, Boyd was on completely off my Watchlist this year – but a month is a long time in footy, and things change…
1. Montagna (146)
Remember the good old days, when Montagna was relevant? The year was 2008; the Saints were enjoying a tremendous season – Premiership contenders after finally pushing into the Top 4, Monty was averaging career-highs in multiple statistical categories, and people still cared about his 2004 rape allegations. But most importantly, Montagna was the 3rd-highest averaging DTer that season, behind – you guess it – Gary Ablett and Dane Swan, producing 113.1 ppg that season. Fast forward 5 years, and Montagna has barely been an afterthought all season.  Despite averaging 109.5 points this year, he's only sitting in 2.3% of teams competition-wide, most likely the result of St. Kilda's worm wriggling in the wrong direction. With injuries to some highly popular midfielders, Joey should come into calculations for many coaches this week, and rightly so.
3. Rancid Rookies
Round 13 was so devastating, that I'm reduced to giving out Trolling nominations to whole concepts rather than just individual players. Without a doubt, the subset that screwed us over in the final MBR round was our rookies. Hrovat's horrible 15 before being understandably subbed, Mayes' thigh injury-induced 17, Pittard's sub-affected 20 and Vlastuin's shin-soreness for just 32 points were death sentences for any side that expected to climb the rankings this week.  'Best 18' could have helped in theory, but with many sides fielding the bare 18 or maybe 19, it was little consolation when so many of our squad members went on strike.
2. Piss-weak Premos
Do I really need to go into detail here? We all know who they are; Burgoyne (55), Birchall (32), Cotchin (78), Hanley (56), Franklin (67). These are scores we expect from our place-holding rookies, not the guys we paid top dollar for (Birchall, Hanley and Burgoyne, I'm looking at you here) or even the fallen Premiums that were supposed to turn their form around (Cotchin and Buddy, that's you). And what do we do with these guys? Nothing. We can't, because we've too much to worry about thanks to the next demographic in this week's Trolling:
1. Important Injuries
Yep, just what we needed as a parting gift from the MBRs, key injuries; they're about as welcome as Wayne Carey was at Glenn Archer's 40th earlier this year. At least Barlow smashed out 124 before Scott Thompson smashed his jaw, and Scooter kicked a goal and even won a holding-the-ball one-handed to get to 102 after breaking his thumb in the 3rd quarter. The same can't be said for Grant Birchall (PCL, 4-6 weeks), who is the first player to appear in a Breakers/Trolling section twice in the same week. Great effort mate, chuck that in the trophy cabinet.
Let's take a step back from the doom and gloom of our post-R13 depression and take a quick glance through the long-term lens. For so long we've been preparing our teams for the Byes, identifying structures and engineering trades to meet that end. But let's take stock of our current situation;  we have semi-complete squads  – a quick scroll through my leagues show that most teams are 3-4 players shy of a full Premium side, which would take 6-8 upgrade/downgrade manoeuvres to accomplish; and an absurd 20 trades left to expend.
Clearly, our tactics and strategies need to undergo a massive shift, but to what? We've never been in this situation before – never in the decade-or-so of Dream Team have we had the ability to go out all Scarface-style, because we've always had to conserve our trades. Here are my thoughts on 2nd-half strategy, and what I'll likely be doing with my squad in the coming weeks:
Obtain a Full-Premium Starting 22.
With two trades per week, it's basically become a race to who can 'complete' their sides first. In the age old question of Cash vs Points, it's certainly leaning towards becoming a gold rush for the latter. Everyone will be able to 'complete' their sides the way the rules are this season – it's who can manufacture the most points along the way.
My first priority (outside of LTI's and preventing donuts) will be fielding a decked-out starting 22. Now, I don't mean the top-echelon of players in each position – it's unlikely we'll ever be able to obtain that 'Elite 22' with injuries and form slumps. I'm talking about players we regard as Premiums irrespective of current form – yes, that includes the Hanley's, Cotchin's and Franklin's of the fantasy world. I want to move away from relying on Vlastuin at D6, Jaeger at M8 and Macaffer at F6 as soon as possible.
As uninviting as it sounds, that includes the fallen Premiums in the short-term. Form is fleeting – in 3 weeks, we might be lauding the heroics of Hanley or Cotchin – how much will it hurt trading them out then seeing them go bang (as a Dangerfield owner who dumped him before back-to-back 140+ scores… It doesn't feel good)? This will ensure our sides get stronger each week, rather than just throwing a bandaid (ie. sideways trading) on every failed score for the remainder of the year.
Strengthen Your 22, Build your Back-ups
Once I've obtained that fully-Premium side (at least on reputation), then it's time to start strengthening your on-field personnel, while keeping your back-ups in mind.
Say at this point your backline looks something like:
Premium, Premium, Premium, Premium, Premium, Hanley [Goodes, Rookie]
You might recognise that Hanley ($358k) is worth roughly the same as Goodes ($339k). So instead of dumping your fallen Premium in Hanley (who you most likely bought at over $500k), you upgrade Goodes to an in-form Defender, sliding Hanley to D7. Effectively, this gives you 7 Premiums to choose from each week, allowing you to bench the one who has the most difficult match-up, or the one most out of form.
You do this across every line – maybe Priddis/Titch becomes your M9, and Franklin/Zorko becomes your F7. Not only does this give you options week-to-week, it also means you're covered in a week such as the one we're experiencing now, when carnage hits and 2 Trades isn't enough to dispel the damage.
Fixture Trading
So, what happens once you've achieved this 25-deep team of Premiums? Do you sit by idly, letting those trades disappear into cyberspace, or do you put them to good use?
You start looking to the fixture, that's what you do. Let's say it's post Round 20 and you've achieved a starting 18 you're happy with, plus back-ups that you can rely on if the crap hits the fan. You notice two things:
1. North Melbourne has Essendon, Hawthorn and Collingwood ahead of them, a very tough finish to the season.
2. Fremantle meets Melbourne, Port and St. Kilda in their final 3 matches; a cakewalk in other words.
Andrew Swallow –> Nat Fyfe looks pretty good doesn't it? Or could Jed Adcock (Brisbane have Giants and Bulldogs in next two) be a good replacement for Beau Waters, given the Eagles face the Cats and Pies in the next two? Fixture Trading is fraught with danger, but I think we can agree it's better than doing nothing once our sides get to this point – it's all about giving your side the best chance of winning.
What's your strategy for the rest of the year? Do you have a radical plan that'll put you ahead of the pack? Let us know in the comments!
Great question! With Birchall out for the mid-term and normally reliable D6's like Goodes and Vlastuin in doubt (not to mention their growing BE's), this is going to be a focus area for coaches this week. If you're getting rid of a headache like Hanley or Birchall, the best medication is one of your more consistent types – jumping on the next Broughton roller-coaster isn't going to make you feel any better.
Obviously, the first choice is Gibbs ($449,800 DEF/MID), if you haven't got him already. He's been in crazy form since coming back from that hamstring complaint, notching totals of 93, 123 and 123 in his last few outings, playing OOP (out of position) through the midfield. A 'must-have' in the truest sense of the term.
So, assuming Goddard, Heppell and Gibbs are off the table, this is who I'd be looking at:
# Bachar Houli ($444,600 DEF). Hasn't scored less than 81 in his last 8 games; exactly what you're looking for to replace a Birchall type. Averages 99.2 in last 5, has a nice little run with Saints, Roos and Suns in his next three.
# Corey Enright ($446,200 DEF). Similarly to Houli, has been sneaky-good with a basement score of 80 in his last 8 starts. Very consistent, but will be rested at some stage. Averages 94 in his last 5.
# Garrick Ibbotson ($453,600 DEF). I think he's an average footballer, but his numbers don't lie. 103 last week brings his season average up to 102.9 – second only to Goddard in the backline. Two scores from eight under 70 worries me, but in this current role he should be a 90+ scorer for the foreseeable.
Honourable Mentions: Trent McKenzie ($407,600, 90.5 avg), Michael Hibberd ($422,200, 90.3 avg), Nick Malceski ($429,500, 87.1 avg).
This one's easy – Stokesy ($451,700 FWD). He's been my boy since Round 5, and hasn't let me down once in that time. His worst score in a full match all season has been 79, and he averages 100.8 when you remove his green-vested (green!) 60 from Round 2. He has Top 6 Forward written all over him, as clear Aaron Edward's tattoos scream "I'm a massive nob".
A couple of notes on the other pair you mentioned:
Roughead ($446,700 RUC/FWD) has been awesome lately, but beware of getting him at the tail-end of a hot streak. He's kicked at least three goals in his past 6 games, going at 102.5 DT per game in that time. His average before that? Just 77.3 per game. I hate to say (I have Roughy – his DPP was handy over the MBRs), but with Hale and Bailey in the same side, Roughy needs to kick goals to score well, and that won't always happen. Riewoldt's season has also been a tale of streaks, although the timing was reversed; 110.7 in his first 7 games, but just 94 in his last 5. Not a bad option, but probably another forward you'll be overpaying for.
Scott Caan once said "Good things happen once you get your priorities straight". This guy's worked his way through more sticky situations than we've had hot dinners, manoeuvring his way through Gone in 60 Seconds and three Ocean's movies and still ends up with the payday every time, so let's just take his word on this one.
Priorities:
1st priority: LTIs. That means Birchall and Scooter are the first cabs off the rank.
2nd Priority: Fitness. Say Barlow is out for two weeks, which matches Stevie J's two on the sidelines through suspension – you trade out the injured player, every time.
3rd Priority: Team Balance. Trading out Selwood and Barlow for two Premiums is all rainbows-and-unicorns in theory, but if that means playing Brent Staker or similar at D6 while Tom Mitchell sits on the bench at M9, then it's a foolish move.
100 words on: Pressing Issues
# Coverage Issues
Not only might we be forced to deal with the issues created by injuries to Barlow, Scooter, Birchall and Adam Goodes, as well as Stevie J's suspension; but we might have to do it without support from Hrovat and Mayes who are more likely to be dropped than not, as well as niggles to Vlastuin (shin) and B. Goodes (wrist).
Round 14 is just another (albeit unexpected) example of the advantage of squad depth.
# Midfield Replacements
Barlow's jaw and Scooter's thumb means we'll again be looking for Premium Mid value – here's who I'm looking at (assuming Swan, Ablett and Pendlebury are already off the table):
# Fixture Trading
If you're looking to get onto the Fixture Trading bandwagon, here's a few easy runs coming up that deserve your consideration:
1. Bulldogs in Next 2: Face Melbourne and Giants in the next two. Great for Boyd/Griffen!
2. Essendon in Next 4. Play Eagles this week, then a cakewalk with Port, Bulldogs and Giants the next three. Strongly consider Brent Stanton from next week (BE of 169 this week).
3. Brisbane in Next 4. Head-to-head with Hawks this week, but only play Suns, Roos and Dees after that. Jack Redden, the Back 9 specialist himself, anyone?
4. Sydney in Next 3. Face Carlton this week, then the points-fest double of Melbourne and Giants follows.
# Downgrades
Obviously, to make the upgrades we want, we still have to locate downgrade targets. Joe Daniher ($143,200, -52BE, 72 avg) is the obvious candidate, and rightly so; he looks like getting a consistent game in the foreseeable future. But who to bring in if you already have the giant Essendon legacy?
Mitchell Clisby ($89,300 DEF) had 70 points on debut, and his JS in a struggling Demons outfit is my favoured option at this stage. Wilson ($108,500 DEF, -63BE, 66 avg) and Lachlan Hunter ($102,700 MID, 86 in R13) are next in line, but JS issues worry me. See Jeppa's Juniors for more.
# Stevie J
Keep or hold? It's a pickle, especially with his MRP appeal failing. It's tough holding $451k on your bench for two weeks, but it's just as tough trading out a fit Premium – not to mention the second-highest averaging player competition-wide.
Ultimately, the decision might have been made for us already, with Scooter, Barlow, Birchall, Goodes and Vlastuin injury issues to be faced. As I've said before, trade the Injury before the Suspension, every time.
That's it for another edition of the Bullets – hopefully you've avoided most of the carnage directed our way (and it's only Tuesday!). As usual, you're encouraged to comment below – Have you been ridiculously unlucky with carnage this week? Who's on your radar this week? What strategies will you be adopting for the 2nd half of the year? Let us know below!