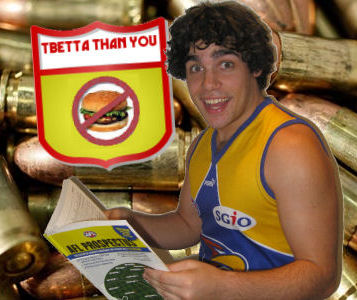 Once again, the fortunes of your DT weekend in Round 18 largely rested on the whims on the fantasy Gods. A Terlich late withdrawal here, a Riewoldt injury there, and a botched benching decision later and your weekend might have been worse than David Evans'. Par was around 2200 to 2250 this week – let's check out the damage modifiers from Round 18:
Dean Cox returned to form with 102 points against the Bulldogs, proof that he is still a Premium whenever NicNat isn't in the side. Well done to those who held firm on Coxy – although you wouldn't be too disappointed if you brought in Kreuzer (107 and 94) or Goldstein (73 and 137) a fortnight ago!
Dane Swan once again tore the Giants to shreds with an oink-worthy 163 points as Calvin's Number 1 Captain option this week. It was all rainbows and unicorns for Swanny owners this week, which was a nice change from the disrespect he's been shown over the previous month. How is it possible that a player can top 130 points in 6 out of 8 weeks (followed by daylight) and still cop criticism? Keep oinking, mate.
Tom Mitchell scorned those who doubted him this week, crafting a 112-point score at M9 for many sides. He did need a couple of sausage rolls to get it done though, which doesn't totally alleviate my doubts over his forward-line role. With popular Premiums like Stanton (89), Pendlebury (74), Priddis (74), Cornes (80), and Cotchin (91) all failing to exceed the magical 100-point barrier, Titch was rolled gold if you had faith in him at M8.
Some serious thumpings this week translated strongly to fantasy scoring, with Hawthorn, Carlton, North Melbourne and Geelong as cashing in on big wins. Not surprisingly, the biggest discrepancy came in the Roos vs Demons 'match' – I use apostrophes there, because it was more a training drill than an actual AFL game – with North outscoring their opponents 1950 to 1316! A huge 12 players scored over 90 for the Roos, as well as 18 players topping 75 points. That's an all-round belting. It looks like short-term fixture trading could be an excellent tactic in DT Finals, particularly if you have a do-or-die League match coming up – definitely check out the draw for a competitive edge!
What got you over the line, or had you falling just short this week? 
Points of Difference/Despondence
3. Sidebottom (143) & Beams (130)
Round 18 was a throwback to 2012, a heart-warming trip down memory lane. The nostalgia of seeing Sidebottom, Beams and Swan cherry-pick their way to 130+ scores (with Pendlebury the only member of the Big 4 to disappoint with just 74 points) was almost too much to bear! This is Beams' second monster score on the trot, signalling his return to Super-Premium ways after an extensive lay-off with that thigh concern. I tweeted during the week about how much Sidey loves playing with his mate Beamer – he averaged 92 in the 14 games that Beams missed, but has notched scores of 105, 99 and 143 since his return.
If you can't afford Beamer's swollen price-tag ($580k), then Sidebottom at $448k could be a great value investment with a similar return over DT finals.
2. J. Lewis (118)
You know those people who just have highly punchable heads? Jordan Lewis fits right into that category alongside Louis Litt from Suits or Ruxin from The League. Regardless, J-Lew has been doing all the right things to change my prejudice towards him, smacking out scores of 105, 106 and 118 in his last 3 starts. With Stokes, Bartel, Stevie J and Franklin issues bombarding us in the forward line in recent weeks, Lewis was an excellent stop-gap option at sub-$400k.
1. R. Henderson (93)
Dicky! Talk about silver linings – Brent Reilly's season-ending shoulder injury single-handedly created insta-Premo Henderson. Since Reilly's departure, Hendo has averaged 105.2 points per game and shot up a huge $135k in a very Birchall-esque role; Adelaide love getting it into his mits, whether it be via a kick-in, a switch in defence, or a line-breaking run through the guts. The downside of this new role is that it's very susceptible to a tag – we've seen how easily Birch was quelled at the heights of his powers this season, and Henderson already attracted De Boer's ire in Round 18. The good news is that Port doesn't usually employ a forward tag – only time will tell whether that changes in the Showdown this weekend.
3. N. Riewoldt (48)
Aweek is a long time in footy, as evidenced by Riewoldt's demise from Polling to Trolling in just seven days. Roo hadn't produced anything less than 80 all-season long, had his visit from the General a couple of weeks ago, and looked primed to mark-kick combo our sides to fantasy glory in the run home. A foot injury saw him cotton-wooled in the 3rd quarter, leaving him stranded on 48 points, a huge hit to those who traded him into their sides in recent weeks. However, Riewoldt is apparently confident of playing against the Lions this week, so reverse those knee-jerk trades until Thursday Teams can tell us a little more.
2. J. Grimes (51)
Three things in this world are certain – Death, taxes, and Grimes-induced buyer's remorse. Trading in Grimes is like picking up at a nightclub in Thailand – you never know what surprises you're going to get later on. Two 90-point scores (against Sydney and Geelong, as well) coming off a 10-week break was all many coaches needed to see before snapping him up at $362k – then Dr. Jack went all Mr. Hyde on us and produced lukewarm totals of 76 and 51 in the following fortnight. And to make things worse, he's just as likely to churn out a 126-point score against the Giants this week (as he did in Round 4) as he is another 51, making him impossible to oust.
1. G. Ibbotson (56)
'Garrick' seems like the kind of name you give your kid as part of some pre-meditated tough love – if you can survive your school years having a title more suited to something you'd find in a toolbox than on a name badge, then you're a tough little cookie, right? Wrong. With McPharlin out in recent weeks, Ibbotson has felt the pressure more than ever. Since McPharlin went down, Garrick (seriously, what a name) has averaged 70.5 points, with a ceiling of just 81. Is the Dockers' famed run home worth suffering through 2-3 more weeks of McPharlinlessness? That's for you to decide.
The fantasy world is buzzing with the recent accomplishments of Dayne Beams, particularly given the dip in quality of our Premium midfielders over the past month. Many coaches are in the throes of undertaking such a mission, or have already pulled it off – but is Beamer as much of a must-have as he appears to be?
The Case For:
Massive totals of 134 and 130 in the past fortnight is enough to sell Beams to any coach looking for a midfield boost – it's the dating equivalent of saying "She's a former swimsuit model who is addicted to AFL, has a passion for brewing and is a sensational cook". Say no more.
Beamer's hefty price-tag ensures that he'll be a great POD in the run home, as many coaches won't be able to make the moves necessary to afford such a superstar. Come to think of it – how will you conjure the cash?
Stokes ($391k, 127BE) / Riewoldt ($449k, 126BE) –>
Hansen ($325k, 14BE)
Stokes has been a shadow of his former self in the last month, coughing up a three-round average of just 64.7; meanwhile, the doubt over Riewoldt's fitness might be enough to throw up his name for omission. It would only make you $66k and $124k respectively, but combined with a little cash in the bank and an underperforming Premium, you might be able to reach as high as Beamer at $380k.
Obviously, a huge part of this trade is Lachie Hansen. He's flown under the radar a little lately, thanks largely to a 'counted' 0 (knocked out on donuts in Round 16) – ignoring that game, he's produced totals of 97, 97, 99, 94 and 103 in his last five. Wow. It's all thanks to a Sam Fisher-type intercept-marking role for the Roos, and he's playing it bloody well at the moment.
Nicholls ($342k, 99BE)

–>

Grundy ($107k)

At the time of writing, this trade is by far the most common, almost quadrupling the frequency of the next popular swap. It's a perfect-storm scenario here, with Nicholls' injury-affected 25 combining with Grundy's 92 points on debut to make it a no-brainer for those chasing the green. $235k is more than enough to get the job done in most scenarios, with bench fodder like Goodes, Terlich, Dwyer, Crouch, Hutchings and even Tom Mitchell all within range, and guys like Mayes or Macaffer also possibilities with a little cash in the bank.

Word of warning though – Jolly is reportedly available this week, so with Witts (95 on the weekend) also in form, does Grundy even earn a gig against a stronger Bomber ruck brigade?
D8

–>

Hartigan ($101,300)

If you have a strong bench in defence, trading Hartigan – who had 74 on debut – into your backline wouldn't be the worst idea. Vlastuin at $281k, or even Staker at $318k, would make you a significant amount of cash, and is worth considering if you have someone like Clisby sitting there alongside them.  It's not even important if Hartigan plays long-term – this is where you take full advantage of the cash sitting on your bench, and it's something that I'll be looking to do with my D8/M10/R4/F8 in the near future.
2 Premos

–

->
Murphy + Beams
I don't like this option much, but it's a possibility – especially if you have 9 Premo midfielders already. Do you have guys like Stanton, Priddis, Ebert, Cornes or JPK giving you a big case of the regrets? No worries; package two of them up and ship in Murphy ($343k, 54BE) and Beams instead.
My trust in Murphy is somewhere between zero and zilch, and he has a pretty crappy law named in his honour – so if you can keep him at M9, that would make this trade scenario a lot more viable.
The Case Against:
While Beamer has notched a pair of excellent scores in the last fortnight, let's not forget that it was against the Gold Coast and GWS. Having the second-heftiest price-tag doesn't help either, making the margin for error pretty slim where Beams is concerned. Using the current Magic Number of roughly 4660, his price implies an average of 124.4 points per game – it's going to be difficult to live up to that kind of billing.
On top of all this, they face Essendon, Sydney and Hawks in their next 3 – all Top 4 sides – then come up against the Eagles (ranked 2nd in DT Tons conceded) and North (ranked 1st in DT Points Against). It's arguably the toughest end of year fixture of any side this year, and Beams has it.
So what I'm saying is – yeah, he'll probably continue to smash it… But what if he doesn't? You've just blown $580k on a player destined to increase in value anyway. There are certainly much better value options out there, and these guys all come with a significantly lower risk factor.
Which side of the line do you stand on? Is Beams the midfield messiah we all want him to be, or is he simply too pricey (and therefor too risky) to be moving heaven and earth to recruit? At this stage, I think I'll be overlooking him – let me know in the comments what your plans concerning Beams are!
Yesterday in the Mad Monday Podcast, the boys talked about the Ultimate 22 for Finals – head here to catch the pod if you missed it. Below is the combined effort from the lads, followed by my attempt.
DT Talk's ULTIMATE FINALS 22
DEF: Dyson Heppell, Brendon Goddard, Bryce Gibbs, Ricky Henderson, Corey Enright, Michael Hibberd.
MID: Gary Ablett, Dane Swan, Scott Pendlebury, Michael Barlow, Joel Selwood, Dayne Beams, Matthew Boyd, Ryan Griffen
RUC: Dean Cox, Matthew Kreuzer
FWD: Steve Johnson, Dustin Martin, Tom Rockliff, Jimmy Bartel, Nick Riewoldt, Travis Cloke
Tbetta's ULTIMATE FINALS 22
DEF: Dyson Heppell, Brendon Goddard, Pearce Hanley, Ricky Henderson, Corey Enright, Trent McKenzie
MID: Gary Ablett, Dane Swan, Scott Pendlebury, Michael Barlow, Nat Fyfe Dayne Beams, Matthew Boyd, Ryan Griffen
RUC: Dean Cox, Matthew Kreuzer
FWD: Steve Johnson, Dustin Martin, Tom Rockliff, Jimmy Bartel, Nick Riewoldt, Tom Lynch
Let's break it up and quickly review each selection.
DEFENDERS
Heppell and Goddard: No brainers. Get it done each week, must-haves regardless of fixture. Bryce Gibbs was also in this category, but a move by Malthouse to defensive roles puts him in risky territory.
Henderson: Scored 93 with a tag on the weekend – Adelaide's friendly run of Bulldogs, Melbourne and an undermanned West Coast seals the deal for Dicky.
Enright: Super-consistent rock in defence – only one score below 80 in his last 12 starts.
Pearce Hanley: Not sure on the time-frame on his broken hand, but if he can get back from Round 21-22 for the Giants and Bulldogs, then he's in. Had 4 straight scores of 83 or more before his injury, and had totals of 108 and 125 against the Gold Coast this year – a good indicator for GWS, for whom he had 118 against last year.
Trent McKenzie: The Cannon is a bit of a wildcard, but gets included in no small part due to his run home. Melbourne/Port/Saints/Giants is almost the dream run – ruined only by the fact that he can never come up against his own side. T-Mac's 60 on the weekend might have you worried, but note that Rory Thompson was a late withdrawal, forcing McKenzie to play a more accountable role than normal.
MIDFIELDERS
Swan, Ablett, Pendlebury and Barlow: No explanation required! Guns.
Beams: Ain't no one sluttier in this game than Beams. Tough run home, but traditionally that hasn't affected him – in fact, these are his 2012 recent scores against his Finals opponents: 131, 99 (Sydney), 147, 111 (Hawks), 117, 129, 117 (Eagles) and 129 (North).
Boyd and Griffen: The Bulldog's last three games are too tempting to pass this pair up. Adelaide, Brisbane then Melbourne in the GF should equate to a truckload of points. This duo could be the difference between you and someone who has, say, Jack and O'Keefe – the Swans have the Cats and Hawks in their last two matches, and while Sydney's incredibly deep midfield should soften the blow, it makes it much harder to earn gratuitous totals in what will surely be Finals-like tempo.
Nat Fyfe: Slightly controversial perhaps, especially as Joel Selwood misses out on a spot along with his brother Scott and O'Keefe. In the end, Fyfe's rampant form and Freo's run of the Giants, Demons, Power and Saints had too much potential to ignore. Joel Selwood's incredible scoring of the past 6 weeks was taken into account, but the likelihood of a Cornes, Scooter, O'Keefe and Raines tagging spree over the final four weeks ruled him out, especially as Crowley limited to him to 38 right in the middle of this incredible purple patch he's experiencing.
RUCKMEN
Kreuzer: A low of 81 in his last 10 outings. Enough said.
Cox: No NicNat equals no worries – with West Coast losing to the Bulldogs, I can't see why they would bother rushing Naitanui back. The other consideration was Will Minson, who obviously takes on the Demons in the GF. As we know, Melbourne gift-wraps points to opposition ruckmen (Goldstein's 137 on the weekend was little surprise), and Minson already had 110 on them earlier this year.
FORWARDS
Stevie J, Martin, Riewoldt: Three of the highest averaging forwards all year, so no surprises here. If Stevie J can stay out of MRP trouble and Riewoldt's knee/foot holds up, these guys are clear picks.
Rockliff: Should be in the class above him, but unfortunately Voss is a massive bell-end when he wants to be – especially when he plays Rocky as a permanent forward. Moloney's hamstring, Black's senility and Hanley's broken hand means that he should see midfield time for the foreseeable, making him a must-have.
Bartel: Less than 70 in his last three games, but you can't see him fading out in the run home. He's had his rest, and I expect he'll peak at the right time – heading into the AFL Finals.
Tom Lynch: Yeah, I know. Travis Cloke should be here, but Collingwood's tough run home and the fact that you never know whether you're going to get the spud or the stud version of him rules him out. Lynch has been in great form lately, scoring under 82 just once in his last five (a 75), and has shown that he loves to smash the minions – the Bulldogs and Melbourne in Rounds 21-22 is just too good to ignore.
What do you think? Who's in your Ultimate 22? Head to the Mad Monday post to get involved in the conversation!
# Trading strategy
Lately we've talked about how we've moved away from a cash-centric trading strategy to one that favours points on the field – this shouldn't stop, especially with DT Finals looming. One thing I'm noticing is that most squads seem to have a Full-Premium 22 now, and some have even built up a decent EMG surplus across every line.
If that's your side, you should be looking to make as much cash as possible from your D8/M10/R4/F8 slots, and using that cash to fund upgrades to your on-field personnel. Something like Nicholls –> Grundy or even Hrovat –> Curren would allow you to upgrade your poor on-field performers – such as Stokes, Deledio or Ibbotson – to the best player in that position.
Another tactic you can employ is what I like to call 'The Mistress'. It's basically rorting the BE cycle through bridging trades, except that you don't ever play these guys – they just sit on your bench. Darren Glass ($271k, -2BE) and Kane Mitchell ($231k, 9BE) are a couple that might fit into this category, purely for cash generation purposes.
# Return of the Score-High
Remember when we were struggling for midfield Premos a month ago? Not anymore. Beams, Scooter and Boyd are all back from injury, and Cotchin and Jelwood have finally found some form. Suddenly I'm trying to fit 4 trades into 2 to get these guys back in! There will be some tough decisions over the next month…
# Bandaid Trades
Every week I see comments like "who would you rather out of…" and the like. Fair enough too – this trading gig is hard sometimes! Below is my top trade choices in each position, if money was no object (it is) and assuming full fitness.
# Crab Ebert
Don't trade him in, he's useless.
Anyway, that's it from me this week. We'll take a closer look at League matches than ever before over the next month, as many coaches abandon the Overall quest and become much more League-oriented. As always, get involved in the comments below, or hit me up on Twitter at @Tbetta9!