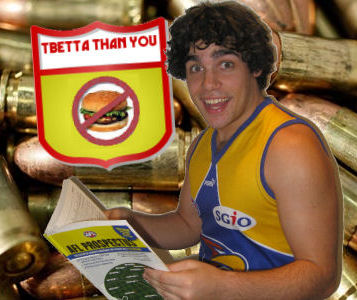 With the sun setting on the DT home-and-away season, there's no room for the weaknesses that crept into our sides this week. It's all do-or-die from now on – whether it be attempting to secure the double chance (more on this soon), or pure survival – the margin for error is closing. Round 19 functioned as a cautionary tale in some respects this week, but also gave us some much-needed data leading into DT Finals.
Here's what I took out of AFL Fantasy this week:
Once again, M9 is the source of contention in many head-to-head match-ups. Where having Tom Mitchell at M9 last week meant missing out on his 112-point score, being able to sit his tagged ass on our benches was a stroke of luck. Then again, if you're a Priddis owner, you've just shat the bed. A late withdrawal then Titch gets tagged –
Side note… WHAT THE HELL?! Someone at the Bulldogs is massively kidding themselves. What possesses you to send your best tagger (Picken) to an 8-gamer, while letting the side's Captain – who'd probably collected 5 Brownlow votes over the previous two games alone – to run free, is beyond me. Then to stick by that tag, as Kieren Jack slowly bends your side over, for the entire game… Either Mr. Bulldog Match Committee Man has a Brownlow bet on Jack, or his opponent had Tom Mitchell as a unique fantasy starter. Otherwise, all kinds of stupid.
– for 58 points, and you probably think you're won the reverse lotto.
It has proven though, as good as he is, Titch isn't reliable enough at M8 (or even M9) over DT Finals. Being a rookie, he's still a great chance to spend all game in a forward pocket, an outside chance at a red (or even green) vest, and he doesn't have the experience to handle opposition attention like others might. Sliding a Priddis type to the starting bench position and cashing in on Titch is something I'll be looking at over the next month of Finals footy… A famous breeding ground for high-profile late withdrawals.
Is 4 Pies in a single line overkill? This is the question many coaches are asking on the back of a renaissance from Steele Beams – clearly a cooler nickname than Kimye, Bennifer or Robsten. Probably a better love story too; since Beams returned to the side, the Steele Beams combo has averaged 233.5 per game! Add in Pendlebury and Swan in typically strong seasons – they've been going at a massive 473.8 points per game as a quarter since Beams' return. So yeah… Nothing to worry about here, folks.

Michael Voss is a nob (Part I). As incredible as he was as a player, as a coach he's the single red sock in a washing machine full of whites for our fantasy sides. Firstly – and I am far from forgiving him for this – he left Pat Karnezis out to dry. Patty's awesome pre-season warranted more than a dumping after one sub-standard game (66 DT) in Round 1 and a green vest the following week, not that spiteful face-saving knee-jerking back-stabbing joke of a decision. Now Karnezis wants back to Victoria, and I don't blame him. Odds on, he'll be in my starting side next year if he's granted his wish.
Michael Voss is a nob (Part II). Why on Earth he would play Tom Rockliff as a permanent forward these past two years when he had a career-best season in 2011 (earning 9 Brownlow votes in a crap side) is beyond me. I keep quoting this stat, because it defies common sense – Rocky averages 74 as a permanent forward this season, compared to the 108.8 DT he ticks over at as a midfielder. "But Vossy doesn't care about DT, it's all about the team" I hear you say? Well firstly, damn right he doesn't care about DT (we've been over this!). Secondly, check out the SC splits – a respected measure of effectiveness and influence – 75.2 SC as a forward,  a whopping 118.8 SC as a midfielder.
Either way you slice it, Vossy is a dick and Rockliff is a gun.
What did you take out of Round 19's happenings? Got a rocket for Vossy as well? Join the conversation by contributing a comment below!
Points of Difference/Despondence
3. K. Jack (140)
Jack has a sidestep that makes Lenny Hayes blush and a fervour that pleases Glenn Archer – but now he possesses the DT-game that many in the same mould before him failed to attain. I see a ridiculous correlation between himself and Joel Selwood – both are an in-and-under type, both debuted in 2007, both are young Captains of their clubs and both have younger siblings in the AFL system. Statistically they are peers as well – both average 25 touches per game over the last two years, with at least 5.6 tackles a game in those seasons. I have no doubt that both will continue to clear the 100-point mark for years to come.
After a slow month, K-Jack has turned it around with scores of 128 and 140 in the past fortnight – expect the tag to swing speedily back to young gun.
2. H. Hartlett (120)
You couldn't mention the name 'Hartlett' in fantasy circles without eliciting a fart-in-an-elevator vibe just 2 months ago. The whole thing stunk, but no one wanted to talk about it, and so it just awkwardly wafted. Now… it's a salt-in-the-wound mentality for a lot of coaches as far as Hamish in concerned. After most owners dumped him following a horror stretch mid-year (57.2 average over 5 rounds), he's turned his form around in a big way.
His 120-point return on the weekend was the icing on a 2-month old cake, in which he's served up just the single score under 83. Congrats to the 18% of owners who are currently on the Hartlett train – you've just bought yourself a ticket to this year's version of the Broughton (circa 2011) rollercoaster!
Hold tight.
1. L. Hansen (113)
If you had asked me pre-season about Hansen's fantasy prospects this pre-season, it's fair to say you wouldn't have received a positive response. My general feeling about Hansen has always been that he is to AFL as Magikarp is to Pokemon, Paris Hilton is to Hollywood, and Mark Ricciuto is to any sort of media career.
Fast forward 6 months and he's an integral part of North Melbourne's game plan, notching DT scores of 94 or higher in each of his past six (full) matches! At $366k (after a $41k price hike this week), he's still cheap enough to bring in as a POD in the forward line – so strongly consider Hansen if you're unhappy with the exploits of any of your current crop.
3. C. Sylvia (40)
Trading in Colin Sylvia on the eve of finals is like chanting Bloody Mary into a mirror before helping out your long-lost Arabian Prince Millionaire cousin with a loan, because he'll totally pay you back in spades. You're tempting fate, and you're destined to lose.
At $378k, on the back of dual 80-point scores and coming up against the 'might' of GWS, Sylvia looked like a pretty solid bet, or at least a risk worth taking… But hey, so did Greg Oden for the Portland Trailblazers ahead of Kevin Durant, or Richard Tambling full-stop, and we all know how those acquisitions turned out. 40 points against the lowly Giants with the Whiley tag (who??)… Yuck. No wonder they call you Colon.
2. N. Malceski (64)
Seriously, is Malceski the creepiest looking player in the AFL? Sure, Milne looks like he was raised in a sewer, Cameron Ling looked way to much like Carrot Top and Fraser Gehrig was simply hideous… But Malceski looks like he definitely has a few bodies buried in his backyard. Avoiding him in a one-on-one conversation is pretty high up on my list of priorities in life.
Either way, his scoring lately has been scary enough. After an excellent 7-game spree – in which he failed to score 97 points just once – he's dropped off considerably. 64, 74 and 64 has contaminated his score log, thanks to a combination of niggling injuries and forward tags. Unfortunately, this is just another chapter in what has been a nightmare of a season in the backline.
1. T. Mitchell (58) / B. Staker (47)
In an ideal world, women would revere fantasy coaches like Rockstars and Tom Mitchell and Brent Staker would line up at M9 and D7/F7 at best in your DT side. Unfortunately, some would be starting them for a plethora of reasons (cash, injury, and in the case of T. Mitchell, a serious fantasy chubby).
Even more unfortunate are the Ibbotson and Priddis owners, who not only missed out on Premium scores from the pair due to late withdrawals, but copped 58 from a Picken-tagged Titch, and just 47 from 3 goals for Staker – possibly instead of an impressive 90 from Clisby. Ouch.
It's DT Finals – the time of the year where it's all about the points. Most of us are out of the running for Overall glory, so saving face in front of/continuing the dominance of your friends or workmates in League Finals is the sole priority.
This particular Bullet is for the underdog – the team that needs that extra boost to get the chocolates. Clearly, if you're the raging favourite, all you need to do is nullify uniques (your opponent has Barlow, but you don't? Easy call) or grab the obvious guys (Hanley, Beams,Cox/ Kreuzer, Rockliff, etc.) and hope that no one has a stroke.
If you're in doubt for the W, you have two considerations. You either want to recruit the Unique guy – the little-owned player that can go boom – or the value buy. Why would you need to save money if it's a must-win you ask? So you can spend big with your 2nd trade, of course!
DEFENDERS:
POD: Harry O'Brien ($402,600 DEF)
The backline is all topsy-turvy these days, so why not go full #YOLO with Harry O? His 113 at the weekend was his 3rd 110+ score of the season, showing a ceiling that many other defenders don't have. He's also scored 75 or more in his last 8 games, making the worst-case scenario a mid-range Gibbs score these days. At 4.9% owned, he's a sneaky one.
STEAL: Heath Scotland ($367,300 MID/DEF)
With a -16BE, Scotland is both cheap as chips and completely risk-free. Scores of 129 and 126 this week indicate that super-slut Scotland is back, but do you trust these scores are indicators of future returns? I personally think it's a little slice of Fool's Gold – no evidence to this theory (short of the 57-point three-round average coming into R18, anyway), just a gut feeling I've got.
MIDFIELDERS:
POD: Scott Selwood ($508,900 MID)
My boy! Scoots had 98 at the weekend, but many coaches won't realise this was injury-affected and will write him off. A head-knock slowed his progress in the 2nd half, but before then he was on track for a score more like the 113 he had against the Bulldogs in his return from a broken hand. I think a lot of people forget that he's still the 7th-highest averaging pure Mid this year, and 8th when restricted to last five scores -and he's just 3.3% owned.
STEAL: Steele Sidebottom ($479,800 MID)
I've talked about Steele's increased influence with Beams around, so I won't dwell on that here too much. What I will say, is that he's averaging 118.3 points over his last 4 games, and the current Magic Number implies he's priced at an average of 102.9 points. Bargain!
RUCKS:
POD: Will Minson ($422,800 RUC)
They say that you're not a real man if you don't have a big Willie. I don't know if I'd go that far, but getting in Will Minson at R2 would be a great POD over the vanilla Kreuzer/Roughead options that most of us have. 112 and 99 in the last fortnight, with the Demons in the DT Grand Final – Minson's looking like an excellent buy that only 5.6% of coaches can say they've made already.
STEAL: Shane Mumford ($363,900 RUC)
Mumford's injury concerns are well documented, and with the hugely improved Pyke in the side, he'll always be a red-vest chance. However, it's these factors that have contributed to his low price. If you like the look of his last two scores of 107 and 103, now's the time to jump on.
FORWARDS:
POD: Chris Mayne ($427,700 FWD)
Mayne is the definition of unique, lining up in just 4.8% of sides despite output that clearly deserves more attention. The combination of his impressive form (98.2 L5 average, basement of 83 in that time) and Fremantle's cakewalk run home (Giants, Melbourne, Port, Saints) renders Mayne a huge chance for a ton average over DT Finals!
STEAL: Lachie Hansen ($366,000 FWD)
The classic out-of-position pick, Lachie Hansen. Earning the majority of his points across halfback has caused his output to sky-rocket (as mentioned in the Polling section above), but his concussion-induced donut in R16 has contributed in no small way in keeping his price affordable. With a BE of just 22 for Hansen this week, the risk factor is low but the potential is huge.
I considered Sandi for the section above, but overlooked him for a couple of reasons. Firstly, he's about as strong as industrial-grade toilet paper, so there's always the chance that he'll break down yet again. Secondly, Freo has that tasty little fixture you mention – but where you see extra points, I see opportunity to rest an underdone star.
With 80 points from gradually-increasing ruck time last week, he's far from the worst option – just a very risky one.

I think I've commented on this concept before – there is absolutely no situation in which you shouldn't be use both your trades.
You may have 25 Premos, the best downgrade option and no injuries to patch up – but there's still so much else you can do. Downgrading your D8/M10/R4/F8 for cash next week is a very good back-up option, strengthening your bench cover is another; otherwise, smart Fixture Trading can still improve your squad week to week.

Mark Whiley (Sylvia, 40) and Taylor Adams (Jones, 80) were the youngsters given jobs last week; but I see Whiley as the only specialist tagger in the side, with guys like Greene, Coniglio and Scully all asked to do a lock-down job intermittently this season.
There's no history for GWS tagging Freo, so it's purely guesswork. However, I'd be very surprised if they overlooked the damaging Mundy, Fyfe and Hill for a crack at Barlow, as the guy can barely kick.
As a result, I'd be much more nervous as a Fyfe owner, especially as he'll likely get 3 Brownlow votes for last week's untagged effort and that fact won't escape GWS.

Great question Douth! I strongly believe in the latter, which is why  I personally cashed up with Grundy (downgrade) and Hansen (value) before R19, so I can concentrate on fielding the best possibly 18 each week over DT Finals, without stressing about the dollar signs.
In saying that, there's no reason why you can't be satisfying both sides of the Cash vs Points ledger. If you have a Ibbotson/Malceski type in your backline, then the small cash boost from one of that pair to Scotland could fund the switch from Priddis to Sidebottom (or similar) in your midfield.
Hopefully this week's Bullets have been informing and relevant for your League match-up this week. As usual, you're encouraged to get involved in the comments below – even if it's just to suggest a better "Creepiest AFL Player" than Malceski (The Weapon doesn't count) or to argue that Kim Kardashian is more of a waste of space than Paris Hilton. Anyway, here's a few parting thoughts for Round 20 – good luck!
# Downgrades
Reckon you've got it in the bag this week? Strongly consider laughing in the face of your opponent by downgrading this week in preparation for a more difficult Round 21 battle.
Grundy ($107,200 RUC) is obviously and deservedly the most popular choice, although note that he is far from a certainty to play this week, with Jolly and Witts waiting in the wings. Lewis Johnston ($140,100 FWD) would be my next port of call. He had 98 on debut in the Showdown this week and should play for as long as Jenkins is out with that ankle issue. Mitch Grigg ($108,500 MID) is another consideration if he plays, but only if you can stash him at M10 – he's a massive sub concern.
# Fruitful Fixture
Fixture Trading is more an art than a science, but sometimes the numbers are irrefutable. For instance, we might look at Sydney, Essendon and Fremantle as tough fantasy opponents given their standings on the AFL Ladder, but this isn't always the case.
As you can see above, Syd/Ess/Freo are all in the top 5 for 'Total DT Points Generated' per game, the sum of the averages of their own scoring and their opponents over the past 5 rounds. You'll also notice that they are in the bottom half of the 'Points Against' table, which I find very surprising in the case of both Sydney and Fremantle – considered highly restrictive opponents in a strictly AFL sense.
My point? Don't write off players or teams based on the brand power of clubs – keep your analysis based in the realm of fact.
# Double Chance
The double chance is kind of a big deal guys. Go hard for it this week – if you're successful, you'll have the week off, with two trades still to use.
What do you do with those trades? Perhaps you take a risk on a player with a Low BE, or go to the bank with a double-downgrade – and stockpile all the cash you'll need to make improvements to your side over the final two rounds!