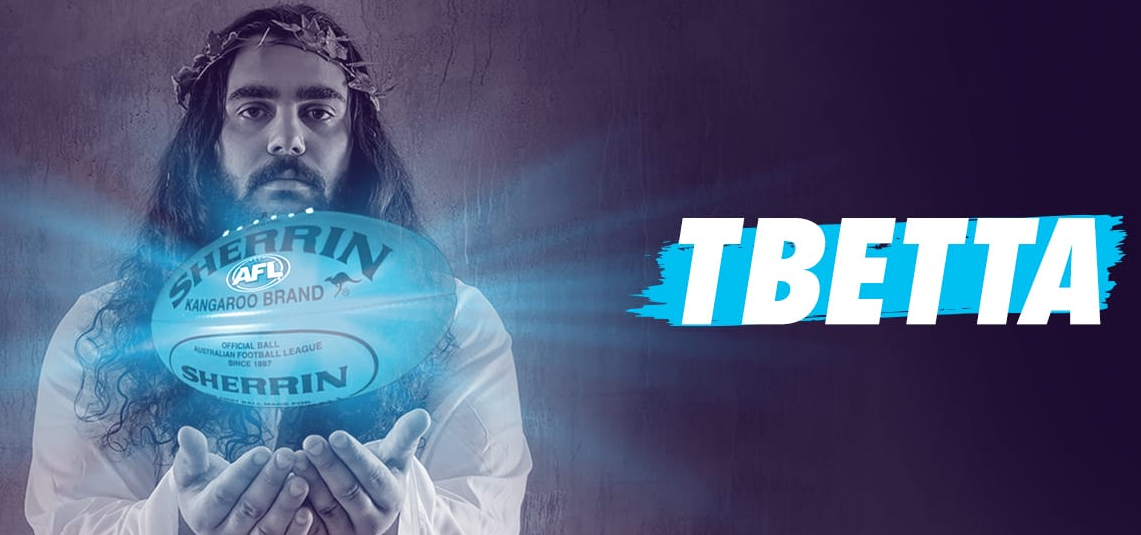 Legends, I'm back! For one week only…
As I tweeted a couple of days ago, the final round of the season is my favourite. It's that one week where my two worlds, AFL Fantasy and DFS, come together with a single focus – who is going to dominant this weekend? There are no price changes to consider, no breakevens to crunch, no long-term durability concerns to factor in and no potential rests to weigh up – it's all about Round 18, and I am PUMPED!
In DFS (on sites like Draftstars, Draftkings and Moneyball) we do this every week, so I thought I'd head back to my old stomping ground at DT TALK and show off a bit of what we do! For those who don't know, 2020 has been a huge year for me personally, launching Draftstuds.com and providing AFL daily fantasy content each round of this weird season.
So if you're looking for something to do once the AFL Fantasy season finishes, DFS continues all the way through the finals series and Draftstuds will be covering every moment. Check us out if you're looking to put your footy nous on the line for real cash, and if you like what you see, join our community! We have a discount code for loyal DT Talk readers and listeners, so plug in 'STUDS20' when you sign up for 20% off your subscription!
Without further ado, let's get into the all-important trade targets for a crucial Grand Final round of fantasy footy!
DEFENDERS
A fair chunk of the fantasy community has Docherty-sized problems in defence this week, so I'm going to have a look at some of the more unique options available to us. Which is lucky, because a couple of poor weeks and a dirty injured 11 has tanked Doch's price down to a modest $571k, so you might not be able to reach your dream trade target with the likes of Stewart, Haynes, Crisp etc. HEre's what I've come up with:
Christian Salem $609k
This is your pure Defence vs Position (DvP) exploitation option for replacing Docherty, with Essendon giving up the most points to general DEF's over the last month, as you can see from the graphic below:
Look at those scores! Scrimshaw's career break-out game with 84. Hurn's 98 (and his only score above 70 since Round 8). Stewart's season-high 102. Hell, even Houston topped 85 as a genuine defender last week. Are you brave enough to suggest that Salem won't get involved in this trend, especially coming off a 90-point total against the Giants last week?
My favourite part? He'll be super unique as he's less than 1% owned competition-wide. 
Zac Williams $599k
Speaking of the Giants, we need to talk about Williams. GWS in general have been an incredibly frustrating club to deal with in fantasy this year with their constant injuries, their mystifying poor form and random role changes. And it just so happens that it's one of those random role changes that has thrust Zac back into the conversation, with GWS aggressively shaking up their midfield mix:
Williams ran out the entire game as a midfielder last week, attending 41% of GWS' centre bounces and floating around on the wing when he wasn't on the inside. Now, there's no guarantee that this continues in Round 18 as the Giants face a do-or-die contest against the Saints, especially with the possibility of a Coniglio return looming and a multitude of other things that can flip this one on it's head. 
But that 90-point score simply can't be ignored, especially given that we know what he can do as a pure midfielder after that famous 10-week stretch to finish 2019 where he averaged 106 fantasy points. Keep an eye out for GWS' Teamsheets tonight – it could pay off handsomely with Williams.
Hunter Clark $545k
A season-high 33% of CBA's last week triggers the resurgence of Clark (82 AF last week) as a fantasy option, with Ratten firing up the classy distributor as a midfielder for the second half against the Eagles last week. Normally I'd just write this one off as a routine in-game magnet shuffle, but with Jones (hamstring) now joining inside MID's in Hannebery, Gresham and Dunstan on the injury list, the likelihood of Hunter earning midfield time here increases dramatically. 
Stay tuned for St Kilda's Teamsheets tonight for more clues as to their midfield mix, because Clark is way too cheap at $545k if he's playing in the guts. 
QUICK HITS:
Byrne-Jones $505k.

Comes up against Collingwood this week, who concede the most points to general DEF's this year. Consistency is his issue, but he's dirt-cheap and 83 against the Bombers last week is an encouraging sign. 

Daniel $632k

. Will be super popular after scores of 85 and 128 in the last fortnight but beware – Fremantle is the hardest team for general DEF's to score against in the last 5 rounds. Averaged just 66 AF prior to his latest spurt of form, so zigging while the rest of the competition zags in replacing

Docherty

with

Daniel

might just win you a league match-up this week.
MIDFIELDERS
Most of us are sorted in the midfield and you've probably got a high-profile target in mind anyway, so I'm going to cover some of the less-mainstream moves you could make in this position. I have a safe option for those who are favoured in their H2H Grand Finals this week and just want a guaranteed big score, plus a couple of riskier (but high upside) picks at a cheaper price-tag for those chasing tail.
Jack Steele $806k
There's no more consistent player in the league than Steele at the moment, having scored under 90 just once in his last 8 games and ranking 4th in the league for total fantasy points scored this season. Steele comes up against his old side in the Giants this week but might be doing so without all of Hannebery, Jones, Gresham and Dunstan alongside him in the midfield. 
I'm expecting the Man Of Steele to deliver a superhuman effort by carrying his side in the midfield this week, and the best part is that he'll be a unique if you bring him in – Steele is owned by just 7.4% of the competition, the lowest of the top 8 scorers in AFL Fantasy this year.
Nat Fyfe $632k
Quick disclaimer before we get started – Fremantle comes up against the Bulldogs this week, who are actually one of the most restrictive teams to MID's of late. Not a great start, I know. But what really has me invested here is Fyfe's last 3 scores against the Doggies (who've always had an elite midfield over that stretch) with belters of 113, 124 and 136. The cherry on top? He was Freo's highest scorer in each of those games. 
My favourite stat however: Fyfe has averaged 81 this season when hitting 50% CBA presence, compared to just 60 when he doesn't. The good news here is that Fyfe averages 61% CBA presence over the past 3 weeks as Fremantle have found a consistent midfield mix lately by playing Walters as a permanent forward.
Brad Crouch $631k
Like the man above, much of my interest in Crouch comes from a clear difference between Brad with inside midfield time and the shadow of a player he is when he doesn't get it. With even a modest 45% CBA presence or better, Crouch has averaged 81 AF this year.
Adelaide have spat the dummy a few times with their under-performing midfield – Brad's brother Matt being dropped comes to mind, as does a hasty youth policy at one point – but they've been in "best available" mode for each of their wins over the last 3 rounds. With Brad averaging 64% CBA presence over that time and coming off scores of 93 and 80, I'm window shopping. Throw in a match-up with the Tigers (who he's scored 102 and 129 against in his last two), and I'm sold.
QUICK HITS:
Tim Kelly $609k

. Dominated as West Coast's last man standing in the midfield last week and walks into a very strong match-up against a leaky Roos midfield. Main issue here is the potential for a tag given his game last week, and 4 scores under 55 in the past 6 weeks without one. Risky but huge upside (especially with a VC loophole).

Gaff $745k

. Played 100% game-time and attended 100% of West Coast CBA's with all of

Shuey, Yeo, Sheed

and

Redden

missing – crazy when you consider that he was hovering around 20% of CBA's to start the year. Hard to trust any historical stats with

Gaff

due to the violent role change, but 110 AF last week is a great omen. Has a wide range of outcomes here – can score 40 if tagged, or 130 if the Eagles roll the Roos and it turns into bruise-free footy.

Rockliff $807k

. Has the best ceiling in the league (the only player with 3 scores of 120+ since Round 10) and comes up against a Collingwood side that has conceded the 2nd-most points to MID's over their last 5. Won't sneak under anyone's radar as a Fantasy Pig though!

Merrett $857k

. Probably the odds-on player to lead the round in scoring, but you'll pay for it. Comes up against a Demons side that has conceded the 2nd-most points to MID's this year.

Sloane $553k.

 Similarly placed to

Brad Crouch

with the boost from more CBA's recently, but has issues with his ceiling with a season-high 78 so far. We know he can go much better though. High risk, high reward.
RUCKMEN
I don't know too many coaches who are still looking to purchase in the RUC real estate market, so I've opted to cover your classic luxury trade target, plus a couple of potential downgrade or sideways trade targets if you can't make it up to $840k and you'd rather use the coin elsewhere (as opposed to settling for an O'Brien or a Goldstein).
Max Gawn $840k
Spruiking Gawn as a potential trade-in isn't going to cause any jaws to drop, but his hefty salary means that he's going to be difficult to acquire for most coaches. I'm here to tell you that he's worth every cent. 
Maximus comes up against the team that has conceded the most points to RUC's this year (see below in the Sean Darcy section), with Essendon's revolving door of Phillips, Bellchambers and Draper robbing them of any consistency. Add in his excellent form against the Bombers historically with scores of 107 and 135 in his past two, and we have the perfect storm for a Gawn ceiling game brewing.
Toby Nankervis $569k
They say every storm cloud has a silver lining, and Nank is that silver lining following the devastating knee injury to Ivan Soldo. He's been up and down this year as he's had to timeshare with the aforementioned teammate, but has proven in the past to scale heavily on ruck time. For instance, he averaged 84 last year as a solo ruckman, compared to just 56 with Soldo in the side. 
Looking at the graph below, can you guess in which two games he scored 118 and 79 in this season?
Nank comes up against Adelaide this weekend and, despite O'Brien's healthy output offensively, they rank as the club that has given up more points to RUC's over the past 5 rounds than any other. Bargain at $569k.
Sean Darcy $465k
If you can't quite get to Nank, Darcy is the next best thing. Now, his body is always a concern as he always seems to cop a niggle in-game, but even removing those couple of injury-affected outings, he still averaged a nasty 49 between Round 1-15. The good news is that his inconsistent early play has kept his price nice and affordable – especially as his output has improved dramatically with scores of 69 and 75 in the past fortnight.
On top of some improved form, he comes up against none other than the infamous Tim English this week – the Thunderbird-looking bloke famous for conceding points to opposition ruckmen (as you can see below). 
FORWARDS
Is there a bigger headache in fantasy than deciding which FWD's to pick? Every. Damn. Year. I've gone with a few boom-or-bust options here, guys that you'd hate to have in your team all season but look like they have juicy roles this week – and we need them for that one week only! You'll likely feel sick doing it, but these blokes can win your H2H match-up this week.
Darcy Parish $637k
Let me just preface this by saying that no one wants to be the guy recommending Darcy Parish. I really wish it wasn't me, yet here I am. In saying that, in DFS we strive to take an unbiased mindset; we try and pretend that these players are just blokes in morph suits and focus on the numbers instead. Once again, it's the CBA's and the allure of "more midfield time" that has me bullish with Parish:
As you can see above, Parish's CBA's have cranked up to season-high levels since McGrath went down. Perhaps more than any other player in the league, the young Bomber relies heavily on that midfield time, averaging 77 when attending more than 50% of CBA's (compared to just 51 when he doesn't).
So why the scores of 57 and 65 in the last fortnight, if he's so good when he gets those CBA's, you ask? That's easy – they came in 66 and 50-point floggings at the hands of ladder-leaders in Geelong and Port Adelaide. Melbourne, on the other hand, have conceded the 2nd-most points to MID's this year. I think Parish will be back to his best this week.
Devon Smith $632k
If you look at the graphic above, you'll notice that Devon Smith hasn't had a centre bounce attendance in a month, so why the recommendation? It's because he's been playing across half-back for most of those games, as you can see from his heat maps below:
This isn't necessarily a good thing in a vacuum – midfield time is usually preferred and more consistent – but it just so happens that Melbourne concedes the 3rd-most points to general DEF's this year. Devon scored a team-high 100 AF against Port last week in a belting – what can he do against a Melbourne team set up for rebounding defenders?
Blake Acres $596k
Acres will be amongst the most traded players this week, and for good reason – he's on fire at the moment, averaging 95 in his three games since returning to the senior team. The question is, what's changed? Why wasn't this happening earlier in the year, especially after scoring 104 in the Marsh Series and Acres seemingly ready to tear the competition a new one?
The obvious answer is that he strained a hamstring leading into Round 1, but it's more than that. When he was finally passed as fit to make his Fremantle debut, he was shunted into a messy wing rotation that included all of Aish, Cerra, Brayshaw, Bewley and Tucker. Insert the peacock scene from The Other Guys here – Longmuir just didn't let him fly.
Fast forward to 3 weeks ago when Acres made his return and there's no Bewley, no Tucker and both Cerra and Brayshaw are playing significant minutes as inside midfielders. Suddenly, he has room to spread his wings and what do you know? Scores of 108, 79 and 97 start to flow. 
Aaron Naughton $389k
So this one is a bit out of left field, but it's an attempt to capitalise on Fremantle's decimated key defensive stocks with all of Hamling, Pearce and Logue missing most of 2020. As you can see below, key FWD's have been enjoying the easier 1-on-1 opponents:
This is definitely a desperation move, something I'd only pull if I was short of cash and wanted someone who could wildly outperform their price-tag. Naughton certainly fits that bill – guess who his two highest scores this season (86 in Round 12 and 71 last week) came against? You guessed it, Adelaide and Hawthorn, the two clubs sandwiching Fremantle in the graphic above. 
Do you have the aggots to do it though?
QUICK HITS:
Dusty $638k.

Form is scratchy but his record against Adelaide is mental with 140, 114 and 119 in his last 3 attempts.

JJK $397k.

Loves playing Roos with 7 goals in each of his last 2 meetings for 102, 105. Does his best work when West Coast enacts "party time" and he feasts in bruise-free footy, and North are poor enough currently that it's in play.

Wingard $551k.

The return of

O'Meara

last week cut his CBA's in half. Needs that midfield time to thrive with Hawthorn currently not getting the ball into attack enough for him to upswing as a forward.

Elliott $563k.

Can do worse at this awkward price point. Averaging 81% of CBA's over their last 3 games and it was still up at 80% with

Treloar

and

De Goey

back in the mix.  Match-up with Port the main concern.
That's all I have for you! Did you see something you liked? Or something that has you spooked? Maybe I've completely thrown your planned trades into disarray? Let me know on Twitter at @Tbetta9 – otherwise, good luck in your GF's this weekend!
A huge thank you to Morts at @DFSAustralia for his incredible stats and graphs, @FantasyFreako for his sneaky tweets, as well as AFL.com.au for the heat maps and CBA's that make my life easier.