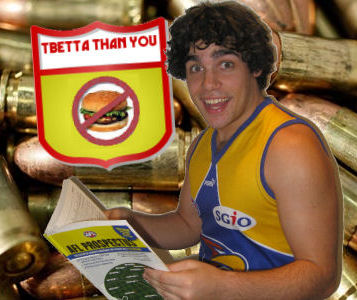 Round 17 was one of those rounds where its smooth sailing for the first 6 games, then the Sunday games ruins your weekend worse than the DRS ever could. But that's what it will be like for us for the rest of the year – with 'complete' sides taking to the park each week, it's going to be more about who let you down, rather than who stepped up.
The Pendlebury vs Swan vs Ablett Captain choice was a big decision pre-Lockout, and it was probably a good lesson for us. It is possible to overthink things, because Ablett's tight calf and Macaffer's possible tagging job had most of us looking elsewhere for the 'C', missing his 163 – even though Ablett had an absurd 50 touches against the Pies last time around. Swan was sensational early, but failed to Oink as hard as he normally does late (his second fade-out in a row, I might add), while Pendlebury was uncharacteristically ineffective for much of the game.
The Terlich trade was another noteworthy element to Round 17, with many coaches cutting him after lowering his basement to 44 points in Round 16. It was interesting to see that his most popular replacement in Grimes scored an identical 76 to Dean, but made you $27k along the way. Enright (63), Malceski (64) and Dempsey (59) were all short-term failures, and Hanley's 99 at $390k was the Terlich trade of the week until news of his broken hand hit the interweb.
Beams back to his best was a welcome sight for fantasy coaches, especially with a noticeable drop-off in Premium midfielder quality this season. Beambox had a Triple Trouble with 34d, 6m, 6t; reminding us just how potent a DTer he is. With a BE of 174 this week it's probably wise to stay away in the short term – although with that 134-point total in his moving average for the next fortnight, he won't be getting significantly cheaper anytime soon.
Darren Glass scored his first career ton this week – let's not forget that! His previous best was 91 against the Gold Coast in their debut year, and was delivered via career highs the disposals (23) and  marks (14) categories. With a BE of -4, should we…? Surely not?!
Points of: Difference/Despondence
Last week I confessed my growing frustration with the diminishing uniqueness of our sides, often rendering our head-to-head match-ups a battle between the 'less-than-25%-owned' members of our squads. Given everyone had Ablett for his 163 (cough @Warnie) and no-one has Matthew Lobbe, we can forget those players and simply concentrate on the class that matters – our Uniques.
So this week, the Polling and Trolling section gets a makeover and becomes:
POINTS OF DIFFERENCE
3. Trent Cotchin (144)
Buying Cotchin at close to $400k was possibly more genius than Kanye West naming his kid North – congratulations if you took the leap. It's been 3 tons on the trot for Cotch since then, something that hasn't occurred since the first four weeks of this season. A $40k price-rise this week sees his price-tag swell to $455k; meaning that he's still underpriced, but not Ke$ha-at-4am-on-a-Saturday-morning kind of cheap. If you like the way he's score graph is heading, you better get on board now.
2. Joel Selwood (133)
My standby setting with Jelwood these days is set to "SuperCoach gun, but not a DT star". I mean, he gets tagged every week, rarely exceeds 30 touches (only 4 times from 16 games this season) like most other Premium Mids, and ends up running around with a headband almost as much as LeBron James, thanks to running into every contest head-first.
Well, apparently I need recalibrating. Selwood is in some rare form at the moment, scoring above the 120-point mark in 5 of his last 6 games! Wow. His only failure in that time (a lowly 38) came at the hands of the premier tagger in the universe, Ryan Crowley. It's also served in keeping his price down though – you can still snap up Jelwood for under $500k.
1. Nick Riewoldt (118)
It's no secret that I'm a KPP hater in Dream Team – the inconsistency that comes with being the focal point in attack is a huge turn-off for me. While Franklin (6 scores under 70) and Cloke (4 scores under 70) have displayed those kinds of disappointing scores this season, Nick Riewoldt is a different beast. Roo hasn't scored below 80 all season, satisfying my unhealthy fetish for the consistent types in DT. My heart says no, but my head screams "hell yes".
POINTS OF DESPONDENCE
3. Geelong
No wonder Geelong lost on the weekend – they deserved to. Adelaide controlled the footy the entire game, collecting almost 100 more touches than the Cats, and out-DTing them 1701 to 1375 – a disparency that we usually only see in a flogging.
So I don't blame Stokes' 68 or Enright's 63 (or even the more-popular Bartel's 66) on them entirely, but it certainly doesn't help. Who could foresee Adelaide being so resilient without Dangerfield and an out-of-sorts Thompson? Hopefully for our sake, St. Kilda doesn't put up that same sort of fight against the odds, and the Geelong brigade can score at will once again in Round 18. Pretty please.
2. Brett Deledio (62)
With Cotchin out of form, that has not been a good thing for Deledio and the tags he's attracted. He's the worst type of DTer – the front-runner who hates opposition attention and can only score well when allowed to (sidenote: this is the reason I avoided Birchall this year, and why I won't look at Gaff until he develops a contested game). I pointed out Lids' predatory tendencies earlier this year, as he's shown he punished the minions, but struggles against the stronger outfits. But he hasn't even been doing that lately, with scores of 81 against the Bulldogs and 84 against the Gold Coast.
His 62 with the Crowley tag this week is the final straw – Deledio is not a Premium in 2013.
1. Tom Mitchell (74)
This feels rough, and technically, he doesn't fulfill the 'unique' criteria of the list. However, this is the first week that Titch has really punished those who've relied on him at M8, and tipped the scaled heavily in the M9ers favour this week. 74 isn't a horrible score, although it is a career low; but when other M8 options in Cotchin (144), Montagna (140) and Priddis (116) put up monster scores this week, it does hurt in a big-picture kind of way.
Will his forward-line role continue? If O'Keefe is clear to play this week following his concussion, you'd think so. It could be time to strengthen your midfield with another starting Premium and slide Titch to M9, because his scores up to 3Q time (when he's been playing up forward) in the last two weeks has been 42 and 42 – which also happens to be the meaning of life. Coincidence?
It's hard for even the most hard-core of purists to deny that 44 Trades has been a massive win this year. Even though overall registrations are slightly down from last season, overall traffic is significantly higher this year due to continued interest and interaction. It's no surprise that more trades equals more engagement for longer – and it's added much-needed shake-up to the tactics and strategies that we employ in managing our DreamTeams.
Two Halves
However, I feel we're just now starting to see the long-term damage of such a trading scheme.
The first 15 rounds was exciting and refreshing – bridging trades, short-term injury escapes and rapid cashcow culling were all positive trends associated with constant trading. But we were too clever with our trades, able to procure a full-Premium side just a fortnight after the Bye period.
The reduced uniqueness of our squads aside, trading over the past two weeks has been significantly less enjoyable for me personally; here's why:
No Clear Trades
We no longer have clear trades that can make our sides better. As Miley Cyrus once said, "Ain't about how fast I get there, Ain't about what on the other side – It's the climb". While she could have been simply talking about mountain climbing, I prefer to think her lyricist was trying to make a metaphor. For me, the fun of DT is upgrading to the best Premiums, downgrading to the right rookies, picking the smart mid-pricers, and making clever decisions along the way.
It was never about rolling out 22 Premiums – it was all about approaching that kind of stardom. Building a champion squad from scratch was the best part.
The Solution
Unfortunately, there is no single solution that will satisfy all the big stakeholders (Hardcore Dters, Casual DTers, Corporate Interests), otherwise we'd have the perfect competition already.
Significantly raising the magic number, as I suggested here last year (Interestingly, VS adopted the first half of my proposal – Use It Or Lose It became 44 Trades – but made no notable change to the MN) would ideally be the way to go. Basically, you'd only be able to afford a much weaker starting squad, but it would take us longer to achieve that 'complete' side we all crave – hopefully, stretching out the 15-Round honeymoon period we had this season, over 23 rounds.
Of course, from a corporate point of view, weaker starting squads would mean less 'stars' in your side, which would theoretically repel some casual DTers from entering a squad in the first place. These are legitimate concerns.
The other option is to change the way Rookies are priced. For instance, instead of having rookies priced from $89k (basement rookie) to $184k (1st Draft pick), make it from $140k – $240k. That's roughly $50k less per cashcow from your starting your side, making it harder to generate cash from the classic fatten-and-cull protocol that we follow today. It's also $50k less that you'll make from any future downgrade, further slowing your attempts to reach that Full-Premium squad.
I believe this sort of change would not only allow the casual DTers to still pick a reasonably strong starting squad, but it would also force the hardcore crowd to consider more Mid-Pricers than ever before – Ellis at $217k and Bird at $270k would have been options much more strongly considered at their basement prices, instead of blindly looking towards pure rooks.
What do you think? Are you frustrated with the uniqueness of sides at the moment? What about the lack of clear trades? Do you think that a raise in the Magic Number or in the prices of Rookies would be a good solution? Discuss in the comments!
Struggling with your benching decisions in the age of 44 Trades? Can't choose between Franklin and Tippett at F6, or Tom or Sam Mitchell at M8 on any given week? Want an excuse to play Nicholls over Cox, instead of stressing about breaking the old school Premiums over Rookies taboo?
Same here.
I've decided to take the decision out of my hands. There's something comforting about relying on the numbers, and taking the stress out of it. Introducing v1.0 of the WTP Formula (Who To Play, or White Trash Party,whichever you prefer).
It has three main components – the Form component (50%), the Reliability component (50%) and the Fixture component (additional). It's important to mention that any injury or green vest-affected scores are to be removed, and it doesn't account for any pending or past significant role changes. It's not perfect, but let's be honest – even Emily Ratajkowski's farts smell. Probably.
The Form component
–          50% of Player's 3-Round average
–          20% of Player's 5-Round average
–          30% of Seasonal Median average (SMA)
These splits acknowledge that more recent form is more important than what happened 4, or even 8, rounds ago, while the seasonal median average attempts to account for outliers. The SMA is calculated by removing a player's highest and lowest scores of the year, preventing outliers like Jelwood's 38 or flukes like Tom Lynch's 165 from skewing the data.
The Reliability component
–          Player's Basement score in Last 5
–          Plus 33% of the Player's Range in last 5.
This component accounts for inconsistency in a player's scores. A great example is Sam Mayes, who's produced totals of 99, 17, 88, 99 and 78 in his last five games. While four of those scores are very startable, the devastating effect of his 17 (red-vested, but included as it wasn't injury or rest based) has to be considered. So, 17 + 33% of his range gives him a Reliability score of 44, significantly less than his Form score of 82.
The Fixture component
–          The average points from the mean that Player's upcoming opponent has conceded to the opposition in the Last 5 games is found
–          Twice this total is added to the Players score.
This accounts for the amount of points on offer in a given week – North concede the least points, so it should be expected that the average player would score less against them. The same goes for the Gold Coast, who has been conceding monster totals to opposition sides lately.
The Wash-Up
Below are a few examples from my own team. As annoying as Stokes has been the last two weeks, he's still more reliable than Mayes with his L5 low of 67 and his range of 49. Cox versus Nicholls is particularly interesting, super close in the final count. If NicNat misses through injury however, this would tip the scales back in Cox's favour – do I have the sack to play Nicholls at R2 over him if not though?
What big benching calls do you have this week? How do they come out in the WTP Formula? Maybe you have a formula of your own? Let us know in the comments!
 Note: For those interesting in trying the WTP for themselves, the Excel formula (in the same format as the above table) is: =ROUND(0.5*(0.5*(B2) + 0.2*(B3) + 0.3*(B4))+ 0.5*(B5+0.33*B7)+2*B8,1)
Trade Station – Cash Money
With Goodes and Hanley both out for the mid-to-long term, there will be once again forced trades to deal with for most coaches. Bartel's one-week suspension is just another spanner in the works, so let's take a look at a couple of replacements.
Before I do, we need to talk about that elephant in the room again – money, moolah, green, paper, cash, cheese, capital. We still need it people, particularly if we're doing two trades each week with hardly any rookies coming through. As I mentioned last week, we can't keep selling our Premiums out of form (low price) and snapping up the best recent performers (high price) – that's basically the 2009 Drunk Fevola of stock market strategies.
So with money and BE's on our minds, let's peruse the market for in-form replacements:
Bridging Trades
Unlike last week, there are a few reasonable players with low BE's that you probably wouldn't be suicidal with if you had to start them. They're more Rebel Wilson than Olivia Munn, but hey, at least they're making money.
Richard Tambling ($208,100 DEF, -22BE) could be the perfect Goodes replacement in the short-term, particularly off the bench. Would you like to start him? Do you like being punted in the groin? Same answer. Ideally, he's a pure money-maker. Dawson Simpson (S300,500 RUC, -17BE) is a much more reliable starter with 109 and 101 in his last two, while Dicky Henderson ($391,100 DEF/FWD, 13BE) and Winderlich ($411,900 FWD, 2BE) are the more expensive money-makers.
Goodes/Hanley
OUT

–> Henderson/McKenzie 

IN

Is Henderson the real deal? With scores of 105, 89, 106 and 133 in his last 4, he may just be (WTP suggests 105.2 for Hendo this week, removing his green vested R12 score). Am I convinced? Not quite. But with that BE, you don't have anything to lose – just trade him to an in-form Premium defender in a fortnight at a $40k profit if he doesn't perform as desired. My boy, The Cannon, McCannonzie or Trent McKenzie ($399,300 DEF) should be your next port of call with a BE of 59 after his 111-point outing out the weekend. Plus, he's got the best nickname in the AFL, which has to count for something.
Bartel/Stokes
OUT

–> Riewoldt/Rocky

IN

Bartel is out for a week (140 BE anyway) and Stokes has a BE of 139. Neither has scored above 70 in the past fortnight – both are in the gun for a forward line shake-up at Tbetta Than You.

Of course, Henderson is also on offer here, but I find Riewoldt's ($466,300 FWD, 101BE) incredible consistency and Rockliff's ($433,400 MID/FWD, 25BE) tremendous value irresistible here. Particularly Rocky, who has notched 134 and 120 since being reintroduced to the midfield full time.
Damaging BE's
Other BE's to watch out for include Terlich (134), NicNat (99) and midfield duo Deledio (119) and Kieren Jack (116). When poor form combines with a doubtful BE – it's time to consider their long-term future in your side.
I usually play it safe with my advice in the Bullets, but I'm going to go out on a limb and make a few predictions this week:
# Adam Carter ($102,700 MID, -53BE) is everyone's favourite downgrade in Round 18, and a week ago I'd have laughed in your face. With Waters, Kerr, Scooter, McGinnity, Rosa and Embley all due to return to the line-up, it was tough seeing him getting a long-term gig.
But with the Eagles' season over, they've shipped off Waters to the surgeon – presumably preparing for 2014. Carter should be a part of those long-terms plans, so yeah – there's no reason why he won't stay in the side for experience reasons.
# Naitanui is Max #Gawn. I doubt he'll play this week with all his back/groin/knee issues and the Finals no longer a reasonable chance. Expect Lycett to get a gig very soon.
# Cotchin to get tagged ahead of Deledio this week. If there's anything that the Swans like doing more than recruiting strong-bodied, blonde midfielders, it's knocking someone down a peg. O'Keefe is the obvious candidate, providing he recovers from his concussion.
# Gibbs bounces back against the Gold Coast. 60, 78 and 63 in his last three makes for poor reading, but he's been tagging in that time. Mitch Robinson should be back this week, freeing up Gibbs to do what he does best, and Robbo/Cachia/Curnow handling the lockdown roles.
That it's from me this week guys. Remember to get involved in the comments below, (but for My Team queries, go to the My Team section) or hit me up at @Tbetta9 on Twitter for more DT conversation. Good luck!