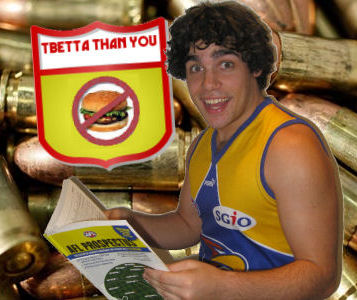 Round 16 was the highest scoring round we've seen all year – thanks largely to quasi-completed squads – but it wasn't without its hiccups. Captain choices, late withdrawals, restings and botched bench decisions still haunt our sides even in the best of weeks. 2200 was around about par this week – how did you fare?
In the midst of the beer-heavy DT Talk weekend, I had to give myself a bit of a refresher on the week's headlines:
# MRP Findings
It was one of the biggest weeks we've seen at the MRP this year; not just in terms of quantity, but also in the relevance of some of the players in the firing line.
Pavlich (3 weeks), Embley (2 weeks), Burgoyne (2 weeks) and Kane Cornes (1 week) will all spend time on the sidelines with varying degrees of relevancy, but it's the 1-week suspension of Stevie J that really hurts. It also means that he'll limp into DT finals with points hanging over his head and the inability to submit an early plea due to a poor previous record… Let's just say that going 7-deep in the forward line is a must if you own the mercurial Geelong utility.
# Swan flight path hard to predict
Once considered 'untaggable' and undeniably the best midfielder going around at the Pies, Swan now finds himself helping out up forward and proving ineffective against the Van Berlo tag. As a result, the level of trust that we have traditionally put into Swan has to be reconsidered – clearly he's a beast on-song, but he's shown this season that he can be thwarted tactically.
Working in his favour, however, is the damage that Pendlebury (153) caused when let off the leash against the Crows. He scored 94 DT (including two running goals) in the 2nd half after the Van Berlo tag flipped to Swanny, but the most telling indicator is the scoreboard: In the first half, the Crows tagged Pendlebury and trailed by 4 at half time. Once the tag switched to Swan and Pendles was allowed to run free, Adelaide lost the half by 23 points. Coincidence?
Surely Pendlebury continues to get the opposition's best over the next few weeks because let's be honest – he deserves it.
# Rookies to Sophomores
I love nothing more than when a Premium drops off due to a late withdrawal or injury or suspension, and you can simply plug in a performing rookie at no significant loss your side. Actually, seeing Ballantyne pull his hamstring during a goal celebration on the weekend was pretty amazing, so let's call this a close second. Hrovat's 99 was perfect cover in the guts, while Sam Mayes' 99 was a godsend for those with Stevie/Franklin/Stokes issues up forward. It's his third score of 88 or more in his past four starts, so he's shown it's not blue-moon situation when he scores well. With Stevie J out this week, he could even become my F6 replacement.
Elsewhere, Nicholls (105), Staker (78), Goodes (97), O'Meara (89), Crouch (108), Rowe (84), Dwyer (83) and Hutchings (114) were the big rookie performers – you'd have been beaming if you picked up any of these scores off the bench!
# Window Licker
What a week for Winderlich ($411,900 FWD) – 153 points, thank you very much! His injury record is almost as scary as Jaensch when he's green-vested, but he's certainly got his DT game up and running at the minute. Scores of 99, 110 and 153 over the past three weeks puts his BE of 2 this week – possibly the only bankable bridging trade we have on offer, unless teammate Tom Bellchambers ($345,500 RUC – 118 and 105 in L2) is more your speed, or Josh Caddy ($298,900 MID – 80, 89 and 104 in L3) is more price-appropriate.
# Beambox
The most expensive player in the competition ($599,400) played his first game for 2013, and I must say… I want him. Not just yet, because he's still finding match fitness and his price is still too inflated (hasn't been filtered through the new magic number yet), but for DT finals? What an excellent POD he'd be.
80 points was Beams' return on the weekend, thanks to 25 touches and a handful of tackles. But it was how he looked – comfortable and mobile. Expect his TOG of 81% to ramp up over the next few weeks, and we'll see Beamer flying again.
3. Tom Mitchell (113)
Seriously, what a gun! Here I am plotting ways to bolster my midfield sans Titch at 3Q time – then he comes out with that 67-point quarter and redefines junk time. It will be interesting to see whether Mitchell continues in that exclusively-forward role he played for the first three quarters, or if it was merely part of a weekly rotation that includes other talented youngsters like Bird and Parker. Until we know for sure, how can you not start someone who's averaged 106.2 DT points (when not subbed) over their entire career?!
2. Rockliff (134)
Rocky's back! See what happens when you play him in the guts Vossy?! Brownlow votes. We've always known Rockwiz has all the tricks to perform at a Super-Premium level, but it's been all about his role these past two seasons. In 2013, his splits by position read: Playing forward; 74 average. Playing in the guts; 105 points per game. I don't blame you if you jumped off the big fella, but with this role change in the absence of Moloney and Black, he's a sure thing. Although, according to this article, that is all subject to fitness tests this week…
1. Stevie J (156)
With a slutty 156 points against the lowly Demons, Stevie J confirmed he's a must-have DT player in 2013 – when he gets on the park, that is. Unfortunately, he's again been rubbed out yet again for getting all Embley on Nathan Jones' ass. At the end of the day, Stevie J's 156 + your R17 emergency score(Macaffer, Mayes, Franklin, etc.) will likely be more than any other forward option over that fortnight, but we didn't pay $540k to see Stevie J's dopey head looking sheepishly back at us from the bench. Just play footy, mate.
3. D6 misfires
As the 6th and 8th most-owned Defenders competition wide, Vlastuin's 56-point effort and Terlich's 44-point failing had significant ramifications in the race for overall glory. Add in Hartlett (who's possibly more frustrating than trying to blindly plug in a USB) and his 43 points, and you're getting much less than the 90-point average he's produced over the previous month. Can we continue to trust these guys at D6? I don't know about you, but I'll be going out of my way to get these types to D7 as coverage, while playing more consistent performers; if only for my sanity.
2. Montagna (64)
Joey would be a sure thing this year if he could just eliminate the shockers. His 64 points in Round 16 was his third score under 80 this season (two 78's previously), which you simply can't take from a Premium in the midfield. Montagna averages more than the following trio; but Ebert (102.5 avg) has only posted 1 score under 83 all year, Masten (101.6 avg) just the two below 91 and even Douglas (100.9 avg) has only produced 1 score less than 84 this season, and none have scored as low as 64. Until Tags proves he can prevent these periodical failures, he remains alongside these players in the 'nearly there' Super-Premium bracket, and not amongst the fantasy elite as he once was.
1. Cox (59)
Well this is interesting… Let's rewind a fortnight. Things are going swimmingly for Coxy, he's just posted 3 tons on the trot, averaging a competition-high 96 DT per game with a low of just 73. Awesome.
Now fast forward to the present, and he's produced 66 and 59 back-to-back, dropped $30k (with more to come, cheers 153 BE) and looks generally sore out there in the middle.
Things are even murkier when you consider that NicNat is a good chance to get rested this week – over the last two seasons, Cox has averaged 94.9 points when playing alongside the talented palm tree, but that increases to 102.7 points when flying solo. What to do, what to do…
So far we've looked at 'Fixture Trading' from a general point of view, with a team versus team mentality. While that's a great indication of the ease of scoring against certain opponents, it certainly doesn't tell the whole story.
Different playing styles mean points are offered to differing types of players or in differing areas of the ground – below are a few focus areas that I've noted over the previous weeks:
Defenders vs GWS
Next Three: Essendon, Collingwood, Melbourne
Last week, McVeigh's and Malceski's massive scores alerted me to a strong trend developing in GWS games – opponent defenders are mopping up the points. The Sydney pair executed the holy trinity for backmen:
1. Lots of uncontested marks – 17 between them.
2. High kick-to-handball ratio – Malceski logged 26:4 and McVeigh 21:14
3. Team Leaders in Rebound 50's – 13 between the pair.
This indicated that a) they were beneficiaries of long 'kick-and-hope' thrusts forward by GWS; b) were constantly gaining meterage for the side via foot – meaning extra points vs handballs; and c) were the designated distributers out of defence, meaning that their teammates would try to get the pill into their hands and that GWS were allowing that to happen.
With that in mind, Goddard, Heppell and Hibberd should be excellent against the Giants this week. HeppD was rested against them earlier in the year, but on that occasion Hibbo managed 105 and BJ notched 114. Lock them in!
Mids vs Adelaide
Next Three: Geelong, Fremantle, Port
As the Pirate has pointed out in recent weeks, Adelaide bleed points in the midfield. Monster scores to Pendlebury and Prestia goes to show that you can damage them in the engine room. However, it is worth noting that Swan and Ablett both had mediocre scores (by their lofty standards) thanks to one man: Van Berlo. Gaff was the player tagged against the Eagles, and just managed 43 points.
So what does this mean? Well, if Van Berlo tags you… you're screwed. But if you're anyone else – enjoy the party! So who attracts the wrath of VB in the next few weeks, and who gets invites to the point-fest?
With Stevie J out this week, Selwood is still the prime and sole candidate in my eyes. It might not be a hue one from him as a result, but expect someone like Stokes to slut it up and bust out a massive score. After that, it all depends on form and preference. He didn't apply a tight tag against Freo last time to the best of my knowledge, but went straight to Boak in the previous Showdown.
Rucks vs Melbourne/North
Next Three: Brisbane, North, GWS / Carlton, Melbourne, Geelong
It should come as no surprise that Melbourne leaks points in the ruck, particularly when the opponent is the raw Max Gawn – although it is worth noting, he's pumped out scores of 100, 96 and 96 in the past three weeks, indicating that he plays very loosely on his direct opponent and vice-versa. You'd think Leuenberger and Goldstein would have field days against the Dees in the next fortnight – lock them in for 80+.
On the flipside, North (and Goldstein) is as stingy to opposition ruckman as they are to his fellow teammates. Leunberger's 75 against the Roos is his worst score in a month, and adds another dimension to the Cox –> Kreuzer trade that many (including myself) are considering.
Kreuzer is super-consistent, but comes up head-to-head against Goldstein this week – will he exceed those before him, or continue the trend? It's something that I'll wrestle with in the days leading up to lockout.
The big thing that I took out of Round 16 was Geelong calling upon The General, and resting a couple of key players. Enright was to be my star inclusion in defence but decided to take a siesta instead, while Stokes changed his mind at the last minute and joined him – forcing a donut down my throat. Boo, Geelong. Boo.
It does suggest that we should probably look at when certain teams might choose to rest their stars – obviously, that criteria generally includes sides that are finals-bound and will be playing a bottom-placed side such as GWS, Giants or Melbourne in the run home.
Collingwood – Rounds 17 & 18
The Pies play the Suns and Giants in the next two weeks, although Gold Coast at Metricon would be the leading candidate based on the travel factor. Are the Pies in-form enough to be resting stars? Their record (10 and 5, sitting 7th) and injury list suggests probably not.
However… Swan was sensationally rested (via Arizona) last season, so they have certainly shown a willingness to hold back a superstar for the greater good. Plus, the Pies have just enough swagger to execute these kinds of controversial calls despite public backlash.
Essendon – Round 17
As I mentioned earlier, Heppell was rested for the corresponding game against the Giants in Round 6, so definitely keep an eye out for reports of 'soreness' on Thursday. Goddard and Hibberd have both played every game this year, while Stanton's fitness has been questionable over the past fortnight and would be a leading candidate for a break.
Fremantle – Round 21
Remember that time that Fremantle rested about 7 stars for a late-season trip to Tasmania and were towelled up by the Hawks? Well, Freo are again preapring for a finals berth, and Round 21 is the perfect week for the General to pay a visit. Against Melbourne in Victoria, not too close to finals… Excellent timing for Barlow/Fyfe/Mundy/Johnson/Ibbotson to have a game off, don't you think?
This is obviously all speculation, but it's something you might want to keep in mind – no one wants a repeat of Hawthorn circa 2011…
# The Contract Year
Why is it that the 'Contract Year' phenomenon has the complete opposite effect in the AFL than it does in the NBA?
With Cloke and Franklin heading into Free Agency over the past two seasons, one would assume that they'd want to play quality footy to secure a greater payday – we've seen this is far from the reality, with both superstars regressing into fumbly new-born deer out on the field in their high-profile seasons.
I wonder who's next?
# McDowngrade
You know you're struggling for fresh meat when either your pet pigs eat you, or Matthew Arnot ($108,500 MID) is your best downgrade option. Adam Carter ($102,700 MID) made his debut on the weekend, but don't expect him to hold his spot long-term.
This is definitely the week for the old R4 downgrade in my opinion. If you still have Rowe/Blicavs/Daw still sitting there unused, then that's basically a hunk of cash that you don't have access to. Moller/Naismith/Osborn are the cheapest replacements at $89k, while Calvin's mate McBean ($102,700 RUC/FWD) is your best DPP bet.
# Unique New York
The reduced uniqueness of teams towards the season really starts to irk me around about now, made worse by the fact that every coach pretty much has 'complete' squads and continually sideways trades out of short-term injuries rather than holding like we have in the past.
I find my fortunes basically rest on the shoulders of my POD's – players roughly under 25% ownership, or players that you play/bench when most other coaches don't. This is essentially my side for Round 17 – what does yours look like?
# The Price of Doing Business
Another expected effect of 44 Trades is the amount of luxury trades being used. I've seen many coaches ousting underperforming Premos lately, with Rockliff, Hanley, Franklin and Cotchin amongst those burnt. And now Cox – probably the third-best fantasy player of the modern era – is under fire himself.
The (somewhat unforeseen) problem with this is that it promotes a negative cash cycle. For instance, if you bought Hanley at $470k then traded him out at $360k, then you've lost $110k. If the replacement you picked up was Hibberd at $420k, and he's rested this week, then you might want to trade him out for someone else – except he's now $50k cheaper than when you got him.
Continually do this, and you're undoing all the good work that your rookies put in over the first half of the season. One day soon, you might just not have enough cash to get the job done. This is where 'holding' comes into play in the 44 Trades era, as well as snapping up the fallen Premos – not just the players of the moment, like Griffen a fortnight ago, or Birchall in Round 6.
Well that's my half-baked effort for this week – apologies for the lateness and brevity of this week's edition, I'm still struggling after a big DT weekend with the boys. On that, a big thanks to all the Perthlings who stopped in for the DT Talk Live Show on Thursday Night, particularly those who came up and said hello – we appreciated the company, and I hope you enjoyed the night as much as we did! Agar!