Tbetta's Bullets: Round 15
Remember that old 8-bit timewaster, Minesweeper? Every player taking to the field this week was like an errant click of the mouse – our fingers tightly crossed that we would come out unscathed, but knowing it was would be pure luck to do so. Check out this week's Bullets for the damage report and a look towards R16!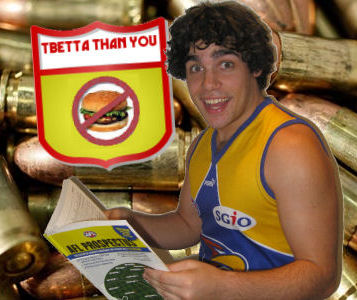 Remember that old 8-bit timewaster? I was more of a Freecell fan, but the Minesweeper analogy certainly fits much more snuggly this week. Every player taking to the field this week was like an errant click of the mouse – our fingers tightly crossed that we would come out unscathed, but knowing it was would be pure luck to do so.
Let's recap the mines that needed dodging:
Ablett late withdrawal. Meant playing Hrovat (55) in many cases.
Ellis/Jobe early injuries. May as well have been donuts.
Vlastuin at D6.
No Swanny Captain… I feel dirty.
Of course, it was different news if you managed to dodge these bottomless pits… but even more so if you improved your team in the mid-term with a couple of bridging trades, as proposed in last week's Bullets.
Craig Bird ($403k MID/FWD) continued his excellent month of footy with a $27k jump this week thanks to a 92 point score – please note that ws more than every other Top 10 Forward (by average) bar Travis Cloke (101) this round.
Mark Hutchings would have made you $33k with his 65 off the bench, but that was nothing compared to Bradd Dalziell – the aerobic fringe Eagle posted a game-high 124 points at the weekend, causing his $256k price-tag to swell by a massive $61k! It also gives him a BE of -32 for Round 16 – is it worth jumping on board and riding the Triple D train until he falls back out of the rotation? If I've learnt anything thing this week, it's that taking a risk with bridging trades and short-term cash earners can pay off handsomely.
Did you have the balls to make a bridging trade this week? Perhaps you had the Ablett (C), Watson (VC) suicide-watch combo? Let us know in the comments!
3. Swanny (163)
It's everyone's favourite Vice-Captain…. Dane Swan! What a story for those who had Ablett first in line for leadership honours then through a unique combination of events, ended up with a surprise double 163 instead. It was a classic 'Legacy Match' for Swanny – he did it post-Arizona last year (142, 132 then 172) when everyone was calling him fat (Porky Pig was my personal favourite), and then he went out and made a roaring statement with a season-best 41 disposals on Friday Night.
2. Priddis (120)
Too often we overlook the quiet achievers in DreamTeam, so consider this Polling nomination a nod the consistent crew – the workhorses who continually get results. No one personifies 'sneaky good' more than Matt Priddis. Since he dipped to his basement price of $393k in Round 7, Priddis has averaged 106.6 DT points per game, with a low of just 91! Wow. That's an excellent return for your investment, particularly when so many other Mids are trailing off in form or fitness. He could have been excused for dropping off in the past fortnight with fellow Eagle followers in Shuey, Scooter and Kerr out of the frame, but that's what makes Priddis tick; with 111 and 120 in his last two, he just gets the job done.
1. Brent Stanton (126)
DreamTeam riddle – what's worse than Brent Stanton on one leg? Brent Stanton on two. 126 is his highest score in a month,  notched in bizarre fashion after being forced to play out the match with a foot injury, as Essendon had already used their sub. With bad-luck stories coming in an Ali-like flurry, it wouldn't have surprised anyone if Stants joined the gangbashing and curb-stomped his owner's scores. To his credit, in a particularly un-Stanton way, he carved out a very respectable total regardless of the circumstances. The word on the street (actually, Essendon's Twitter account) is that he'll be right to go this week – stay tuned to Thursday Teams for more.
3. Early Casualties
Injuries hurt at the best of times, but there is nothing worse than having a player red-vested before they've even had a chance to get going. Honestly, it's heartbreaking. It's like in the music industry; Kurt Cobian's death was a tragedy, while Slim Dusty's passing was a footnote. Watson, Ellis and Moloney owners all experienced that unpleasant phenomenon, with Watson's collarbone (16 DT, 4-6 weeks), Ellis' noggin (18, doubtful) and Moloney's left peg (33, TBA) seriously denting any chances of victory in Round 15.
2. Vlastuin (30)
I don't want to take the easy way out and make a ginger comparison, but I can't help but think of Nick Vlastuin as Junior from Problem Child . After an excellent first 7 career games that spawned an 87-point average, Vlastuin has seriously tested our collective patience with scores of 32 and 30 back-to-back. Vlossy, you've become a hindrance and you're starting to lose our trust – hopefully this is simply an isolated shin-influenced slump, but that's probably optimistic of me. With his output so dampened in the past fortnight, I don't see how he can avoid a rest or the green vest in the near future.
1. Franklin (57)
What's the difference between Buddy Franklin's DT output and the contents of a port-a-loo? Not much. Probably just the funny blue liquid, whatever that is. 57 points is a ludicrous Buddy total – did you know that in the 3 seasons prior to this year, Buddy had only scored under 60 once? Round 15, 2011- Franklin scored 55 points due largely to a rolled ankle. Fast forward to 2013, and he's had 4 scores of 60 or less already this season. In his current form, Buddy's destined to become an F7 or the stepping stone up to someone not quite so useless.
Team In Focus: PrestigeWorldwide
This week, the team we'll be analysing is both the side that knocked one of my mates out of Eliminator, as well as the new Overall leader, PrestigeWorldwide. See David's side here– but don't get it confused with the 20 other teams of the same name!
Dave's weekly score of 2289 was huge this week, propelling his sidefrom fourth into pole position. How's he done it though? Here are a few key strengths that I believe have contributed to PrestigeWolrdwide's excellent season:
1. Keeping Calm, Growing Depth
David's trading strategy seems to fall in line with the same tactics we talked about in the Round 13 Bullets, by that, I mean basically upgrading around his disappointing Premiums. He traded around the highly-frustrating Hartlett, kept both Barlow and Stevie J in the week that they were both ruled out, plus (intentionally or otherwise) keeping Ablett this week.
The result? PWW now has considerable depth across every line, with Vlastuin (D7), Titch (M9), Nicholls/Blicavs (R3) and Rockliff (F7) his first reserves in an injury-free week. Rockliff replaced Stevie J this week, while Tom Mitchell covered Ablett – contributing a combined 190 points to his total this week. How often can we say that our bench cover has been able to come on and substitute 95 points per game for our injured stars? Hardly ever.
That gives Dave a massive edge in carnage weeks such as this, especially when lesser sides may have had a Hrovat (55) + Dwyer(64)/B.Kennedy(22)/Neade(19) combination instead.
2. Trusting Terlich at D6
In past seasons, we've sometimes fallen short of attaining those 'complete' sides, having to rely on rookies on the field in the run home. Think Stanley at D7 last year, Treloar at F7 or even Gibson at M6.
With 44 trades this year, we probably wouldn't have expected to keep a lot of those rookie types around so long – and certainly not play them on our fields each week. However, like many of us, Dave has identified Terlich as a consistent scorer and instead chosen to upgrade in other lines; a brilliant tactic in my opinion, as the backline is certainly an area of the ground where I've burnt way too many trades for such little return this season. Hartlett, Birchall, Grimes, Burgoyne and now Waters – the list of faux-Premium defenders goes on.
Going forward, consider Goodes (100) and Terlich (107) very start-worthy, and try to improve other focus areas in your side.
3. Gone Big in the Rucks
R2 is where PrestigeWorldwide separates itself from the teams it overtook this week. Every man and his dog has Dean Cox in the fray, but many others have Nicholls/Blicavs rotating on the field, or even Leuenberger still as the secondary punch in the ruck line.
While Leuey has been fantastic lately (91, 85, 89 and 122 in his last four) and deserves his spot at R2 in sides going forward, it also leads me to believe that these sides have had the Berger in their side long-term. That means that the 5 rounds from Rd 6 – 10 would have counted towards the overall tally, which ended up being four games at an average of 73 plus a DNP. An early upgrade to a 'Big Dog' ruck would have contributed just as well over the past month, but with much greater returns over that mid-year period – PWW's Goldstein went at 95.4 over that period, while Roughead is another Premium consideration who was producing 101.4 per game in the same timeframe.
With that in mind, is it time to solidify your second Ruck? I'd look no further than Matty Kreuzer at $431k; the athletic Blue has averaged 103.2 in his last 5, with a low of 88 – get on!
OPPONENTS:
As I mentioned last week (as well as McRath in this morning's Numbers) Melbourne are a different side under Neil Craig. While it's nice to see the Demons sharing the ball around more, our controlling interest in the Dees is as opponents – should Neil Craig's influence change the way we value the Demons with our Fixture Trading analysis, as well as the way we validate our Captain selections?
Above is a table that outlines the effect that Neil Craig's playing style has had on the DT scoring in Melbourne games. Of particular note is their 'Against' averages – you'll notice that Melbourne have been in the top half of the competition in terms of points conceded in the past three weeks. This is a far cry from the dead-last they sat at over the first 11 rounds under Neeld's reign. This definitely should affect the way we should expect Demons games to unfold in a scoring sense going forward – they even outscored Sydney (1626 vs 1549) in fantasy terms on the weekend!
However, you will notice that they still concede 4 tons per game; certainly an improvement from earlier in the season, but that's still amongst the bottom four teams in the competition. My assertion is that while the Demons are strangling opponents of easy possession, they are still allowing the cream of the crop to score at will. Huge totals to ROK (128), Griffen (136) and Montagna (146) in recent weeks certainly support that notion…
Could that mean big things for Stevie J this week?
BENEFICIARIES:
So how exactly has Neil Craig turned a basket-case into a competitive beast? As I alluded to earlier, it's all about sharing the ball more and retaining the footy – hence, allowing fewer counter-attacks to the opposition. +6 mark-kick combos are way up, particularly in the backline, and this is where the Demons are seeing a large improvement on an individual level:
Most notable is Terlich's 33-point improvement under Craig – no wonder he's been so bankable at D6 lately. His 'Mark' numbers are the major catalyst, way up from 3.8 to 8.3 per game! With these figures, I wouldn't change a thing where Terlich is concerned; particularly as most of the other beneficiaries are alongside him in defence, a clear high-possession zone at the moment.
Do you have Terlich on your field? What are your plans for him over the rest of the season? Are you worried about how Melbourne's resurgence may have ruined your Fixture Trading plans? Let us know in the comments below!
Upgrade/Downgrade

Fix-It Trades
As has so often been the case of late, key injuries have forced many coaches to make fix-it trades rather than executing the upgrade-downgrades we had tentatively planned. Personally, I can't remember the last time I was able to upgrade traditionally instead of patching holes (Scooter, Boyd Watson and Waters in the last month) – and I have a reasonably good memory. I mean, I can remember the last time I attempted to rock slim-fit jeans (2004), the time Daryn Cresswell tried to knock his dislocated knee back into place on the sidelines and even the last time I cried (Pay It Forward – emotion flick)… Anyway, here are the two big casualties of Round 15, and the players you should be looking at as replacements:
# Jobe Watson
OUT
Yep, the inspirational Bomber Captain is down and out – 4-6 weeks is the prognosis, so it's a must-trade. Stevie J ($541k) is my likely replacement with the Dees, Crows and Saints in the next three… but if you have him already, or are looking for a pure midfielder, then consider:
INFORM

: Ryan O'Keefe ($526k, GWS – WCE- RICH, 96BE)

The Sydney veteran has had 5 scores of 114+in his last 6 outings – with GWS this week, that's enough for me. Tackle machine who defies his age.
SAFE:

Michael Barlow ($548k, WCE – RICH – ADL, 119BE)

Honestly, the man is a dead-set gun – if I didn't already have him, Barlow would be my first choice. Broken face? No worries – the loping Freo ball-winner extended his 110+ streak to 6 matches with another excellent performance on the weekend. He also has a great history in Western Derbies, with tons in each of his last three.
FIXTURE:

Brent Stanton ($486k, WBD – GWS – HAW, 85BE)

If you're willing to risk his fitness with that ankle, then Stanton's run of Bulldogs and Giants in his next two should mean a buffet on points on offer. He's also dirt-cheap for what he can deliver, handy if you're short on funds. Last 3 against the Doggies:  138, 153 and 111… Mmmmm.
UNIQUE:

Brad Ebert ($524k, HAW – STK – BRIS, 66BE)

At just 2.3% ownership, Brad Ebert is so under the radar that I swear people just think that Brett Ebert got skinny and talented. His last 4 scores of 118, 114, 137 and 135 are jaw-dropping, including big totals (105 and 135) that have come in losses and with significant opposition attention. I like him… Wish my Eagles had someone like him. Too soon?
#Beau Waters
OUT
I have no words.
INFORM:

Pearce Hanley ($366k, NTH – MEL – PTA, 28BE)

'In-form' here is a loose translation, largely based on Hanley's return to Hanley-esque scores; 83 and 125 in the last fortnight. Yes, he might look like a Lord of the Rings character, but he's bloody fun to own – he reminds me more of a galloping gazelle on the wing of the Gabba than an AFL player, but hey, it works. And he's really, really cheap.
SAFE:

Corey Enright ($432k, MEL – ADL – STK, 95BE)

A career-long gun, backline royalty. Nothing below 80 since Round 4. Check please? He will get a rest at some stage (this week with the Dees maybe?) but you should have suitable cover at D7 to cover that eventuality with 44 Trades.
FIXTURE:

Heath Shaw ($406k, ADL – GCS – GWS, 84BE)

If there was a Biggest Headache competition and Broughton, Waters and Shaw were all contestants, then it would cause a tear in the time-space continuum or Kanye West would be the sole authority on award presentations or something. However, there's no doubting the ease of the Pies draw coming up, and Shaw's scores against other weaklings in Bulldogs (104), Melbourne (107)and St. Kilda (107) have me optimistic. Again, way too cheap not to be considered.
UNIQUE:

Michael Johnson ($452k, WCE – RICH – ADL, 97BE)

I hate that his name is even in this article, because I just don't rate the guy. In fact, I can't actually bear to write his actual name again. However, he's a product of Lyon's coaching genius, and there's no doubting his value in that system – 7 straight scores of 80 or more looks excellent on paper. Will McPharlin's 5-week lay-off affect him at all though? And Ibbotson for that matter?

What trades will you be entertaining this week? Who are your preferred replacements for Waters and Watson? Share your thought in the comments!
100 Words on: Focus Areas
# Ablett back?
Is it really a necessity this week? Long-term, obviously he's a must. With a BE of 141 this week and not a sure thing (a 'strong chance' apparently) to return, it might be worth waiting a week on Gazza and reassessing post-R16.
Of course, I kept him and hope he busts out a 150 right in Jackson's (his likely opponent) face.
# Operation: Get Stevie J
A Jobe Watson sideways is the obvious solution for those with the ability to do that, otherwise an upgrade is needed. Macaffer ($348k, 82BE) has basically peaked and would be the perfect omission for Stevie J, while Neade/B.Kennedy/Mayes upsizings are great in theory but require significant extra coin.
Make no mistake though, Stevie J will go off in these next few weeks, and particularly against Melbourne – he's posted an ominous 171 and 163 against them in his past two! Cue the Pirate…
# The Vlas
Naughty Vlastuin – do we keep him or move him on? If you can stash him at D7 until we get more information – ie. his role in the team with this shin soreness, and his scoring ability in that role – then you should definitely do that.
However, if he's your D6 and you've got diddly-squat behind him on the bench, then it's upgrade time – check the 'Beau Waters' section above for encouraging prospects.
# Bench Cover
As our sides get stronger, so does our depth. In turn, the likelihood of Cotchin vs Tom Mitchell dilemmas and Franklin vs Rockliff quandaries causing your head to explode rises exponentially.
For the record, I'd make it a priority to play Titch against the Giants this week (has not set a foot wrong), while Franklin vs Rockliff is giving me nightmares already – I'll need to dig into the archives on that one, possibly even some help from a higher power.
# Downgrading
Well, I hope you cashed up last week, because… we have stuff-all for you in Round 16 as far as downgrade targets go. Tom Sheridan ($108,500 MID) was the only 2nd-gamer to play last week (EDIT: I've just been alerted to the existence of Andrew Boston ($89,300 MID) with his BE of 39 and 9.5 avera… Never mind) with 23 DT – thanks, but no thanks.
It could be the perfect round for Blicavs/Rowe/Daw –> Naismith/Osborn/Moller, the trio of $89k hacks that we can give false hope to in the name of a few extra bucks. Kind of feels nice to be the Fremantle in the Fremantle/Jack Anthony situation sometimes, doesn't it?
Well that's it from me this week. Expect a much briefer effort next week, as Warnie, Roy and Calvin whirlwind into town and create havoc. For all you Perthites (Perthians?), hope to see you there – details on facebook here: https://www.facebook.com/events/448513398578194/