Tbetta's Bullets: Round 12
Let's get straight into the action this week, no pussy-footing around the issues or attempting to articulate the perfect summary of Round 12's happenings – it all boils down to trades in these MBR weeks. Jump in and get involved in the discussion!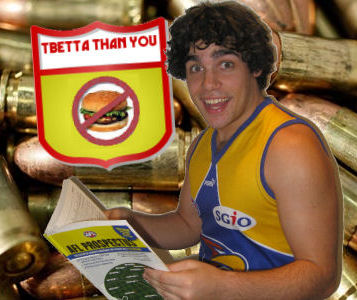 Let's get straight into the action this week, no pussy-footing around the issues or attempting to articulate the perfect summary of Round 12's happenings – it all boils down to trades from my perspective. The majority of coaches were blessed with supersaturated squads this week, thanks to a skew towards Round 13 Premiums and our Round 11 trade improvements. So, with the Stakers of Round 12 hardly registering a blip on the radar, it all came down to big names, the Premiums – did the guy you jump on deliver instant reward, or just an instant headache?
I sorted through the 23 of the most traded-in Premiums from Round 11 by position, and ranked the short-term success of these trades. One great trade identifier is a player's Round 12 score versus their 'Magic Number suggested Average' – basically, the reverse-engineered average that their price-tag suggests, based on the Magic Number at the time (around 4686). If last week's score was higher than their reverse-engineered average, then you've done well!
With only 2 of the 25 most popular Defenders coming from Round 12 bye (rookies in Thurlow and Terlich), the backline was a low-priority line for most coaches. Couple that with a very murky shift in the Premium class, and it's no wonder that backmen figured very little, relatively speaking, in this week's upgrades.
Bringing in the charging Ellis was the sole effective trade in my eyes – both Gibbs and Heppell produced excellent returns but have the Bye just next week (I'm chalking these trades down to casual DTers and those with League match-ups in mind), while Birchall and Duffield both bled cash due to lesser yields.
This is where the majority of activity was centred, with the three most popular inclusions– the consistent Cornes, the sale-priced Swan and the busy Barlow – all providing instant reward for their glowing coaches. Captain Hindsight says you should've avoided Mitchell, Cotchin and Fyfe this week, as all three failed to make it to three figures and dropped significantly in price.
Boyd and Griffen were the sneakiest inclusions, notching scores in the ton-teens and sending their price worms in the right direction with BE's of 70 and 54 for Round 13 respectively. Both are riskier prospects, particularly Boyd, who has already registered two separate calf injuries this season.
With Leuenberger back in the fray and limited promising prospects, there was understandably little movement in the Premium ruck department. Minson and Roughead were the leading options and the pair both scored 83, however Minson's more affordable price-tag lends him the supremacy this week.
I was surprised to see Cloke and Walker so high on the most traded-in list, but the more I thought about it, the more it made sense. Cloke is the only R13 forward in the Top 10 by average, making the forward line a non-issue for most next week. In fact, in my case it actually meant that I'd be sitting a fit player on my bench while my Backline and Midfield struggled, which is why I landed Daniher on debut. Anyway, it's likely that these inclusions were made with high Round 12 hopes, but with Round 13 structural security in mind.
All in all, the forward line was slim pickings, which has been characteristic of the Forwards in general so far this season. Dusty was solid with 106 but his high BE would have scared many off, while Franklin still can't put together four Buddy-esque quarters, but is so cheap (MN suggested average of 81.8) that you'd call 88 a win anyway.
3. Ellis (112)
A huge congratulations to the coaches that pulled the trigger on Ellis, despite valid vest and fitness concerns coming into Round 12 – I'm very Jellis. I must admit, I was very wary about how Brandon would be managed by the Tigers coming off that hamstring injury – after all, his four-game streak of vest involvements was only a couple of months ago… Well, all that worry was in vain; Ellis once again flaunted his highly-potent playing style at the weekend, collecting 23 possessions to go with 5 grabs, 6 tackles and a career-best pair of sausage rolls. We now seriously have to look at Ellis as a Top-6 candidate in his position, particularly with how the climate has changed with our backline Premiums.
2. Rooks
We all said last week "don't expect these kinds of scores again", asour rookies all offered such valued contributions and boosted our scores well past what was initially expected. But combine those timely totals with a little Best 18 leeway, and what do you get? Round 12. No wonder 'Par' was up to around 1900 this week – many coaches had 20 or 21 players taking to the field in this particular bye round, which meant trimming the fat whilst banking scores from our rookies such as Nicholls (77), Vlastuin (81), Daniher (84), K. Martin (93), Mayes (99) and O'Meara (106). This kind of production is in direct juxtaposition to last year's MBR's, where a steaming turd was all we could get out of our rookies – and it was actually appreciated at the point.
 1. Barlow (115)
Is there any better feeling in this world than having a freshly traded-in Gun roll out and deliver for you on debut? Probably, but it's still reasonably high up the list. I can speak for 5.9% of the competition's newest Barlow owners when I say that his 115 was like the icing on the cake on a naked Scarlett Johansson on a Transformer, particularly when you consider what Brent Stanton did to his many suitors on debut just last week. Mick has now averaged 126.25 points per game in the last month, making him a must-have Premium – unfortunately, it also puts him at a premium price for those yet to snap him up.
3. Murphy (24)
Has anyone told Smurph that he needs to drink his milk? Are the club doctors, dieticians and fitness staff at Carlton aware of the magical hardness effect that calcium has on human bones? Clearly not. This is the second skeletal injury that Murphy has sustained in as many seasons, with this broken jaw unfortunately the sequel to the AC joint issue he picked up mid-2012. I say "unfortunately" because until these past two seasons, Murphy was one of the most durable players in the land, missing just one game in the previous 5 seasons. It should go without saying as Carlton has the bye this week, it's time Murphy packed his bags – with a BE of 133 and a likely 4-week holiday in front of him, there's literally no reason to keep him.
2. Staker (35)
It looks like Staker's only favourable trait this season will be his job security. Scores like the 35 he produced in Round 13 or the 55 the week before simply won't cut it as an F6, nor will it snowball his price increases enough to make him a top-line cash cow. So let's just call a spade a spade here and appreciate him for what he is – he's the Bradd Dalziell of our Dream Teams. He'll sit on the emergency list (our DT benches) every week, and he'll humbly step forward when required (a late withdrawal). Unfortunately, those coaches who had the bare 18 this week had to cop his barely-there total, while others that ran a little deeper were able to leave his 35 points on the scrap heap – where it belongs.
1. Dwyer (44)
Dwyer's MBR resume reads a lot like Kurt Tippett's Swans playing career; DNP in Round 11 and MAWHNP (may as well have not played) in Round 12, manufacturing just 44 points in his return from a quad injury. Dwyer was a massive 'win' for coaches earlier in the year, outplaying his perceived JS until injury prevented him for continuing that form past Round 9. Like Staker's score, Dwyer's 44 would have left deeper squads relatively unaffected by his ordinariness, while crippling those struggling to get players on the park.
With the MBR's in effect, it's a strictly short-term look at trading again this week. Unlike last week though, we have double the options – with means double the flexibility. If you haven't snapped up Tom Mitchell ($108,500 MID, -171BE) yet then he's an incredibly obvious inclusion; if he's already gracing your side, then you have an exciting week of trading ahead of you!
To cover as many players as possible, we'll be going full bullet-point style. Note that we're only covering Premiums here – the rookie cupboard sans-Titch is bare, at least until Thursday Teams are released.
Defenders
I've mentioned it a couple of times already, but the fluid and volatile nature of our backline Premiums (Hartlett, Birchall and even Hanley lately) makes it hard for me to trust  any of the cornerstone names. All three were playmakers off half-back, leaving them particularly susceptible to the hard tag – this is what separates them from out-of-position (OOP) midfielders like Heppell and Gibbs. With that in mind, and remembering that we have no idea who rounds out the Top 6 defenders yet, I'd be looking at:
1. Brandon Ellis
– has averaged 131.7 in last three, and at least 85 in each of his unvested matches.
– falls into the OOP category, so unlikely to get tagged.
– has outgrown the vest in his current form.
– still has a low BE at 24.
– faces the Bulldogs, Saints and Suns over the next four games.
2. Bachar Houli
– is absolutely on fire; hasn't scored less than 81 since Round 4, including a five-round average of 101.2.
– has plateaued in price (MN suggested AVG and BE agree), so you're getting what you pay for.
– falls into the susceptible 'playmaker' category, and he'll cop the forward tag at some point you'd think.
– faces the Bulldogs, Saints and Suns over the next four games.
3. Garrick Ibbotson
– has numbers that are hard to deny, with 5/7 scores over 95 points this season.
– has a proven high ceiling, but offset by two scores in the 60's already.
– is not the most damaging Defender at Fremantle, so should avoid the tag over someone like Duffield. However, if he does earn opposition attention, he'll be next to useless.
– Fremantle have a great 2nd-half fixture.
Midfielders
Thanks to the Nicholls and Mitchell downgrades over recent weeks, we've been blessed with fatter wallets than usual. Whenever the bank starts to swell, you should always look to the midfield – that's where the best players reside, and the bulk of our points flow. The key to bringing in a midfielder this week is to decide whether you're looking for a Top-8 Mid, or for value via a bridging option. Luckily, both tactics are exploitable this week:
1. Kieren Jack
– is currently a Top 8 Mid by average, going at 107.3 points per game.
– is incredibly consistent, with 10 of his 11 games this year producing at least 99 points.
– will face Port, GWS and Melbourne over the next four weeks.
– has been in excellent recent form, which means that you're getting him at a price equivalent to 111.6ppg, so there's strictly better value options out there.
2. Scott Selwood
– averages 108.6 points per game this year, including a huge 7.8 tackles.
– is a defensive midfielder himself, so won't ever be tagged out of a game.
– is very variable in his scores; 6 scores of 119+ is offset by 4 scores under 90.
– BE is down to 74 this week.
– will finish the year as a Top 8 Mid if this output continues.
– has a cool nickname in 'Scooter'.
3. Michael Barlow
– is fast becoming a must-have midfielder, averaging 126 ppg in his last four starts.
– is now the 3rd most expensive option in the game, and with a BE of 127 plus a 117.4 MN-suggested average, you'll be paying top dollar for him.
– is average by foot which means he'll never be tagged.
– no longer has Rhys Palmer out to kill him each week.
4. Joel Selwood
– is much better suited to SC competitions, but has been a DT Premium in the past.
– should increase his average from the 92 points he's currently priced at – just $430,600.
– has a BE of 68.
5. Matthew Boyd
– is currently priced at 106.3 per game, miles under his 3-year average of 115.
– has a BE of just 70 this week.
– has already sustained two separate calf injuries this year, so he could be feeling his age. Consider with caution.
Ruckmen
With Leuenberger back in the mix, most sides already have a 'complete' ruck department, with Tom Nicholls an awesome R3. For that reason, I won't dwell on the rucks too much, but I will point out the two value options in Naitanui and Goldstein – both would make excellent R2 options moving forward.
Forwards
To me, the Forward line Premium situation couldn't be more opposite to that of the backline. We have very few options, but at least that makes narrowing down the Top 6 options much easier. Grabbing these guys at the right time now becomes very important – and that's coming from a regret-filled DTer who missed the first boat on Stevie J a month ago.
1. Dustin Martin
– is, despite all intuition to the contrary, quite consistent. Hasn't scored below 80 in his last seven outings.
– is definitely a Top 6 forward.
– BE is down to 106 after a $14k price drop last week.
– faces the Bulldogs, Saints and Suns over the next four games.
2. Steve Johnson
– is easily the best forward-eligible player on offer, averaging 115 from 8 games this season.
– is the 2nd-most expensive option in the game at $553,700.
– BE is up to 169, so waiting a few weeks means you'll be able to get him cheaper.
3. Buddy Franklin
– is Buddy Franklin.
– is so cheap at $384k that he needs to be considered, particularly if you don't immediately have the cash to afford Dusty/Bartel etc.
– no longer a walk-up Top 6 Forward, but still has the potential to be.
Avoid
It's often said that the stats can lie – that's a load of bull. You just aren't digging deep enough to take away the correct meaning.
Hanley, for instance, is a top-line Defender, averaging 89.1 for the year. Beauty, trade him in, right? Wrong. He's is poor form, averaging just 63 over the last three games. Likewise, Riewoldt's the second-highest averaging forward… Except that he's averaged almost 24 points less per game in his last three than he did in the first 8 games of the year. Make sure you look deep in the players you're considering this week, and you don't get sucked in by fancy averages or excessive recent totals!
Great question! In the next 3 to 5 weeks, most sides should be 'completing' their starting 22 – but what does that mean? For me, completing my side consists of getting rid of my weakest starters (via upgrade-downgrade manoeuvres, clearly) for none other than the top players in that position.
My first preference is always the consistent types – those with a high average and very rare sub-80 totals will always be in the gun. I'll back the unique Premium types that I already had in my squad to give me a point of difference, so that's not a great consideration of mine. One of my pet hates is players with a large range, so I'll be avoiding players like Stanton (52-149 this year), Dangerfield (51-145) and Deledio (53-135) until I'm convinced the lower scores are a thing of the past. Give me guys like Jack, Sam Mitchell and Mundy – players who average very similarly to Stants, Danger and Lids respectively – any day of the week.
Now that I think of it, there's not a whole lot of rookie talk hitting the airwaves like there was last season. Zorko and Sam Gibson were the big mid-year fancies, but save for a much-awaited debut from Tom Mitchell, the current rookies (Nicholls, Daniher) have just been popping up when they do, without a lot of previous hype or fanfare. The point is, I don't think there's anyone coming through that we can bank on apart from what's immediately in front of us.
When the time comes, if you need to make a downgrade and there's nothing on offer, by all means consider going basement-priced in that last slot. In fact, I would be looking at utilising that tactic as soon as this week in the ruck line – if you're set with 2 Guns plus Nicholls at R3, consider cashing in a Rowe/Daw type for the $89,300 Osborn/Moller/Naismith. Once the MBRs are over, when are you ever going to use that R4 slot anyway?
It sounds great in theory… But no.
Consider Scenario A. You make those two downgrades this week, then bring in Watson and Dusty next week. Now consider Scenerio B. You bring in Mitchell this week as planned, but instead of Daniher, you grab Dusty; Watson and Daniher are the In's next week.
What's changed? At the end of the day, you've made the same trades and you'll have the same team, but you're simply missing out on Dusty's score this week – an MBR round! Upgrade whenever possible from here out.
Premium is a loose term, which is probably how it should be used. I think of it a Premium as any player that I'd be happy to start in a complete side, or traded into my side with Keeper status in mind. Numerically speaking, anyone who averages 80+ in Defence, 95+ in the Midfield, 80+ in the Ruck and 85+ up Forward can be classed in that category.
The midfield is where it gets interesting. Super-Premium status is what we normally term those players who have the potential to go huge – I loosely consider a Super Premo to be a player that could be considered for the Captaincy while still keeping my sanity. There's probably about half a dozen of those types in the game at the moment. Swan, Ablett, Pendlebury, Barlow, Stevie J, Watson and Stanton all qualify, while players like Boyd, Cotchin, Deledio, Mitchell and  J.Selwood have all been members in the recent past.
# Premium Mids
A question I keep getting asked is "who will be the Top 8 Mids for the rest of the season", and it's something that I'm continually evaluating for my own personal reasons. It currently stands at: Ablett, Swan, Pendlebury, Barlow, Watson, Stanton, Jack and Scooter Selwood based on a range of factors. Cornes is stiff to miss out, but his production when Port lose counts against him; Boyd and Beams need to prove their fitness before they can be considered, although early signs from Boyd is that he's back – provided those calves remain strong.
# O'Meara's Fate
I've run all the figures, processed all the scenarios, and the same answer keeps being spit out – O'Meara has to go. It's a shame because he's been so awesome (hasn't scored below 80 in his last eight games), but this is why they tell you not to get too attached to your cash cows. He has to go, simply because with Ablett + Swan on the bench in this week's MBR, holding him will whittle your on-field players down even further. No, the only option is to bank the massive $299,600 he's made us and go shopping. Sorry mate!
# DG options
Today's article has been all about upgrades and Premiums, and that's for a reason – ours rookies are thinner than Josh Bootsma's ankles. Tom Mitchell is the first port of call, but after that, who's left? If Hrovat can get a gig, he'll be a nice little option – I'm very surprised he didn't hold his spot last week. Other than that, we're left with Round 13 debutants or waiting for a Hail Mary from two-gamers such as Colquhoun, Lee, Burbury, or Fitzpatrick. Blaine Wilson ($108,500 DEF) is the logical choice but I doubt he'll get a gig after the bye.
# Mayes' Return
There was a fork in the road about a month ago. Mayes was coming off scores of 65, 54 and a subbed 31 and he'd just lost $16k after a promising start as a cash cow. You had two choices – Hold, and wear the inevitable price drops; or Trade. Most went with the trade alternative, and the ghost of trades past is haunting. His 99 points in Round 12 earned him a Rising Star nod – could it just be that the kid needed a rest?
# M8
The one reason I'm not stressing out about trading Jaeger is basically Tom Mitchell. Like many other coaches, my Premium Mids runs 7 deep, which meant that one of Jaeger or Mitchell would have to warm the pine if I kept the young Sun. Titch's arrival alleviates any second thoughts I have about cutting JOM, but it also means I'll be turning my itchy trade finger to the Back and Forward lines – as far as I'm concerned, M8 is locked up for as long as Titch is putting up these kinds of numbers.
This will be the last week that you see my side up in the Bullets – hopefully it's providing some sort of example as to the dos and don'ts of the MBR period. Round 12 trades were as follows:
Jones –> Barlow was a no-brainer from a tactical perspective, cutting the R12 rook for the R11 Premium. My second trade was a bit less straightforward; I decided that having 20 players was sufficient for Round 12, and that R13 should instead be the focus area. Crouch (R13 bye) to Tom Mitchell (R12 bye) put a little cash in the bank, whilst also giving me maximum flexibility with my trades in Round 13. The side now looks like so:
Round 13 Trades:
At this stage, O'Meara OUT is the only thing set in stone, which is good thing, as it gives me plenty of options in the event of Thursday carnage. Bringing in another Premo Mid will mean that Titch sits on the pine from Round 14 onwards, while Vlastuin is outscoring Premium defenders anyway. Ultimately, it might be Macaffer on the chopping block (for Dusty/Stevie J probably) even though trading him will leave me with 7 playing forwards and Staker on the bench.
Anyway, that's all from me in the MBR II! Are there any upgrade options that you think I've missed? What trades would you make with my squad? Do your Top 8 Mids look different to mine? Let me know in the comments, and good luck for Round 13 – the toughest of all the Byes!