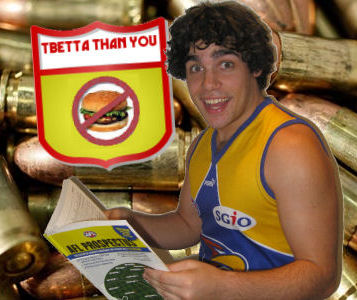 Finally, the first of the dreaded Bye are upon us! Like removing sports strapping around a particularly hairy ankle, or breaking the unpleasant news of a nasty STD to those lucky ladies/fellas – it's best to get it over with as soon as possible. We can see the light at the end of the tunnel, and I can't wait to get there – imagine a time where the majority of your players take to the field, a time where you never have to worry about "which Bye round…" when upgrading, a time where you don't have to rely on bloody Will Sierakowski to field a full side!
The way the cookie crumbled, your fortunes in Round 11 were largely influenced by your trading strategy last week. Par was around 1850, all things considered – Let's see how your side fared in the first of the Bye weeks:
The Hibernator
This is the coach who banked the 18 or 19 players they had named to play in Round 11, and started preparing for Rounds 12 and 13 ahead of schedule. The idea here was that you might sacrifice a few points (by not being able to drop off your worst score or two) to prevent a donut in the future, which would theoretically save you more points. If you read last week's Bullets, you'd have guessed that I was a fan of this tactic, and I actually planned to apply it in the form of Lonergan –> Hrovat myself.
Verdict: Fail. Getting Hrovat (or jumping on Barlow/S.Mitchell/Cotchin etc. early) would have likely meant ignoring Tom Mitchell initially, coasting you a truckload of points. Even worse, it probably resulted in playing just 16 or 17 this week, as popular squad members Daw and JJK were late withdrawals. Not a bad strategy, just pure rotten luck. The positive news here is that this coach likely has plenty of cash and flexibility to make up for it over the next two bye weeks.
The Overtaker
This is the coach that chose to upgrade in Round 11 to get a leg-up on the majority his fellow competitors, possibly looking to make full use of an already-burgeoning bankroll. Stanton (52) was a very popular inclusion based on blistering recent form and attractive BE.
Verdict: Fail. Well, bringing in someone other than Stanton (Ablett, Swan, Jack, Enright, Kreuzer, etc.) probably scrapes you a pass mark, but it also meant missing out on at least two of Martin (83), Nicholls (113) and T. Mitchell (144) and their massive Round 11 totals for a fraction of the price.
The Downgrader
This is the coach with tighter cheeks than a drug-smuggler at airport screening, the cash-saving team manager who brought in two rookies this week with a view to go bang-bang over the next fortnight. For most, this meant snapping up a pair of Martin, Nicholls, T. Mitchell or Daniher for non-playing cash cows like Rowe, Lonergan, Blicavs or Mayes, leaving more than $300k in the coffers in many cases.
Verdict: A+. Congratulations, you chose Door 3! This is where the real prizes were, the $100k-or-so wunderkinds who topped up your weekly score as well as your bank account. On top of your swift rise up the rankings, you now have the capital that grants maximum flexibility with your Round 12 trades. Kudos!
3. Titch and Tickles
As I mentioned earlier, the 'downgrades of doom' were the surprise heroes this week; not only freeing up wads of cash for future expenditure, but getting the job done in the meantime. Let's get this straight – the 144 points from Tom Mitchell and 113 points from Tom Nicholls were not only the best rookies scores this week, but features in the highest totals we've seen from our basement-priced gems all year – and they did it in their second games of the year, in the midst of the MBRs. Words can't adequately describe the impeccable timing of this pair, so consider Titch and Tickles the Vin Diesel and Michelle Rodriguez of the Fast and Furious 6 trailer –  I mean, honestly, I don't know which is less believable – being flung from speeding tank then being sensationally caught in mid-air by a human tank, or two rookies combining for 259 points the week you bring them in.
2. Gibbs (123)
Over 51% of sides boasted Carlton star Bryce Gibbs at the beginning of the season, and in my opinion, he was a must-have at his price and positional eligibility. However, a massive chunk of those coaches gave up on him through his hamstring troubles, dropping his ownership to just 29% competition-wide coming into Round 11. I'm not sure who wins the 'Hold vs Fold' argument in a big-picture sense here, but I can certainly confirm that as a humble Gibbs owner, I'm ecstatic with his 100 ppg average since his return from injury; topped off by the 26-touch, 9-tackle showing he gave on Friday night, which culminated in a timely 123-point score. Getting Gibbs back in has to be a priority for coaches post-bye, especially with other 'Premium' options like Birchall, Hartlett and Scotland not living up to their billing thus far.
1. S. Selwood (123)
I'm sure I'm not the only coach who seems to fixate on the lesser scores from his players, and lets it blur the overall picture. The truth is, as a Scooter owner, I've been as critical of his few failings to the point that I've weirdly overlooked what can only be described as a break-out year. Yes, the four scores below 90 (71, 87 ,71 and 81) were difficult to stomach at the time, but they were offset by his six scores of 119 or more – that's more than Swan (5 times), and second only to Ablett (7 times). The catalyst for his success this season (ranked 5th by average so far) should come as no surprise – he's a hugger, this kid. In the six games this season where he's notched at least 8 tackles, he's topped the ton; but on the five occasions where he didn't, four were sub-90 totals. Keep tacklin' son!
Honourable Mentions: O'Keefe (145), J. Selwood (132), K. Jack (130), Douglas (123), Montagna (113), J. Thomas (111), Macaffer (102), Kreuzer (101), Ball (100), Naitanui (98),  O'Meara (89), K. Martin (83), Thurlow (81).
3. JJK (feat. Daw)
Many coaches would have been pretty chuffed waltzing into the first Bye round with 19 players, and rightly so – fielding a team each week of the MBR's will be an effort for most. Unfortunately, this contention may have contributed to a smattering of forced donuts this week, as both Josh J. Kennedy (calf) and Majak Daw (phobia of rain) were withdrawn post-lockout. For many coaches, a donut in this fashion would have immediately put their side 52 (Stanton) to 76 (Matt Jones) points behind their H2H League opponents as well as the rest of the competition, and that head-start is very difficult to erase once it's conceded.
2. Stanton (52)
There was a fair bit of conjecture during the week that Stanton should earn 'Pig' status, based on his exuberant playing-style and recent back-to-back scores of 144 and 149. Sure, he has certain pig-like qualities – the incessant desire for the low-intensity footy, the gorging of points in red-time, the excessive point totals. But let's not forget the crucial quality that separates Swan from wannabes like Stanton – he never puts in a bad score. Ever.
It's been a massive 88 games since Swanny posted a score below 80 (79 in Round 7, 2009); Stanton has already dropped below that figure 3 times from 10 games this season! Oh, and the last time Swan scored as little as 52 points, as Stants did with a hard tag this weekend? A massive 123 games ago, in Round 16 of 2007.
Introducing Brent Stanton – not a pig. Just a very taggable prick of a player to own.
1. Robinson (40)
Just when you thought that Robinson had turned a corner – he was averaging 91.6 in the five games leading into Round 11 after a very slow start to 2013 – he dishes up another dirty total. 40 points is all the Kamikaze Kid managed in 3Q playing predominantly as a forward, which was enough for Malthouse to red vest him. With a season average of just 75.2 DT, there's no way we can continue to class Robbo as a 'Premium' forward going forward.
Dishonourable Mentions: Whitfield (16), Webster (34), Dixon (37), A.Goodes (46), Kerridge (47), Kommer (49), Hibberd (55), J. Watson (77).
Normally I like to take a step back and take a meta approach to DT at some point in this article, but who am I kidding – It's hard to look weeks into the future when we have a bounty of immediate concerns that need addressing! And right now, that's how best to use our 2 trades this week.
With most DTer's piggy banks overflowing, the Round 11 'Premium' class will be a massive focus area, and rightly so. Trading out a R12-bye cash-cow (such as M. Jones, Evans, Terlich, Daw, Blicavs, Rampe) for a R11 Premium is about as close and you can to the perfect strategic trade; so what's on offer? I'll give you my Top 3, looking at it from a variety of perspectives – don't forget to let us know who you've got on the watchlist in the comments below!
Best for: Value
1. Birchall ($382,700 DEF, 89.3avg)
At under $400k, Birchall is an absolute steal –you only have to look at what he produced in the first four rounds (119 average) to see what he can do when the planets align. Unfortunately, he copped the dreaded forward tag after that as a result, which is about as attractive as thrush to a rebounding defender. Despite this, I'm still optimistic that Birch can elevate himself back up to the 85-95 average range post-bye. A little rest, a game-plan tinkering by the Hawks' coaching staff, and boom – instant Premo, for the price of one Terlich plus change.
2. Franklin ($383,300 FWD, 79.5avg)
Each week I saw Franklin sitting there all cheap, batting those eyelids and flaunting those long legs, and finally he dipped low enough to become irresistible – that figure was around $380k for me. I don't have to remind you that he's averaged at least 99 for the past three seasons running for you to recognise a bargain, so if you're up for the Buddywood rollercoaster, now's the time to buy a ticket.
3. Maric ($363,200, RUC, 75.4 avg)
With Maric, it could well be a case of "he's cheap for a reason", in the same way that Charlie Sheen always portrays sex-addicted alcoholics named Charlie. But then again, maybe he's been struggling with that ankle niggle for the past few weeks, and the week of rest will do him a world of good? If you still have Leuenberger and don't have the cash for someone like Minson or Roughead, it could be worth taking a punt on the Mullet – the well-groomed man-mountain who averaged 98.1 DT points per game in 2012.
Best for: Reliability
1. Barlow ($535,300 MID, 108.1avg)
Barlow is the most expensive Round 11 gun on offer – and for good reason, seeing as he averages the 7th most DT per game this season. What I love most about Mick is not just his impressive ceiling (4 scores of 120+ this year), but his excellent basement scoring – 81 is his lowest from 11 games this year, and he has just two scores under 90. Like Ablett's bi-weekly dome wax, Barlow pumps out DT points like clockwork. My all-time favourite Barlow stat – he has the 2nd-highest Dream Team average of any player ever (since stats were consistently recorded in 1974, minimum 50 games), a massive 100.3 points per game over his career!
2. Sam Mitchell ($472,300 MID, 100.0avg)
In my eyes, everyone deserves one game off, and that's what Mitchell's 66 against the Demons in Round 10 must have been. Remove that, and old Chicken Schnitzel has been going at a very under-the-radar 103.8 ppg in 2013. The most pleasing aspect is that he had a basement score of just 88 up until that point – incredible consistency from one of the stalwarts of the fantasy world. I don't think he has the same ceiling as he used to, and just the one total exceeding 111 this season probably attests to that; however, if you're after a reliable 95 week-in week-out, Mitchell's your man.
3. Dustin Martin ($473,300 MID/FWD, 98.1avg)
Besides some alarming neck tattoos and that piranha haircut, Dusty's crux has always been his consistency, in particular his ability to stay influential for the whole 80 minutes. As far as I'm concerned, after a shaky start to the year, he's addressed that issue this season. His last six games coming into the bye garnered a mean score of 101.3 points, which makes him my first-choice forward upgrade this week.
Best for: Risk vs Reward
1. Cotchin ($442,700 MID, 94.33avg)
Cotchin almost makes the 'Value' section just on principal, because we saw last season what he's capable of – his average of 122.5 in the last 8 games of 2012 was incredible. A $442,700 price-tag has me reaching for the trade icon, but a glance at his recent totals (84, 62, 92, 99 and 70) is a bigger turn-off than Malthouse's WIggle skivvy. It's worth noting that Cotch was definitely dealing with knee soreness pre-bye, so it's not outrageous to feel optimistic of a resurgence from Round 12 onwards – he's a bargain at sub-$450k if that eventuates, but I think I need to see a few tons before I consider walking the plank.
2. Jack Redden ($480,800 MID, 95.8 avg)
Redden wouldn't be on too many trade-ars at the moment, so it's a great opportunity to pick up a point of difference in your midfield. Like Adam Goodes, Redden is a massive Back 9 specialist; In 2011, he averaged 103 in the first seven games, then 112 in the remaining fifteen. Same trend in 2012; 85 average in first five, 108 average over the next seventeen games. So what about 2013? He averaged 90.4 over the first seven games, and 108.3 over the next three – he's just getting started, ladies and gentleman!
3. Griffen ($488,100 MID, 105.5 avg)
I picked Griffen in my Draft side last season, and despite his eyes being creepily close together, I was very happy to have him there. The big knock on Griffen has always been the wide range of scores he can produce, evident already this season with a low of 74 and a ceiling of 166 – the latter coming in his most recent outing. The problem is that he always attracts the first tag, so his output will likely remain sinusoidal for the foreseeable future. He is an excellent point of difference however, and as he's been on the brink of the elite for a while now – is 2013 where it finally comes together, much like his eyes seem to want to?
Best for: Avoiding
1. Boyd ($481,100 MID, 97.0 avg)
As much as I love Boyd, I can't touch him again anytime soon. I have this new rule at Tbetta Than You called the 'Waters Clause', which basically states that if you bring in a player coming off a calf injury, you may as well take a steaming iron to the groin. It's a typical old man injury, so while it's possible that he can come back and average 105+ for the rest of the year… why take the chance? Definitely more reliable options out there… It's also probably worth mentioning the Youth Policy is well and truly in affect at the Kennel, and one wonders whether Boyd has already been the victim if the strategy?
2. Kane Cornes ($494,700 MID, 111.7 avg)
"Ooooh, look at that sexy average", I hear you say. "111.7 per game, how foxy…" escapes your lips as you hover over his square jaw in the Trade Wizard. Abort, and reconsider! Do you really see Cornes being a top 8 midfielder for the rest of the season?! Really?! I don't. I could be wrong, but the numbers don't often whisper sweet-nothings to us for no reason. Here's my favourite Kornes stat: Average when Port Adelaide wins: 123.8 DT. Average when Port Adelaide loses: 99.6. I don't see the Power winning too many games from here on, do you?
3. Deledio ($474,200 MID, 95.6 avg)
One word: Front-runner. Does that count, or is that two words? A compound word? Anyway, the point is that Deledio plain stinks against quality sides, and particularly with the tag. Exhibition A: Deledio's opponents from his three biggest scores this year:  Bulldogs (135), Port (134) and Melbourne (124). Exhibition B: Scores against Top 7 sides: Carlton (78), Collingwood (80), Fremantle (83), Geelong (63) and Essendon (53). Yuck.
Mate, you couldn't pay me to bring in Zorko this week… Firstly, he has a BE of 114, but mostly, he's way too inconsistent. If you look at his totals this year, he's only scored within 20 points of his previous score once!
In saying that, Zorko is the kind of fallen Premium I'll be looking at once my team is chuck full of Premiums. It looks like many teams will be 'complete' by about Round 15 or 16, leaving 6 or so weeks of luxury trades. The first thing I'll be doing is looking for fallen Premium Mid/Fwd cover, so if I get ravaged by injury/suspension/resting in any one line on any one week (ie. where two trades wonit suffice – think Backpocalypse earlier in the season), I'll still be able to field a strong outfit.
Definitely not – If I had Terlich and already owned Birchall (quite a few are in this position, I believe), then Duffield would be towards the top of my list. I'm a proud Duffy owner in my Draft league this season, so I've obviously kept a close eye on him. He's actually a Top 6 defender over the past 8 rounds, and producing those sorts of numbers over that large a sample size indicates that he's the real deal.
As for Fremantle's fixture, I covered their amazing 2nd half draw in my Fixture Study article – you'll notice that Freo are one of the top three sides to upgrade to in terms of fixture strength, plus they have a cakewalk during the Finals. Like Barlow, jumping on Duffield would be a great tactical trade.
Very tough query! This is more of a philosophical question – do we miss a cash cow over the MBR's to save a donut? Or to boil it down to its core theme, Cash vs Points?
That's a question that doesn't have a clear answer, and I leave it to personal preference. I can only tell you what I would do here, and that would be to do whatever it takes to avoid a donut over the MBRs, short of trading out a Premium.
I had multiple tweets asking this, in essence – who to grab out of Martin and Hrovat? To me, this has a clear answer – Hrovat, assuming that's he's named on Thursday, as he should be.
While he hasn't scored as prolifically as K-Mart thus far, I feel Hrovat has stronger job security within the Bulldogs succession plan. Martin, however, is another of those small midfielder clones at Collingwood, very similar to Dwyer/J.Thomas/Kennedy/Elliot/Williams in both stature and role, and as a result, is never truly safe in that side.
Of course, the mitigating factor for me in the end is that we get Hrovat after his bye, while grabbing Martin on the bubble will mean going another player short in the midfield in Round 13 – something that most sides won't be able to weather without negative consequences. For that reason, I'm more than happy (and extremely likely) to miss the K-Mart cash-cow boat – this isn't Pokemon, you simply can't catch them all.
Okay firstly, Tom Mitchell at M8? Yes… For the meantime. We've all heard the Beau Muston cautionary tales, so to back him in as a starter for the rest of the year is probably a bit much – let's not forget that he hasn't even played two full games of AFL yet! I'd still be looking to bring in an 8th Premium Midfielder, even if that pushes Titch to M9. Can never have too much cover!
For this reason, I think we have to cash in on O'Meara next week. I had the same thought – the jet hasn't scored less than 82 in seven weeks, for an average of 93.9 in that time! That is simply insane for an 18 year old. But if we're all going to get on Titch (you'd be going full retard if you didn't, let's be honest) then there's no point having one of those young guns on the bench – much better to take full advantage of Jaeger's ~$300k profit and bringing in a Super Premium over the next fortnight.
Over these MBR weeks there will be a quick note about my squad, hopefully to give an example of the types of trades you should be making, or at least considering, during the Byes. I posted my pre-trades R11 side last week, so you'll notice that the trades I made last round were:
I was able to trade Lonergan to Daniher (R13 bye) via Mayes DPP, and I did this for a couple of reasons. Firstly, it ridded me of a tri-bye player in Lonergan (ruled out of the MBRs) for someone who would at least play two of the three. Secondly, it exported an R13 Mid, which I was extremely heavy on; and lastly, even though Daniher has the R13 bye, the only other R13 Forward I had was Macaffer, so in theory I may have had to bench a starting player in my forward line that week. Overall, very happy with this swap – earnt myself some pocket money and Daniher ultimately boosted my score by 60 points, with the JJK late withdrawal meaning I just fielded the bare 18.
Rowe to Nicholls also worked perfectly, because it allowed me to bench Daw (who was dropped anyway), and play a full ruck line each week of the MBRs – I didn't expect his 113 points though, but I'll take it! That gave me 1929 in total for the round.
Trading this week: Looking at Matt Jones –> Hrovat… Then I have a few options for the 2nd trade, which will be dependent on unforeseen 'Thursday Teams' carnage! However, Mayes –> Barlow is a distinct possibility, as is Mayes –> Dustin Martin if I decide a forward is more advantageous in the long run, possibly allowing me to start Titch from Round 13 onwards.
What trades would you make with that side? Let us know in the comments! Cheers for reading my Round 11 thesis – good luck for the 2nd MBR!