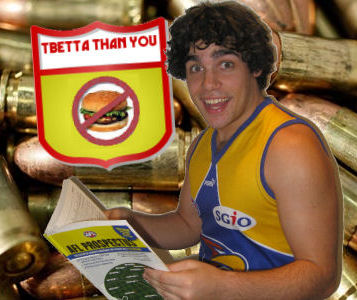 Carnage arrived early with Thursday's Round 10 team selection, making it a difficult week right the get-go. How did you fare? Who were the Makers and Breakers this week? Have you prepared for the Byes? What trades will you pull this week? All this and more below!
Seeing as you've heard more about the byes (and probably will hear for the next fortnight, at least) from me lately than about the 'Swannies' from Paul Roos, I thought I'd give it a brief rest and have a non-MBR look at the DT landscape in Round 10 in this Bullet. It will be brief, however, as we have a lot of Bye obstacles to navigate over the next few rounds.
# Big Dogs Are Back
I'm sure I'm not the only fantasy coach who felt a strange combination of uneasiness and adrenaline when it came to Captain-pickin' time, with our trusty no-think Captains on the wrong side of history with their scoring prospects in Round 10. Swan was in a rare rut (a mudless sty, if you will) leading in, while Ablett was up against mysterious ex-team forces… For once, we were without the safety net of a clear option.  No stress – Swanny oinked out a 130 on Friday night (a sacrilegious night for the Captaincy), while Ablett showed why he is the only player in the competition who can claim to be truly untaggable – more on him soon.
# YOLO
Round 10 marked another win for the YOLO traders, with Luke Ball bursting his bubble in style with 110 DT points in his third game of the season. That's a first-up $35k price hike, and a Round 11 BE of just 10 promises more in the near future.
# Statistical Anomalies
There were a few cheeky little statistical surprises this week, including, but not limited, to:
– Koby Stevens did the anti-Scott-Lucas – he notched 10 handballs without a single kick. Chewy on ya boot, mate?
– Cox and NicNat set a new record on Monday Night, collecting a combined 81 hitouts against the Tigers. This smashes the previous record, also set by the pair, when they tapped their way to 75 swats against the Lions last year. Amazingly, the Eagles still lost the clearances in Round 10… go figure.
– It was a big week in the world of hitouts, with Will Minson collecting 57 of his own against the ruck-light Power. That's the second-best return by a ruckman in a single game since 1982, with Jacobs' tapwork resulting in 61 last year – interestingly, also against Port Adelaide. A quick aside; Minson is the 3rd-ranked ruckman this year with an average of 91.2, yet he is the 32nd most-popular ruckman. Ouch!
– Jackson Ferguson ($108,500 Fwd/Def) might be the perfect sidekick to novelty rookie Brent Staker with their handy DPP compatibility, but unfortunately Fergie went ahead and became the first rookie to post a negative DT score on debut. Actually, I'm not 100% on that factoid (I'm hoping to hear suggestions), but it doesn't matter – Ferguson was still horrendous. He allowed the inexperienced Aaron Black to boot four goals on him… in the first quarter! Seriously though, -6 DT points… Best of luck in the VFL.
# Hutchings' Hatching
The recruitment of Mark Hutchings was marked with a resounding wave of approval from Captain Hindsight, with the mature-age Eagle pumping out yet another 80+ score. It was a risky move bringing in Hutch in DreamTeam, because with no Rolling Lockout, we weren't sure that he'd even play; the Eagles had a Monday game and he was sitting precariously on that extended bench until after lockout ticked over. Job security issues scared me off massively, but if he can play in Rounds 11 and 13 and produce an average of 60+ over those two rounds, you'd have to call that a massive win for the YOLO traders – especially as he's already blossomed $83k after his bubble burst this week.
3. Gary Ablett (140)
So often we'll scroll over the scores on our Fanfooty or Dream-Stats browsers, and seeing Gary Ablett towards the top of the list evokes about the same reaction as one of Bruce McAvaney 's many rhetorical questions. His superhuman feats keep raising the bar so high that we forget to stop and say, "Yep, you're a pretty special dude". He's scored more than 130 points in each of his last four games, which basically makes him my Perma-Captain until he gives me a reason to consider otherwise.
2. Matthew Kreuzer (119)
With Leuenberger issues plaguing the majority of DreamTeams out there, what you chose to do with the lanky Lion was always going to be a big damage modifier this week. If you had the grapes to settle on Kreuzer at his insanely low price of $322k ahead of more-hyped although more-expensive alternatives, then you're all smiles right about now. That's three scores above 80 on the trot for the "Kroooooooz", which puts him firmly in the Premium ruck conversation – pending fitness, of course, which has always been his crux.
1. Mark Blicavs (94)
Thanks to the avalanche of carnage that Thursday Teams brought us, many coaches had to put their Leuenberger plans on the backburner while they plugged holes elsewhere; more often than not, this resulted in relying on Blicavs to defy his effective Aussie Rules 'age' and carve out a respectable score. Forget that he has played about as many games of footy as Darren Glass has AFL goals (8, if you were wondering) – the former steeplechaser pulled a 'postman' on us and flat-out delivered. 94 points is a career high for the Blitz, bettering last week's 84 despite sharing ruck duties (albeit in a very part-time sense) with heir-apparent Nathan Vardy. Is that what we should come to expect from Blicavs in the near future?
Honourable Mentions: Stanton (149), S. Selwood (135), Bartel (119), Barlow (118), Ball (110), Macaffer (105), O'Shea (102), Laird (101), S. Jacobs (99), T. Mitchell (98), Whitfield (96), B. Goodes (86), O'Meara (82).
3. Moloney (24, inj)
It's always harsh dealing out criticism to scores that were injury-affected; but no one said it was fair, and Moloney's 24-point offering was certainly a week-killer. It's a shame because Beamer's owners have been handsomely rewarded of late, with the ever-scowling midfielder averaging 90.6 DT points in the five games leading into Round 10. Unfortunately, he's now dropped $33k, which drags him further away from fallen Premo targets like Cotchin ($443k), Murphy ($442k) and Jelwood ($422k).
2. Hanley (35)
The downside of being the in-form defender of the competition – you become an opposition priority. We saw it with Hartlett from Round 6 onwards, Birchall since Round 4 and suddenly Hanley has attracted the attention of his offsiders. Macaffar's star continues to rise in his new tagging role, restricting the Irish Lion to just 35 points – a massive disappointment consider his next worse score this season (when not injured) was an 80.
1. Absentees
I can't get past my loathing of Waters based on what he's served for me personally (DNP, DNP, 78, DNP, DNP… My single worst trade, ever. ), so I can understand what others that missed this week, such as Chapman or Beams, have done to their respective coaches. If I could go back in time, I would punch myself in the groin, forget about bye structure and watch a 'worst-of' of Beau Waters, including every injury he ever sustained and high bump he ever delivered, then punch myself in the groin again for good measure. We can't have our Premiums missing in carnage weeks like Round 10, and certainly not in these unforgiving byes.
Dishonourable Mentions:  Seriously… Why depress ourselves any more with the byes upon us?
Every team is different, so each coach will need their own private plan of attack for the MBRs, much like dieticians recommend varying diets based on each individual's needs. The trading protocol is unwritten for Round 11 – last year we had finite trades, so limiting your activity was encouraged so that we could go bang with our 6 trades over the following fortnight. However, the climate has evolved and we have to use our two trades per week or else we lose them – so how do we make our two trades count, keeping in mind that anyone we trade in this week will have a Bye waiting for them just around the corner?
The biggest factor in your Round 11 trading plan will clearly be how many players you have taking to the field this week – so the Thursday Teamsheets will have a massive impact. Based on what's offered with team selection, here's what you should be doing with your two trades this week:
17 or less available
This could be a common scenario if Thursday's teams are particularly cruel to us this week. The obvious solution would be to bring in playing replacements, to ensure that you at least field 18 players this week. The less transparent point to remember is that you need to be careful that the players you bring in aren't crippling you in Round 12 or 13 – bringing in, say, Brent Stanton this week might feel good in the short-term, but will leave you decimated in the midfield in Round 13 (generally speaking).
For this reason, acquiring a rookie like Tom Mitchell ($108,500 MID, R12) a fortnight early will benefit you greatly in Rounds 11 and 13, but will exhibit negligible downside in R12 as most coaches will have so many R13 MIDs taking the field. The same goes for bringing in a Round 12 DEF like Mackie or Enright, if you are as light on as I am with Defenders next week – you get the point.
Essentially, just make sure the player you bring in this week won't turn your R11 headache into a R12/13 migraine.
18-19 available
I have a feeling that this will be the order of the week, particularly for those coaches who have structured up with an 8-10-12 or 9-11-11 (or similar) spread and have a Crouch/Rowe/Thurlow/Lonergan type preventing their squad from making full use of that structure.
For these coaches, I like the Body-Trim, Cash-Up tactic for the following reasons:
1. A double-downgrade will leave you with enough cash to go bang-bang next week, with fallen R11 Premiums like Cotchin, Hanley, Birchall, Hartlett, Zorko or even Buddy prime for the picking next week.
2. 'Tri-Bye' layers like Rowe, Sinclair, Pittard, Viney and Lonergan are basically dead weight. Instead of just contributing to one week of Bye pain, they are hurting you each week. Cutting these players might not directly help you this week, but will certainly pay dividends over the MBR's as a whole – it basically turns 3 byes into 1.
3. If you're trading out a tri-bye player, then your bye structure isn't getting any worse. I mean, if you wanted Kyle Martin ($103,300 MID, R13) in spite of his R13 bye, then you're not exactly helping your Bye spread – but given that you're cutting a non-playing rook anyway, it's harmless in isolation, and at least it helps you in the other MBRs. That means that you can get the bubble players that you want this week guilt-free, whether that be Hrovat ($107,200 MID) a week early, or T. Mitchell, or Tom Nicholls ($108,500 RUC, R13) – whoever.
NOTE: Just remember, that if you cash up this week to Double Upgrade next week, then you need to grab Hrovat this week or not at all.
20+ available
I'm guessing very few coaches will be in this situation, but you're in an enviable position if you are. The way I see it, your trades this week are simple – get in Round 11 bye players… Even for someone playing this week.
The thinking here is that if you're breathing easy this week, you're in for one hell of an asthma attack in either R12 or R13 or both. Or you have had an insanely good run with injury and form! Either way, preparing for next week is the way to go, even if it means forfeiting that 'extra players' advantage you have over the rest of the competition with the Best 18 system this week, if only to ensure you limit the chance of a donut in the future.
The Round 11 players you should be considering are rookie-priced players like Hrovat, Grimley ($108,500 RUC) and Hitchcock ($132,600 RUC). Of course, you run the risk of these rookies being omitted after their bye, which would be a backfire of epic proportions. I don't see that being a problem for Hrovat though, given the Bulldogs injuries and bigger-picture situation (ie. Youth policy), so you can feel reasonably confident pulling the trigger on that one. Don't be afraid to bring in a fallen Premium early either – it has less risk factor, because we can be very confident that they'll actually play – just consider it an early upgrade!
What will you be doing with your trades this week? Do you have a groovy trading strategy that I've overlooked? Let us know in the comments!
I first quantified the concept of a 'Triple Trouble back in the Round 3 Bullets, and I think it's about time we checked in with our charges. I love these types of players, because they don't rely on just one source of points, like Sam Mitchell (Disposals), Travis Cloke (Marks and Goals) or Jack Redden (Tackles). Here are the candidates we have from 2013 so far – the number preceding their name denotes their possession rate rank:
This is why Kornes continues to go under the radar. The man is a statistical beast, averaging career-highs in both disposals and tackles at the ripe-old age of 30. It's no wonder he has only produced one score under 99 with these types of numbers, and it's also this even spread and consistent production that has him at just 5% ownership competition-wide – we're too slow to adjust!
This is the second-stringers – the class of players who are just shy of reaching the dizzying heights of statistical sainthood. It's no surprise to see my two most-desired midfield upgrade targets in Barlow and Stanton up there, while the resurgence of Montagna and the promise of Masten in 2013 make more sense when you consider these raw numbers. You'll notice that all nine of these statistical wet dreams average above 99 points per game – which is more than established 'Premiums' like Deledio, Boyd, Murphy, JPK,  J. Selwood and Sidebottom this year.
There's probably been too much time off the clock for this 'red' group to seriously contest the Triple Troublemakers, but they've certainly filling the right columns. Dyson Heppell's raw numbers explain why he's the second-highest averaging defender (to play more than 6 games) so far this year, despite very little hype surrounding his production thus far. The real surprise on this list is Dion Prestia however; the diminutive playmaker that's truly having a third-year breakout right on our front lawn, yet no-one's home… If he earns Defender status next season, I'll be strongly considering him based on these mouth-watering numbers!
You'd be crazy to not trade this week! Even if you have a full squad playing this week (ie. no tri-bye players), then you can always prepare early for the R12 and R13 byes in the fashion I mentioned above.
For instance, trading someone like Nick Kommer ($249k, 49BE, R13) out for Tom Mitchell won't help you this week so much, but it will alleviate any pressure you have with Round 13 Midfielders; while also getting Kommer out at very close to his peak price, thanks to his 36-point score this week.
I love these trades!
Moloney –> Hrovat doesn't affect your bye situation (same bye round & position), but makes you $275k that can be put to great use next week. Similarly, Evans –> T. Mitchell makes you another $185k, but more importantly, you're keeping that balanced 10/10/10 structure as you say.
You should now have enough cash to double upgrade next week, so all those fallen R11 Premiums I mentioned earlier are in the firing line – where Round 12 rookies like Daw, Matt Jones and even Thurlow will be the perfect omissions.
Great question, and a very relevant one as many coaches will notice that these are the most promising rookies coming into their first price change over the next couple of weeks – at least by the simple break-even measure.
I think you have to settle for two, for a combination of factors. Firstly, you'll need to grab Martin before his bye to get him at basement price – a massive no-no for me. Secondly, Martin's hindered by the Round 13 bye, in which many of us will already be struggling to field a full side. And lastly, there are so many cheap Premium options on the market, and two midfield downgrades should give you plenty of cash to grab a couple of them over the coming weeks.
I was lucky enough to fluke an 8/10/12 (before trades this week) bye structure, despite only turning my attention to the byes a few weeks ago – so that's a small win for Tbetta Than You. However, on the flip side, I have doubtful players like Rowe, Daw, Lonergan, Crouch, Thurlow and friggen Waters to deal with, which means I'll still struggle to field a full side this week. I also have a disturbing lack of R11 midfielders, which means that even if Crouch plays this week, I could potentially have a player unaccessible on my mid bench – not cool.
As a result, I'll likely be following the '17 or less available' methodology I outlined earlier. I can make small amount of coin as well as preventing a R11 donut by bringing in Gorringe/Nicholls for Rowe, while Lonergan –> Hrovat helps my situation in future weeks; or I could give even up on Waters for another R12 Premium Defender – although I'm not fully convinced with any of the available options.
For me, it's all about getting these tri-byes team anchors out of my side, while avoiding donuts this week and trying to improve the structure of my squad for future weeks.
That's all from me this week folks! The byes are a messy time, you if have any questions or queries, comment below or hit me up on Twitter at @Tbetta9. Good luck for stage one of the byes!