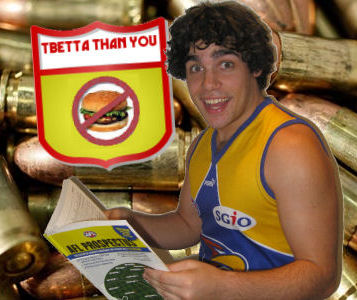 Welcome back to Tbetta's Bullets for another week! Apologies for the delay (again) – the Bullets will be an erratic feature over the next few weeks unfortunately, while my trusty laptop undergoes life-saving surgery. Hopefully you had a successful Round 9 at the office, and there was certainly plenty to get excited about if things went your way. Par was around 2100 this week, and a score of 2150 would have had you sitting at about 16,000th for the round.
So what did Round 9 mean to you? Let's take a quick recap with some bad headlines:
"Ins-Ton-taneous Reward"
Shocking prose, but a pleasing plot. We had some huge scores this week, culminating in a grand total of 67 players exceeding the magical century mark, including 24 players with over 120 points. To put that in perspective, only 52 players topped the ton in Round 8, 58 in Round 7, 50 in Round 6 and just 48 in Round 5. As a result, it's no wonder that we found many teams scoring upwards of 2200 this week, despite our sides far from 'complete' and with a healthy serving of bad luck in late withdrawals and injury doing its best to crash the party.
"Beautiful Swan Actually Ugly Duckling"
It feels taboo to think it, let alone even say it, but… Swanny is on the canvas. 90 and 85-point scores are nothing to sneeze at for mere mortals – but we're talking about a fantasy God here. What's more disappointing than searching for a third digit and walking away unsatisfied, is the way he's actually gone about his footy – he looks lazy, uncaring, and he's spending way too much time languishing at the pointy ends of the field.
To make matters worse, I'm hearing whispers of a rest – whether that's simply Twitter rumour or speculation borne in fact, I'm not sure – but I wouldn't be surprised, and that's the problem. I'll be looking past Sir Oinkington for the Captaincy this week, that's for sure, and won't be considered until I see him oinking playfully in the mud like in the good old days.
"Why didn't you T-Ellis?"
A week ago, I was encouraging all Ellis owners to purchase Trophies for 'Trade of the Year' – hopefully you didn't put down a deposit or anything, because you're going to want to hold fire on that one. I can deal with late withdrawals – I don't like them, but I understand they're part of the game – what I can't deal with, is when clubs know that a players if going to miss on the weekend, but fails to enlighten the general public until 90 minutes before bouncedown. What a joke – Richmond had doubts about Ellis as early as Thursday, and a similar situation unfolded at Brisbane on Friday where the Lions already knew that Docherty would take Golby's place in the squad (which we only knew thanks to a Tom Rockliff slip of the tongue), but didn't let the AFL community know until the last minute. Despicable – the AFL has a lot to learn from elite professional leagues like the NFL and the NBA, where medical news is fast, accurate and honest.
"Coaches Love Seeing Hawks Junk"
I mean, what? Well, I guess it would be interesting, but I'm more concerned with the scoring of a pair of heavily traded in Hawks last week, Roughead and Franklin. Both were out-of-sorts early on, particularly Buddy, who legitimately looked drunk when attempting to gather the footy. He must have had a quick nap and a coffee at half time, because he was certainly a different beast after the break, kicking four goals for 75 points in the second half. The same goes for Roughy, who was barely sighted with 42 points to 3Q time, but pulled out some Bartel-esque junktime with 45 last-term points to bring his game total up to a respectable 87 points.
"Unbe-Steve-able!"
Steve Johnson: The man, the enigma. Nothing epitomises Stevie J more than the love-hate relationship he has with his fantasy coaches – one week he's a round-killer, a donut-forcing late withdrawal, and the next he's an all-conquering, cherry-picking, point-producing fantasy machine. With an average of 120.8 DT points per game, Stevie J is solidifying himself as a must-have DTer – the good news is that for those who don't have him, he's already had his rest and should be good to go…. Provided you can afford his $573k pricetag, that is.
3. Barlow (149)
Michael Barlow is a DTer's wet dream. Not only does he purely accumulate the footy, but he's putting up exceptional secondary numbers in the Marks and Tackles column – so much so, that's he's a bee's prick away from averaging the famous Triple Trouble (25d, 5m, 5t) at 25.8 touches, 4.6 marks and 6.4 tackles per game. But the best thing about Barlow? He's not damaging enough (especially compared to Mundy, Hill and Fyfe at the Dockers) to earn a tag, so we never have to worry about those termites eating away at his score.
2. Premium-Lite Defenders
Around about Round 6, when every man and his dog was upgrading their backline to guys like Hartlett, Birchall or Waters, no one spared a thought for those players on the cusp of Premium output in the backline. Ibbotson (130), much to my shock/anguish, has been incredible since his late start to the season, averaging a competition-high 106 points for a Defender; Duffield (119) has a low of 96 in the last month; Hibberd (113) can't get away from the footy and is averaging 98 in his last five; and Enright (101) is turning back time with a low of just 99 in his last four starts. I guess that's what we get for wanting nice things.
1. Douglas (124)
I'm still trying to figure out who this guy is? Apparently, Richard Douglas (a fat name if I ever heard one) has been playing in the AFL for about 7 years, with his best fantasy return an 88-point average from 22 games in 2010. So how does he suddenly produce back-to-back 120+ totals for a season average of 101.7? If you ask me, this guy simply killed off Matthew Wright as a fantasy option for us all, and what a coup it was. We all thought Wrighty had it sorted, frolicking around with that high half-forward role, but Douglas has just waltzed in there instead to average career-highs in all the critical statistical categories – disposals (22.2), marks (6.4), tackles (4.1) and goals (1.3). No idea how you would have picked a break-out prior to the season, but great selection if you've been on Douglas for the get-go. You Adelaide fanboy, you.
Honourable Mentions: Stanton (144), Boyd (144), S. Johnson (144), Montagna (126), Masten (126), Kerridge (126), Priddis (111), Franklin (108), Naitanui (105), Stokes (103), Jones (98), Hutchings (97), O'Meara (86).
3. Late Withdrawals
Imagine Jason Dunstall in 'Coach Killers' mode , talking about late withdrawals. That's me. If you boasted either Ellis or Birchall this week you would have been fuming, but having both guaranteed a donut and likely had you Barry Hall-ing the living room wall.
2. S. Jacobs (22)
If you rigged up a broom stick with a rotten pumpkin attached to the end and ran it around AAMI Stadium for a couple of hours, then you'd basically have Sam Jacobs. It's been a steady decline for the Sauce, who was a red-hot chance for All-Australian honours last season. He's averaged a measly 68 points this year, down from 87 points the last two seasons, punctuated by an aneurism-inducing 22 point substitution in Round 9. My heart aches for coaches that have to deal with a Jacobs/Leuenberger ruck duo this week, It really does. I'd rather spend a week in Ricky Nixon's basement than deal with that mistake.
1. Daw (6)
Like West Coast Poly, the best thing about Majak Daw is his name. It's fun to say, and puns are easy to come by. Unfortunately for DT coaches, he's not fun to own, as points are not easy to come by for the big fella. I'm probably not going out on a limb here, but it's looking very likely that Majak will be shown the Daw this week (see? Puns galore), which has the undesirable side-effect of leaving his owners with one less player over the MBRs.
Dishonourable Mentions: J. Lonergan (22), Thurlow (29), Mayes (45), JPK (50), Deledio (53), M. Murphy (73), K. Cornes (74), J. Selwood (75), Swan (85).
1. Dean Terlich ($321,800 DEF)
Cracked ribs was the diagnosis on the ground on Sunday afternoon, but Melbourne has come out and declared him a chance to play this weekend with painful bruising. Convinced? Me neither. While I'd recommend dumping someone like Pittard (if you have him) instead, who's confirmed to miss the entire MBR period – in fact, I'd recommend keeping Terlich anyway, if he's at least a chance to play over the Byes -; but if you're deadest on dumping Terlich, here's what you're looking at:
↓ Staker ($132,600 FWD/DEF)
Staker's on the bubble, and his JS looks as solid as any rookie-priced player coming our way from this point on. That's 61 and 71 in his first two games for two about two years, so we can be optimistic that he'll build on this form. Durability is a big concern, but his JS more than makes up for that. A no-brainer addition, really.
↑ Hanley/Enright
If you're looking to upgrade down back, Hanley ($473,400) has to be your first consideration. Not including the game where he was subbed out with a knee issue (which helped keep his price affordable), Hanley has averaged 102.9 DT with a low of 80. He's a lickity-lock for a Top 6 defender, so it's just a matter of when, rather than if, with Pearce. In saying that, bringing in a non-Round 12 defender will be tough to justify for a lot of coaches, in which case, direct your attention to Enright ($462,000). I talked about his recent production in the Polling section, so we know he's back in his best fantasy form. One thing to ponder with Enright is, do we think he'll be rested at some stage? Absolutely. Do we think he'll be a Top 6 Defender? Unlikely. But he could save you a lot of points in Rounds 11 and 13, which could make up for a few average points over the season.
R Birchall/Hartlett
It's a roughie you're after? Enter Hartlett ($335,300, 74BE) and Birchall ($411,800 ,145BE). Both are very underpriced for what they can do, but do you have the balls to bring them in? Do you date a girl that cheated on every boyfriend she ever had? Hmmm. Again, non-Round 12 byes are a nuisance, so taking a punt on these fallen Premiums might have to wait until after the Bye – coincidently, Birchall should be down to $390k or less after his R11 bye. 
2. 

Leuenberger ($358,000 RUC)
Leuey's been sensational for us this year, so let's give credit where credit's due. He helped make the Ruck line almost a non-issue for us since Round 2, something that not many coaches could have said last season… Unfortunately, it's been confirmed that he's out for 4-6 weeks, which means he's cooked for the MBRs. He's gotta go.
↔ Naitanui/Roughead
The first guys I'd be looking at are some in-form DPP's, Naitanui ($426,900 FWD/RUC) and Jarryd Roughead ($471,800 FWD/RUC). NicNat has probably surprised a lot of coaches with his DT game, notching scores of 80, 103 and 105 in his last three despite being underdone. Roughead, on the other hand, is a known commodity; it's a three-round average of 110 from him. The DPP will be very handy during the MBR's (particularly if you're stuck with a Rowe/Sinclair type not getting games), but it's worth remembering that NicNat has the same bye as Cox, whereas Roughead (R11) doesn't – a massive tick in the 'Pro' column for the big Hawk.
↓ Daniel Gorringe ($129,800 RUC)
Sam Grimley ($108,500, 81 in R9) is another you could consider here, but he has about as much job security as a sand salesman in the Sahara. One theory here is that you would play Blicavs this week (84 in Round 9), then both of Blicavs/Gorringe where applicable over the Byes. The other is taking advantage of some pre-existing DPP, for those that have Roughead/Cox/Ryder in the forward line, and merely switching them into the rucks (for a Rowe/Sinclair type) and stashing Gorringe on the bench for the MBRs. Obviously, the allure of this trade would be to make enough green to bring in a Premium elsewhere.
↑ Stevie J/Franklin (DPP)
This is building on the last concept of pre-existing DPP up forward – you simply bring in a Premium forward for Leuenberger. For those who don't have Stevie J ($573,100 MID/FWD), now's the time to pounce; otherwise, if you're low on cash, Franklin is still excellent value at just $381,700 – almost $200k cheaper than Johnson. It's worth noting that Stevie J has already had a visit from General Soreness, whereas Buddy hasn't.
3. Lonergan ($189,500 MID)
How disappointing! Lonergan would have been a timely cash cow for us, perfect for culling right before his R13 bye. Unfortunately, he's been confirmed out for 4-5 weeks by the Suns, meaning that he won't be around for the Byes. Killer!
↓ Staker (DPP)
My preferred option for Lonergan is getting him out via DPP for Staker. Many coaches (including myself), have lost any Mid/Fwd DPP they may have had with any Neade/Mayes/Daisy trades in recent weeks, so this little gem can reinstate that. Simply trade out Lonergan, slide your rookie DPP into the midfield, and bring in Staker, knowing that he can be sent back during the Bye rounds if you get into any strife.
X Hutchings ($102,700 MID)
I'll be steering well clear of Hutchings, and I urge you to do the same. Yes, he's scored 84 and 97 in his first two games, and comes into Round 10 with a BE of -116. But he has massive job security concerns, highlighted by the fact that he was the sub at the weekend, and punctuated with the possible inclusions of Waters, A. Selwood and Embley this week. Even without that trio fit, Dalzeill was preferred over him, likely because he's too one-paced to inject in the same team as Kerr and Priddis. He might get lucky with other players dropping off with injuries over the MBRs, but I won't be taking that chance – Staker's JS is too strong to ignore, even if he isn't as prolific a scorer.
↔ Crouch ($171,300 MID)
It's a bit cheeky, but don't ignore Crouch's value. If he's named this week, he has to be a legitimate consideration. From all reports, he's easily Best 22 material, although he's tipped to play SANFL this week as he builds match fitness. I see this as a positive – hopefully he won't be 'managed' back into the Seniors through the sub vest, which would dampen the potential of his -42 BE.
↑ Boyd/Cotchin
Both Boydy ($481,100, 66BE) and Cotch ($456,000, 99BE) have plummeted in price thanks to moderate fitness-influenced patches, but look ripe for the picking this week. How long has it been since Boyd, who had 144 points in Round 9, has been this cheap? Years. Similarly, Cotchin is very underpriced for what we know he can, and will, do. Both are Round 11 Bye players, so bringing them in won't hurt you in Round 13 like others will.
One reason for the delayed Bullets this week is because our mate at Footy Rhino gave me a call – we chat briefly about the Leuenberger/Rockliff situations, before we turn our attention to creating the Nightmare DreamTeam of 2013.
Check out the Podcast below, and make sure you get around Footy Rhino's regular podcasts, as previous editions have featured Warnie, Roy and Calvin, amongst others!
iTunes link: 
Podcast download: 
It's been a shorter article this week, so I'll leave you with a few things to think about in the long-term. I'm more than happy to elaborate on any of these points, so hit me up on Twitter (@Tbetta9) or simply in the comments below if need be.
# MBR's: Premos vs Cash
With the Byes looming, should we really be upgrading to Guns who are just going to have their week off as soon as we bring them in? Seems counter-intuitive, doesn't it? Should we instead be looking to double-downgrade over the next fortnight, so that we can go bang-bang over the Byes?
For instance, getting both Hutchings and Staker this week, and whoever pops up next week (Grimley/Gorringe/Hrovat) will fatten your bank account nicely; then pulling the trigger on a couple of Premiums, say Birchall and Cotchin after Round 11, and possibly even having enough left over for a double after Round 12.
The problem with this is that you sacrifice points in the meantime. That's two weeks where you'll be squirrelling away cash in the bank, when it could be used to play a Franklin over a Mayes, or a Boyd over a Whitfield. It's not worth it in my opinion, at least not this early.
# MBRs: DPP
As I alluded to earlier, reinstating my Mid/Def and Mid/Fwd DPP links has become an important consideration with my trades this week. Not a priority, but a definite consideration. It will virtually eliminate any chance of your side having to bench an available player over the MBRs but copping a donut elsewhere, because you simply have too many in that one line – a legitimate concern for Round 11 in my midfield, thanks to a 0-3-7 split over the Byes (before trades this week).
Bringing in Staker for Lonergan (via Mayes DPP) allows me to sit Mayes on the midfield pine in Round 11 and effectively transform my Mids split to 1-3-6. The same concept applies to the backline, where a lack of R12 Defenders means that my side could be forced to sit healthy players that week. In reality though, it's unlikely that we'll need these links, unless you dropped the ball with your bye planning and your structure is dangerously lopsided.
# MBRs: The Mayes Dilemma
At this stage of the year, what's more important: Cash or JS? In my eyes, it's definitely Job Security, and this is why I'll hold onto Mayes even though his BE is in the 90's for the 2nd straight week.
I just don't see how we can justify trading a healthy player out these days. As I mentioned last week, the more that take to the field over the MBR's the better our score will be. I'm not satisfied with just 18 players – getting 19, 20, 21 players on the park is what's going to separate the boys from the men over the next month, and have the smart coaches flying up the rankings.
As a result, I'll cop Mayes' price drops (same applies to rookies like Neade and Heath), because it means that I can plug bigger holes elsewhere, like Pittard, Leuenberger, Lonergan, Sinclair – guys that have already been ruled out for the Bye period, and are just dead weight, holding us back.
# Timely Hrovat
Great name, and great timing from the young'un. Hrovat was one player I was targeting this pre-season pending job security, so there's no doubt the kid can play. He's a Joel Selwood type, tough and stocky, and he had 81 on debut in Round 9. The best part? He'll be on the bubble right after his bye. Perfect!
Another timely rookie could be Sydney's Father-Son pick from last season, Tom Mitchell. He was again named in the 'best' for the Swans Reserves with 30+ possessions (Edit: 42 disposals at 3Q time, according to Champion Data!), after being the travelling emergency on Friday Night. I'll eat my hat if he doesn't get any opportunity in the coming weeks, so keep a keen eye on Tommy for after the Swan's R12 bye.
# To Ball or not to Ball?
That is the question… At $343,100 with a BE of just 24, plus coming off a huge 123-point effort against the Swans last week, Ball is hard to ignore. The tough-nut has averaged at least 83 points per game in every season since 2004 (ignoring 2012 obviously), so the risk factor is negligible – he'll easily justify his price-tag. However, he is another R13 bye midfielder, which puts a massive line through him for me. Will you take him anyway?
# Ellis and Rockliff?
Why didn't I mention this pair in the Band-aid Trades section? Because you can't trade them – at least not in good conscience. Ellis (hamstring, 1 week) and Rockliff (quad, 2 weeks) both have their Byes in Round 11 anyway, so it's entirely possible that they'll both play in the other Bye rounds. With that in mind, they're must-holds.
That's all from me this week guys, thanks for the patience! Good luck!