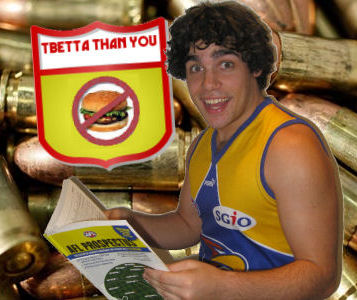 Welcome to the return of the fully articulate Bullets! Apologies for the hasty effort last week – I've learnt the same lesson Riewoldt & Dal Santo were taught last season – technology is not always kind to us. Anyway, into the important stuff – the Round 8 review. It was a highly variable round, with scores ranging all the way from 1800 to 2300 from high-quality teams, depending on whether you dodged the few, but very damaging, mines hidden in the fantasy battlefield this week. Let's cover a few talking points out of Round 8:
"Oh man, you're not still holding Gibbs are ya?"
On the surface, holding Gibbs looks like a bad call in hindsight. He's been missing with that 'slight hamstring strain' (again, club politics… wankers) for three and a half weeks now – If he misses Round 9, it certainly will be. But look at what's happened since he's been gone; if you sideways traded him out in Round 6, you probably picked up one of Waters (attractive bye round), or either Hartlett or Birchall based on their form. We all know how that has worked out – you'd have been much better off playing someone like Terlich as starter instead. And then in Round 8, you may have been forced to leave one of Ellis/Terlich/Vlastuin on the bench as an emergency – speaking as one coach who held onto Gibbs, stashed him on the pine and put my faith in Vlastuin, I can say I'm actually pretty happy with the way that evolved. I certainly won't be all smiles if he fails his fitness test this weekend though, that's for sure.
"Yeah, Dale Thomas will be back in two weeks, no worries"
Yet another case of clubs managing fan reaction. Collingwood has had a tough, and probably morale-draining for the fans, run with injuries so far in 2013, so it comes as no surprise that the PR chose to go down the 'deliriously optimistic' path with their medical reports. All I can say is, if you truly believed that a club like Collingwood would risk one of its most talented and bankable stars by rushing him back after he injured the very same ankle that he had off-season surgery on, then you probably also believe in the tooth fairy, the mysterious power of the Bermuda Triangle and the concept of an equal AFL fixture. Sure enough, news filtered down today that Daisy has just completed his second ankle surgery and may not even take to the field again this season. Trade, trade, trade.
"Swanny, 90? What?"
Do you remember that Five For Fighting song, "Superman (It's Not Easy)"? One line that should resonate with you before you reach for the pitchforks and start hunting Swanny down is, "Even heroes have the right to bleed". Yes, he failed to get to 100 this week. But let's gain a little perspective here… this is only the second score he's had in double-figures in the last two seasons, with his other an injury-affected 95. His two worst scores are 90 and 95, how cruel of him. Complaining about Swanny's form this year would be like Ashton Kutcher whinging about Mila Kunis' cooking. Shut up, and appreciate the amazing specimen in front of you. Sir Oinkington will be back, and if you took a peek at Calvin's Captains like any serious DTer, you'd have known he was due for an off-game anyway.
"That Jolly bump was totally different to the Kelly hit last week"
Pffft. In the way that it occurred to different players at a different location and at a different time, maybe. You'd be splitting hairs – nay, atoms – trying to distinguish between the heinousness of these crimes. No sane human can blame James Kelly for this tweet:
Now this doesn't affect us in the fantasy world directly – if you had either Jolly or Kelly in your salary cap sides, you wouldn't be browsing this site – but it does have big-picture ramifications. The MRP may as well be called the MRL; the Match Review Lottery. I honestly picture the panel sauntering into the office on a Monday morning with bottles of whisky and absinthe, comparing their egos over shots of liquor then playing 'Spin the Bottle' with the empties to decide the punishments of any quasi-incident that rears its head over the weekend. Come on guys, us fans are all concrete-mixers; we're just looking for some consistency. I just pray that our players can continue to avoid the Russian Roulette that is the MRP's ire.

3. Rookie Backmen
After suffering weeks of acute pain in the backline – thanks mainly to our popular Portlets' fortunes following that of their club as a whole – we've finally had a week where we can sit back, look at our backlines, and the desire to make a dartboard out of their smug little 8-bit faces isn't anywhere near as strong as it once was. I'm talking of course about the rookies involved in the Tigers vs Melbourne points-fest, where Terlich collected a team-high 120 points, and eventual victors Vlastuin and Ellis cherry-picked their way to 131 and 155 points respectively.
While most jumped on Terlich and Vlastuin as standard in the weekly rookie cycle, Ellis was one that many missed. Priced precariously at $217k after his 85 in Round 5 (and after finding himself in a vest over the first four weeks), if you jumped on him as an expensive rookie right as our Waters/Gibbs/Heppell issues started to surface, you can safely order a 'Trade of the Year' Trophy and bask in its shiny glory. Since he shed the vest, he's averaged 113.5 and shot up $165k. Now that's DTing, Barry.
2. Sam Dwyer (104)
While other forward rookies drift away around him (Sinclair and Rowe nowhere to be seen, Mayes regressing and Neade tiring), Dwyer has stepped up in a huge way. Unfortunately, this just happened to be after his BE maxed out a fortnight ago (at around 52, which looked very doubtful based on recent form) and many coaches moved him on. And in many cases, for Dale Thomas, who scored 78 before abusing his surgically-repaired ankle. It was certainly the 'right' move tactically at the time – it just goes to show how fickle this game that we love is.
Coaches who held onto the mature-ager will be ecstatic with the 95 and 104 point returns from Dwyer in the last two weeks, which has the added benefit of kick-starting his price generation again; his BE is down to -22 this week, even after swelling by $54k in the past fortnight. Great hold.
1. Keiran Jack (138)
Call me a pessimist, but I was one coach who always assumed that Jack would be just a SC gun, never a DT star; much in the same way that JPK (98.6 DT versus 120 SC) and Andrew Walker (83.9 DT versus 111.4 SC) – and Judd in the past – are much better suited to the more complicated salary cap competition. Not the case. Jack has actually averaged 106.1 points per game in 2013, plus he's topped the ton in all but one game this year; a feat matched only by the competition elite in Swan, Cornes and Ablett. He now has to be a legitimate Premium consideration.
Honourable Mentions: Ablett (135), Bartel (119), Fyfe (116), Ja. Roughead (118), Priddis (104), Zorko (103), Naitanui (103), Stokes (99), O'Meara (99), Staker (61).
3. Stevie J (LW)
After being one of the most traded-in players just a fortnight ago, Stevie J has done the unthinkable and withdrawn late, forcing donuts, tears and probably a handful of divorces along the way. What's even worse is that he did it at training mid-week, meaning that the club knew he was in doubt and never said anything. Pricks… One of my all-time AFL pet hates, along with that counter-intuitive sliding-in rule and the fact that Firrito still exists. An obvious flow-on effect from this is that coaches weren't able to prepare emergency-wise, often resulting in a dreaded donut or possibly Kerridge's 55,  Neade's 42 or Mayes' 31. Ouch… And especially 'ouch' for those coaches holding onto a hobbled Daisy.
2. Birchall (36)
What happened to Birchall? While we're there, what happened to every other fad, like The Jonas Brothers, Blu-Ray technology and Myspace? Because that's what Birch is starting to look like – a fad that eventually became tired; a novelty. I mean, if I was to tell you that Player X averaged 119.8 over the first four rounds of the season, and Player Y averaged 61.9 over the next four games, you'd be pretty safe in assuming they were different players. And Player Y was sh*t. (Predictable) Spoiler Alert: Birchall is both Player X and Player Y. The worst thing is, there's nothing we can do but hold on and 'enjoy' the roller coaster ride – most of us spent too much getting him in ($520k plus) to just lose faith now. (That might sound stubborn… But remember, this is coming from a guy that has held all of Waters, Gibbs, Heppell, Goodes and Daisy so far. So yeah, stubborn works.)
1. Mayes (31)
Generally, we expect our rookies to start off slowly before finding consistency after 6-8 games (think O'Meara) – or at the very least, display the kind of typical inconsistency you get from young, and often by extension, fringe, players in their first season at AFL level. Not Mayes. He instantly built us up, buoyed our hopes with a first-up moving average of 93.7 – excellent for a fresh-faced 18 year old – before slowly tearing down the walls of hope around us with totals of 65, 54 and a green-vested 31. Put simply, Sam Mayes is the Benjamin Button of Dream Team. I wouldn't bat an eyelid if he were to be dropped this week, Karnezis-style, so strongly consider banking the $133k profit and moving him on.
Dishonourable Mentions: Wellingham (8), Zac Smith (25), Whitfield (36), M. Wright (45), J. Selwood (69), S. Selwood (71), Dangerfield (77), Swan (90).
Firstly, if you haven't had the time to check out @WarnieDT's Bye piece, then head over immediately. It includes all the nuts and bolts of how the MBR's work for us in DreamTeam (confirmed by Virtual Sports), plus a quick look at the spread of players over these rounds and the accepted trading strategy that most adopt to counter the devastation of the bye period. The points below are an extension of those basic principles.
The bye period is a dark cloud on the horizon, an unavoidable bout of inclement weather we all have to weather before coming out bigger, better and stronger. If you don't think about it now, you'll certainly be thinking about it in Rounds 11-13, and these thoughts aren't going to be all rainbows and unicorns. More like Nickleback-y and Ricky Nixon-ish. The best way to prepare for the byes is the same as you would for a Zombie Apocolypse. Here is my "Five Steps for Surviving the Byemageddon."

1. Enlist Every Able Body.
When the undead come for you, you're going to want to have all the able men and women at your disposal to ward off the lethal waves of attacks and contribute to your continued survival.  Everyone has a role to play, whether it's on watch, cooking and cleaning, scrounging weapons and supplies, or just plain old zombie killing.
This means that there's no room for dead weight. Dale Thomas simply has to go if he's not going to play. Same goes for rookies like Rowe, Sinclair, Viney, Heath, Plowman, etc – there's no room for passengers over the MBRs. Aside from obviously avoiding donuts, it'll help you put together the best score possible thanks to the new 'Best 18' system.
Say you have 18 players take to the field, totalling 1750 points. Well done Coach, you avoided a donut. But if you had 20 players available, you're able to drop off those last two disappointments – likely 30 or 40-point scores the way things are going lately. That 1750 becomes 1830, 1850, 1900. The more the merrier people, so don't underestimate the power of job security.
2. Head to Big W for Supplies.
With the living dead coming for your brain matter, you're going to need some supplies. Food, water, power generation, fuel, weapons like shovels and crowbars, building materials, medicine – you're going to need the lot. You simply won't survive the long periods of isolation, the repeated attacks, and the harrowing fear without them. Big W has most of what you need, otherwise head to Bunnings and then any abandoned country farms later in the apocalypse.
Simiarly in Dream Team, you won't survive the Byemageddon without some serious reinforcements – but it's also just as important that these reinforcements are appropriate. No good coming back with hair dryers or popcorn makers – gotta keep it practical. That means keeping an eye on the players that you're trading in over the next few weeks.
How does this new player affect your bye situation? As a general rule of thumb, anything close to a 9/10/11 (or more likely a 8/10/12) weekly bye structure is what you should be aiming for by Round 11. That might mean you have to overlook a juicy Jobe Watson at $480k because it makes you too top-heavy in Round 13, or strongly consider trading in Thurlow instead of making an upgrade this week because you're struggling with Round 12 defenders.
3. Fortify your Asylum.
You've made the basic security enhancements to your base – locked doors, boarded windows, sturdy fence. But now it's time to get serious. You need to soundproof the environment and limit any smoke and aromas when cooking to keep from attracting the undead to your doorstep. Barricades and obstacles are essential to aiding the well-armed and trained sentries in ensuring your safety when they inevitably wander along. But the most essential consideration is eliminating any points of weakness – gaps in the fence, weakened gates, and unsecured retreat avenues – all your efforts are for nothing if the weakest chain in the link breaks so easily.
This is critical for Dream Team. There is no point boasting about your 9/10/11 bye structure if you have 8 midfielders with the Round 13 bye – if anything, you'll be sitting able bodies on your bench in the other lines. These areas of weakness have to be addressed – for me, this is how my side looks after trades this week:
As you can see, I have two major focus areas that I need to constantly keep in mind. These are reasonably popular concerns: The Round 12 Defenders and the Round 13 Midfielders. The plan is to try and bring in another R12D for a R11D sometime before the byes so that I'm not too light on in defence in Round 11. After that, trading R13M's to R11M's becomes a massive concern; otherwise I'll be rolling out half a team in Round 13. DPP will help, but not enough to eliminate the threat. Have you examined your side for weak spots?
4. Regular Health Checks.
The most crucial tool you have for survival is morale. For high morale, you need to feel safe. To feel safe, you need to know that the guy next to you isn't infected, and that's he's not, in fact, a Zombie in the making. To ensure everyone is still human, you need regular health checks. Any signs of bites, cuts and scratches should be immediately reported, and you have to be vigilant – whether it's an oxygen thief like Ke$ha or your beloved wife in question.
It goes without saying that there will be casualties over the MBR's – those who owned any of Waters/Pendlebury/Hargrave during last year's bye period can attest to that. Stay vigilant, and remember – you can't hide these players on your bench like we're able to in the peacetime (ie. Gibbs). You must be ruthless.
5. Continually Evolve.
Just because the majority of the population has turned into a walking mass of death and unrelenting murderous desire, doesn't mean that you stop evolving as a community. They say that every problem is just an opportunity in disguise – consider an army of bloodthirsty zombies a huge opportunity. Learn how to fight. Learn how to hunt. Learn how to build things, fix things, invent things. Teach others to become better and the Zombies won't stand a chance.
Yes, the Byes are a massive inconvenience for fantasy coaches to say the least, but the worst thing you can do is stagnate. Of course, the obvious way to avoid donuts is to trade R12 bye players to R11 bye players after R11, and similarly after R12. That's clear, and it's worked perfectly for us in the past. The trick is to improve your side in the meantime, not to simply dodge donuts with sideways trades. Check it:
As I said previously, I have 7 midfielders from the R13 bye. 4 are Premiums: Swan, Ablett, Pendlebury and Watson. Three are rookies in O'Meara, Lonergan and Crouch.
When it gets to Round 13, sure, I could trade out Swan and Watson for Joel Selwood and Trent Cotchin. Yay, I've dodged a couple of donuts, but hold on…  My team doesn't get any better.
Instead, I'll be looking to trade out two of Lonergan/O'Meara/Crouch in a classic upgrade-downgrade manoeuvre. To get the cash to bring in Cotchin or Jelwood, I'll jump on a R11M or R12M; say a freshly debuted Tom Mitchell for the sake of argument. I still dodge all the donuts, but I walk out of this mess with one extra Premium.
In the past, midfield Super-Premiums have been reserved a level of adoration and reverence slightly below whichever God you answer to and slightly above any act of involving Dustin Fletcher. Did you know that he's reasonably old? Did you? They say that a single spoil from his hardened fist packs the punch of three Jericho missiles, and that he urinates crude oil.
Anyway, it could be that we're starting to realise that these Midfield Premiums are merely human too. No longer am I trying to move Heaven and Earth to bring in a Matthew Boyd, because he's been shade of his former self so far this year. The same goes for Joel Selwood who had just 69 on the weekend, Murphy who tainted his strong form with a 53 in Round 7, and Jobe Watson, who's produced two scores under 70.
Below is a list of the 13 Midfielders I would have classified in the 'Super-Premium' bracket prior to the season. As you can, they've performed horribly to date. Only two of the class have actually exceeded last season's average, Mitchell and Murphy. Neither is perfect though, with Mitchell notching three sub-tons and Murphy exhibiting a nasty basement score of 53.
I guess my point is that we need to lower our standards a little. There is no saviour out there, no sure-thing like we've had in the past. And now we have two extra slots to fill… That's one reason was I was a big advocate of bringing in Priddis last week. At $393k he was a bargain for what you're getting – whatever you sacrifice in ceiling, you make back in spades in reliability and value. Ignoring his subbed score in Round 5, he has topped 80 in every game, not to mention that he's averaged at least 93 points for the last four years straight. Who doesn't want a guy like that at M8, at least until you've upgraded elsewhere?
With that in mind, here's three excellent-value (Non Round 13) Premiums you should have firmly on your Radar – remembering that they aren't the indisputable Demi-Gods they once were:
Joel Selwood
Unfortunately, Selwood has the discouraging quality that he seems to have to work hard for a lot of his points. Moderate possessions tallies for an elite midfielder hurts his scoring at times, and means that he's prone to the odd stinker. We've seen that already with scores of 66 and 69 this year. However, it's not all bad. His possession rate is the lowest it's been in the last 6 seasons, so there's a heap of room for improvement. Once Kelly, Chapman and Stevie J are all fit again, the load will spread and the DT points will flow easier for Jelwood. Thanks to his sub-standard score in Round 8, he should drop a little in price over the next fortnight, ripe at around $450k after Round 10. Strongly consider that week or after his Round 12 bye for not much more than $470k. You can't see it, but there are dollar signs in my eyes right now.
Trent Cotchin
I've said it before – Trent Cotchin is the next Gary Ablett. It won't be this year, but it says a lot for his ability to find the footy, and similarly, the desire for his teammates to get it into his hands. Cotch's knee issue has resulted in a few down weeks on the trot (84, 62, 92), which is perfect for the astute bargain hunter. Like Selwood, he'll be priced around $450k in the coming weeks – strongly consider making Cotchin the upgrade that you make between the R11 and R12 byes.
Matthew Boyd
Boyd is a longer term prospect, mainly because I want to make sure he's back to the Boyd who's averaged a massive 115 over the past three seasons, and not the slowing Boyd we've seen in his comeback from a calf injury so far. But as I alluded to earlier – it's all about value. The more stinkers he has early, the better his price looks once he regains that elite consistency he's famous for. With a BE of 140 this week he's likely to cheapen, plateauing at around $460k in the next fortnight. What an absolute steal for someone that was priced at a slither under $600k to start 2013, someone that averaged 115 points per game just last year. To put it in perspective, a price of $460k roughly equates to 90 points per game at the moment – you'd think he'd smash that at his best!
So I've rambled on a bit this week, and missed out on covering a few issues that probably deserves a bit of exposure. I'll just hit the cliff notes with this week's Burst Fire, but hit me up on Twitter at @Tbetta9 if you have any further issues. Good luck!
# Cox a rumoured out. Wouldn't surprise me at all, although it would bring his run of 79 games in a row to a halt. Seems a tad inconvenient with NicNat probably a little underdone, Sinclair on the Rookie List and Lycett likely unavailable with a groin issue. However, KPP Blayne Wilson ($108,500 DEF) has been earmarked to make his debut this week, and this would definitely explain why. Obviously you would never trade Coxy out, so DPP switching him into the forward line for someone like Jarryd Roughead ($455k, 38BE, Gold Coast and Demons in next two) would be a winner.
# Troy Menzel had just 8 points in his role as the sub at the weekend, meaning that the $139k Fwd/Mid shouldn't rise too much after his third game. This gives us an extra week to consider him if he survives that long.
# Who do you bench out of Terlich, Goodes and Vlastuin moving forward? I'd lean towards Terlich given that he plays for the hapless Demons. It could also mean that we don't need to worry about our backlines for a few weeks – particularly if our rookies are going to put up better scores than a lot of our Premiums. coughBirchallcoughHartlettcough.
# Staker… Looks like a perfect pick-up (if he can avoid any more Final Destination-type scenarios… A big if, I know), so I wouldn't hesitate in grabbing him this week. One tip – try getting him in the forward line. I have more faith in him than Neade/Mayes, but that's mainly because I have zero faith in those two. It also gives you the flexibility to trade in a forward for a Stevenson/Heath/Pittard type by swinging him into the backline via the magic of DPP.