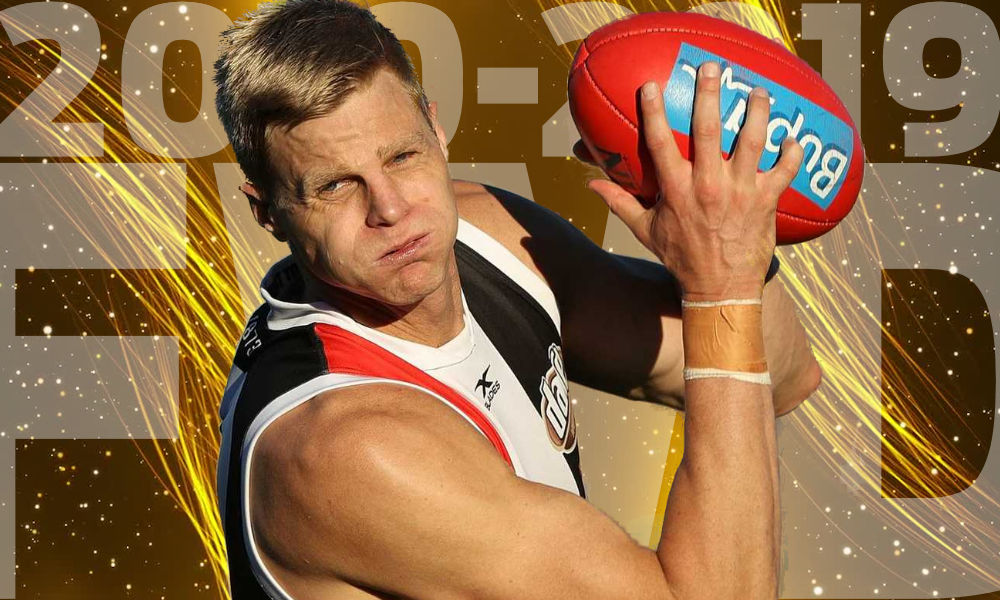 Over the years, players who feature at the top of the AFL Fantasy points scoring table often carry forward status.
Last season we saw Josh Dunkley, Patrick Dangerfield and Travis Boak the top averaging FWDs but in 2020, they are listed as MID only.
Generally these MID/FWD-type players don't consistently hold forward status for every year of their career. Their actual time playing as a forward doesn't hit the required number for Fantasy FWD status as determined by Champion Data.
One of Champion Data's prime number crunchers, Fantasy Freako, helped compile the statistics of the best players who spent the majority of the decade listed as a forward for the final position in the Fantasy Team of the Decade.
In order to be eligible, players must have played in more than half of the last 10 seasons and factors such as points scored, season average, consistency and games played helped shape the squad.
The top six forwards who qualified have been picked with the two best cash cows over the duration slotted on to the bench.
Listen to the AFL Fantasy Podcast with The Traders at Apple Podcasts, Spotify and Google Podcasts.
>> Team of the Decade: Defenders
>> Team of the Decade: Midfielders
Paul Chapman (Geelong Cats/Essendon)
Decade average: 97
Best season: 114 (2010)
Top score: 146 v Fremantle (round three, 2010)
Holding forward status for all six years he played in the decade, Chapman did his best work in 2010 when he averaged a career-high 114. Playing 21 games, the champion Cat posted just three sub-100 scores with a season low of a respectable 88. The three-time premiership hero played his final two years at the Bombers where he was still influential, averaging 92 in his penultimate season.
Dustin Martin (Richmond)
Decade average: 96
Best season: 114 (2017)
Top score: 164 v North Melbourne (round 11, 2017)
Dusty was available as a MID only in his first two seasons but he then spent all but one of the next eight years as a MID/FWD with six of those averaging 97 or more. The dual-Norm Smith Medallist has been a consistent Fantasy performer showing an ability to rack up high scores regardless of his role. Durability is Martin's biggest weapon, missing just eight games of the last 10 years.
Steve Johnson (Geelong Cats/GWS Giants)
Decade average: 95
Best season: 118 (2013)
Top score: 171 v Melbourne (round 19, 2011)
If there was ever a forward to be considered for Pig Status, it would be the Geelong forward and part time midfielder. Johnson's 2013 season when he averaged 118 saw him the highest averaging player for the season and therefore started the 2014 season as the competition's top priced player. In that season he posted eight scores of 129 or more.
Nick Riewoldt (St Kilda)
Decade average: 94
Best season: 110 (2016)
Top score: 200 v Brisbane Lions (round 23, 2016)
Some players leave their best to (second) last. Riewoldt was always a solid performer with multiple 90-plus season averages but it was his 2016 output that will be remembered by many. In the first half of the year he went on a seven round tear scoring 123, 137, 126, 144, 101, 112 and 136 which rivals most midfielders and made him a popular selection as the No.1 forward. Riewoldt saved his best until the round 23 Fantasy Grand Final when the key forward took 21 marks and booted nine goals for a whopping 200 points.
Lance Franklin (Hawthorn/Sydney Swans)
Decade average: 92
Best season: 102 (2011)
Top score: 204 v North Melbourne (round 10, 2012)
Although games played has been a factor in Buddy's decade of dominance, missing an average of four matches per season, his seven years of 90-plus averages, including two triple-figure seasons is right up there with the best. Always a premium option to aim for as an upgrade target in Fantasy Classic, Franklin is regarded as one of the best Draft players to own when on song. He holds the modern day Fantasy record for most points in a game when he kicked 13 goals in Launceston on his way to 204 Fantasy points.
Brent Harvey (North Melbourne)
Decade average: 90
Best season: 100 (2014)
Top score: 163 v Fremantle (round 19, 2010)
Boomer was an underrated Fantasy option throughout his career. He held FWD status for the seven years of the last decade and was a super-consistent performer. In his 21-years in the game, Harvey averaged 83. Considering he started in the mid-90s and Fantasy numbers have increased dramatically in the last few years, the all-time games record holder still remained relevant even when he started the decade as a 31-year-old.
BENCH
The two best cash cows from 2010-2019.
BENCH: Dayne Zorko (Brisbane Lions)
Rookie season average: 95 (16 games)
Top rookie season score: 140 v Hawthorn (round 12, 2012), v Sydney Swans (round 15, 2012)
Another mature-age recruit success story, Zorko was a ball-magnet at Broadbeach before finally getting a chance at the Lions as a 23-year-old. Debuting in round 7, 2012, Zorko donned the green substitute vest for a score of 26. His next five games he returned 96, 94, 102, 140 and 120 as he made cash quickly taking his starting price of $104,200 to a peak of $450,500.
BENCH: James Podsiadly (Geelong Cats/Adelaide Crows)
Rookie season average: 82 (17 games)
Top rookie season score: 120 v North Melbourne (round 14, 2010)
At 28-years-old, the 'jPod' started his career in cracking form to score 85 and 116 and sent his starting price of $77,800 skyrocketing. Podsiadly's debut season featured six Fantasy tons with four scores 110-plus. A cash cow generally isn't usually a whole season investment. Podsiadly averaged 94 in his first 10 games to be one of the best basement priced rookies regardless of position.