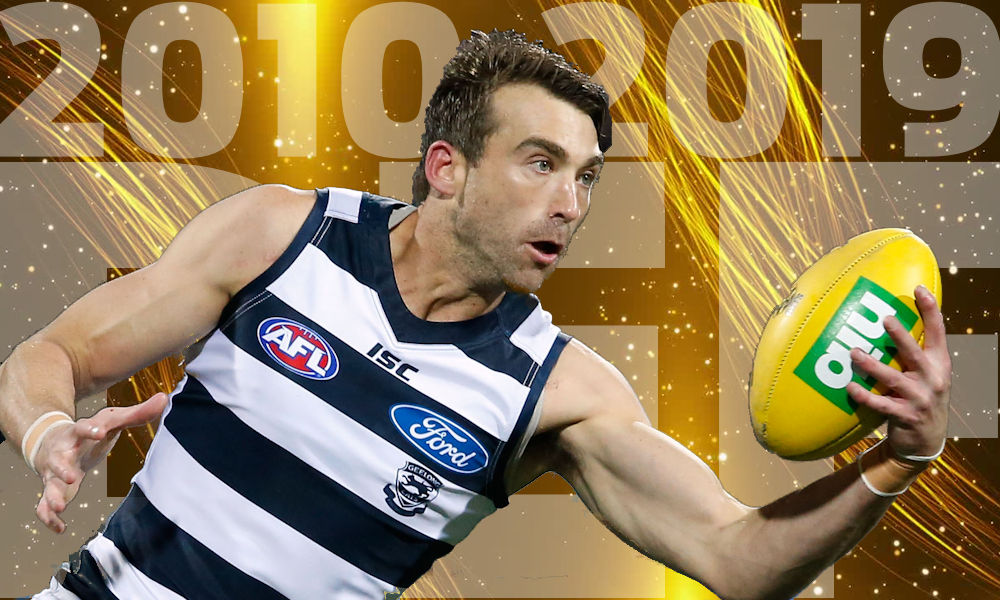 The AFL's, and in turn Fantasy's, lockdown has given us a chance to look back at some of the heroes of the past. The Fantasy team of the decade features the best players who have graced our teams in the last 10 years.
Compiling a squad of the best players from 2010-to-2019 is no easy task.
Following some (not so strict) guidelines including total points scored, season average, consistency, games played and holding relevant position status for half of their time in the decade, we've put together a Fantasy team of the last decade. Champion Data's Fantasy Freako has provided some key stats to help finalise the squad.
Listen to the AFL Fantasy Podcast with The Traders at Apple Podcasts, Spotify and Google Podcasts.
First up are the defenders.
The ever-changing nature of the game with roles means some players may not be listed in the same position from year-to-year.
Taylor Adams was available as a DEF/MID when he recorded his personal best Fantasy average of 115, but it was his only season that he held defender status. Similarly, Fantasy favourites Jimmy Bartel and Brett Deledio have starred as 'defenders', but only for a couple of seasons.
The top six defenders who qualified have been picked with the two best cash cows over the duration slotted on to the bench.
Brendon Goddard (St Kilda/Essendon)
Decade average: 99
Best season: 112 (2010)
Top score: 157 v West Coast Eagles (round nine, 2010) and v Melbourne (round 13, 2014)
Goddard missed just eight games in his nine seasons in the 2010s and knocked on the door of averaging 100 for the decade. He carried defender status for more than half of the time with a 96 average his lowest in all years besides his final season in 2018 (80 average).
Kade Simpson (Carlton)
Decade average: 93
Best season: 101 (2016)
Top score: 163 v St Kilda (round 24, 2011)
The super-durable Blue twice averaged more than a ton, but it was his consistency that made him among the top defenders for his time. Simpson has been a dependable pick in Fantasy Classic, but his value in Fantasy Draft has been underrated. Missing 11 of a possible 220 games since 2010, Simpson averaged more since turning 30 in 2014 than he did in his 20s.
Luke Hodge (Hawthorn/Brisbane Lions)
Decade average: 90
Best season: 111 (2015)
Top score: 159 v Western Bulldogs (round three, 2015)
The four-time premiership Hawk was always a superb selection. While his last two seasons at the Lions saw his lowest returns since 2004, it just shows how dominant he was between 2010-2017 wearing the brown-and-gold. The General filled his stat-line each week with mid-20 disposals and five marks per game week in, week out.
Rory Laird (Adelaide)
Decade average: 90
Best season: 108 (2018)
Top score: 141 v Richmond (round two, 2018)
Laird managed to add his name to the list of the many players who breakout in their third season. In 2015 he played 21 games to average an impressive 88 points. Since then he's posted averages of 97, 100, 108 and 97 as he gets the job done as a plus-six (mark and kick) king. At 26-years-old, he may just make this list next decade.
Corey Enright (Geelong Cats)
Decade average: 88
Best season: 92 (2015)
Top score: 156 v Melbourne (round 19, 2011)
If we did this exercise 10 years ago, 'Boris' would have most likely made the list back then. Enright averaged more than 23 disposals and six marks in his seven years playing in the 2010s. The Cats boasted a swag of Fantasy scorers throughout the decade and Enright was in the conversation as one of the very best at Kardinia Park alongside ABC (Gary Ablett, Jimmy Bartel and Joel Corey).
Heath Shaw (Collingwood/Greater Western Sydney)
Decade average: 86
Best season: 102 (2016)
Top score: 176 v Western Bulldogs (round 9, 2016)
He's been placed on plenty of 'never again' lists, especially those who had him in 2011 when he was suspended for betting on a Pies game, but there is no denying Shaw's Fantasy prowess. 'Heater' enjoyed his best Fantasy season as a 30-year-old, his third as a Giant, when he averaged 102 and played all 22 games. He was always sure to gain the bonus points by kicking to himself to play on when kicking the ball in following a behind. Now Shaw will always step outside of the goal square to register the kick.
BENCH
The two best cash cows from 2010-2019.
Nic Newman (Sydney Swans/Carlton)
Rookie season average: 87 (18 games)
Top rookie season score: 135 v North Melbourne (round eight, 2017)
Newman did his time in the NEAFL before finally getting a shot in the seniors as a 24-year-old. His NEAFL numbers were huge, averaging 91, 112, 116 and 131 during his time on the Swans' list. In his debut season, Newman managed five scores over 110, including a top score of 135 when he was infamously a late inclusion, making him the highest averaging basement priced defender of the decade.
Dyson Heppell (Essendon)
Rookie season average: 84 (22 games)
Top rookie season score: 108 v Richmond (round nine, 2011)
Holding defender status for his first three seasons, Heppell was a profitable cash cow when he made his debut in 2011. He managed to play every game of his rookie season scoring five Fantasy tons including 102 in the round 23 Grand Final weekend that impressed those who held him for the season.
Next week: the midfielders.