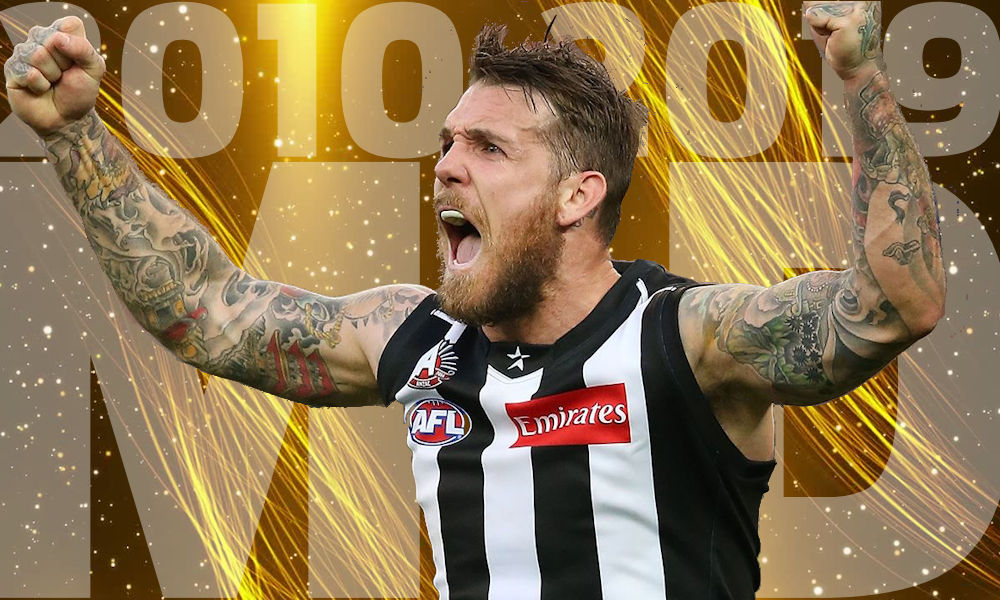 It is generally the midfielders who rack up the most AFL Fantasy points. The players in the engine room have the first chance to get their hands on the ball … or are close enough for that all-important +4 (tackle) stat.
With the help of Champion Data's Fantasy Freako, statistics on the best Fantasy midfielders from 2010-2019 have been compiled to select the top eight in the highest scoring decade of Fantasy footy on record.

Listen to the AFL Fantasy Podcast with The Traders at Apple Podcasts, Spotify and Google Podcasts.
In order to be eligible, players must have played in more than half of the decade and factors such as points scored, season average, consistency and games played helped shape the squad.
The top eight midfielders who qualified have been picked with the two best cash cows over the duration slotted on to the bench.
Dane Swan (Collingwood)
Decade average: 116
Best season: 134 (2012)
Top score: 187 v Essendon (round 23, 2012)
The original Fantasy pig became a Fantasy favourite early on when he managed to average 102 in his third season. With an average of 119 to close the previous decade, Swan's 123 average in Collingwood's premiership year was followed by 121 when he won a Brownlow Medal and peaked in 2012 with a record 134. Swan scored 92 Fantasy tons in the 2010s, converting them to 120-plus scores more than half of the time.
Tom Mitchell (Sydney Swans/Hawthorn)
Decade average: 113
Best season: 129 (2018)
Top score: 195 v GWS Giants (round 15, 2018)
Mitchell had a 'snout' early on in his career with some impressive NEAFL numbers while on the Swans' list. He eventually made his debut scoring 98 against the Bombers in round 10, 2013 and back it up the next week with a 31 disposal, 10 tackle game for 144 points. The ball-magnet averaged 90 in his first season. In his last two years at the Swans he averaged 107 and 106 before scoring the most points in a season in the history of Fantasy in his first year as a Hawk. Mitchell scored 108 or more in each of his first 18 games on his way to an average of 127. The third pig inducted into the Fantasy pig pen broke his previous record when he averaged 129 in 2018.
Gary Ablett (Gold Coast Suns/Geelong)
Decade average: 111
Best season: 125 (2014)
Top score: 186 v Collingwood (round 10, 2012)
The question is often asked as to why Ablett isn't an official Fantasy pig. The answer is somewhere between him being too 'good' to be called a pig and the fact he is the Fantasy GOAT. Ablett has been a star his whole career. In 2008 he averaged over 100 for the first time with 112. That was his lowest season return until 2015 when injury allowed him to play just six games. A decade average of 111, which included a two sub-95 averages, makes Ablett the greatest of all-time for many Fantasy coaches.
Scott Pendlebury (Collingwood)
Decade average: 109
Best season: 117 (2011)
Top score: 166 v Essendon (round five, 2011)
The term Dependlebury was coined because of what the Pies skipper produced week in, week out. Pendlebury is the only player in the competition to average triple-figures in each of the last 10 seasons. He did so missing just 12 of a possible 220 games. Pendlebury recorded the most 100-plus scores for the decade with 138, beating the next best, Ablett, by a whopping 28 tons.
Matthew Boyd (Western Bulldogs)
Decade average: 106
Best season: 116 (2011)
Top score: 162 v North Melbourne (round seven, 2012)
At the beginning of the decade, Boyd was an absolute lock for all Fantasy teams. He averaged 115, 116 and 115 for a three year run that saw him miss just two matches. There weren't too many players as consistent as the Bulldog in 2011, his best Fantasy season. He scored fewer than 115 in just eight games. Boyd went to the backline in his last couple of seasons, making him a handy inclusion as a Fantasy defender in the twilight of his career.
Jack Macrae (Western Bulldogs)
Decade average: 104
Best season: 123 (2018)
Top score: 190 v Richmond (round 23, 2018)
To average 104 in a decade is a mighty fine achievement. To do it in seven seasons, which included an average of 64 on debut makes Macrae one of the best. In his sophomore season, the young Dog averaged 104 as he started showing a high ceiling in his Fantasy game. Macrae has scored 73 Fantasy tons in the last six seasons and has demonstrated a high ceiling which his 2018 owners will remember when he scored 190 in the Fantasy Grand Final weekend.
Tom Rockliff (Brisbane Lions/Port Adelaide)
Decade average: 103
Best season: 135 (2014)
Top score: 190 v Gold Coast Suns (round 18, 2014)
Rocky was a high-earning cash cow in 2010 as he made plenty of cash from his basement price due to averaging 87. The next year he averaged 112 before blowing all figures out of the park in 2014 by averaging a record 135. That record for highest season average still stands when he finished the season strongly with scores of 190, 110, 180, 165 and 154 in the last five rounds to overtake Dane Swan's previous high. Rockliff was awarded pig status in 2014 off the back of that stellar season. While his numbers have dropped off in recent years, the pig still shows he has one of the best ceilings in the game, scoring more 120-plus scores than any other player for the decade.
Patrick Dangerfield (Adelaide/Geelong)
Decade average: 99
Best season: 121 (2017)
Top score: 187 v North Melbourne (round 12, 2016)
Although there were a few players to average more than Dangerfield for the decade, the last five years have been outstanding. Four years ago he joined the Cats and averaged 118 to be the top scoring player in the competition and backed it up with 121. Dangerfield averaged more than 100 twice at the Crows; however, since moving to Geelong, he's taken his Fantasy game to another level.
BENCH
The two best cash cows from 2010-2019.
BENCH: Michael Barlow (Fremantle/Gold Coast Suns)
Rookie season average: 110 (13 games)
Top rookie season score: 146 v Collingwood (round eight, 2010)
Mature-aged recruits became the preferred cash cow for astute Fantasy coaches off the back of Barlow's debut season. He got a game in round one as a 23-year-old and racked up 33 disposals and scored 128 points. The monstrous effort was then backed up by a 34 disposal game the next week for 127 points. A broken leg cut his season to just 13 games but he is etched in Fantasy folklore as the best cash cow of all-time.
BENCH: Toby Greene (GWS Giants)
Rookie season average: 96 (19 games)
Top rookie season score: 146 v Melbourne (round 21, 2012)
In the Giants' first year in the competition, Greene enjoyed a midfield role that saw him average 96 with eight Fantasy tons to his name. Impressively, Greene scored 146, 109 and 113 in the last three rounds to reward those who held him for the entire season and he more than tripled his starting price; a great effort when the salary cap and price movements were different to what they are now.
Next week: the rucks.