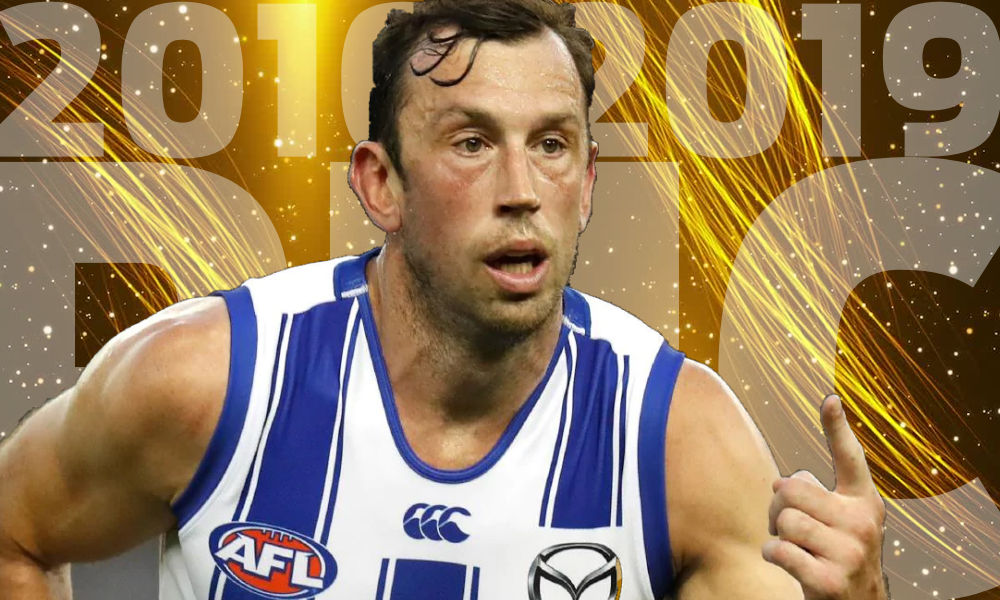 As the decade progressed, some of the top rucks in the competition were among the best overall AFL Fantasy performers.
From 2010 to 2014, the first five years of the decade, only two ruckmen averaged more than 100; Dean Cox (2012) and Stefan Martin (2014). In the last five seasons, 12 players carrying ruck status averaged more than 100.
With the help of Champion Data's Fantasy Freako, statistics on the best Fantasy rucks from 2010-2019 have been compiled to select the top two big men.
In order to be eligible, players must have played in more than half of the decade and factors such as points scored, season average, consistency and games played helped shape the squad.
The top two rucks who qualified have been picked with the two best cash cows over the duration slotted on to the bench.
Listen to the AFL Fantasy Podcast with The Traders at Apple Podcasts, Spotify and Google Podcasts.
Brodie Grundy (Collingwood)
Decade average: 101
Best season: 122 (2019)
Top score: 181 v GWS Giants (round 18, 2012)
Grundy enjoyed one of the greatest third-year breakouts for a ruckman. With 21 games under his belt, he managed to average 91 in 2015. Since then he's returned season averaged of 101, 106, 120 and 122. Grundy played every game of the last two seasons to register the highest ever returns from a ruckman in Fantasy. Grundy has scored a Fantasy ton in more than half of his career games. In the last two seasons, half of his scores recorded were over 120. Grundy not only posts big hit out numbers, averaging 40 since 2018, he gets plenty of the ball around the ground averaging 21 disposals in that time. Recently turning 26-years-old, the "Ruck Pig" is a chance to be the No.1 ruck of the next decade after signing a seven-year contract extension at the Pies.
Todd Goldstein (North Melbourne)
Decade average: 91
Best season: 114 (2015)
Top score: 175 v Essendon (round 16, 2015)
Playing 210 of a possible 220 games throughout the decade, Goldstein was not only a durable player, he was super-consistent. The North Melbourne big man enjoyed his best season in 2015 when he averaged 114. This included eight scores of 130 or more and a career high 175 against the Bombers when he managed to collect 27 disposals and eight marks to go with his 56 hit outs. Goldstein averaged 45 hit outs for the season, his best effort came against the Giants in round 12 when he amassed 80 hit outs to break the record for hit outs in a match. Goldstein's sheer weight of numbers has him in the Team of the Decade as a reliable R2.
Unlucky to miss
Dean Cox – If we were counting some of Cox's numbers from the previous decade (averaged 107 in 2008 and 2009), then he would be a lock as R2. Cox managed to average 95 between 2010 and his retirement following the 2014 season.
Max Gawn – In the last four years, Gawn has averaged 106 to be one of the premier big ben in the competition. While he was close to gaining a spot in this team due to a decade average of 94, Gawn only managed to play more than 13 games in three of his eight seasons.
Stefan Martin – When Martin grabbed his opportunity as the No.1 ruck at the Lions, he took it with two hands and some big Fantasy numbers followed. He played the back-half of 2014 to average 112 and followed up with 114 the next year. Martin's average of 93 was helped by four of his seasons returning an average of 100 or more.
BENCH
The two best cash cows from 2010-2019.
BENCH: Reilly O'Brien (Adelaide Crows)
Rookie season average: 96 (18 games)
Top rookie season score: 146 v Richmond (round 13, 2019)
2019's Fantasy rookie of the year helped the eventual winner of the Fantasy Classic competition get a leg up early in the season. Craig Wegener brought O'Brien into his team [https://www.afl.com.au/news/132938/thanks-jezza-trade-that-sealed-2019-s-afl-fantasy-crown] when the Crows' ruck filled in for the injured Sam Jacobs and held his position for the majority of the year. O'Brien started at $232,000 last season and his 96 average saw his price finish at $699,000 for the highest Fantasy price increase in history.
BENCH: Jonathan Giles (GWS Giants)
Rookie season average: 82 (20 games)
Top rookie season score: 124 v Port Adelaide (round 19, 2012)
When the Giants entered the competition in 2012, plenty of cash cows were available to be picked from the young side. Giles was selected as a starting ruckman for a large number of teams and his 82 average made him a low priority to upgrade as he got off to a flier, scoring three tons in the first seven rounds.
Next week: the forwards.