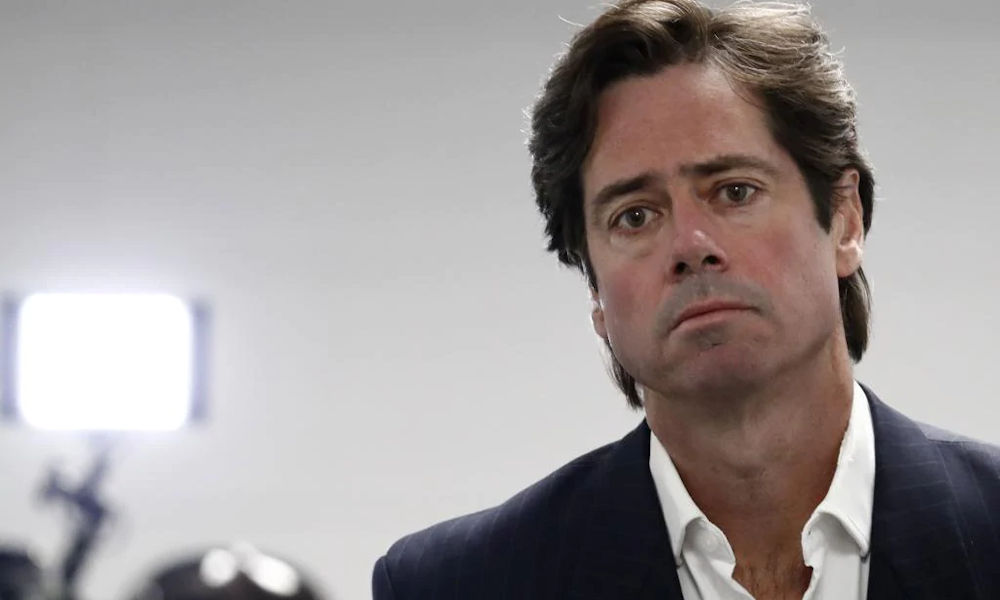 The AFL continues to work on a return to action after the competition was shut down after Round 1. Large numbers of club personnel are still stood down, while players remain in isolation and unable to train with teammates.
But in light of the NRL doubling down on their May 28 return date, calls for the AFL to finalise their own restart plan will only intensify. Here's the latest on the competition's state of play and what the game might look like when players finally return to the field.
Return timeline update
AFL boss Gillon McLachlan has signalled every state remains in contention to host quarantine hubs when the league returns.
The hub format has emerged as an all-but-certain requirement for the league's restart, with the NRL finalising details on their NSW-based competition.
"The guys are, or will be, talking to every state and there's a set of criteria that's being looked at," McLachlan told Triple M on Thursday.
"The first port of call is obviously the states that are keen for us to set up there and we start working through the logistics after that.
"There's a wide range of options – I doubt we'll be playing in every state and territory – but we're looking at every possibility."
There is no shortage of footy personnel and state leaders putting their hands up to play host the competition. You can browse this site to know more.
Swans chief executive Tom Harley told SEN that Sydney would make an ideal location for an AFL quarantine hub, highlighting the SCG and Sydney Olympic Park as two ready-made venues to host the league's remaining games.
We don't know exactly when the footy will be back, but get amongst the best sites for AFL betting here. Before the season came to a halt, the Tigers were favourites to win a second consecutive grand final at $4.50. Second favourites West Coast Eagles, who won the grand final in 2018, were paying $6.50.
Adelaide chairman Rob Chapman has promoted South Australia's case, while Western Australian premier Mark McGowan would welcome the AFL's relocation to his state, arguing it would provide a much-needed morale boost.
McLachlan said a detailed plan for the AFL's return was being prepared, ahead of its submission to federal and state governments for health approval.
"We're aiming to bring that to a head in the coming weeks," he said.
"It might be the first week of May, but we're aiming in coming weeks to get that out and get a plan on the table endorsed."
What a return might look like
The AFL announced the season would likely be shortened to 17 games on March 16, alongside other changes engineered to prepare for an abridged season. The league hasn't wavered on that 17-game commitment, but some in the AFL community have called for more to be done in order to ensure players would be able to answer the demands of an intensely congested fixture.
Saints great Nick Riewoldt suggested an expanded bench was a must when football resumes. He also called on unlimited player rotations to be re-introduced, just as it was when Riewoldt played in back-to-back grand finals in 2009 and 2010.
"You should have an expanded bench to mitigate the risk (of injury)," Riewoldt said on Fox Footy Live.
"Have 20 if you want, but you want your best players on the field so somewhere between six to 6-8 is the sweet spot.
Meanwhile, AFL fixture boss Travis Auld admitted the hub proposal would be the only feasible way the competition might resume.
"It feels like the only way we're going to get our season started," Auld told the Working Through It podcast.
"We've got a few options in front of us from one hub with 18 teams together, playing at maybe two, three stadiums for a season," he said.
"Then there's an opportunity to have maybe up to three hubs – so six teams in each hub, located in different states, playing out of traditional home and away venues."
Amidst an unprecedented period of uncertainty, Collingwood President Eddie McGuire has called for the footy industry to have patience.
"The first reaction from everyone seems to be that the people running the game are either idiots or corrupt," he said on Footy Classified.
"The club presidents and the people involved in this are working day and night, and they are working with the government and the most senior health officials.
"Guys, cool your jets, we'll get there. This was always going to be the way it's going to happen."