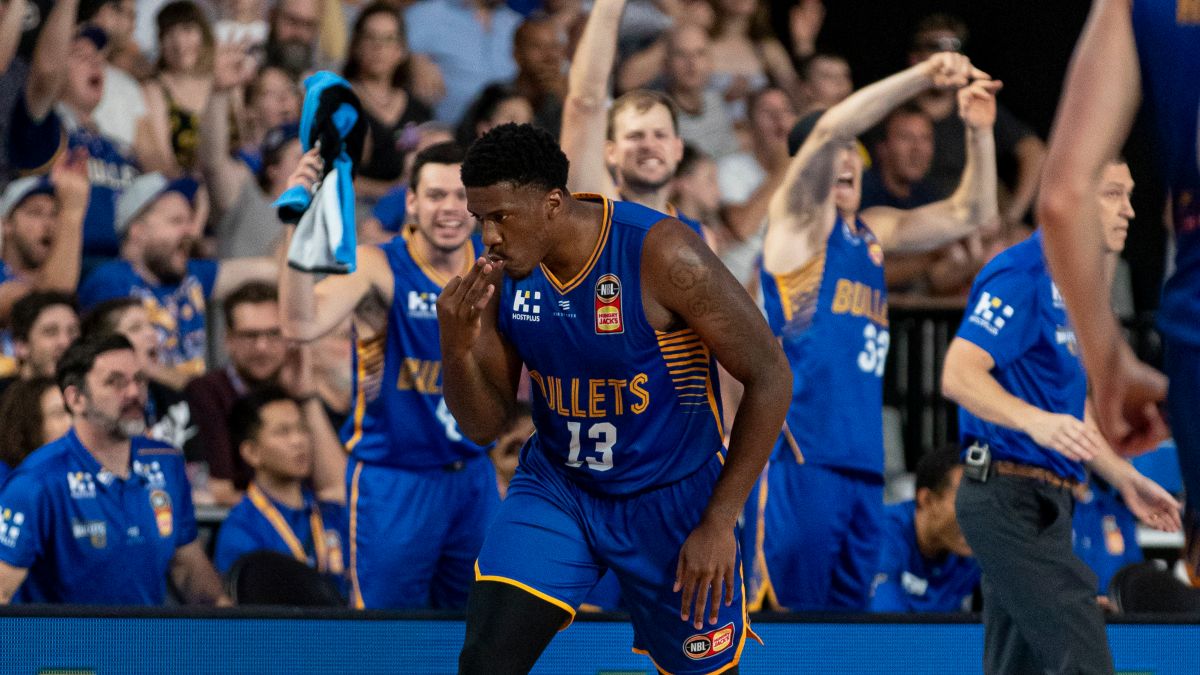 And then there were 2…… Yes only 2 rounds to go for #NBLFantasy for #NBL20 and while it has been fun, we get the feeling a lot of coaches are just hanging out for the finish line now!
Some 994 coaches had the plums to go for big Miles for the Perth doubles last week, but the #riskybisky did not pay off (like the BasketBall Blokes flagged on the pod!) with Plumlee only scoring 20pts for the round!
Unfortunately, the decision to bring in Plums, has cost Nick Turner the top spot overall, with TheKDawg's taking a 63 point lead at the top with 2 rounds to go. I have a feeling this battle for the 5k is going down to the wire!
Of course the leaking roof disaster in Wollongong cost Hopson owners (and those that went with @banksy_blokes Hopson captain choice for the week) dearly, but player safety is the priority as it should be!
3 players hit the magical triple figures mark for the round with Kay (114), Finn Delaney (104) and DJ (100) saluting, whilst Patterson was the best of the single gamers with an 84 point showing.
TRADE TARGETS AND
THE SCHEDULE
It's all bout BrisVegas this round! Or is it…….
With the Bullets the only team playing a double this week, it has been the talk of the #NBLFantasy twitter world as to how many Brissy blokes you need for this round, so we did a poll!
Monday Podcast this week. How many @BrisbaneBullets are you looking at rolling with this week in #NBLFantasy ?#NBL20

— BasketBall Blokes (@BBall_Blokes) February 2, 2020
As you can see, almost half of fantasy coaches are rolling with 3 (48%) and then 37% rolling with 4 Brissy players. It is a question the BasketBall Blokes themselves are still deciding on. As you heard on the pod, Benny and Banksy are going with the 4 brissy blokes but Boydie is thinking 3 is enough for the Deep Ballers this week at this stage, but that could change over the next 12 hours or so!
So who do you want from Brissy? Well the no brainers are Patto and Magnay, so much so that we don't even need to talk about them!
Hodgson is the next in line, hot off a 68 last week from a single and scores of 47, 41 and 46 in his last 5 games, albeit with a 17 squashed in the middle. There is no doubt he can put up a handy score if he gets going in one or both of Brissy's games this week.
Next you'd say Sobey, but he has been so inconsistent over #NBL20, that it's hard to predict which Sobey your going to get – the 55 point scorer from Rd 13 or the 8 point scorer from last round!
The rest include Singler, Cadee, Gliddon and even Braun who has had a 48 point game this season, but all a bit #riskybisky for us blokes.
The other option is to only play 2 or 3 brissy blokes and absolutely setup your team for a massive Round 20 score. With Cairns, Melbourne United and SEM Phoenix all on doubles in round 20, this week could be your opportunity to load up with Machado, Oliver, Newbill, Long, Trimble, Creek and co, who all have favorable matchups to make sure you come home like a steam train.
What ya gonna do????
ROUND 19 CAPTAINS
1. Lamar Patterson – A ridiculous 87 last game against United and he looked totally unstoppable. Averaging 56 over his last 5. 40, 60, 57 in his three match-ups against the Breakers this season, with that 60 being in his lone home game against them.
53, 25 and 41 on Perth with the 25 being the one away game. Brisbane may be sitting 4th after the home cooking win over United, but the jobs not done. And when there is a job to be done, Patto is their man, and you would be a brave coach to go against him this week.
2. Will Magnay – 40 and 32 on NZ since he has been given the keys as a starter. 29,6 and 37 against Perth, but the 37 coming in his one game as a starter.
Averaging 45 over his last 5 and with his blocking ability he is your best bet if you wanted to go ultra unique with most of the pack likely to go Lamar. Remember, prior to last game he had that stretch of 4, 6, 7 and 5 blocks over a four game span, which is fantasy gold!
3. Matt Hodgson – 29, 18 and 46 on NZ. 19, 28 and 36 on Perth. As we know it's always boom or bust with Matty and we saw the best of him last game with a 68 on United, but more recently a 17 on SEM where we would expect him to thrive. Always is and will be a foul risk, but behind Magnay and Lamar it's slim pickings this week.
Any further NBL conundrums or questions, be sure to hit us up on twitter @BBall_Blokes
Good luck for Round 19 legends!