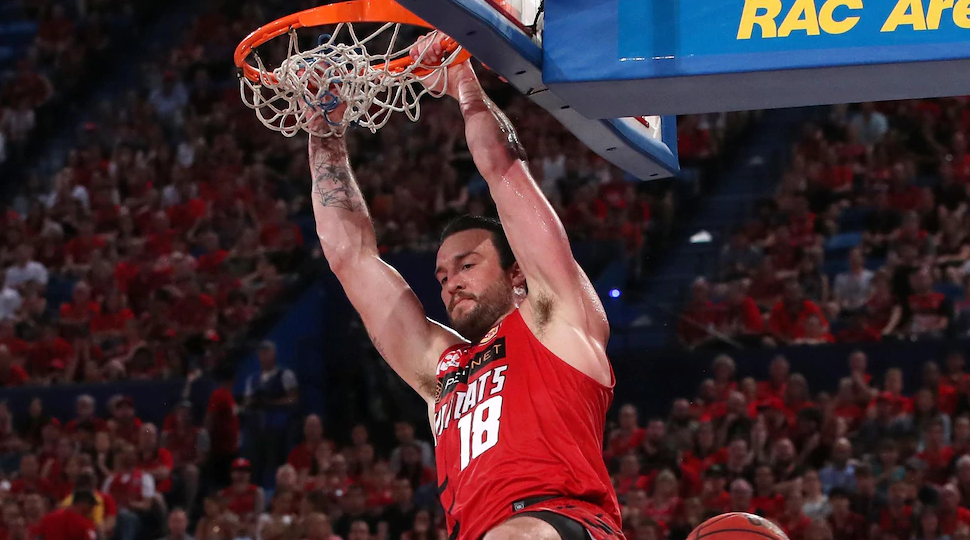 Just three rounds to go and a mega early lockout this week, with Melbourne United playing host to the Perth Wildcats at 7.30pm AEDT this Wednesday, so be prepared!
We saw four players hit the magical ton in Round 17, and all of Banksy's top three captains featuring in the best 5 players for the week, with Mitch Creek bouncing back in a big way with a massive 112 points, followed by Roberson (109), Magnay (106), Patterson (101) and Tate (96).
It would have taken plums, be we flagged an expected bust out game sooner rather than later from Miles Plumlee, and he did not disappoint, top scoring across all players on a single with 82 points.
We also saw some movement in the overall rankings with Nick Turner's team "NTRising" over taking Thomas Aitken's team "TheKDawg" with just 28 points now separating the two. Watch this space, in what should be an arm wrestle over the last 3 rounds in the battle for the $5000!

Take a listen below as we payed tribute to Kobe this week, before discussing the round that was, as well as all things trades and captains prior to a big Round 18:
TRADE TARGETS AND
THE SCHEDULE
The pointy end is upon us, your end goal for fantasy should be set, so how do you go about achieving it?
The end of a run of doubles for Sydney and SEM, with SEM getting one last double in round 20, but Sydney only have singles here on out. To us, that means trading Sydney players out is probably priority one, but who do you bring in?
From the worst fantasy schedule to the best this week, Melbourne United's run home includes two doubles. One in round 18 and another rounding out the season in round 20, which makes the United boys a premium this week. Most in form is Mr Double Double himself – Shawn Long, although he hasn't been the Mr Double Double we loved to own earlier in the season, averaging just 39 over his last 3 and 45 over his last 5. Although he hasn't gone as big as we would expect from someone with his ability, he has only scored less than 40 fantasy points in just one game from his last 8. With United in must win mode from here on out with the race to clinch fourth spot, surely Long is the man they look to as he is a proven game winner.
Next in line at United would have to be Trimble. Although he is well down on fantasy form in his second season of #NBL20, he is averaging almost 39 points a game across the season and should United want to play finals, they must get some productive output from Trimble.
McCarron and CG43 round out the United boys as possible point of difference selections, if your wanting to take a bit of a punt on a unique. Stanton Kidd is far too risky for us seeings as Prather could be back at any stage.
Adelaide, Illawarra, NZ and Perth are also on a double this week, but then have singles to round out the final two weeks of the season. If you are looking for one week rentals, then look to blokes like Kay (53pts) (not you Boydie, you said no more Kay was your new years resolution), Randle (53) and even DJ (43) who are the most in form fantasy players over their last 3.
Do you have the plums to take a massive punt on big man Miles Plumlee after his HUGE 82pt game last round? Buyer beware, after having a New Zealand breakout, he will play some tough big men this week in Shawn Long and Andrew Bogut.
Another name that we have heard being mentioned for a rental this week is BAshley from New Zealand following a big 20/10 game,  but could we? Surely not! You know what they say, burn me once shame on me, burn we twice….
ROUND 18 CAPTAINS
1. Scotty Hopson – 58 and 24 on Adelaide this season, but remember the 24 was following a return from injury. He has also posted 56 and 47 on Illawarra, giving him some solid numbers against some faster paced, and easy to score against opponents this week. The top 4 won't be decided this round, but while there is hope for the New Zealand Breakers, Scotty is going to carry this team and is up against two fast paced teams where finals is on the line. He may not be the highest scorer for the round, but he certainly feels the safest for locking in that 100 point score across the double.
2. Daniel Johnson – The underrated DJ is averaging 46 over his last 5 with some yo-yo type scores. Like Hopson, DJ has some great match-ups this week, where he has previously posted scores of 66 and 48 on NZ, whilst posting a big 61 and a more recent 25 and 22 on SEM Phoenix. The danger is Griffiin, as when DJ has been somewhat rested or has gone quite, Girffin as posted bigger scores including a 50 and 48 in the two lowing scoring outputs from DJ againt the Phoenix.
3. Nick Kay – Some really decent numbers from Nick on this weeks opponents. Has put up 32, 58 and a 73 against Melbourne, while scoring 46, 83 and 40 on Sydney. Some real solid numbers no doubt, the question mark is Plumlee. It is a small sample size, with Plumlee really only playing one full game alongside Nick where he has stayed largely out of foul trouble. Will he keep eating into Kay's boards preventing the elusive double doubles?
4. Shawn Long – 45 over his last 5 and it seems Long's form aligns with how United is tracking and we know both are capable of a lot more. 24, 64 and 77 on Perth this season and 14 and 58 against Brisbane. (The 14 was the doghouse game where JLA went huge!) He was King hit with 28 against Sydney last week, but after a 26 and 33 against them previously, this was no suprise. That isn't the worry here as he won't be up against Bogut again. The worry is he will be up against just a big of a task in Plumlee, before taking on the twin towers at Brisbane. A solid choice, but there are better.
Special Mention: Plumlee is no doubt all the rage after his 82 last week on a single following his New Zealand Breakout. But after 25, 13 and now 82, it has only been the one big performance and foul trouble still looms large, particularly against an offensive big like Long. Tread with caution, but know the upside is huge.
Any further NBL conundrums or questions, be sure to hit us up on twitter @BBall_Blokes
Good luck for Round 18 legends!