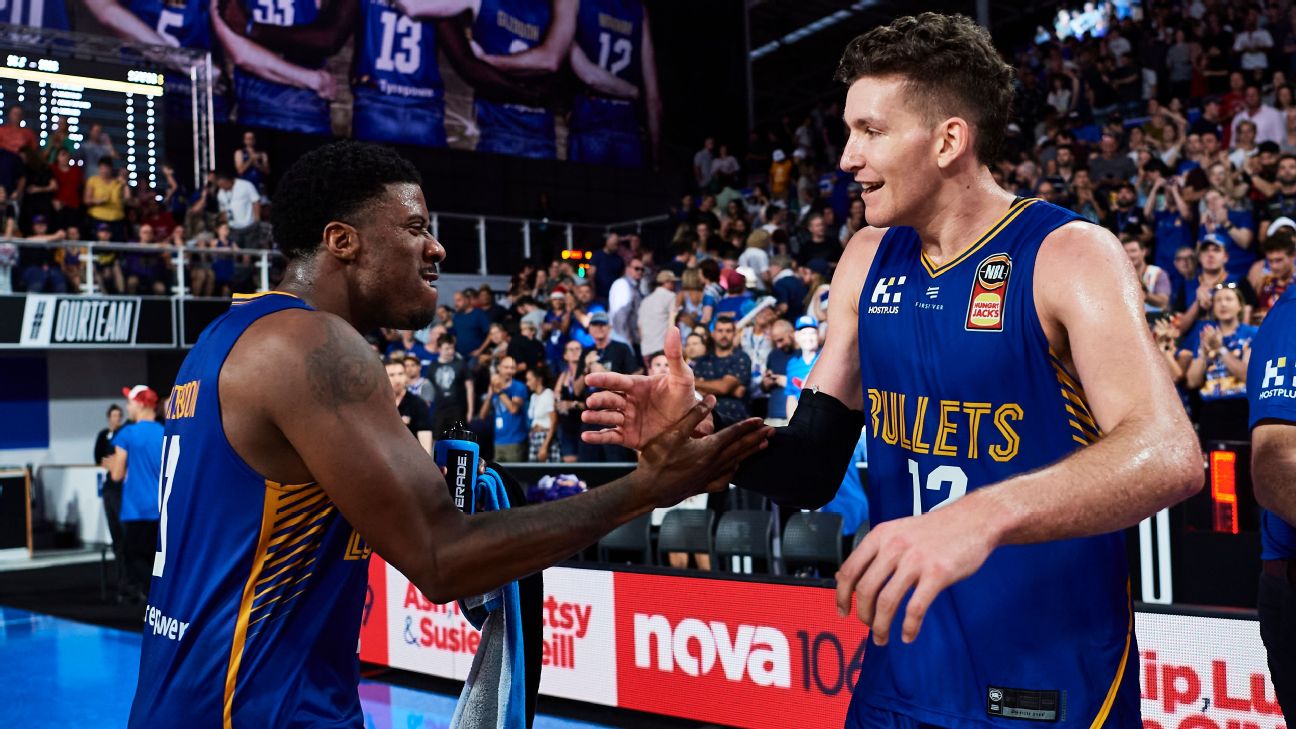 Just four rounds to go and it really is make or break time if you are anywhere near the top of the overall competition, the official BasketBall Blokes league or your league/s with your mates.
After just 36 last week, Finn "trolls all" Delany lead all scorers for the round with 110, ahead of Hopson (97), Randle (78 on a single) and Cooks (78). Many chose to bench Delany, and you can't blame them after his poor fantasy output the week prior, and we can only hope Boydie isn't still complaining after we convinced him to bring Finn in over Ashley a fortnight back, as the latter only managed a poultry 34 in comparison.
With just 8 trades remaining for fantasy coaches this season, every trade will be vital in determining the overall standings in the chase for the $5000 overall prize, and it doesn't get any closer than the top, with just 8 points separating Thomas Aitken's team "TheKDawg" and Nick Turner's team "NTRising."
It seems a tougher round for trades than normal with three teams on the double. The biggest questions seems to be whether to focus on this round and trade for Brisbane players on the double this week – as they are also the solo team on the double in Round 19, or to focus on the big guns for next week, with the likes of Long, Kay, Cotton, DJ and co on the double.
Take a listen below as we discussed the round that was, as well as all things sit, start, trades and captains prior to an important Round 17:
TRADE TARGETS AND
THE SCHEDULE
Sydney and SEM continue with their round of doubles this week with Brisbane also joining them on the double train.
As discussed on this week's podcast, is Mitch Creek worth keeping at this rate or are you sending him down the creek without a paddle? Is he injured, is it the new rotation, or is he just downright out of form after averaging just 19 over his last four games?
Other SEM players your likely to already have in Pineau and Roberson put up decent numbers of 56 and 72 last week over their doubles, but with a couple of singles over round 18 and 19 before a double in round 20, are they just a little risky to bring into your side now?
Bogut rested for the game in New Zealand last week due to "load management" and it threw a lot of fantasy coaches plans out the window. It's highly unlikely this happens again with a game against the Hawks in the Gong on Friday night and a home game on Sunday to finish out the round.
Cooks (78), Casper (70) and Newley (63) all scored well over the Sydney double last week, but after this round Sydney finish with 3 singles over the last 3, and if you looking to add more Sydney blokes this week you would want to be planning to keep them on the bench or having trades up your sleeve to get them out for some doubles chasing over the next round or so.
With 5 games in 3 rounds starting this week, there is plenty to like about Brisbane's schedule. Most teams out there have Patterson, so he is a must to start this week, adding Magnay, Hodgson, Cadee and maybe Sobey into the mix as other viable options, with those 4 averaging 43, 41, 34 and 32 over their last 3 games.
After an underwhelming fantasy season to say the least, Cam Gliddon bobbed up with a 40 last round.  Is he finally going to show some good fantasy form for #NBL20, provide value at his price of $640k and be given futher opportunity, or was it a splash in the pan? Could be a cheap option for cash strapped teams out there not wanting to blow their budget on one of the 5 names previously mentioned from BrisVegas.
Your team could be sitting pretty right now for doubles this round, so it might be an idea to start planning for the following round, where there are 5 teams on the double. Long, Cotton, Kay, DJ and Randle are all on the blokes radar for next weeks teams on doubles, but ensure you are set for this week before pulling the trigger here!
ROUND 17 CAPTAINS
1. Lamar Patterson – It's Patterson and then daylight. A clear number one this week. Averaging 47 over his last five games. 41 and 56 on the Phoenix earlier in the season, the 56 coming at home where he plays them this week. 44 and 47 on Adelaide, and he travels for this one.
Brisbane sit 5th on the ladder with 4 rounds remaining and are on equal wins with United in 4th place. They are fighting for their season right now and Patto looked unstoppable last week. As the game was over part way through the third against the Hawks last week, he was left one rebound short of a double double and extra points. I doubt we will see that this week with two very even match-ups and must win games against two of the highest scoring and leakier teams in the league, with the Phoenix giving up 97 and 98 points last week, while Adelaide gave up 108 to Cairns. Lock and load!
2. Will Magnay – 10 blocks over the last two games – They are Bogut like numbers from last season!
52, 40, 37 and 54 over his last 4 games. Still not convinced? If we go back a little further, Two-way Magnay has averaged 45 fantasy points a game since he got the start over the past 7 games, compared to an average of just 24 in games off the bench. If you don't have him this week, you are going to want him in Round 19 when Brisbane are the solo team on a double.
3. Jae'Sean Tate – 38 and 51 on Illawarra in his previous outings this season, and 61 and 50 in his last two against United. That's an average of 50 points a game over his last 4 games against this weeks opponents. Was a little down last week, partly due to foul trouble but hear me out here. The last time he had a poor double week (36 over 2 games in Round 10 for an average of 18) he bounced back with a 61 the following week against Melbourne. The other poor double was 57 across two games in Round 6 for an average of 28, before hitting back with a 51 against the Hawks. Two bounce back weeks who happen to both be against this weeks opponents. If history is to repeat, Tate's in for a big one!
Can anyone from the Phoenix be trusted!?
Creek averaging 19 over his last 4, Wesley 19 over his last 3, MVPineau two scores in the 20's last week. All were flagged and rightfully so!
A team second bottom and soundly beaten by 43 points across their two games last week. It's tough to trust anyone outside of Roberson averaging 34 over his last 3.
Speaking of, if you can't trust the King Legend himself, who can you trust? Sits out the first game, well rested and STILL only 23 minutes, partly due to the Phoenix being utterly useless, partly due to "load management" I'm sure!
Any further NBL conundrums or questions, be sure to hit us up on twitter @BBall_Blokes
Good luck for Round 17 legends!