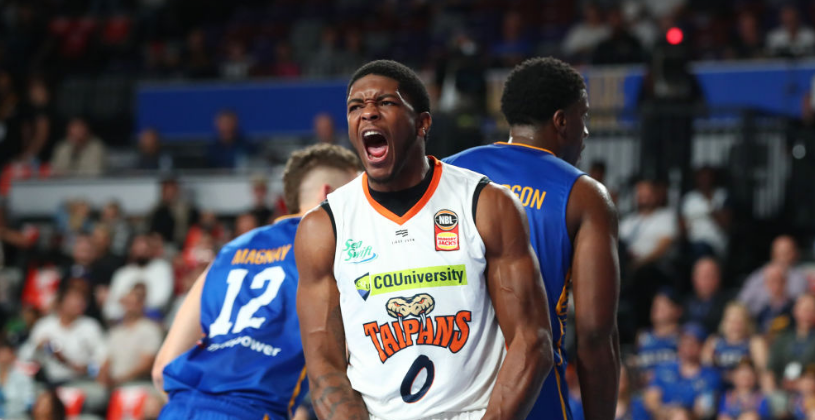 With Round 14 done and dusted, where has this #NBL20 season gone!? Feels like just yesterday we were entering the likes of Didi, Djeric and LaMelo into our #NBLFantasy teams for Round 1 and now we are all of a sudden preparing for a Round 15 lockout with none of the above on our teams. Many were hit by the unfortunate injury to Sek Henry on just 8 points last week, and he remains a game time decision for this week, so keep your eyes peeled for an update just prior to lockout, with New Zealand playing in the first game of the round. We have an early Thursday 7.30pm AEDT lockout, so make sure you have a back up plan ready to go if he is to miss.
Top scorers for last week included DJ with 98, Magnay with an impressive 91 post adjustments (we finally got that missing block added!) Patterson (90), Hobson (yes you read that correctly, HoBson, with 83), and Banksy's all-time favourite Boone with 81 in AJ's absence rounding out the top 5 for the round.
Hey @NBL, let's get it right and credit big @willmagnay1 on the boxscore with what was the biggest block of the game. Keep up the block party Will! Yours sincerely, his 1797 #NBLFantasy owners #NBL20 pic.twitter.com/IKIoeqHR5n

— BasketBall Blokes (@BBall_Blokes) January 3, 2020
There were also some impressive single game scores from Pineau (73), Wesley (71) and SpaceCam Oliver (67) for those coaches hanging onto any of these for their singles.
Today there was the exciting signing of NBA big man Miles Plumlee, becoming a replacement for the out of favor Dario Hunt. Keep an eye on Miles, as he is likely to be added at the $1 million dollar price tag, and could be a unique big for your squad, although Perth's schedule in the run home isn't overly fantasy friendly!
The rocky and sparse schedule continues with just three teams on the double each of the next three weeks, making each and every trade crucial at the pointy end of the season. Take a listen below as we discussed the round that was, as well as all things sit, start, trades and captains prior to a huge Round 15:
TRADE TARGETS AND
THE SCHEDULE
The famine is real again with just Cairns, Illawarra and NZ on the double for Round 15 and only the Breakers backing it up with a double in Round 16, making this week's trades really important.
Hopson is the no brainer, if he aint on your team I hope you are really just focusing on gameday for the remaining rounds of the season. Averaging 54 fantasy points over his last 3, he has 2 doubles in a row starting this round, so do yourself a favor and make him priority one! Other New Zealand options include Sek Henry at a thin SG postion provided he has recovered from his calf complaint, Finn Delany who is averaging 37 over his last 3, or even the more unique Brandon Ashley at 5% ownership, who has scored 30 or more in 4 of his last 5 games played.
Oliver and Machado are the obvious choices at Cairns but should be highly owned already based on recent form. They are averaging 52 and 48 points respectively over their last 3 games.  If your desperate to raise some cash, a sneaky cheap option or downgrade target to consider is Mirko Djeric, who in Noi's absence has averaged 30 points over the last 3 rounds and is currently priced at just $870k, but make sure you monitor Noi's return.
Can we trust Boone's return to form? It is tempting and he found form at around this time last season. He has averaged 43 over his last 3 but that has been mostly without AJ Ogilvy playing, and as he traveled to Adelaide for Monday night's game and failed a fitness test before the game, you would think he isn't that far away. Illawarra's rotation is tough to trust right now, with Naar seeing a dip in minutes following Dech's return to form, but Hobson was a pleasant suprise last week, posting a solid score thanks to a big double double with assists. It would be great to have LaMelo available right about now, but he remains a big question mark and is expected to remain in a moon boot for another week or two from here.
ROUND 15 CAPTAINS
1. Cam Oliver – Space Cam is averaging an incredible 61 over his last 5 games. He has scores of 69, 69, 82, 75 and 67 within his last 6 games, the only blemish coming against United with that dredded 14. He put up 41 and 48 on New Zealand this season, and a modest 33 and 29 on Sydney. He gets the nod over Hopson, because although Scotty has the hot hand, his highest score for the season is 58, a number Space Cam has surpassed 5 times over his last 6 games, a ceiling that Hopson just doesn't have.
2. Scotty Hopson – Averaging 51 over his last 5, Hopson has been incredibly consistent with a lowest score of just 45 during that span. He battles Cairns this week, which is who he got injured against earlier in the season, so we can't take anything from his previous score here, but he did put up a 58 over in Brisbane in Round 13, including that huge game winning buzzer beat, and he now has the bullets back at home.
3. Scott Machado – Machado is averaging 45 over his last 5 and is a huge reason the Cairns Taipans have finals in sight, currently sitting inside the top 4. He posted 48 and 49 in his two New Zealand match-ups for the season, as well as 39 and a big 68 against Sydney more recently. A must own on the double, but a captain consideration for sure.