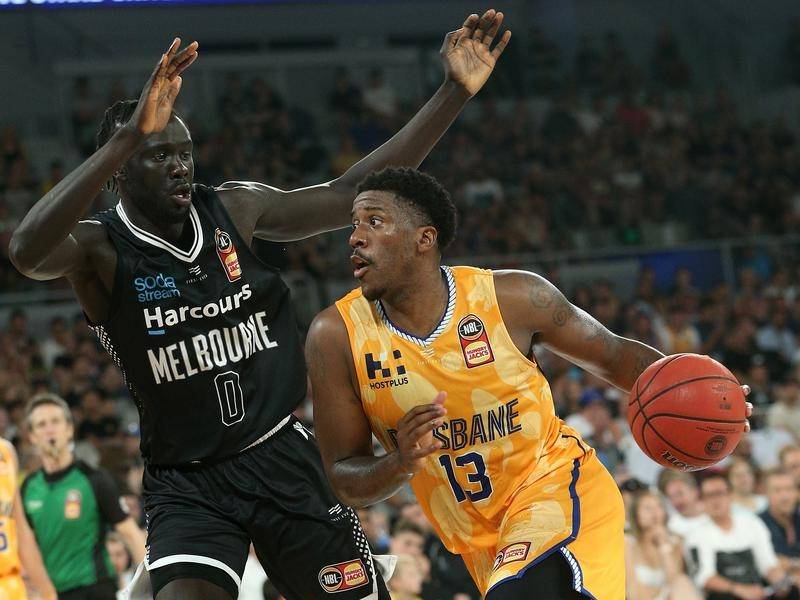 Wowee! What a week of basketball, and that aside I hope all you hoop fans out there had a great Christmas and an even better New Year! No team managed to cracked the illustrious 1000 point mark as I thought may have occured last week – if it were to happen at all this season, but with every team on the double, the highest scoring team – the Darksiders coached by Nick Godsell, put up a mammoth 934 points nonetheless!
Check out that team. That bench is stacked!
We had Cotton (118) top score for the round, joining Hopson (116), Patterson (113), Henry (110), Machado (108) and Long (101) all in the 100 point club. Special mentions to Creek (99), Daniel Johnson (99) and Sobey (97) just missing the boat.
We are at the pointy end of the season now. 7 rounds remain, the schedule has become sparse in the lead up to finals, and every point counts from your court, to your captain, through your bench. Those sit/start decisions are big too, and we discussed our share on this weeks podcast. Take a listen below as we discussed the round that was, as well as all things sit, start, trades and captains prior to a huge Round 14:
TRADE TARGETS AND
THE SCHEDULE
Following the feast that was Round 13, we now have the famine that is Round 14, with just 3 teams on the double.
That would be Adelaide, Brisbane and Illawarra on the double, with the Hawks the only team with back to back doubles. From those 3 teams, Lamar Patterson, Daniel Johnson and Eric Griffin are your big 3 plays, but not all necessary must haves with the schedule there after. Looking at the last seven rounds, it is Brisbane, Illawarra, New Zealand and SEM with the most games and doubles to come, so don't hesitate bringing these guys in.
Perth have the worst schedule here on out, so get your Nick Kay's and Cotton's out as soon as possible, despite the latter's current red hot form.
If your looking for a point of difference this week, Sobey at just $1.1 million put up some really solid numbers last week with a 97 across his double, and Brisbane are going to need more of the same if they are a chance of making finals from here. Magnay averaging 43 over his last 3 at just $974k could also make his way into your team, not just due to this weeks double, but more importantly with that Brisbane schedule over the last 7 weeks.
There are a lot of question marks around the Illawarra rotation, with talks of a return from LaMelo Ball. As we discussed on the podcast this week, it will effect the guards first and foremost like Naar and Dech, and remains an unknown as to how Hobson will fit in following his 83 last week. My guess at this stage is that Ball will miss the first game and potentially suite up for the second game this week. Watch this space!
Remember, we only have 7 rounds remaining, so we realistically only have 14 trades from here to play with, so I think we have to be looking at how many games a player has when trading them into your squad from here.
So looking back at the teams with the most games, Patterson, Hopson, Creek all probably become keepers from here. All in form and all have the most games remaining. With Illawarra, obviously Ball's 'will or won't return this round' status makes it all the more interesting, but know he put up a ridiculous 88 and 114 prior to his injury, so once he is back he is must have and that goes without saying.
If your chasing glory in the overall ranks, your running low on time to make your move. Will you go down swinging with some point of difference risk it for the biscuit type trades, or will you play it safe and focus on a respectable ranking for the year!?
ROUND 14 CAPTAINS
1. Lamar Patterson – Only 27 (home) and 35 (away) so far against Cairns this season. A 41 (home) and 25 (away) against Perth. That's an average of just 32 on this week's opponents. Not ideal, I get it, but in a week with limited options on the double, I am backing the guy who put up 113 last round, in a round where Brisbane are desperate for wins. 2 games seperates 3rd through 8th on the ladder, so Brisbane need to make their run now. Playing 33 minutes a game, Brisbane will need even bigger minutes and an even bigger contribution from Patto this weekend if they are any chance of finals, and remember, he was on triple double watch finishing with 21 points, 9 rebounds and 8 assists against New Zealand last week.
2. Daniel Johnson – 38 and 44 on Sydney, 56 and 31 so far on Illawarra this season. Coming off a cool 99 for the round on a double last week, and is averaging 45 over his last 3 games. The problem, is will it be DJ or Griffin on that team. When DJ was hot last week, the result was Griffin playing just 5 minutes for the first half, and it's not the first time we have seen it this season. Although both could score well, I'd rather not run the risk, and roll with the number one option!
3. Eric Griffin – An 8 and an 18 on Sydney has me out. 37 and 41 against Illawarra. Hard to ignore his recent form of 46 in his last 3 and 43 over his last 5 with so little legitimate captain options, but that record against Sydney has me done, but he is still my 3.
If by some miracle, it is announced that Ball plays both games, then he is definitely in the conversation!
Any NBL Fantasy conundrums or questions, be sure to hit us up on twitter @BBall_Blokes
Good luck for Round 14 legends!