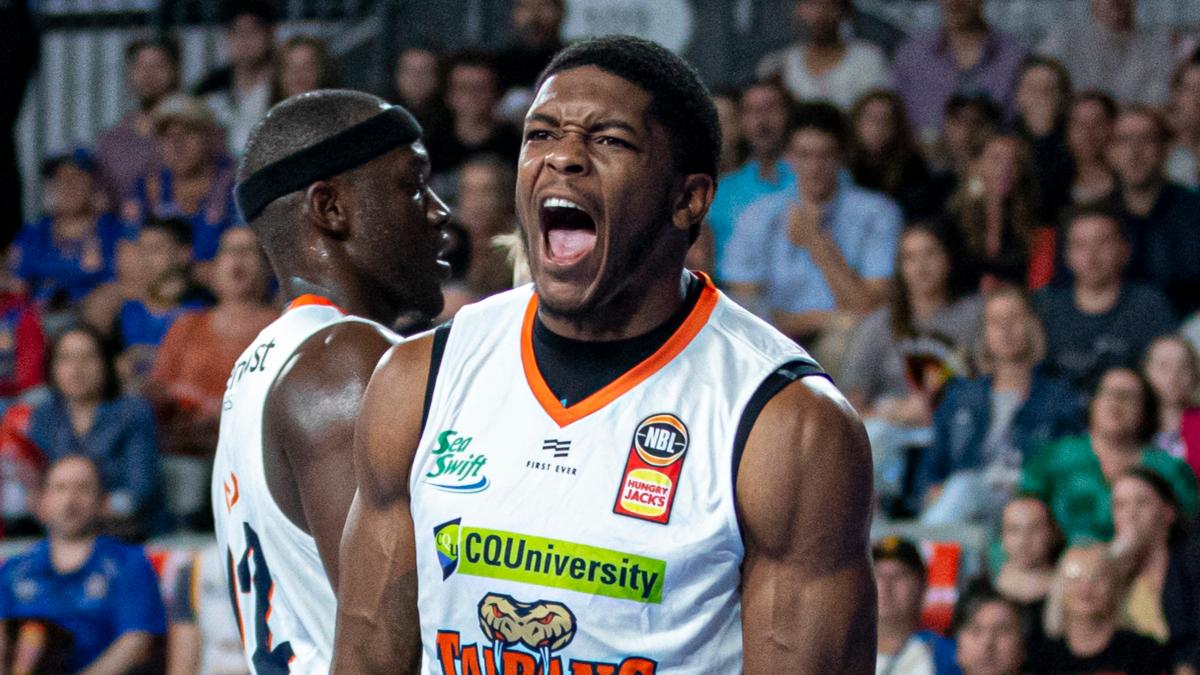 Creek week is done! And boy, I hope y'all went with one of Banksy's top 2 Captain choices for the week as he was spot on. Creek was the Round's highest scorer with 123, followed by Kay with 95. Rice owners were left steaming after his DNP, as were those who traded in Ramone Moore – and with another Friday night 7:30 AEDT lockout again this week, you 651 Glen Rice Jr owners need to do as the Breakers did and release him right away!
Shout out to the Phoenix big man Keith Benson for surprising the whole #NBLFantasy world with 79 points for the Round, while Kouat Noi rewarded the 45% of the competition who still own him pumping out a 63. With only Melbourne United on the double next week, trades will need to be carefully thought out, with Cairns, Brisbane and Adelaide the teams on the double for Round 8. Tune into this weeks podcast below as we discussed the big trade questions, those tricky sit or start decisions, what to do with Rice, plus Banksy's Captains:
THE BLOKES AND TRADERS
There was a fair bit of carnage this week unfortunately for the trader's teams with both Warnie and Calvin starting Ramone Moore in their side. We will have to hope for word on Moore and hope that it was a 1 game slap on the wrist for disciplinary issues rather than an injury. We don't want to be trading out players who are on a double this week as the 36ers players are. Warnie is quietly climbing the rankings now as he approaches the top 100 and passes team Calvinator. For the Blokes, Benny held strong, and still sits 7th overall in the competition.
ROYS TEAM
Roy on the other hand is in all sorts. Not only is he stuck in America, he has Glen Rice and a heap of players on the single this week, so as a result we still have the keys to team DESTROY. His team prior to trades this week is as below:
Head over to twitter and help us work out what to do with his trades this week:
Hey guys @RoyDT is still over in the US of A (unexpectedly) wish him a swift and safe journey home! This means we have the trades again this week. I need some help with some polls first to limit the options. Who would you trade in? #NBL20 #NBLFantasy

— BasketBall Blokes (@BBall_Blokes) November 20, 2019
TRADE TARGETS
If you thought there were too many options last week, what about the options for Round 8!?
Do you trade in for the doubles of Adelaide, Brisbane and Cairns, or set your team up for Round 9 with Melbourne United being the only team on the double?
Why not do both?
Surely most would have at least 1 Adelaide player from last week's double, and a few will have some Brisbane and Cairns blokes sitting on your bench that you could possibly play in your starting lineups.
DJ, Randle, Drmic and Griffin all put up decent scores for last week, so they would be your go to if your looking at Adelaide players.
Patterson is always an option from Brisbane, but Sobey and Hodgeson put up good scores of 48 and 37 points respectively last round on a single, while Magnay is still cheap, although his 17 was not the best last round – 10 under his fantasy average for the season.
Cairns are the pick of the bunch looking at the schedule, playing 3 doubles over the next four rounds. One of the top prospects for the week has to be Scott Machado – a top 5 fantasy scorer by average and just a smooth operator who leads the league in assists with almost 8 a game. Boydie's boy Cam Oliver must be looked at as well. Boydie has been holding onto him since the start of the season and with a rolling average of 50 points a game over his last 6, is one of the most in form fantasy players in the league right now. Sitting there tempting us is also DJ Newbill, but after burning owners earlier in the season with the famous dressed to play, without setting foot on the court debacle, you would not be blamed for steering clear. Noi is the other high risk, high reward player at Cairns for the 55% of coaches who do not own him. He had a bunch of scores in the teens and 20s to go with his 50 in Rd1, but looked back in form last week with a huge 63 thanks to a double double.
THE SCHEDULE
Only 3 teams on a double this week, as the difficult part of the schedule continues for fantasy coaches. Adelaide, Brisbane and Cairns are all on doubles for just the one week, before Melbourne United take stage as the sole team on the double in Round 9.
Note: Brisbane and Cairns both have double games in Round 10 (Cairns in Rd 11 too!), so planning with this in mind is pivotal.
Adelaide: 1 week of double games
Brisbane: 1 week of double games
Cairns: 1 week of double games

ROUND 8 CAPTAINS
1. Cam Oliver – A huge 59 against Perth last time they played, and one rebound short of the double double. 40 and 24 in the two match-ups against Illawarra in what were both average showings by Cairns. I'm playing the odds here, and cannot see another bad performance against the bottom of the table Hawks. What I like is that he has a ceiling. He had that 3 game stretch of 59, 59 and 63 more recently, and has averaged 50 points over his last 6 games after his slow start to the season making him one of the more in form fantasy players in the competition at just 12% ownership.
2. Lamar Patterson – Had a 44 in an away game against Adelaide and will now face them at home. Yet to play United this season, but put up 17 and 8 last season and a 33, 5 and 3 performance the match-up prior. He had that big 72 point output two games back against Sydney, and was just 3 assists shy of a triple double. There was some talk of him having a quiet game over the weekend, and he was certainly quieter than normal particularly in the first half and again the commentary team raised concerns over fitness and preparation, despite Patto still putting up a 17, 7 and 6 line. I'm happy to take that on a poor game. He is rebounding with totals of 7,8, 11 and 7 over his past few games and I love his ceiling of 70+ on a given night at just 14% owned.
3. Scott Machado – 54 over in Perth last match-up, and strangely he hasn't gone well against the bottom of the table Illawarra this season with scores of 37 and just 20 in their two match-ups thus far, which are actually his two worst scores for the year. Averaging 44 over his last 5 after a 46 last week and was just one assist shy of the double double that would have pushed his score up to 59. When Cairns win – he has big assist numbers, and I think they are a good show this week in both match-ups. If you want a unique captain, he is your guy at just 7% owned.
4. Daniel Johnson – DJ has been on the double 3 times this season. Over those 3 doubles he has scored 99, 94 and 89. We always harp on about how consistent, yet boring the play is as an owner, but those are down right solid numbers when DJ is on the double. He played Brisbane in Round 2 for a 43 and is yet to play New Zealand, and is now the 7th best in the league by average with 44 fantasy points per game.
Any NBL conundrums or questions, be sure to hit us up on twitter @BBall_Blokes
Good luck for Round 8 legends!