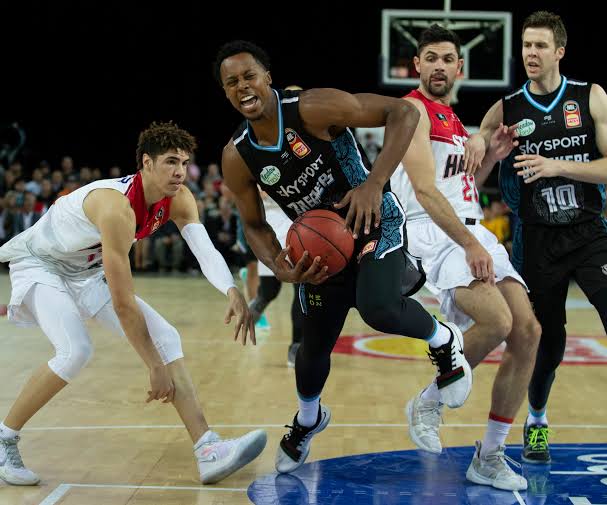 Ok, we are getting a little over these short turnarounds now. It makes trading tight with the unknown of price change. And as it stands at 8:07am AEDT on Wednesday morning, #NBLFantasy is still not open for Round 6! We have another Thursday 5:30pm AEDT lockout again this week, so once the game is open get those trades in asap! Luckily, it is the last Thursday start to a round for the next 5-6 weeks.
Round 6 is the start of a really interesting part of the schedule for us NBL Fantasy coaches. Maximising players on doubles gets a lot harder over the next few weeks, so as the blokes discussed in this weeks podcast, having a long term view is possibly the best way to look at your trades this week. Check out our Trade Targets for a bit more on this and have a listen to our podcast below prior to lockout, for a more in depth look at the possible replacements for the injured duo in Scotty Hopson and Didi Louzada:
THE BLOKES AND TRADERS
This week was a solid week for the Blokes and the Traders. There will be plenty of opportunity for movement this week with Benny, Boydie, Roy and Warnie having both Scott Hopson and Didi Louzada in their lineups. Banksy and Calvin only have Hopson to deal with, so they have a chance to gain on the others with their extra useful trade.
In regards to the injuries, Scott Hopson has been replaced by Glen Rice Jr. Keep your eye out as he may be inserted into the game in time for the next round and could be a direct Hopson replacement. We don't have any news on Didi so far but check out our twitter page @BBall_Blokes and we will keep you updated. While you are over there, vote on Roy's trade for the week. Roy is over in the USA so we are using people power to vote on his trades.
TRADE TARGETS
This week, the biggest question for 29% of the competition, is who to trade the injured Scotty Hopson out to. The SF position is a bit shallow, and the schedule makes the position even harder. Drmic has two back to back doubles after this week after putting up scores of 39, 44, 30 and 60 over his last 4, but can he be trusted? Tate is another option after Didi went down with injury again last week. Do you pay up for Creek knowing there are limited captain options on a double next week? Or opt for Goulding while United are running hot, even with the inclusion of Prather back into a stacked Melbourne roster? We put a poll out to see who coaches rated as the best replacement at SF:
THE SCHEDULE
Only 3 teams on a double this week, and this is where the schedule becomes tricky. All 3 of the teams on a double this week, have a single next week, and Adelaide is the only team to have 2 doubles over the following 3 rounds.
New Zealand: 1 week of double games
Melbourne United: 1 week of double games
Perth: 1 week of double games

ROUND 6 CAPTAINS
1. Shawn Long – How good was Mr Double Double again! He has now scored an insane 64 or more in 6 of his 7 games. To give you some context, Bogut has scored 64 or more just twice in his 7 played games.
Long played his old team, the New Zealand Breakers earlier in the season and put up a standard 66 fantasy points with a 27 and 11 game in Round 4. He is yet to play Adelaide this season, but having a look at what other big men have done during this match-up (Oliver put up 59, Bogut 56, and even Pineau put up 64) it is safe to assume we will see more of the same from Shawn. He is averaging a ridiculous 74 over his last 3 and looks set to pump out another 140+ point round, as United round out their stretch of 3 doubles on the trot.
2. Andrew Bogut – The "King legend" put up 51 on Brisbane in round 4 and expect more of the same. The interesting one here is the Perth match. Bogut is yet to  play Perth, BUT – Long has put up 64, and Oliver 59 in their most recent meetings with the Wildcats. Kay seems out of sorts and Hunt is lucky to get 15 minutes on the court most games, so I'm expecting a 100 across the round. A solid score on the cards, but Bogut is no Mr. Double Double right now.
Why is he not number 1? I was thinking what are we missing with Bogut where we used to have him at number 1 every week he was on a double last season, so I took a closer look. He has recorded a steal in just one of his 7 games, and is only averaging one block a game including 4 games with no blocks after averaging almost 3 a game last season. He needs to get these defensive stats back where he was putting up games with 5 blocks and a couple of steals last season if he wants to get back to number 1. It is the difference between Bogut putting up 50 point games, and the 80+ point games we were accustomed to last season.
3. Brandon Ashley – 92 over his double last round. Hopson or not, Bashley is a solid play with Loe still out. Melbourne at home where he went 41 in round 4, but since his couple of foul prone games early in the season, he is showing more consistency scoring 41, 49 and 43 over his last three games which included a double double. He rounds out the week against Phoenix, and we have seen what big men are doing against them.
4. Corey Webster – 109 over the double last round. He looked awesome and certainly benefits from the Hopson injury. Only 36 against Melbourne but that was pre the Hopson injury. Strangely, Webster is averaging career highs this season in assists, blocks, as well as defensive and offensive boards, in his tenth season in the league. He is yet to play the Phoenix, but you know it will be a high paced game and he is the scorer on that Breakers team at the moment. One to keep an eye on once we get a little more info on the Hopson injury front.
Any NBL conundrums or questions, be sure to hit us up on twitter @BBall_Blokes
Good luck for Round 6 legends!