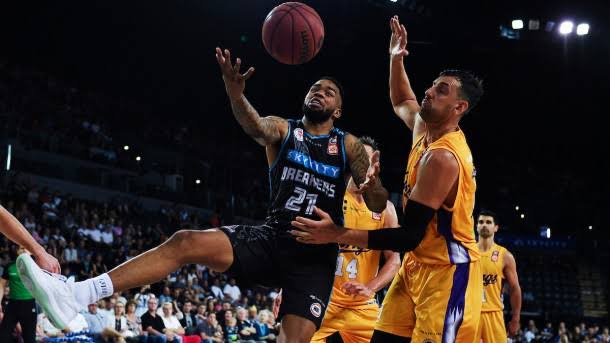 Another short turnaround this week after another Monday night game, followed by another Thursday night game. No complaints with being able to feast on #NBL20 action mid week, but it makes it tough to settle on those all important two trades for the week. Remember, lockout is 5.30pm AEDT Thursday!
The big NBL Fantasy news this week, was Aaron Brooks being ruled out for the season, while the first lot of unexpected position changes were released:
Didi Louzada – SG/SF
Chris Goulding – SG/SF
Kevin White – PG/SG
Reuben Te Rangi – SF/PF
Tom Abercrombie – SF/PF
From here, this week's article is all about Roy!
Before we get to that lets have a look at the rankings.
THE BLOKES AND TRADERS
 
There was one big choice to make last week which was choosing either Mitch Creek or Shawn Long.
The Blokes and Calvin went with Long; Roy went with Creek and it hurt his ranking significantly.
Roy is currently in the USA catching some NBA games.
Not a bad start indeed! So we need to help him out. We are in control of his trades this week and we want your input.
Follow us on Twitter @BBall_Blokes as we have put a poll up with potential trades
This is his team:
These are the early results:
Get involved and check out our periscope episode while your over at our twitter page. We have done this instead of the podcasts this week:
TRADE TARGETS
This week, the biggest question for 36% of the competition, is who to trade the injured Aaron Brooks out to. We put a poll out to see who coaches rated as the best replacement was at SG at a similar price point:
Webster and Didi taking the majority of the vote and rightly so. Goulding is a slight concern with Prather due back soon, and Henry really only has one decent score from his four games with a 61. Was it a flash in the pan? Those considering going down to a bargain basement Hawks guard, can probably afford to wait a week, as they have a span of 7 singles straight. It would be wise to see how their new roster rotation plays out this week, in order to make a more informed judgement.
THE SCHEDULE
Teams on double game rounds this week.
New Zealand: 2 weeks of double games in a row
Melbourne United: 2 weeks of double games in a row
Sydney: 2 weeks of double games in a row
Perth: 1 week of double games
Brisbane: 1 week of double games

ROUND 5 CAPTAINS
1. Shawn Long – Melbourne need wins and they need them now. Coach Vickerman is playing Long big minutes, and as a result he now leads the league with 60.6 points a game and 68 over his last 3.
Mr Double Double has SEM, where he put up 75 points on them back in Round 1 with 26 points and 13 boards. Tick!
Then he has Sydney at home.
Last two matchups Long v Bogut:
Bogut – 23 points and 16 boards
Long – 11 points and 8 boards
Game prior:
Bogut – 17 points, 10 boards and 7 assists
Long – 25 points and 8 boards
They thrive on playing each other so I'm not scared off by the Bogut matchup. Both will be going hard out in the battle of the two best big men in the league yet again, but I like Long based on the fact we should see him go big against an undersized Phoenix front court first, so he should have a big score heading into the Bogut matchup on Monday night.
2. Andrew Bogut – Similarly to Kay, the one thing holding Bogut back from taking the Captaincy mantle this week, is the two away games for the round against Adelaide and Melbourne.
Adelaide he played in Round 2 for that score of 21 in limited minutes, with the infamous back complaint that he backed up the following week with a lazy 82 and 73 following a game time decision status for Round 3.
His last game prior to this against Adelaide last season he put up a modest 8 point and 13 rebound effort.
The other matchup… The Long v Bogut matchup we have all been waiting for! Let's take a further look at the matchup as we discuss the number one captain option this week
3. Nick Kay – Mr Consistency put up 101 points last round, and is now averaging 51 on the season. The one thing that is slightly off putting for Kay this week, is that Perth plays two away games involving extensive travel against Brisbane, before heading to New Zealand.
Last two games against Brisbane:
22 points, 6 boards and 2 assists
12 points, 14 boards and 3 assists
Last two games against NZ:
22 points, 12 boards and 5 assists
20 points, 5 boards and 5 assists
Consider: Hopson and Cotton
Any NBL conundrums or questions, be sure to hit us up on twitter @BBall_Blokes
Good luck for Round 5 legends!