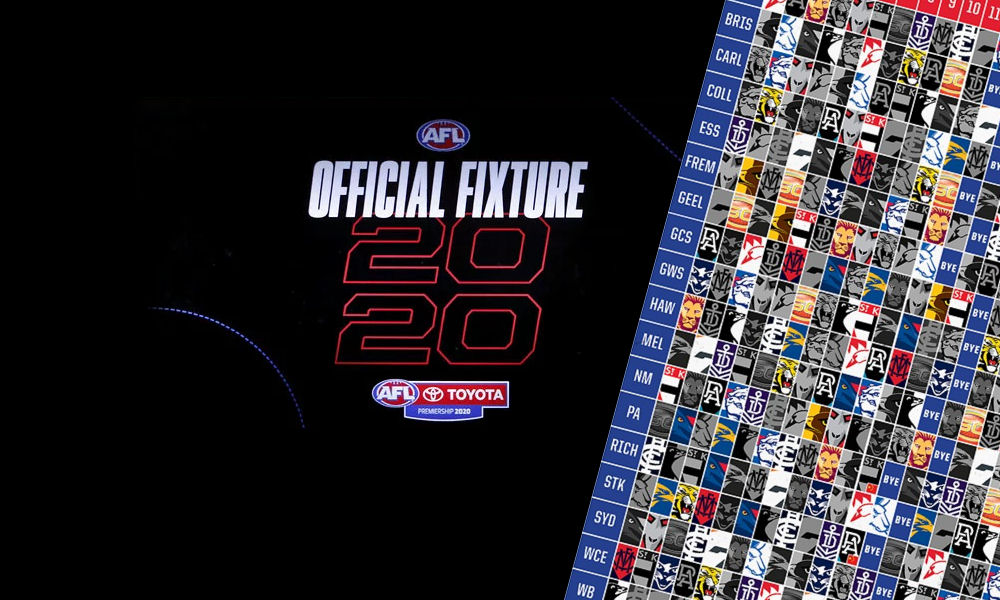 The 2020 AFL season fixture has been released and has plenty of stuff for Fantasy coaches to think about as we approach that first lockout in 140 days time.
Don't forget to check out the Marsh Community Series fixture for your all-important pre-season study.
Click here for the full 2020 fixture.
Listen to the AFL Fantasy Podcast with The Traders at Apple Podcasts, Spotify and Google Podcasts.
BYE ROUNDS
The China match (Port Adelaide v St Kilda) once again lines up with the multi-bye rounds. Each round of the MBRs will feature six teams across rounds 12, 13 and 14.
ROUND 12
Brisbane Lions, Essendon, Geelong, Port Adelaide, St Kilda, West Coast
ROUND 13
Carlton, Collingwood, Fremantle, Melbourne, Richmond, Sydney Swans
ROUND 14
Adelaide, Gold Coast, GWS Giants, Hawthorn, North Melbourne, Western Bulldogs
THURSDAY NIGHT GAMES & PARTIAL LOCKOUTS
There will be a record nine Thursday night games in 2020, one up on last year. A block of five to start the season and then a block of four mid-season around the byes. Partial lockouts will be in effect for each of these matches (ie. players from clubs in these fixtures will be locked at the start time of each match).
Round 1 – Richmond v Carlton, MCG (7:25pm AEDT, 19 March)
Round 2 – Collingwood v Richmond, MCG (7:25pm AEDT, 26 March)
Round 3 – Carlton v Essendon, MCG (7:25pm AEDT, 2 April)
Round 4 – Brisbane Lions v Collingwood, G (7:35pm AEST, 9 April) *Easter Thursday
Round 5 – Adelaide v Essendon, AO (7:10pm ACST, 11 April)

The second block of Thursday night games will start on the second weekend of the multi-bye rounds. These will be played in three different stats and feature the Bombers in two of them.
Round 13 – West Coast v Essendon, OS (8:10pm AWST, 11 June) *MBR2
Round 14 – Sydney Swans v Collingwood, SCG (7:20pm AEST, 18 June) *MBR3
Round 15 – Brisbane Lions v Hawthorn, GABBA (7:20pm AEST, 25 June)
Round 16 – Essendon v Hawthorn, MRVL (7:20pm AEST, 2 July)
| GAMES | CLUBS |
| --- | --- |
| 4 | Essendon |
| 3 | Collingwood |
| 2 | Brisbane Lions, Carlton, Hawthorn, Richmond |
| 1 | Adelaide, Sydney Swans, West Coast Eagles |
EASTER ROUND & OTHER THINGS TO THINK ABOUT
As mentioned above, the round five Thursday night game (Lions v Pies) starts the Easter round. For the fourth time, there will be a Good Friday match – this time between the Kangaroos and the Dogs – starting at 4:20pm AEST. This will most likely be included as a partial lockout game leading into a full lockout for the second of the double header Good Friday games, Power v Eagles in Adelaide at 7:20pm ACST (7:50pm AEST).
Full lockout is likely to be at the beginning of the game.
ROUND 4 LOCKOUTS (EASTER)
Thursday 9 April
7:35pm AEST – Brisbane Lions v Collingwood – Partial Lockout
Friday 10 April
4:20pm AEST – North Melbourne v Western Bulldogs Essendon – Partial Lockout
7:20pm ACST (7:50pm AEST) – Port Adelaide v West Coast – Full Lockout
This brings with it our usual challenge of 'flying blind' for the Easter Monday game. Squads of 25 for the Geelong v Hawthorn will be named before lockout, but the trimmed 22s won't be known until around 4pm AEST on the Saturday afternoon (ie. after lockout).
NOTE: This will also be the case for the round 12 Melbourne v Collingwood Queens Birthday game on Monday 8 June.
More to come.