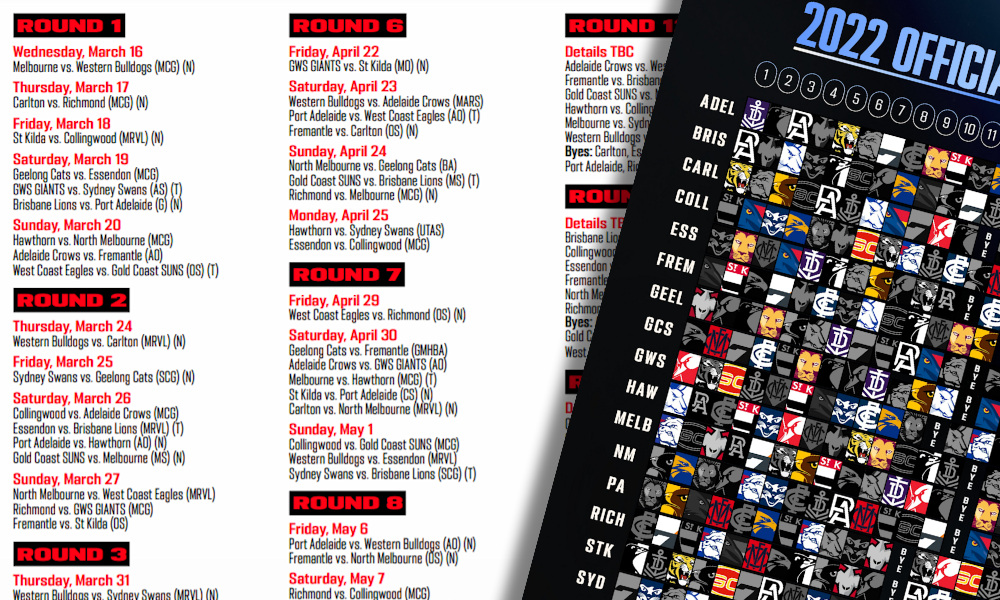 The 2022 fixture was released this week and as always, there's plenty to think about for Fantasy coaches. Byes, who's got the early games in each round and of course the Scale of Hardness all come into calculations.
A few new things to consider this year include the Wednesday night start to the season and while there are still the same number of Thursday night games to commence the year, we've got a couple of Friday night double headers.
Although the full roster has been released, only the first nine rounds have been named up with the days and times.
Click here to download the printable fixture pdf.
Click here to access the fixture via AFL.com.au.
BYE ROUNDS
The three week block of multi-bye rounds returns as per normal. Each round of the MBRs will feature six teams across rounds 12, 13 and 14.
ROUND 12
Carlton, Essendon, GWS Giants, Port Adelaide, Richmond, St Kilda
ROUND 13
Adelaide Crows, Geelong Cats, Gold Coast Suns, Sydney Swans, West Coast Eagles, Western Bulldogs
ROUND 14
Brisbane Lions, Collingwood, Fremantle, Hawthorn, Melbourne, North Melbourne
Your best 18 players will count in Fantasy Classic over these rounds and you will have three trades to use.
One of the key strategies coaches employ for the bye rounds is to target premium players coming off their bye when you've got the three trades to use. For example, Zach Merrett could be a midfielder that you don't start on and pick him up ahead of round 13 based on this strategy as he could be the best of the round 12 bye players.
Newly named GWS forwards, Tim Taranto and Stephen Coniglio could be considered as upgrade targets after the first bye as could Dustin Martin who traditionally has bigger second halves of seasons.
At the other end, Collingwood and Melbourne have the R14 bye as it falls after their Queen's Birthday game. This is something we have gotten used to and starting ruck strategy can be factored in here. Along with the two king pins, Brodie Grundy and Max Gawn, Freo have the last bye and Sean Darcy, the third seed, joins them.
More on bye round strategy later in the pre-season.
WEDNESDAY/THURSDAY/FRIDAY GAMES
The rolling lockout will be in place for season 2022, so planning for various partial lockouts is a thing of the past. That said, most coaches will be looking at which teams play early in the round – eg. Thursday and Friday night – to help with their VC choices using the loophole.
Adding up all the Wed-Fri fixtures, there are 18 in total for the first nine rounds.
Western Bulldogs players who can score well are going to be gold with five early slots in the fixtures announced thus far. You can make them your VC with plenty of options to come for skipper (and donut) if they fail.
| GAMES | CLUBS |
| --- | --- |
| 5 | Western Bulldogs |
| 4 | - |
| 3 | Collingwood, Port Adelaide, Sydney Swans |
| 2 | Brisbane Lions, Carlton, Geelong Cats, Melbourne, North Melbourne, Richmond, St Kilda, West Coast Eagles |
| 1 | Adelaide Crows, Essendon, Fremantle, GWS Giants |
| 0 | Gold Coast Suns, Hawthorn |
'OVERALL' SCALE OF HARDNESS
I don't want to tread on Calvin's toes here… and we'll do a deeper dive into this later in the pre-season, but here's what the scale of hardness looks like overall (not taking positions into account) based on a combination of scoring for last year, later round splits, 100+ scores and some other secret spices.
We'll look more in depth at the positional breakdown of the Scale of Hardness in February.
Each club will play five teams twice. They generally play teams in the same 'third' of the previous season's ladder that they finished. Blockbusters and derbies are the anomalies here. This doesn't translate massively for Fantasy, but you can see Adelaide, Carlton, Gold Coast and Western Bulldogs have the best of the doubles.