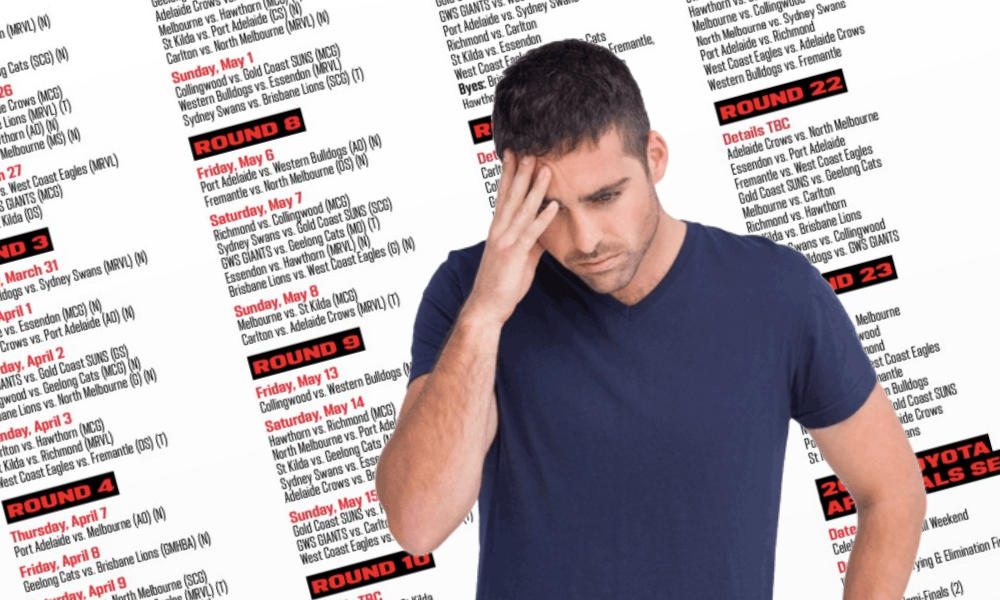 Fantasy in 2024 could be like no other due to the floated fixture to kick off the season.
Nothing is in concrete as yet, but a change to how the season starts has been sent out to clubs for feedback which involves the home-and-away games starting a week earlier with a couple of standalone games in Sydney; namely Giants v Pies on Saturday night and Swans v Dees on Sunday afternoon.
While this would be absolutely fine if it was a split round (ie. the two Sydney games on what would be the long weekend, seven games on the traditional round one)… but the article states that second weekend would feature all 18 clubs playing. This means those first four teams will have a bye at some point in the first few weeks.
This is messy.
For the purpose of this, let's consider how I think it may look in reality (I have zero intel, just using my brain!).
ROUND 0
Sat 9 Mar (GWS v COLL) to Sun 10 Mar (SYD v MELB)
ROUND 1
Thurs 14 Mar to Sun 17 Mar – 9 games
ROUND 2
Thurs 21 Mar to Sun 24 Mar – 9 games
ROUND 3 (EASTER)
Thurs 28 Mar to Mon 1 Apr – 7 or 9 games
Could this just be 7 games here?
ROUND 4 (GATHER ROUND)
Thurs 4 Apr to Sun 7 Apr – 9 games
ROUND 5
Thurs 11 Apr to Sun 14 Apr – 7 or 9 games
Could this just be 7 games here?
ROUND 6
Thurs 18 Apr to Sun 21 Apr – 7 or 9 games
Could this just be 7 games here?
NOTE: With Anzac Day (25 Apr) falling on a Thursday, could a bye happen prior to this? Melbourne v Richmond has been a 'traditional' game the night before Anzac Day in recent years… and obviously Essendon play Collingwood. Could Demons and Magpies have their bye in round six to give them plenty of time ahead of their earlier Anzac fixtures. Meaning Tigers/Bombers potentially play Thursday of round six to give them greatest break possible?
There are a number of machinations for the fixture – and obivously Fantasy isn't a big stakeholder in how things are done, but we play by the 'rules' we are given and would need to change things to fit.
The key issues
As mentioned, if it was a simple split round with 2 games on the first weekend and 7 on the other, there would be no drama. Our problem for Fantasy is that having 9 games in that second weekend means that first weekend is almost like a split round that is to be played "in a few weeks' time".
Round one was split in 2014 (click here) which saw us play one Fantasy round across the two weekends. This was a weird round one regardless for anyone around then, but that is a story for another day.
Some people have mentioned on social that we could add scores from that first weekend to wherever it sits in the fixture (ie. retroactively apply score for a future round). Honestly, I don't think this idea can or should be entertained. Firstly for the mechanics of it – hard to implement, messy with trading, team make up and how it would flow on back end … but secondly, for the simplicity of our game. We play by pretty simple rules that are, hopefully, accessible for all.
We have both Fantasy Classic and Fantasy Draft to consider.
Before we even think about these, many Draft leagues book in the long weekend (the mooted time for these opening games) to hold their drafts. This sucks for organisation and tradition! But obviously we can work around this. Another aspect is that we usually see the pre-season games a fortnight before round one … does this mean that we might have a split round of pre-season matches, too? Ahh… that's going to be weird!
How Fantasy could cope with the proposed fixture
I haven't spoken to anyone that matters about this, so these are things that have run through my big head over the last couple of days since hearing it floated on the weekend. Now that it's public, I thought I'd pop down some ideas.
a) Run the season as 25 rounds
We're at 24 rounds now after the introduction of Gather Round. This opening weekend could just essentially be another round. Although this Herald Sun article has some questionable things as there are things that are factually wrong, there is a suggestion that a third game (Gold Coast v Richmond) could be added to the opening weekend. This could mean that round one (as I have called Round 0 above), has six teams playing.
If we were to call it a round for Fantasy Classic, we could have a wildcard for round one where there are unlimited trades ahead of round two; the first 9-game round of the season. Just pick players from the competing teams, wipe it for the next round.
Whether we go with bye round rules for this opening round or not, I'm not sure, but we probably would for the future 'extra' bye round.
PROS: Adds another week of Fantasy fun. Different strategy. Bit of a 'free hit' (although I have nightmares about this from 2014).
CONS: Salary cap challenge to fit a team in? Confusing? If you don't get a team in for this weird round, you're no shot at a prize? League match-ups would suck based on this being called a round.
b) Ignore this weekend
Let's pretend it didn't happen. We can carry on and prepare for the 'true' round one.
Unfortuantely this would be the teams who played that opening weekend would have two byes during the season and therefore would play '22' Fantasy games while the other clubs play '23'. Bye rounds could be treated like they usually are (extra trade, best 18), but there would be some strategy in initial team selection for Classic and drafting for Draft to consider these early/extra byes.
PROS: More time to get teams sorted (good for registrations) and keeps the game a little more normal and simpler to understand. Avoids a weird free hit round that might put off some people from entering. Easier for Draft, but remember you can start your Draft league at any round.
CONS: Feels weird not having every game count in Fantasy. Having some clubs with an extra bye seems odd.
Other thoughts
There might be some other ways to make this work, but the two above are probably the most logical.
I'll reiterate that retrofitting scores simply couldn't work. Nor would going back to applying averages (been there, done that … hopefully never have to consider it again!).
Realistically, I hope they scrap the idea. I see the merit in taking over the Northern market for that weekend – although it is the weekend after the NRL is in Vegas, so doesn't really serve the complete purpose (while the cat's away…). If they do it, make it a split round – that will make our lives easier.
Full disclosure … what I want from the game is as many people playing. Once upon a time, I was all about the challenge and having more strategy. This is great for a certain number of Fantasy coaches (addicts!!), but not totally accessible for all. That's where my thinking has shifted in the role that I am.
I want the game played by as many people as possible. a) because I love it and want people involved, but b) which is selfish, our little part-time gig/hobby can increase… but the flow on effect for you, the player, is that prizes increase… more money is put into the game to improve it. It's all well and good to want greater challenges, etc, but we should all want the product to improve and that only happens with bums on seats.
Thanks for listening to my Ted Talk!
Whatever happens, I am sure there will be a lot of things thrown around by the big dogs … and they will listen to the coaches who live and breathe the game. We are all important stakeholders in the Fantasy game and despite me saying the above about bums on seats, integrity of the game is important. How that all looks in the various fixture scenarios will be an important factor. It'll be a balancing act.
I guess we will know more in November when the fixture is released…
Post your thoughts in the comments!