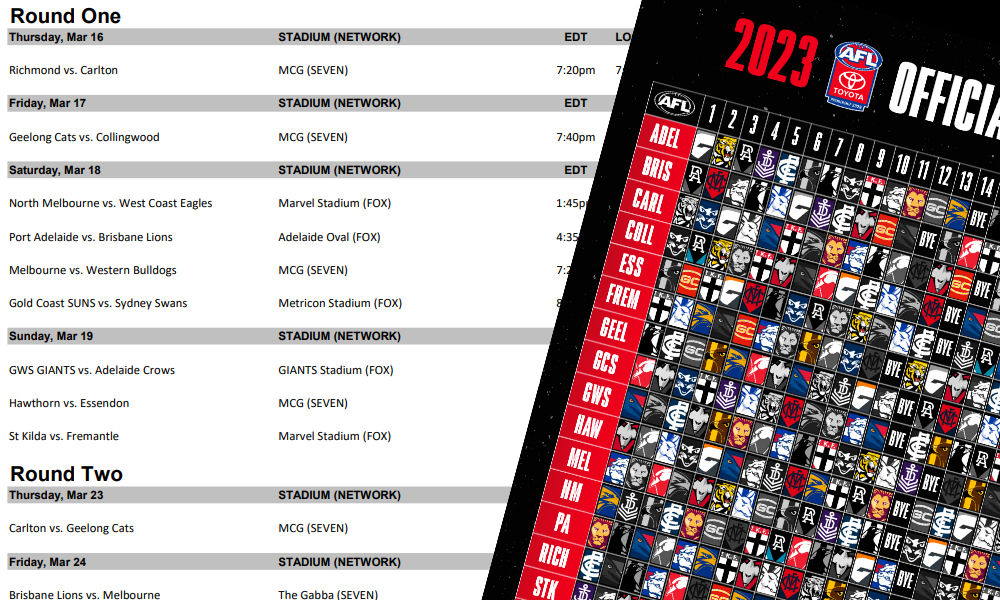 Positions a few days ago and now the fixture. Fantasy coaches are getting a few things to think about prior to the pre-Christmas launch of AFL Fantasy for 2023.
We've got rounds 1-15 locked in with dates and times. The nine weeks of remaining fixtures (rounds 16-24), have match-ups, but dates and times will be revealed later in the season.
BYE ROUNDS
The biggest change is that we'll see four bye rounds in 2023. These will start at round 12 (as we've seen in recent times), but continue through to round 15. That is because the first two weeks of byes will see four teams and then two teams having byes. The other two weeks will have the six teams on a bye as we've been accustomed to.
R12
(4 teams)
R13
(2 teams)
R14
(6 teams)
R15
(6 teams)
Having four weeks of byes isn't a new thing; however, this structure is new.
When Port Adelaide was playing their game in China, there was an early bye round (usually 2-3 weeks before the block of multi-bye rounds). This made managing byes easier as we had two teams – Port and Suns/Saints – who had already had their bye and would be 'easy' or logical players to bring in. Sometimes this didn't work out well due to who were available… but it was something.
The 2023 structure has the bye with 2 teams on it in the second week which will be after the round with with four teams on it.
At the time of writing, we have no idea what the rules for Fantasy Classic will be like. There are a couple of options:
Rounds 12-15 are treated like normal bye rounds. That is, best 18 in each round with three trades that can be used.
Rounds 12, 14, 15 have the regular best 18 and three trades while round 13 is treated as a normal round (22 scoring players, two trades).
Rounds 12, 13 have two trades each with best 18 and rounds 14, 15 are best 18 and three trades.
Some other combination…
I'm not sure where it will land… but my gut feel would be keeping the rules the same across the four week period for simplicity. This may not appeal to the hardcore players, but I'm thinking it is easy for communication for our casuals.
Whatever it is, we'll chat through what the strategy will look like once we know! At the end of the day, we play by the rules we are given and if it is 'easier', we all find a way to take advantage of them. A heap of strategy will open up with how the byes are structured now.
As for players to pick/fade, etc… we will leave that to later in the pre-season. Although, feel free to discuss anything in the comments below.
Note that the custom settings in AFL Fantasy gives you the choice to play through byes. In Draft, you may even choose to award averages as commissioner can change scores for match ups (with pro subscription).
View this post on Instagram
THURSDAY/FRIDAY GAMES
We start the season with five weeks of Thursday games. They'll return in round 13 and continue until round 18 according to the fixture pdf. This makes for 11 Thursday night games which is up from what we've seen in the past.
Previously these meant a bit more to us with our fixed Friday night lockout. It has been confirmed that the rolling lockout will continue in 2023, so this isn't as big of a deal, but some thinking around it is imporant.
Early games are good for loopholing; VC and also emergency.
Realistically, we shouldn't be starting with non-playing players in round one, but we all know what can happen. Below is a table highlighting the number of games teams play on Thursday or Friday for the first five rounds of the season. These could be where you might find the easiest plays for VC and emergency loopholes.
| GAMES | CLUBS |
| --- | --- |
| 4 | Carlton |
| 3 | Richmond, Collingwood |
| 2 | Geelong, Brisbane, Melbourne |
| 1 | Western Bulldogs, North Melbourne, Adelaide, Fremantle, Gold Coast, Sydney |
| 0 | Essendon, GWS, Hawthorn, Port Adelaide, St Kilda, West Coast |
Only rounds 1-15 have been named with dates. Round 16 onwards is a floating fixture. Therefore, we will look at the teams with Thursday and Friday games once we know them. The block of six weeks of Thursday night footy is longer than last season.
DOUBLE UPS
The Scale of Hardness will be coming later in the pre-season. This will tell more of a picture of what the below means, but knowing teams who play each other twice can be important… mostly for Draft and the premiums your select in Classic.
| | | | | | | |
| --- | --- | --- | --- | --- | --- | --- |
| Adelaide | | | | | | |
| Brisbane | | | | | | |
| Carlton | | | | | | |
| Collingwood | | | | | | |
| Essendon | | | | | | |
| Fremantle | | | | | | |
| Geelong | | | | | | |
| Gold Coast | | | | | | |
| GWS Giants | | | | | | |
| Hawthorn | | | | | | |
| Melbourne | | | | | | |
| North Melbourne | | | | | | |
| Port Adelaide | | | | | | |
| Richmond | | | | | | |
| St Kilda | | | | | | |
| Sydney | | | | | | |
| West Coast | | | | | | |
| Western Bulldogs | | | | | | |
OTHER FIXTURE QUIRKS
Collingwood and Melbourne usually have the third and final bye due to timing of Queens Birthday, but they will have the second last (R14) this year as 'Gather Round' has added the extra week and the public holiday for Kings Birthday keeps the same timing. This is significant as they've often had upgrade targets coaches have pencilled in. They're a week earlier this year.
Round 5 and 9 will see Friday night double headers. The first is a big one as lockout will be at 5:10pm AEST (3:10pm AWST) as it is part of 'Gather Round' in Adelaide. The second is different as the games will overlap.
Anzac Day is on a Tuesday. This spreads the round out significantly and a key thing to know is that teams won't be announced until the day before the game (Monday evening at 6:20pm AEST). It is also worth noting that Collingwood and Essendon will play on the following Sunday. This is the shortest break teams will have this year.
On Anzac Eve there is a Monday night game. We will also have the Easter Monday and the aforementioned Kings Birthday game on a Monday. We will get extended squads announced for these on Thursday night, but they won't be finalised until Saturday at 4:30pm AEST.