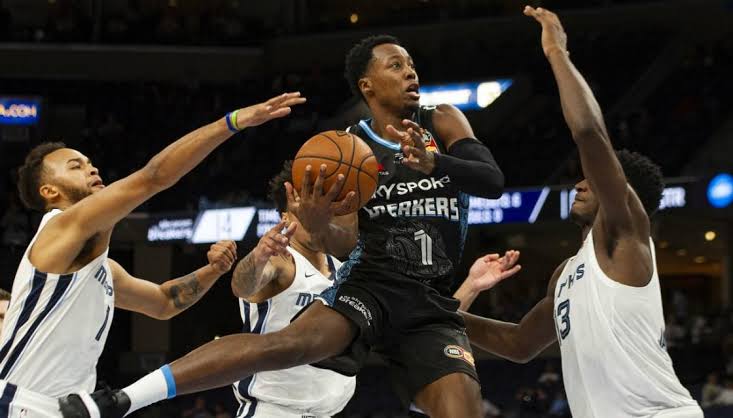 The Blokes are back after an eventful round for NBL Fantasy. There were some bullets to be dodged and we hope you managed to do so. Didi Louzada is still day to day with a back injury. We tweeted to him in Portuguese and still don't have an update. The Kings should update us later in the week, however there are a couple of half reliable reports out there that suggest he should have the green light to suite up for Fridays game against the Breakers. With the Kings playing the first game of the round, at least we will know just prior to lockout, so have plan A, B, C and Didi ready to go!
Will Magnay looks to have potentially taken Matt Hodgson's minutes at the Bullets. DJ Newbill missed a game with a shoulder injury (if you believe Cairns). Josh Boone has a busted nose and might not be available this week. Let us help you navigate the week's NBL Fantasy conundrum's ahead by reading our Round 3 article, as well as listening to our preview podcast below!
DT TALK LEAGUE UPDATE
It's not too late to join the DT Talk league which we will be posting about here each week.
League name: DT TALK
League Code: DF9ZFDUL
Join the Basketball Blokes Official League while you're there: JY2T2DWM
Currently Thomas Aitken is sitting 12th in the Universe and leading the league!
THE BLOKES AND TRADERS 
After last season's top 20 finish Boydie has lost the plot. It was the equivalent of Calvin forgetting to trade during a round. Boydie forgot to set his Captain and was left with Nick Kay after it defaulted to Kay after trading him in for Long. Only 100 points separate the group and it doesn't take much to make a big leap.
TRADE TARGETS
Nick Kay –Starting a run of 4 double game rounds in 5 weeks Nick Kay looms as a potential captain option. Despite being highlighted as having a poor game by commentary last week; Kay still managed 34 fantasy points. For perspective this is more than what Lamar Patterson averaged across the round last week despite going off for 30 against the Phoenix.
Bryce Cotton – Averaging over 50 points to start the season Bryce Cotton is a player to target with the awesome upcoming schedule. The game against Cairns could be huge if it's not a total blowout.
Scotty Hopson – Toot Toot! The Scotty hype train has arrived at the station. What does everybody do when the train arrives at the station? Everybody 'Hopson'! The Breakers play 8 games in the next 4 weeks. Hopson appears to be one of the better scoring options for the Breakers this season.
RJ Hampton – Largely considered a better NBA prospect than Lamelo Ball before the season started, RJ could be an awesome pairing on your bench with Ball starting. Hopefully you will be able to flip them around in round 5 and 6 if RJ looks like he can be playable on a double.
Ball and Brooks – The Illawarra guards still have 2 rounds of double games so it's not too late to bring them in if you don't have them.
Mitch Creek – Lamar Patterson owners will be very tempted to bring Mitch Creek in despite the poor NBL Fantasy schedule. Creek's price continues to skyrocket as he literally does it all for the Phoenix. Creek could be a player to lock away at the shooting guard position for the rest of the NBL season.
THE SCHEDULE
Teams on the double this week include:
New Zealand (4 straight rounds on the double)
Perth (3 straight rounds on the double)
Illawarra (2 straight rounds on the double)
Adelaide (2 straight rounds on the double)
Sydney (1 double before a single, but 3 doubles over the next 4 weeks)

ROUND 3 CAPTAINS
1. Nick Kay – Plays Cairns at home where they just smashed Illawarra by a lazy 27 points. Kays stats the last three times he played Cairns last season:
18, 5 and 3
17, 7 and 6
15, 8 and 6
To give some context, he scored 34 fantasy points last week from a 9 point, 7 board and a 0 assist game.
As I touched on with Cotton, there is then the Melbourne United Travel factor. We have already seen this with Adelaide after their return, where they were really slow out of the blocks and ended up with a 22 point loss to the Kings. Kay gets the number 1 spot ahead of Cotton purely based on him having the greater ability to double double and get those all important extra points!
2. Bryce Cotton – Looked UNSTOPPABLE last week. 28 points and 7 assists netted him 64 fantasy points at home in a blow out against the Hawks, and he is right back there against a 0-3 Taipans team. He will then back that up against a travelled United side fresh off their trip to the States for the NBAvNBL series. 2 very juicy match-ups!
3. LaMelo Ball – Plays the Phoenix, who are playing a very fast, fantasy friendly game right now. The Phoenix's game total in round one was 179 combined points, followed by a massive 206 in round 2. Roberson let Sobey gather 15, 6 and 7 translating to 42 fantasy points, while Trimble in round 1 helped himself to 16, 8 and 6. Then Ball has Adelaide at home who were average blokes last week. Now Balls numbers have not been huge in his last two games, yet because he pads all stats – his floor is really safe averaging 44 fps over his three games, BUT his ceiling is huge. expect a safe 70+, with the ability to go 100+ if Ball pulls out that huge game we know he is capable of.
4. AJ Ogilvy – "Buyer Beware" – This is based on IF Boone is out. AJ scored 22 and 13 with Boone in the side. Once out with that broken nose AJ was huge with 52 fantasy points, and a lot of confidence after scoring the match winning point against Cairns at home. Plays the undersized Phoenix this week, followed by Adelaide who – despite Bogut only playing 12 minutes lost the rebound count 48 to 35 last week. I hope Boone comes up, but if he is out, AJ will go big.
Any NBL conundrums or questions, be sure to hit us up on twitter @BBall_Blokes
Good luck for Round 3 legends!