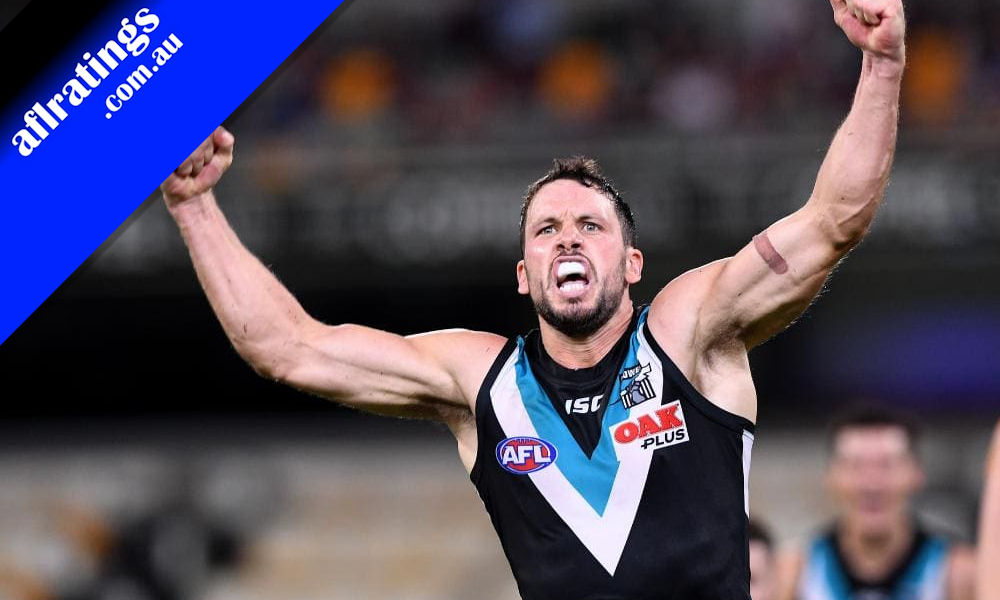 The 2019 H&A season is complete which means the fantasy research for next season has already begun, over the next few weeks we'll take a look at a 2018/19 H&A season player average comparison for each team (Minimum 10 games played each season).
Warnie, Calvin & Roy discussed some of the numbers on the final Traders podcast of the season, it is worth another listen again to hear their thoughts on certain players heading into season 2020. (Starts at 53:35).
Listen to the AFL Fantasy Podcast with The Traders at Apple Podcasts, Spotify and Google Podcasts.
PORT ADELAIDE 
Travis Boak (2019 Ave: 105.7) was used predominantly used in the midfield in the 2019 H&A season & his numbers reflected that role, he increased his average by +18.4pts compared to the 2018 H&A season. Boak did regress in the second half of the season after his blistering start, he averaged 113.7pts between Round 1-11 & 96.8pts post-Bye between Rounds 13-23.
Tom Rockliff (2019 Ave: 99.3) recorded a season high 166pts in Round 1, although there were more ceiling games to come for the remainder of the season his average of 80.4pts in his final 7 games were alarming. Rockliff underwent a post-season shoulder reconstruction, he is expected to miss most of the 2020 pre-season.
Justin Westhoff (2019 Ave: 77.3) underwent a major role adjustment with the arrival of Scott Lycett, Westhoff spent time forward, back & even on the wing which produced inconsistent scoring & eventually was out of the team by Round 14. Westhoff is likely a late round draft flyer in 2020 & could have upside if Lycett or Ladhams is injured.
Article by @aflratingsPete
2019 AFL FANTASY STATS
| PLAYER | POSITION | GAMES | AVERAGE |
| --- | --- | --- | --- |
| Boak, Travis | MID/FWD | 21 | 105.7 |
| Rockliff, Tom | MID | 18 | 99.3 |
| Wines, Ollie | MID | 12 | 93.3 |
| Byrne-Jones, Darcy | DEF | 22 | 86.3 |
| Lycett, Scott | RUC/FWD | 18 | 83.4 |
| Gray, Robbie | MID/FWD | 19 | 81.2 |
| Lienert, Jarrod | DEF | 7 | 80.4 |
| Houston, Dan | DEF | 21 | 80.3 |
| Ebert, Brad | MID/FWD | 11 | 80.1 |
| Watts, Jack | FWD | 2 | 79.5 |
| Duursma, Xavier | DEF/MID | 20 | 78.3 |
| Westhoff, Justin | RUC/FWD | 20 | 77.3 |
| Hartlett, Hamish | DEF | 11 | 76.4 |
| Amon, Karl | MID | 17 | 76.4 |
| Powell-Pepper, Sam | MID/FWD | 19 | 75.3 |
| Broadbent, Matthew | DEF | 10 | 74.6 |
| Gray, Sam | FWD | 20 | 74.5 |
| Rozee, Connor | DEF/FWD | 22 | 72.6 |
| Burton, Ryan | DEF | 16 | 72.2 |
| Ryder, Patrick | RUC/FWD | 17 | 70.2 |
| McKenzie, Trent | DEF | 1 | 70 |
| Drew, Willem | MID/FWD | 10 | 67.6 |
| Bonner, Riley | DEF | 19 | 67 |
| Ladhams, Peter | RUC | 5 | 65.6 |
| Motlop, Steven | MID/FWD | 14 | 64.6 |
| Jonas, Tom | DEF | 18 | 64.2 |
| Clurey, Tom | DEF | 21 | 58 |
| Butters, Zak | MID/FWD | 19 | 56.7 |
| Dixon, Charlie | FWD | 9 | 56.4 |
| Howard, Dougal | DEF/FWD | 15 | 54.3 |
| Atley, Joe | MID | 1 | 54 |
| Johnson, Aidyn | FWD | 1 | 52 |
| Marshall, Todd | FWD | 10 | 51.9 |
| Sutcliffe, Cameron | MID | 5 | 50.2 |
| Garner, Joel | DEF | 4 | 47.5 |
| Farrell, Kane | FWD | 7 | 45.1 |
| Frampton, Billy | RUC | 2 | 38.5 |
| Mayes, Sam | DEF | 0 | 0 |
| Trengove, Jack | DEF | 0 | 0 |
| Hewett, Cameron | MID | 0 | 0 |
| Hayes, Sam | RUC | 0 | 0 |
| Patmore, Jake | MID/FWD | 0 | 0 |
| Cox, Tobin | MID/FWD | 0 | 0 |
| Frederick, Martin | DEF/MID | 0 | 0 |
| Grundy, Riley | DEF | 0 | 0 |
| Pudney, Kai | MID | 0 | 0 |
| Woodcock, Boyd | MID/FWD | 0 | 0 |