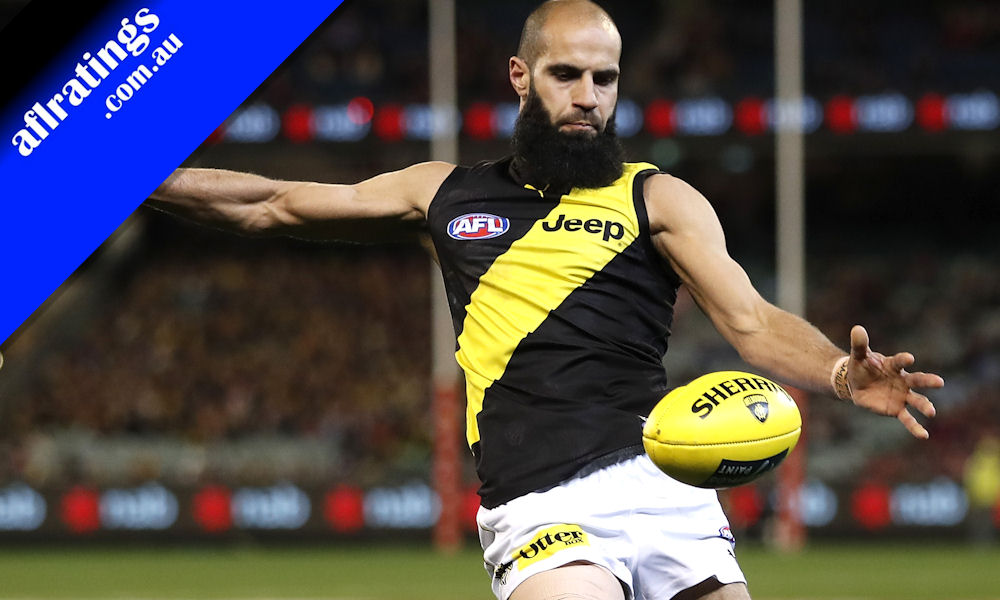 The 2019 H&A season is complete which means the fantasy research for next season has already begun, over the next few weeks we'll take a look at a 2018/19 H&A season player average comparison for each team (Minimum 10 games played each season).
Warnie, Calvin & Roy discussed some of the numbers on the final Traders podcast of the season, it is worth another listen again to hear their thoughts on certain players heading into season 2020. (Starts at 53:35).
Listen to the AFL Fantasy Podcast with The Traders at Apple Podcasts, Spotify and Google Podcasts.
RICHMOND
Bachar Houli (2019 Ave: 103.7) was a decent value selection heading into Round 1 of the season but many were concerned about his longevity holding him over an entire season, those concerns turned into a reality after injuring his hamstring in the opening game of the season and subsequently missing the next 3 games. Houli returned to average 108.2pts from his next 9 games, he averaged 98.3pts from his final 9 games of the season post the Round 14 Bye.
Dion Prestia (2019 Ave: 99.5) completed his first full pre-season since arriving at Richmond and was rewarded playing all 22 games along with a decent bump in average, he scored 100pts or more in 59.1% of games in the 2019 H&A season.
Dustin Martin (2019 Ave: 97.0) became a viable forward option this season, the slow start to the season averaging 68.7pts from his opening 3 games resulted in a decent salary drop. Martin returned from suspension in Round 5 & averaged 102.0pts from his final 17 games, he scored 120pts or more in 25.0% of games but also scored fewer than 80pts in 30.0% of games in the 2019 H&A season.
Article by @aflratingsPete
2019 AFL FANTASY STATS
| PLAYER | POSITION | GAMES | AVERAGE |
| --- | --- | --- | --- |
| Houli, Bachar | DEF | 19 | 103.2 |
| Prestia, Dion | MID | 22 | 99.4 |
| Martin, Dustin | MID/FWD | 20 | 97.1 |
| Lambert, Kane | FWD | 18 | 86.6 |
| Ellis, Brandon | DEF | 20 | 84.8 |
| Graham, Jack | MID | 14 | 82.9 |
| Vlastuin, Nick | DEF | 21 | 78.9 |
| Nankervis, Toby | RUC | 9 | 78.4 |
| Edwards, Shane | MID/FWD | 21 | 74 |
| Naish, Patrick | DEF | 2 | 73.5 |
| Soldo, Ivan | RUC | 11 | 72.5 |
| Stack, Sydney | DEF/MID | 17 | 72.3 |
| Cotchin, Trent | MID | 11 | 70.7 |
| Caddy, Josh | FWD | 15 | 70.5 |
| Short, Jayden | DEF | 12 | 70.4 |
| Castagna, Jason | FWD | 21 | 68.9 |
| Baker, Liam | FWD | 16 | 68.7 |
| Higgins, Jack | FWD | 13 | 67 |
| Coleman-Jones, Callum | RUC/FWD | 1 | 66 |
| Bolton, Shai | FWD | 16 | 63.7 |
| Mcintosh, Kamdyn | MID | 16 | 63.1 |
| Lynch, Tom J. | FWD | 22 | 62.4 |
| Ross, Jack | MID | 7 | 62 |
| Riewoldt, Jack | FWD | 10 | 58.5 |
| Smith, Derek | DEF | 2 | 58 |
| Menadue, Connor | DEF | 6 | 56.2 |
| Rioli, Daniel | FWD | 19 | 56.2 |
| Astbury, David | DEF | 19 | 56.1 |
| Grimes, Dylan | DEF | 21 | 55.7 |
| Markov, Oleg | DEF | 2 | 55 |
| Weller, Maverick | FWD | 2 | 54.5 |
| Chol, Mabior | RUC/FWD | 9 | 54.3 |
| Broad, Nathan | DEF | 21 | 50.1 |
| Butler, Dan | FWD | 7 | 48.4 |
| Balta, Noah | RUC/FWD | 13 | 47.6 |
| Garthwaite, Ryan | DEF | 7 | 41.6 |
| Rance, Alex | DEF | 1 | 24 |
| Townsend, Jacob | FWD | 1 | 17 |
| Grigg, Shaun | MID | 0 | 0 |
| Moore, Callum | FWD | 0 | 0 |
| Miller, Ben | DEF | 0 | 0 |
| Aarts, Jake | FWD | 0 | 0 |
| Collier-Dawkins, Riley | MID | 0 | 0 |
| English, Luke | MID | 0 | 0 |
| Turner, Fraser | MID | 0 | 0 |