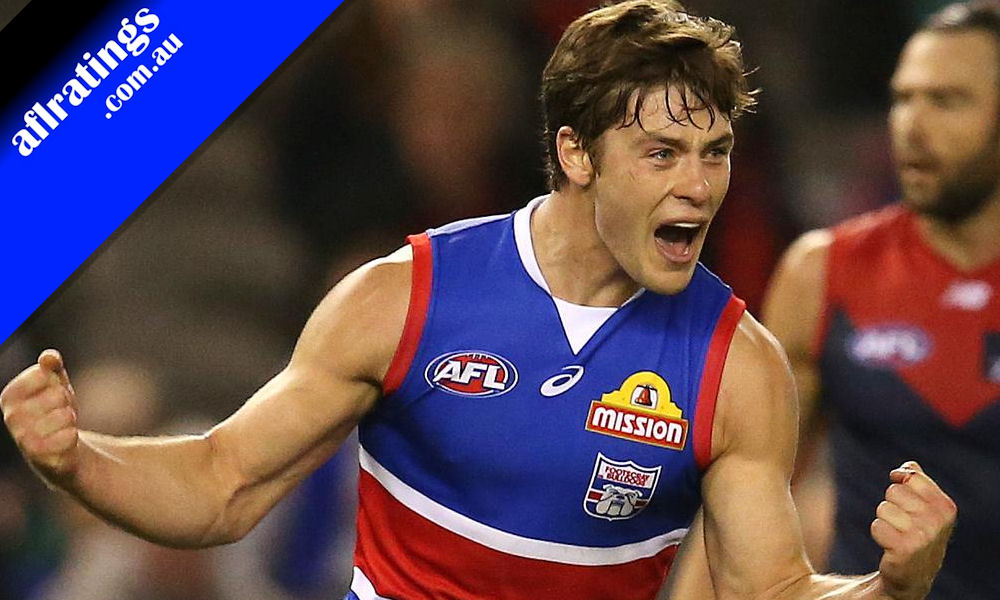 The 2019 H&A season is complete which means the fantasy research for next season has already begun, over the next few weeks we'll take a look at a 2018/19 H&A season player average comparison for each team (Minimum 10 games played each season).
Warnie, Calvin & Roy discussed some of the numbers on the final Traders podcast of the season, it is worth another listen again to hear their thoughts on certain players heading into season 2020. (Starts at 53:35).
Listen to the AFL Fantasy Podcast with The Traders at Apple Podcasts, Spotify and Google Podcasts.
WESTERN BULLDOGS
The early part of the season wasn't too kind for those that started with Josh Dunkley (2019 Ave: 111.1), he averaged just 77.5pts from his opening 6 games of the 2019 H&A season. The midfield usage increased for Dunkley and his scores reflected the change, he scored 100pts or more in 87.5% of games & 120pts or more in 56.3% of games for the remainder of the H&A season. Dunkley averaged 123.6pts in his final 16 games of the H&A season, his consistent high ceiling scores will likely make him a popular pick at Round 1 next season.
Caleb Daniel (2019 Ave: 93.8) moved to a fantasy friendly defensive scoring role which included kick-in duties in 2019, he increased his average by 15.9pts compared to the 2018 H&A season. Daniel scored 100pts or more in 35.3% of games in the H&A season.
Marcus Bontempelli (2019 Ave: 104.7) bounced back in 2019 to increase his average by 12.5pts compared to the 2018 H&A season, he averaged 121.0pts from his opening 4 games of the season & 101.5pts for the remainder of the H&A season. Bontempelli has averaged over 100pts in a H&A season twice in his career (2019 & 2017).
Article by @aflratingsPete
2019 AFL FANTASY STATS
| PLAYER | POSITION | GAMES | AVERAGE |
| --- | --- | --- | --- |
| Gaff, Andrew | MID | 20 | 111 |
| Yeo, Elliot | MID | 21 | 102.7 |
| Shuey, Luke | MID | 22 | 101 |
| Sheed, Dom | MID | 22 | 95 |
| Redden, Jack | MID | 21 | 91.8 |
| Hurn, Shannon | DEF | 19 | 91.4 |
| Sheppard, Brad | DEF | 22 | 82.4 |
| Naitanui, Nic | RUC | 3 | 72.3 |
| Darling, Jack | FWD | 22 | 71.3 |
| Hickey, Tom | RUC | 18 | 69.3 |
| Ah Chee, Brendon | FWD | 1 | 69 |
| McGovern, Jeremy | DEF | 21 | 68.8 |
| Duggan, Liam | DEF | 15 | 66.7 |
| Masten, Chris | MID | 15 | 65.9 |
| Cripps, Jamie | FWD | 17 | 64.1 |
| Watson, Francis | DEF | 2 | 64 |
| Rioli, Willie | FWD | 13 | 63.8 |
| Waterman, Jake | FWD | 11 | 61.4 |
| Jetta, Lewis | DEF | 20 | 61.2 |
| Allen, Oscar | DEF/FWD | 21 | 57.1 |
| Ryan, Liam | FWD | 22 | 56.9 |
| Cole, Thomas | DEF | 14 | 56.4 |
| Barrass, Tom | DEF | 12 | 56.3 |
| Rotham, Josh | DEF | 4 | 55.3 |
| Kennedy, Josh J. | FWD | 20 | 54.1 |
| Petruccelle, Jack | FWD | 19 | 51.1 |
| Hutchings, Mark | MID | 16 | 51 |
| Vardy, Nathan | RUC/FWD | 11 | 50.2 |
| Cameron, Jarrod | MID/FWD | 7 | 50 |
| Nelson, Jackson | DEF | 11 | 48.3 |
| Smith, Josh | FWD | 2 | 46.5 |
| Venables, Daniel | FWD | 6 | 44.7 |
| Brander, Jarrod | FWD | 2 | 38.5 |
| Schofield, Will | DEF | 12 | 36.3 |
| McInnes, Fraser | RUC | 0 | 0 |
| Brooksby, Keegan | RUC | 0 | 0 |
| Mutimer, Kurt | DEF | 0 | 0 |
| Allen, Matthew | MID/FWD | 0 | 0 |
| Ainsworth, Brayden | MID | 0 | 0 |
| Brayshaw, Hamish | MID | 0 | 0 |
| O'Neill, Xavier | MID | 0 | 0 |
| Bines, Patrick | RUC/FWD | 0 | 0 |
| Edwards, Harry | RUC | 0 | 0 |
| Foley, Luke | MID | 0 | 0 |
| Riach, Brodie | MID/FWD | 0 | 0 |
| Williams, Bailey | RUC/FWD | 0 | 0 |