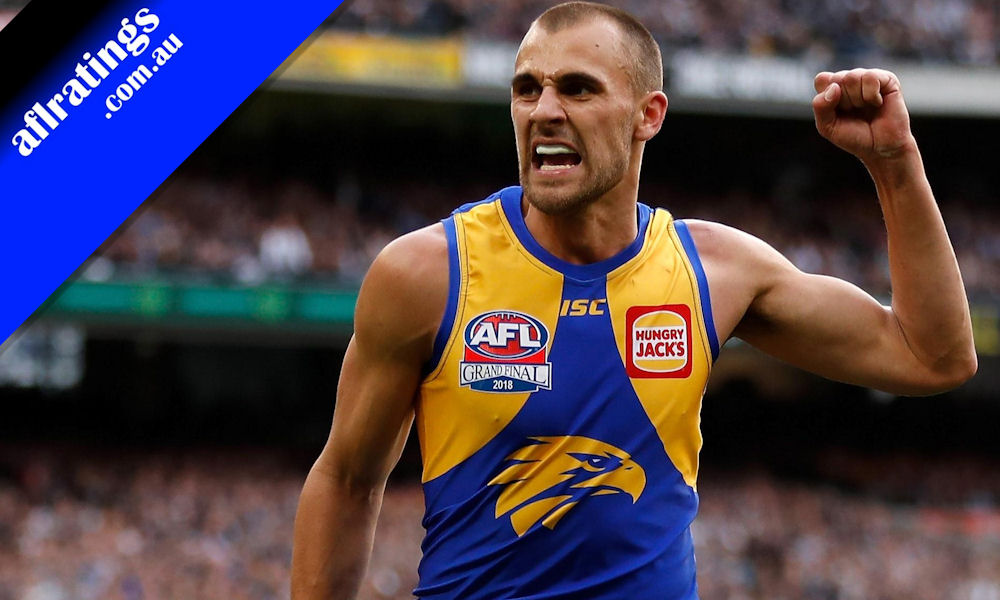 The 2019 H&A season is complete which means the fantasy research for next season has already begun, over the next few weeks we'll take a look at a 2018/19 H&A season player average comparison for each team (Minimum 10 games played each season).
Warnie, Calvin & Roy discussed some of the numbers on the final Traders podcast of the season, it is worth another listen again to hear their thoughts on certain players heading into season 2020. (Starts at 53:35).
Listen to the AFL Fantasy Podcast with The Traders at Apple Podcasts, Spotify and Google Podcasts.
WEST COAST
Those that invested in Dom Sheed (2019 Ave: 95.0) at Round 1 were well rewarded, he averaged 100.9pts from his opening 18 games of the season before falling away to average 68.3pts from his final 4 H&A games. Sheed scored 100pts or more in 40.9% of games, in the first 3 weeks of the season he increased his salary by $103K (2019 R1 Salary $539K).
Elliot Yeo (2019 Ave: 102.7) started the season slowly averaging 78.3pts from his opening 3 games, by the end of Round 6 his salary has dropped by $139K. Yeo then averaged 109.5pts for the remainder of the season.
Luke Shuey (2019 Ave: 101.0) followed on from his 2018 Norm Smith Medal in 2018 to increase his average by 13.9pts, Shuey scored 100pts or more in 50.0% of games & 120pts or more in 13.6% of games in the 2019 H&A season.
Article by @aflratingsPete
2019 AFL FANTASY STATS
| PLAYER | POSITION | GAMES | AVERAGE |
| --- | --- | --- | --- |
| Macrae, Jack | MID | 22 | 115.6 |
| Dunkley, Josh | MID/FWD | 22 | 111.1 |
| Bontempelli, Marcus | MID | 22 | 104.7 |
| Hunter, Lachie | MID | 22 | 98.6 |
| Daniel, Caleb | DEF/FWD | 17 | 93.8 |
| Lipinski, Patrick | MID/FWD | 13 | 85.5 |
| Suckling, Matthew | DEF/FWD | 18 | 84.7 |
| Johannisen, Jason | DEF | 19 | 82.1 |
| Wallis, Mitch | MID/FWD | 10 | 79.3 |
| Lloyd, Sam | MID/FWD | 22 | 77.8 |
| English, Timothy | RUC | 19 | 77.1 |
| Duryea, Taylor | DEF | 13 | 76.7 |
| Liberatore, Tom | MID | 15 | 76 |
| Crozier, Hayden | DEF | 21 | 71.6 |
| Dale, Bailey | MID/FWD | 9 | 69.4 |
| Hayes, Will | MID | 8 | 69.4 |
| Smith, Bailey | MID/FWD | 22 | 69.2 |
| McLean, Toby | MID/FWD | 18 | 68.2 |
| Naughton, Aaron | DEF/FWD | 22 | 64 |
| Williams, Bailey | DEF | 9 | 62 |
| Dickson, Tory | FWD | 17 | 57.6 |
| Trengove, Jackson | DEF/RUC | 16 | 56.9 |
| Schache, Josh | FWD | 13 | 55 |
| West, Rhylee | MID | 2 | 53.5 |
| Young, Lewis | DEF | 4 | 52.3 |
| Smith, Roarke | DEF | 5 | 52.2 |
| Richards, Ed | DEF | 19 | 50.9 |
| Young, Lachlan | DEF | 6 | 47.2 |
| Wood, Easton | DEF | 22 | 46.7 |
| Gowers, Billy | FWD | 10 | 43.7 |
| Cordy, Zaine | DEF | 22 | 40.5 |
| Roberts, Fletcher | DEF | 2 | 35 |
| Gardner, Ryan | MID/FWD | 2 | 29 |
| Morris, Dale | DEF | 1 | 22 |
| Jong, Lin | MID/FWD | 0 | 0 |
| Picken, Liam | FWD | 0 | 0 |
| Boyd, Tom | RUC/FWD | 0 | 0 |
| Webb, Lukas | FWD | 0 | 0 |
| Lynch, Brad | DEF/FWD | 0 | 0 |
| Greene, Fergus | FWD | 0 | 0 |
| Porter, Callum | MID | 0 | 0 |
| Cavarra, Ben | FWD | 0 | 0 |
| Khamis, Buku | DEF | 0 | 0 |
| Sweet, Jordon | RUC | 0 | 0 |
| Vandermeer, Laitham | DEF/MID | 0 | 0 |