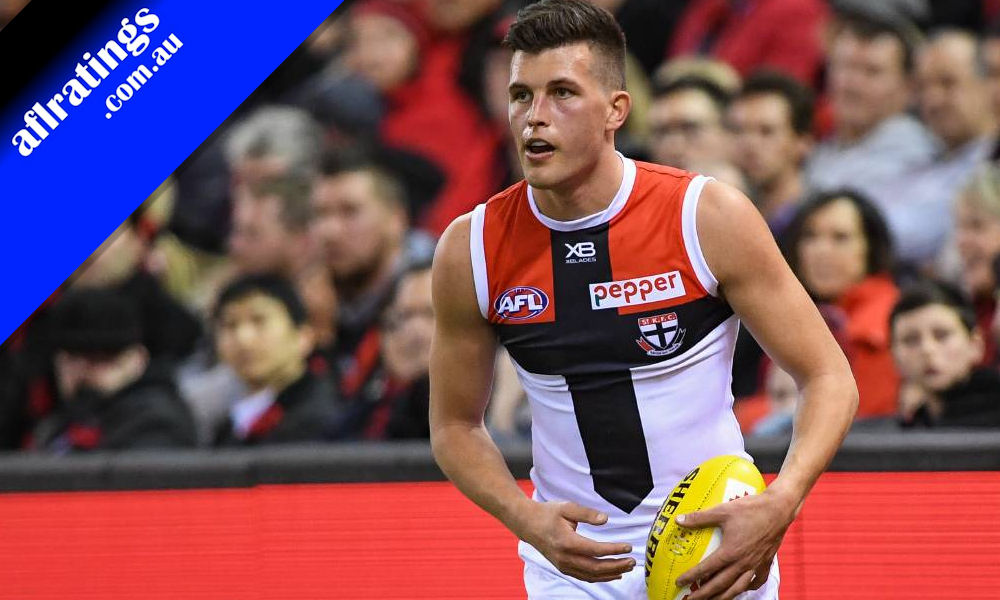 The 2019 H&A season is complete which means the fantasy research for next season has already begun, over the next few weeks we'll take a look at a 2018/19 H&A season player average comparison for each team (Minimum 10 games played each season).
Warnie, Calvin & Roy discussed some of the numbers on the final Traders podcast of the season, it is worth another listen again to hear their thoughts on certain players heading into season 2020. (Starts at 53:35).
Listen to the AFL Fantasy Podcast with The Traders at Apple Podcasts, Spotify and Google Podcasts.
ST KILDA
Rowan Marshall thrived (2019 Ave: 98.7) as solo Ruck at the Saints in 2019, once he settled into his opportunity he became a fantasy option in the forward line & eventually as Ruck cover. Ownership for Marshall early in the year may have been higher if he had played in Round 1 instead of Lewis Pierce, Marshall averaged 104.2pts in his final 13 games of the season.
Despite a solid pre-season Hunter Clark (2019 Ave: 77.1) was overlooked by former coach Alan Richardson early in the season, eventually Clark forced his was into the team and found a nice fantasy scoring position across half-back late in the year. Clark averaged 89.8pts from his final 9 games of the season, keep an eye on his role heading into the 2020 season.
Finally Jack Billings (2019 Ave: 98.5) was moved up the ground in 2019 and his scores were a reflection of the move onto a wing, all pre-season indications from the Saints were that he would move away his small forward role in 2019 and that proved to be vital for owners that started him at Round 1. Billings scored 100pts or more in 50.0% of games in the 2019 H&A season, he averaged 106.2pts from his final 11 games of the season.
Article by @aflratingsPete
2019 AFL FANTASY STATS
| PLAYER | POSITION | GAMES | AVERAGE |
| --- | --- | --- | --- |
| Marshall, Rowan | RUC/FWD | 20 | 99.2 |
| Hannebery, Dan | MID | 5 | 98.6 |
| Billings, Jack | MID/FWD | 22 | 98.5 |
| Steele, Jack | MID | 20 | 96 |
| Ross, Sebastian | MID | 22 | 94.3 |
| Dunstan, Luke | MID | 18 | 85.8 |
| Gresham, Jade | MID/FWD | 19 | 83.4 |
| Savage, Shane | DEF | 22 | 78.3 |
| Clark, Hunter | DEF | 14 | 77.4 |
| Steven, Jack | MID | 7 | 76 |
| Longer, Billy | RUC | 1 | 74 |
| Membrey, Tim | FWD | 22 | 70.5 |
| Newnes, Jack | MID/FWD | 20 | 69.7 |
| Battle, Josh | DEF/FWD | 19 | 68.4 |
| Geary, Jarryn | DEF | 5 | 67.8 |
| Acres, Blake | MID/FWD | 19 | 67.5 |
| Lonie, Jack | FWD | 13 | 66.4 |
| Sinclair, Jack | MID/FWD | 22 | 66.4 |
| Armitage, David | MID/FWD | 2 | 66 |
| Kent, Dean | FWD | 13 | 61.2 |
| Wilkie, Callum | DEF | 22 | 59.9 |
| Coffield, Nicholas | DEF | 8 | 59.5 |
| Paton, Ben | DEF | 13 | 59.5 |
| Webster, Jimmy | DEF | 8 | 59.1 |
| Bruce, Josh | FWD | 22 | 58.4 |
| Langlands, Doulton | MID/FWD | 3 | 57.7 |
| White, Brandon | DEF | 1 | 56 |
| Phillips, Ed | MID | 4 | 54.5 |
| Parker, Matthew | FWD | 17 | 53.1 |
| Carlisle, Jake | DEF | 10 | 52.9 |
| Long, Ben | FWD | 16 | 52.8 |
| Hind, Nick | MID/FWD | 11 | 48.3 |
| Pierce, Lewis | RUC | 1 | 47 |
| McKenzie, Daniel | DEF | 15 | 44.4 |
| Joyce, Darragh | DEF | 3 | 44 |
| Young, Robert | FWD | 3 | 37 |
| J. Brown, Nathan | DEF | 16 | 33.8 |
| Roberton, Dylan | DEF | 0 | 0 |
| McCartin, Paddy | FWD | 0 | 0 |
| Austin, Logan | DEF | 0 | 0 |
| Rice, Bailey | DEF | 0 | 0 |
| Clavarino, Oscar | DEF | 0 | 0 |
| Alabakis, Sam | RUC | 0 | 0 |
| Bytel, Jack | MID | 0 | 0 |
| King, Max | FWD | 0 | 0 |