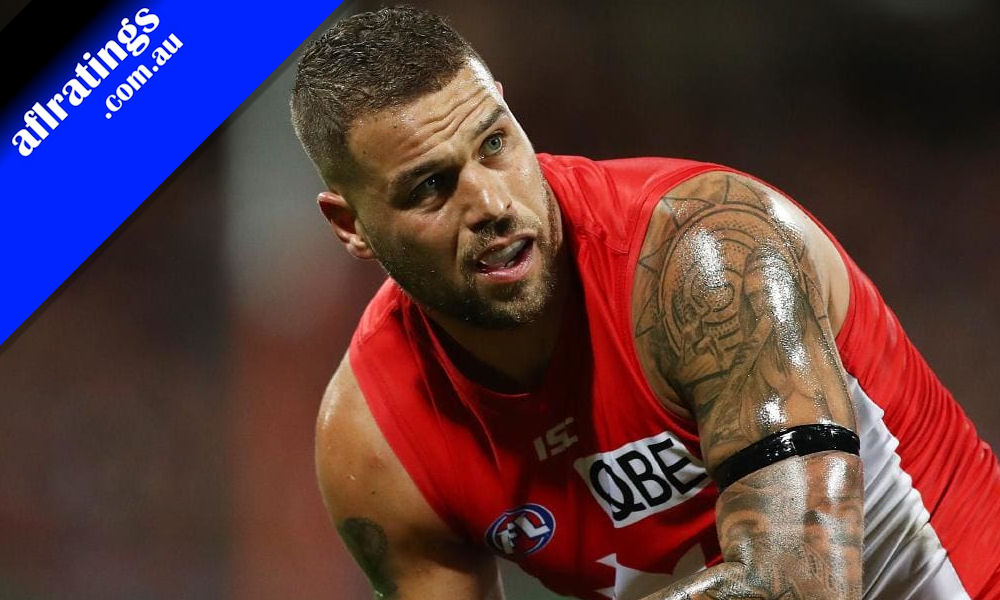 The 2019 H&A season is complete which means the fantasy research for next season has already begun, over the next few weeks we'll take a look at a 2018/19 H&A season player average comparison for each team (Minimum 10 games played each season).
Warnie, Calvin & Roy discussed some of the numbers on the final Traders podcast of the season, it is worth another listen again to hear their thoughts on certain players heading into season 2020. (Starts at 53:35).
Listen to the AFL Fantasy Podcast with The Traders at Apple Podcasts, Spotify and Google Podcasts.
SYDNEY SWANS
Jake Lloyd (2019 Ave: 106.9) elevated his a game to a higher level in 2019, the change in kick-in rules attributed to the +5.3pt increase compared to last season. Lloyd averaged 111.1pts from his opening 17 games of the 2019 H&A season, he averaged 92.4pts from his final 5 games of the season.
Oliver Florent (2019 Ave: 69.3) may be one to keep an eye on in 2020, he showed glimpses of a decent fantasy game when given an opportunity in the midfield in 2019. Florent is just about a must watch in the pre-season.
Hamstring injuries heavily impact the 2019 season for Lance Franklin (2019 Ave: 70.5), he regressed by 19.8pts compared to the 2018 H&A season. Franklin will have turned 33 prior to the start of the 2020 H&A season, he is now likely consigned to a draft relevant option only.
Article by @aflratingsPete
2019 AFL FANTASY STATS
| PLAYER | POSITION | GAMES | AVERAGE |
| --- | --- | --- | --- |
| Lloyd, Jake | DEF | 22 | 107.1 |
| Kennedy, Josh P. | MID | 19 | 100.3 |
| Parker, Luke | MID | 22 | 98.5 |
| Heeney, Isaac | MID/FWD | 22 | 89.8 |
| Jones, Zak | DEF | 17 | 82.8 |
| Dawson, Jordan | MID/FWD | 20 | 82.7 |
| Cunningham, Harry | DEF/MID | 9 | 80.7 |
| Rampe, Dane | DEF | 21 | 79.4 |
| Papley, Tom | FWD | 22 | 77.3 |
| Sinclair, Callum | RUC | 14 | 76.6 |
| Hewett, George | MID | 22 | 75.3 |
| Mills, Callum | DEF | 22 | 75.3 |
| Franklin, Lance | FWD | 10 | 70.5 |
| Reid, Sam B. | FWD | 22 | 69.3 |
| Florent, Oliver | MID | 21 | 69.3 |
| McLean, Hayden | FWD | 4 | 64.8 |
| Aliir, Aliir | DEF | 22 | 64.4 |
| Rowbottom, James | MID/FWD | 12 | 63.2 |
| McVeigh, Jarrad | DEF | 6 | 62 |
| Clarke, Ryan | DEF/MID | 14 | 62 |
| Thurlow, Jackson | DEF/MID | 9 | 58.2 |
| Rose, James | FWD | 5 | 55.8 |
| Hayward, Will | FWD | 13 | 55.8 |
| O'Riordan, Colin | DEF | 12 | 55.3 |
| Fox, Robbie | DEF/FWD | 11 | 52.4 |
| Blakey, Nick | FWD | 21 | 49.3 |
| Ronke, Ben | FWD | 13 | 48.5 |
| McCartin, Tom | FWD | 19 | 48.5 |
| Menzel, Daniel | FWD | 7 | 48.4 |
| Jack, Kieren | MID/FWD | 8 | 48.4 |
| Grundy, Heath | DEF | 1 | 48 |
| Melican, Lewis | DEF | 17 | 42.5 |
| Bell, James | MID/FWD | 2 | 37 |
| Stoddart, Ryley | FWD | 2 | 17 |
| McInerney, Justin | DEF | 1 | 13 |
| Naismith, Sam | RUC | 0 | 0 |
| Smith, Nick | DEF | 0 | 0 |
| Cameron, Darcy | RUC | 0 | 0 |
| Maibaum, Jack | DEF | 0 | 0 |
| Pink, Toby | FWD | 0 | 0 |
| Amartey, Joel | FWD | 0 | 0 |
| Ling, Matthew | MID/FWD | 0 | 0 |
| Foot, Zac | FWD | 0 | 0 |
| Reynolds, Harry | DEF | 0 | 0 |
| Tucker, Durak | DEF | 0 | 0 |
| Wicks, Samuel | MID/FWD | 0 | 0 |