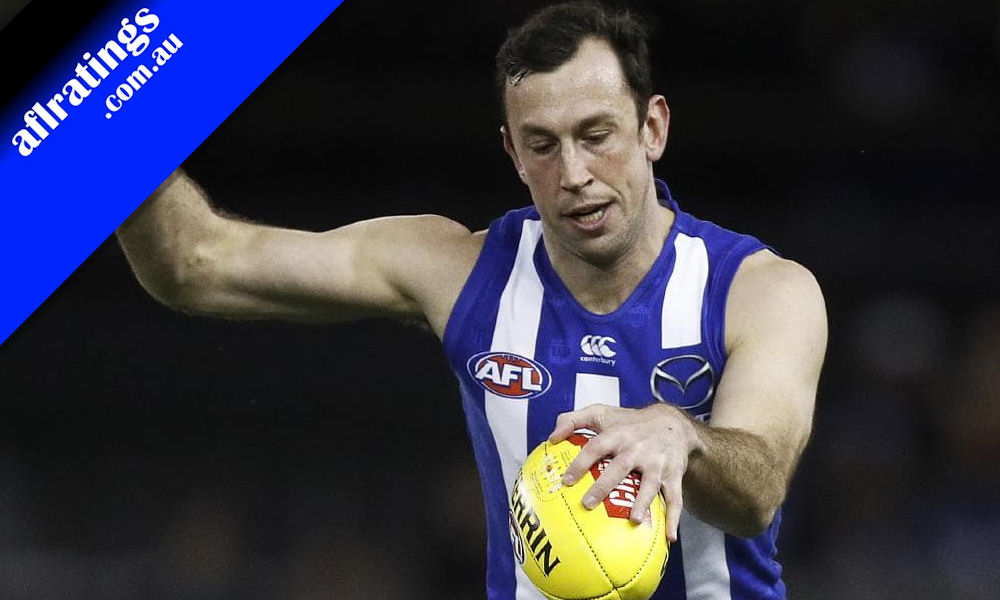 The 2019 H&A season is complete which means the fantasy research for next season has already begun, over the next few weeks we'll take a look at a 2018/19 H&A season player average comparison for each team (Minimum 10 games played each season).
Warnie, Calvin & Roy discussed some of the numbers on the final Traders podcast of the season, it is worth another listen again to hear their thoughts on certain players heading into season 2020. (Starts at 53:35).
Listen to the AFL Fantasy Podcast with The Traders at Apple Podcasts, Spotify and Google Podcasts.
NTH MELBOURNE
Jack Ziebell (2019 Ave: 89.7) played mostly forward at the start of the season & averaged 66.8pts from his opening 5 games, former coach Brad Scott finally moved him into the midfield & he thrived instantly averaging 108.8pts from his next 4 games. Brad Scott parted ways with the Kangaroos at Round 10 where Ziebell recorded just 48pts, under new coach Rhys Shaw he averaged 96.4pts from his final 12 H&A games. Ziebell increased +6.9pts compared to the 2018 H&A season, if he is projected for high usage in the midfield next season then there is likely further upside on his 2020 starting price.
Todd Goldstein (2019 Ave: 88.2) scored 100pts or more in 18.2% of games in the 2019 H&A season, he scored fewer than 80pts in an alarming 36.4% of games. Goldstein has excellent job security as starting Ruck at the Kangaroos & has just signed contract extension to remain at the club, he will turn 32 during the 2020 season. Goldstein has averaged 100pts or more in a single season only once in his career (Incl. Finals), his days as a fantasy option likely remain in draft only.
Article by @aflratingsPete
2019 AFL FANTASY STATS
| PLAYER | POSITION | GAMES | AVERAGE |
| --- | --- | --- | --- |
| Higgins, Shaun | MID | 17 | 95.3 |
| Ziebell, Jack | MID/FWD | 22 | 89.7 |
| Goldstein, Todd | RUC | 22 | 88.4 |
| Polec, Jared | MID | 22 | 88.2 |
| Dumont, Trent | MID | 21 | 88.1 |
| Cunnington, Ben | MID | 22 | 82 |
| Hall, Aaron | MID | 6 | 80.7 |
| Anderson, Jed | MID | 17 | 78.7 |
| Tyson, Dom | MID | 3 | 76.7 |
| MacMillan, Jamie | DEF | 18 | 75.1 |
| Brown, Ben | FWD | 22 | 71.9 |
| Pittard, Jasper | DEF | 22 | 71.5 |
| Atley, Shaun | DEF/FWD | 21 | 66.8 |
| Simpkin, Jy | MID/FWD | 21 | 66.8 |
| Tarrant, Robbie | DEF | 22 | 65 |
| Zurhaar, Cameron | FWD | 19 | 64 |
| Wood, Mason | FWD | 18 | 61.1 |
| Ahern, Paul | MID | 7 | 60.6 |
| Thompson, Scott D. | DEF | 19 | 59 |
| Garner, Taylor | FWD | 9 | 58.9 |
| McDonald, Luke | DEF | 13 | 58.1 |
| Turner, Kayne | FWD | 21 | 55.8 |
| Williams, Marley | DEF | 17 | 55.4 |
| Wright, Sam | DEF | 4 | 55.3 |
| Thomas, Tarryn | MID/FWD | 20 | 55.3 |
| Scott, Bailey | MID | 4 | 54 |
| Larkey, Nick | FWD | 17 | 53.8 |
| Davies-Uniacke, Luke | MID | 14 | 53.2 |
| Hrovat, Nathan | FWD | 5 | 52 |
| Campbell, Tom | RUC | 2 | 39 |
| Durdin, Sam | DEF | 10 | 36.9 |
| McKay, Ben | DEF | 3 | 32.7 |
| Hayden, Kyron | MID/FWD | 1 | 27 |
| Taylor, Curtis | MID/FWD | 2 | 24 |
| Daw, Majak | DEF | 0 | 0 |
| Jacobs, Ben | MID | 0 | 0 |
| Watson, Declan | DEF | 0 | 0 |
| Murphy, Tom | DEF | 0 | 0 |
| Walker, Will | FWD | 0 | 0 |
| Xerri, Tristan | RUC/FWD | 0 | 0 |
| Crocker, Joel | DEF/FWD | 0 | 0 |
| McKenzie, Tom | DEF/MID | 0 | 0 |
| Murphy, Red Og | MID | 0 | 0 |
| Wilkinson, Tom | FWD | 0 | 0 |
| Vickers-Willis, Ed | DEF | 1 | -1 |