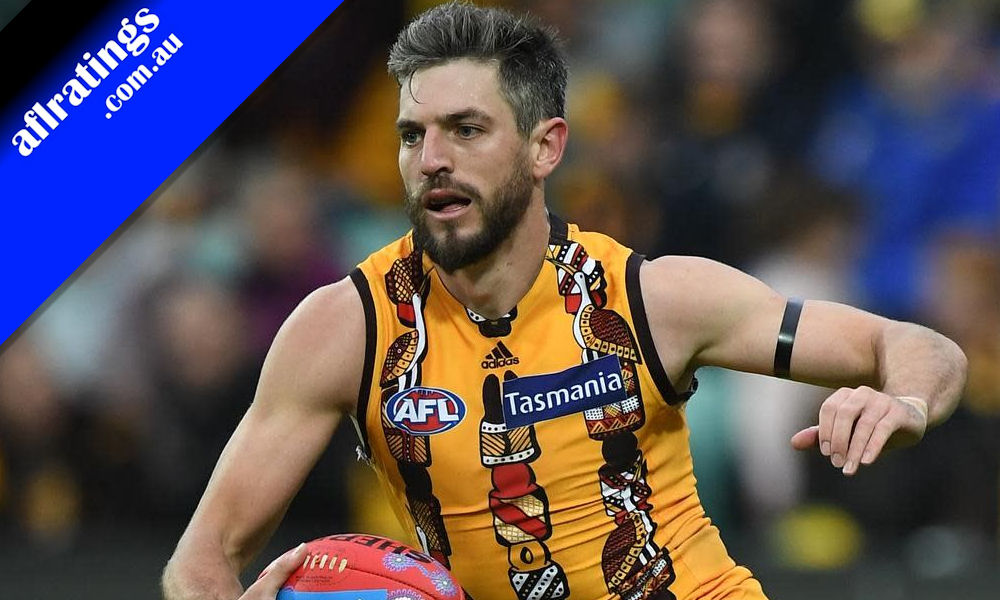 The 2019 H&A season is complete which means the fantasy research for next season has already begun, over the next few weeks we'll take a look at a 2018/19 H&A season player average comparison for each team (Minimum 10 games played each season).
Warnie, Calvin & Roy discussed some of the numbers on the final Traders podcast of the season, it is worth another listen again to hear their thoughts on certain players heading into season 2020. (Starts at 53:35).
Listen to the AFL Fantasy Podcast with The Traders at Apple Podcasts, Spotify and Google Podcasts.
HAWTHORN
Promising signs for Chad Wingard (2019 Ave: 78.4) after an injury interrupted 2019, he averaged 106.8pts from his final 4 games as a result of increased midfield usage. Many will have Wingard on a 2020 pre-season watch list, the return of Tom Mitchell next season may hinder his volume in a midfield rotation.
The Ruck situation at the Hawks may be a little distorted in 2020 with the potential of a dual Ruck set-up,  Jon Ceglar (2019 Ave: 75.7) & Ben McEvoy (2019 Ave: 83.3) played in 12 games together in 2019.
James Sicily (2019 Ave: 83.6) regressed by 12.0pts compared to the 2018 H&A season, a move forward post Bye combined with some poor outings in his defensive role late in the season contributed to his low average in 2019.
Article by @aflratingsPete
2019 AFL FANTASY STATS
| PLAYER | POSITION | GAMES | AVERAGE |
| --- | --- | --- | --- |
| O'Meara, Jaeger | MID | 21 | 99.6 |
| Worpel, James | MID/FWD | 22 | 96.7 |
| Henderson, Ricky | MID | 22 | 96.6 |
| Shiels, Liam | MID | 19 | 95.4 |
| Smith, Isaac | MID | 19 | 84.9 |
| Sicily, James | DEF | 22 | 83.6 |
| McEvoy, Ben | RUC | 19 | 83.3 |
| Wingard, Chad | MID/FWD | 14 | 78.4 |
| Gunston, Jack | FWD | 20 | 76.1 |
| Mirra, David | DEF | 4 | 75.8 |
| Ceglar, Jonathon | RUC/FWD | 15 | 75.7 |
| Cousins, James | MID | 12 | 73.3 |
| Birchall, Grant | DEF | 3 | 73 |
| Hardwick, Blake | DEF | 22 | 72.3 |
| Impey, Jarman | DEF/FWD | 17 | 71.4 |
| Burgoyne, Shaun | DEF/MID | 18 | 70.7 |
| Breust, Luke | FWD | 22 | 68.2 |
| Howe, Daniel | MID | 12 | 67.4 |
| Scully, Tom | MID | 21 | 66.1 |
| Roughead, Jarryd | FWD | 8 | 66 |
| Lewis, Mitch | FWD | 12 | 63 |
| O'Brien, Tim | DEF/FWD | 16 | 59.1 |
| Scrimshaw, Jack | DEF | 10 | 59 |
| Puopolo, Paul | FWD | 22 | 54.7 |
| Moore, Dylan | FWD | 7 | 54.1 |
| Pittonet, Marc | RUC | 2 | 54 |
| Morrison, Harry | MID/FWD | 9 | 53.7 |
| Jiath, Changkuoth | DEF | 2 | 53.5 |
| Hanrahan, Oliver | FWD | 9 | 51.7 |
| Glass, Conor | DEF | 7 | 50.9 |
| Frawley, James | DEF | 18 | 49.8 |
| Brand, Kaiden | DEF | 5 | 43.8 |
| Nash, Connor | FWD | 14 | 40.5 |
| Stratton, Ben | DEF | 19 | 37.3 |
| Mohr, Tim | DEF | 0 | 0 |
| Schoenmakers, Ryan | FWD | 0 | 0 |
| Minchington, Darren | MID | 0 | 0 |
| Mitchell, Tom | MID | 0 | 0 |
| Miles, Teia | DEF | 0 | 0 |
| Jones, Harry | DEF | 0 | 0 |
| Ross, Jackson | FWD | 0 | 0 |
| Golds, Will | MID | 0 | 0 |
| Greaves, Damon | DEF/MID | 0 | 0 |
| Koschitzke, Jacob | DEF/FWD | 0 | 0 |
| Walker, Mathew | MID/FWD | 0 | 0 |