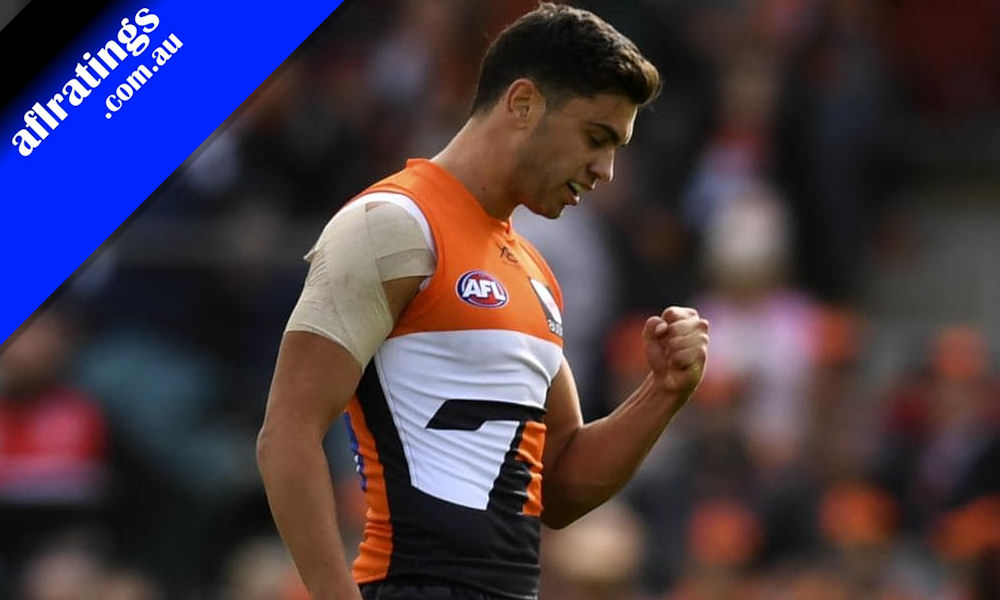 The 2019 H&A season is complete which means the fantasy research for next season has already begun, over the next few weeks we'll take a look at a 2018/19 H&A season player average comparison for each team (Minimum 10 games played each season).
Warnie, Calvin & Roy discussed some of the numbers on the final Traders podcast of the season, it is worth another listen again to hear their thoughts on certain players heading into season 2020. (Starts at 53:35).
Listen to the AFL Fantasy Podcast with The Traders at Apple Podcasts, Spotify and Google Podcasts.
GWS GIANTS
For those that were bullish on Tim Taranto (2019 Ave: 112.5) prior to the start of the 2019 H&A season, you weren't disappointed at all as he set a new career season high. Taranto scored 100pts or more in 68.2% of games, he scored 120pts or more in 31.8% of games.
Josh Kelly (2019 Ave: 116.1) was limited to just 14 games in the H&A season, despite his injury riddled year he scored 100pts or more in an elite 85.7% of games & 120pts or more in 50.0% of games. Kelly was limited by off-season injuries prior to 2019 season, he could quite easily increase his average in 2020 especially with a full pre-season.
All eyes will be on the off-season for Stephen Coniglio (2019 Ave: 103.7) after he injured his knee in Round 17 of the 2019 H&A season, it will be difficult to dismiss him if he completes a full pre-season prior to Round 1 in 2020.
Article by @aflratingsPete
2019 AFL FANTASY STATS
| PLAYER | POSITION | GAMES | AVERAGE |
| --- | --- | --- | --- |
| Kelly, Josh | MID | 14 | 115.9 |
| Whitfield, Lachie | DEF/MID | 16 | 113.8 |
| Taranto, Tim | MID | 22 | 112.5 |
| Coniglio, Stephen | MID | 15 | 103.7 |
| Greene, Toby | FWD | 16 | 98.4 |
| Hopper, Jacob | MID | 19 | 93.6 |
| Williams, Zac | DEF | 20 | 92.7 |
| Cameron, Jeremy | FWD | 20 | 87.5 |
| Shaw, Heath | DEF | 22 | 82.5 |
| Haynes, Nick | DEF | 19 | 79.4 |
| Tomlinson, Adam | MID | 22 | 77.3 |
| Perryman, Harry | DEF | 15 | 75.7 |
| Deledio, Brett | MID/FWD | 13 | 73.6 |
| Finlayson, Jeremy | DEF/FWD | 19 | 70.8 |
| de Boer, Matt | FWD | 15 | 69.9 |
| Davis, Phil | DEF | 19 | 67.6 |
| Hately, Jackson | MID | 7 | 67.6 |
| Simpson, Dawson | RUC | 9 | 65.9 |
| Mumford, Shane | RUC | 16 | 65.7 |
| Kennedy, Adam | DEF | 19 | 65.3 |
| Reid, Sam J. | DEF/FWD | 22 | 64.8 |
| Daniels, Brent | FWD | 22 | 60.6 |
| Himmelberg, Harrison | FWD | 21 | 60.5 |
| Lloyd, Daniel | FWD | 14 | 56.9 |
| Caldwell, Jye | MID | 2 | 55 |
| Buntine, Matt | DEF | 9 | 52.9 |
| Hill, Ian | MID/FWD | 7 | 50.3 |
| Cumming, Isaac | DEF | 5 | 49.8 |
| Stein, Jake | DEF | 5 | 46.4 |
| Giles-Langdon, Zac | FWD | 3 | 44 |
| Keeffe, Lachlan | DEF | 9 | 43.8 |
| Taylor, Sam | DEF | 18 | 42.9 |
| Bonar, Aiden | MID/FWD | 2 | 42 |
| Corr, Aidan | DEF | 4 | 39.8 |
| Idun, Connor | DEF/FWD | 1 | 33 |
| Sproule, Zachary | MID/FWD | 1 | 23 |
| Ward, Callan | MID | 1 | 3 |
| Sheridan, Tommy | MID | 1 | 2 |
| Buckley, Dylan | FWD | 0 | 0 |
| Patton, Jonathon | RUC/FWD | 0 | 0 |
| Flynn, Matthew | RUC | 0 | 0 |
| Buckley, Jack | MID/FWD | 0 | 0 |
| Shipley, Nicholas | MID | 0 | 0 |
| Briggs, Kieren | RUC | 0 | 0 |
| Brown, Callum M. | DEF | 0 | 0 |
| O'Halloran, Xavier | MID | 0 | 0 |