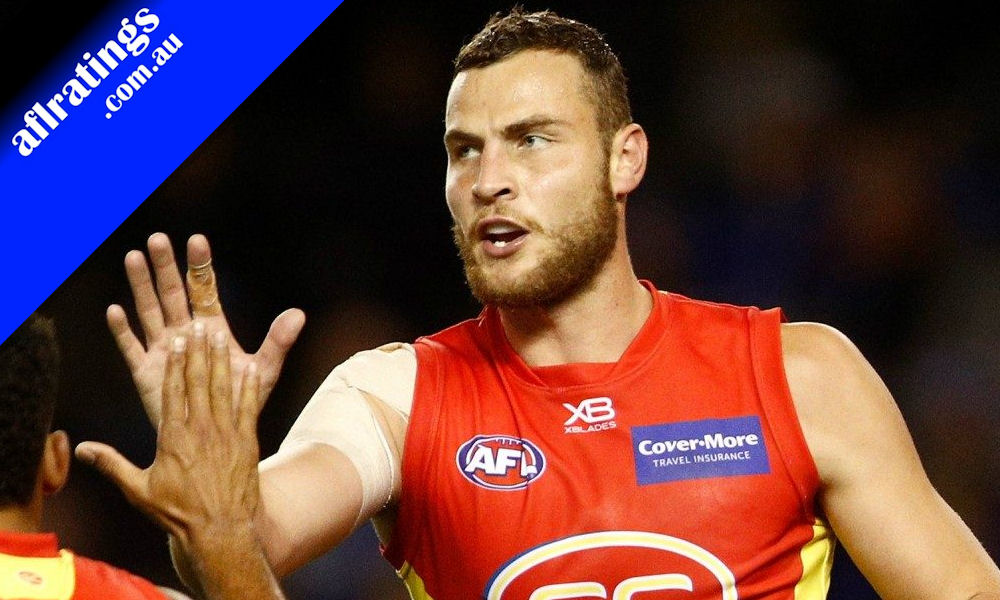 The 2019 H&A season is complete which means the fantasy research for next season has already begun, over the next few weeks we'll take a look at a 2018/19 H&A season player average comparison for each team (Minimum 10 games played each season).
Warnie, Calvin & Roy discussed some of the numbers on the final Traders podcast of the season, it is worth another listen again to hear their thoughts on certain players heading into season 2020. (Starts at 53:35).
Listen to the AFL Fantasy Podcast with The Traders at Apple Podcasts, Spotify and Google Podcasts.
GOLD COAST
Those that started with Jarrod Witts (2019 Ave: 104.4) would have been pleased he finally was able to elevate his season average over 100pts, Witts scored 100pts or more in 45.5% of games in 2019 (2018: 31.8%).
Jack Bowes (2019 Ave: 71.5) provided a glimpse of what might be possible next season, he averaged 92.8pts from his opening 5 games of the season & has steadily increased his season averaged since making his debut in 2017.
Brayden Fiorini (2019 Ave: 99.7) owners would have been flying in the first half of 2019, Fiorini averaged 109.2pts between Rounds 1-13 but fell away sharply averaging 87.1pts in his final 9 games post Bye. It is likely there is still upside in Fiorini in 2020, just a reminder he's only played 48 career games.
Article by @aflratingsPete
2019 AFL FANTASY STATS
| PLAYER | POSITION | GAMES | AVERAGE |
| --- | --- | --- | --- |
| Witts, Jarrod | RUC | 22 | 104.4 |
| Fiorini, Brayden | MID | 21 | 99.7 |
| Miller, Touk | MID | 18 | 90.9 |
| Swallow, David | MID | 22 | 87.9 |
| Brodie, Will | MID | 8 | 87.8 |
| MacPherson, Darcy | FWD | 22 | 87.3 |
| Miles, Anthony | MID | 17 | 85.4 |
| Martin, Jack | MID/FWD | 16 | 83.4 |
| Weller, Lachie | DEF/MID | 17 | 82.5 |
| Hanley, Pearce | DEF | 16 | 76.4 |
| Dawson, Jacob | MID | 6 | 72.7 |
| Bowes, Jack | MID | 15 | 71.5 |
| Harbrow, Jarrod | DEF | 21 | 70.7 |
| Wright, Peter | FWD | 17 | 68.4 |
| Ainsworth, Ben | FWD | 12 | 65.1 |
| Day, Sam | FWD | 10 | 63.7 |
| Holman, Nick | FWD | 12 | 63.3 |
| Ellis, Corey | DEF/MID | 4 | 62 |
| Ah Chee, Callum | DEF/FWD | 1 | 62 |
| Joyce, Jesse | DEF | 16 | 58.7 |
| Sexton, Alex | FWD | 22 | 58.6 |
| Murdoch, Jordan | DEF/MID | 14 | 55.8 |
| Powell, Wil | MID/FWD | 13 | 54.9 |
| Ballard, Charlie | DEF | 21 | 54.5 |
| Lemmens, Sean | FWD | 8 | 52.9 |
| Lukosius, Jack | FWD | 21 | 52.3 |
| Collins, Samuel | DEF | 9 | 48.3 |
| Young, Aaron | FWD | 2 | 47.5 |
| Horlin-Smith, George | MID | 7 | 46.7 |
| Rischitelli, Michael | DEF | 7 | 46.1 |
| Graham, Caleb | DEF/RUC | 3 | 45.7 |
| Heron, Jacob | DEF/FWD | 5 | 45.4 |
| Corbett, Joshua | FWD | 9 | 44 |
| Scheer, Brad | MID/FWD | 3 | 43 |
| King, Ben | FWD | 14 | 39.1 |
| Hombsch, Jack | DEF | 18 | 39 |
| Burgess, Christopher | DEF/FWD | 14 | 35.6 |
| Schoenfeld, Joshua | MID | 1 | 31 |
| Nicholls, Tom | RUC | 0 | 0 |
| Thompson, Rory | DEF | 0 | 0 |
| Leslie, Jack | DEF | 0 | 0 |
| Wigg, Harrison | DEF | 0 | 0 |
| Crossley, Brayden | FWD | 0 | 0 |
| Nutting, Connor | DEF/FWD | 0 | 0 |
| McLennan, Jez | DEF | 0 | 0 |
| Rankine, Izak | FWD | 0 | 0 |