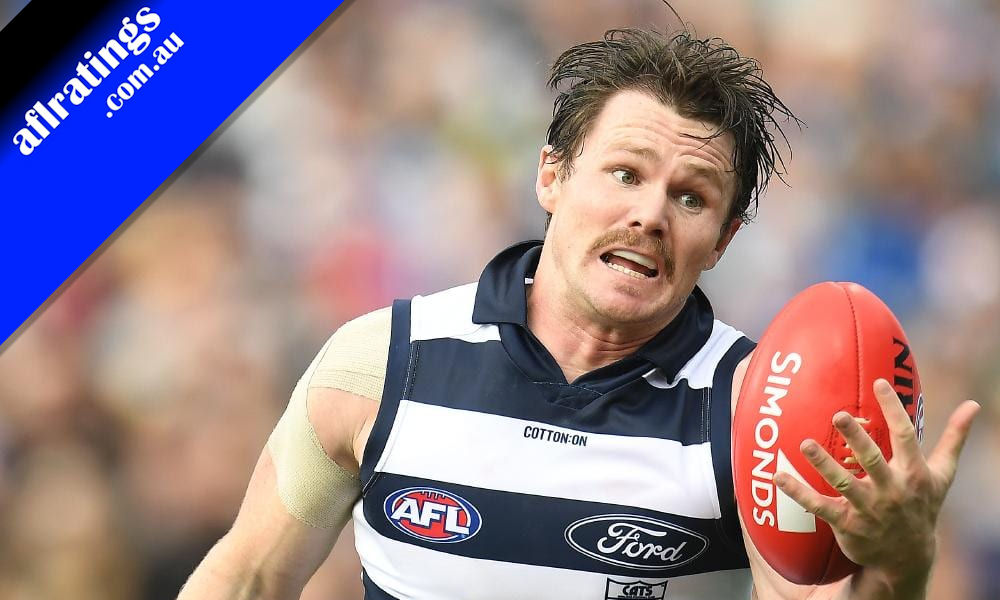 The 2019 H&A season is complete which means the fantasy research for next season has already begun, over the next few weeks we'll take a look at a 2018/19 H&A season player average comparison for each team (Minimum 10 games played each season).
Warnie, Calvin & Roy discussed some of the numbers on the final Traders podcast of the season, it is worth another listen again to hear their thoughts on certain players heading into season 2020. (Starts at 53:35).
Listen to the AFL Fantasy Podcast with The Traders at Apple Podcasts, Spotify and Google Podcasts.
GEELONG
The drop in fantasy production by Joel Selwood (2019 Ave: 78.7) was alarming, having limped to the end of the season in previous years Selwood spent the majority of the 2019 H&A season starting on a wing. The upcoming trade period for the Cats may well determine midfield opportunities for Selwood in 2020, he will turn 32 next season.
Tom Stewart (2019 Ave: 95.0) played mostly as an intercepting defender for Geelong in the 2019 H&A season, he scored 100pts or more in 36.4% of games & fewer than 80pts in just 9.1% of games in the H&A season.
Despite a few setbacks in 2019 Patrick Dangerfield (2019 Ave: 107.5) slightly increased his average compared to the 2018 H&A season, Dangerfield will turn 30 in April & is at that age for fantasy classic where a full 2020 pre-season is likely a must.
Article by @aflratingsPete
2019 AFL FANTASY STATS
| PLAYER | POSITION | GAMES | AVERAGE |
| --- | --- | --- | --- |
| Dangerfield, Patrick | MID/FWD | 21 | 107.5 |
| Duncan, Mitch | MID | 22 | 105.6 |
| Kelly, Timothy | MID/FWD | 22 | 96.9 |
| Stewart, Tom | DEF | 22 | 95 |
| Ablett, Gary | MID/FWD | 21 | 88.7 |
| Narkle, Quinton | FWD | 3 | 84.7 |
| Selwood, Scott | MID | 2 | 83.5 |
| Constable, Charlie | MID | 7 | 83.4 |
| Stanley, Rhys | RUC | 16 | 81.3 |
| Selwood, Joel | MID | 20 | 78.9 |
| Menegola, Sam | MID/FWD | 9 | 77.6 |
| Dahlhaus, Luke | MID/FWD | 21 | 77.4 |
| Guthrie, Cameron | DEF/MID | 18 | 76.7 |
| Smith, Zac | RUC | 3 | 73.3 |
| Abbott, Ryan | RUC | 1 | 73 |
| Parfitt, Brandan | FWD | 17 | 72.2 |
| Hawkins, Tom | FWD | 22 | 70.9 |
| Tuohy, Zach | DEF | 15 | 68.3 |
| Blicavs, Mark | DEF | 22 | 68 |
| Miers, Gryan | FWD | 22 | 66.7 |
| Parsons, James | FWD | 4 | 65.5 |
| Clark, Jordan | DEF/MID | 18 | 63.1 |
| O'Connor, Mark | DEF | 20 | 59.2 |
| Taylor, Harry | DEF | 21 | 57.4 |
| Henderson, Lachie | DEF | 5 | 56 |
| Guthrie, Zach | DEF | 1 | 56 |
| Fort, Darcy | RUC | 3 | 54.7 |
| Atkins, Tom | MID/FWD | 20 | 53.2 |
| Bews, Jed | DEF | 9 | 50.4 |
| Ratugolea, Esava | FWD | 17 | 50.1 |
| Rohan, Gary | FWD | 18 | 49.2 |
| Fogarty, Lachlan | FWD | 2 | 49 |
| Kolodjashnij, Jake | DEF | 20 | 48.3 |
| Henry, Jack | DEF | 20 | 43.9 |
| Cockatoo, Nakia | FWD | 0 | 0 |
| Cunico, Jordan | MID | 0 | 0 |
| Buzza, Wylie | FWD | 0 | 0 |
| Jones, Jamaine | FWD | 0 | 0 |
| Simpson, Sam | MID | 0 | 0 |
| Brownless, Oscar | MID | 0 | 0 |
| Jarvis, Ben | RUC/FWD | 0 | 0 |
| Kennerley, Jacob | MID | 0 | 0 |
| Kreuger, Nathan | FWD | 0 | 0 |
| Okunbor, Stefan | DEF/FWD | 0 | 0 |
| Schlensog, Blake | RUC/FWD | 0 | 0 |
| Tarca, Jake | FWD | 0 | 0 |