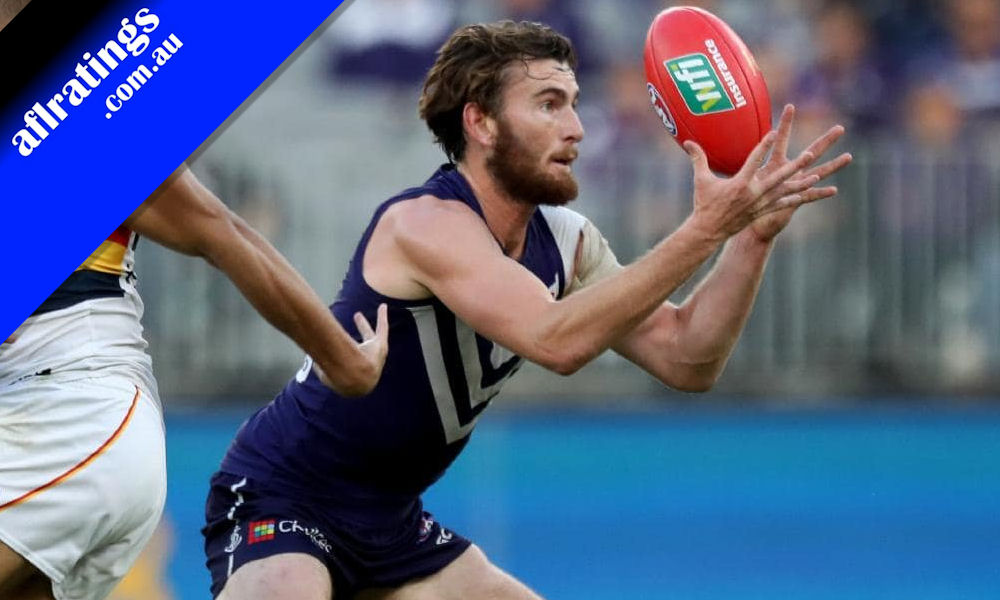 The 2019 H&A season is complete which means the fantasy research for next season has already begun, over the next few weeks we'll take a look at a 2018/19 H&A season player average comparison for each team (Minimum 10 games played each season).
Warnie, Calvin & Roy discussed some of the numbers on the final Traders podcast of the season, it is worth another listen again to hear their thoughts on certain players heading into season 2020. (Starts at 53:35).
Listen to the AFL Fantasy Podcast with The Traders at Apple Podcasts, Spotify and Google Podcasts.
FREMANTLE
Michael Walters (2019 Ave: 93.5) averaged a career season high in 2019, increased midfield opportunities were reflected in his 13.5pt increase compared to 2018.
Many were waiting around for Connor Blakely (2019 Ave: 73.8) to play his opening game of the season after injury impacted the early part of the year, his role was varied which meant an inconsistent average. A new coach at the Dockers in 2020 may result in a value opportunity, Blakely is a must watch in the pre-season.
Once given an opportunity in the midfield Andrew Brayshaw (2019 Ave: 69.5) started to see an increase in his average, another full pre-season and year 3 may be a breakout.
Article by @aflratingsPete
2019 AFL FANTASY STATS
| PLAYER | POSITION | GAMES | AVERAGE |
| --- | --- | --- | --- |
| Fyfe, Nat | MID | 20 | 105 |
| Walters, Michael | MID/FWD | 22 | 93.5 |
| Langdon, Ed | MID | 22 | 92.1 |
| Hill, Bradley | MID | 22 | 88.7 |
| Taberner, Matt | FWD | 9 | 86.4 |
| Mundy, David | MID/FWD | 22 | 80.5 |
| Ryan, Luke | DEF | 18 | 80.1 |
| Lobb, Rory | RUC/FWD | 15 | 79.3 |
| Jones, Scott | RUC/FWD | 1 | 78 |
| Blakely, Connor | DEF | 14 | 74.8 |
| Conca, Reece | MID | 22 | 74.7 |
| Sandilands, Aaron | RUC | 6 | 72.7 |
| Tucker, Darcy | MID/FWD | 22 | 72.6 |
| Brayshaw, Andrew | MID/FWD | 22 | 69.5 |
| Darcy, Sean | RUC | 11 | 68.8 |
| Hogan, Jesse | FWD | 12 | 66.1 |
| Duman, Taylin | DEF | 14 | 65.9 |
| Wilson, Nathan | DEF | 18 | 64.8 |
| Matera, Brandon | FWD | 20 | 62 |
| Cerra, Adam | DEF/FWD | 20 | 60.8 |
| Colyer, Travis | MID/FWD | 10 | 60.4 |
| Hughes, Ethan | DEF | 21 | 58.1 |
| McCarthy, Cam | FWD | 12 | 56.3 |
| Switkowski, Samuel | FWD | 18 | 56.3 |
| Crowden, Mitch | FWD | 5 | 56.2 |
| Banfield, Bailey | MID/FWD | 7 | 55.1 |
| Bewley, Brett | MID/FWD | 7 | 54.3 |
| Logue, Griffin | DEF | 10 | 50.5 |
| Ballantyne, Hayden | FWD | 3 | 48.3 |
| Cox, Brennan | FWD | 8 | 47.8 |
| Schultz, Lachlan | FWD | 7 | 47.4 |
| Hamling, Joel | DEF | 22 | 46.5 |
| Nyhuis, Ryan | DEF | 5 | 45.6 |
| Pearce, Alex | DEF | 11 | 43.5 |
| Carter, Jason | DEF/MID | 2 | 38.5 |
| Hill, Stephen | DEF | 3 | 37.7 |
| Dixon, Hugh | FWD | 1 | 35 |
| Bennell, Harley | MID | 0 | 0 |
| Kersten, Shane | DEF | 0 | 0 |
| Giro, Stefan | FWD | 0 | 0 |
| Meek, Lloyd | RUC | 0 | 0 |
| North, Thomas | MID | 0 | 0 |
| Sturt, Sam | FWD | 0 | 0 |
| Valente, Luke | MID | 0 | 0 |
| Watson, Tobe | DEF/MID | 0 | 0 |