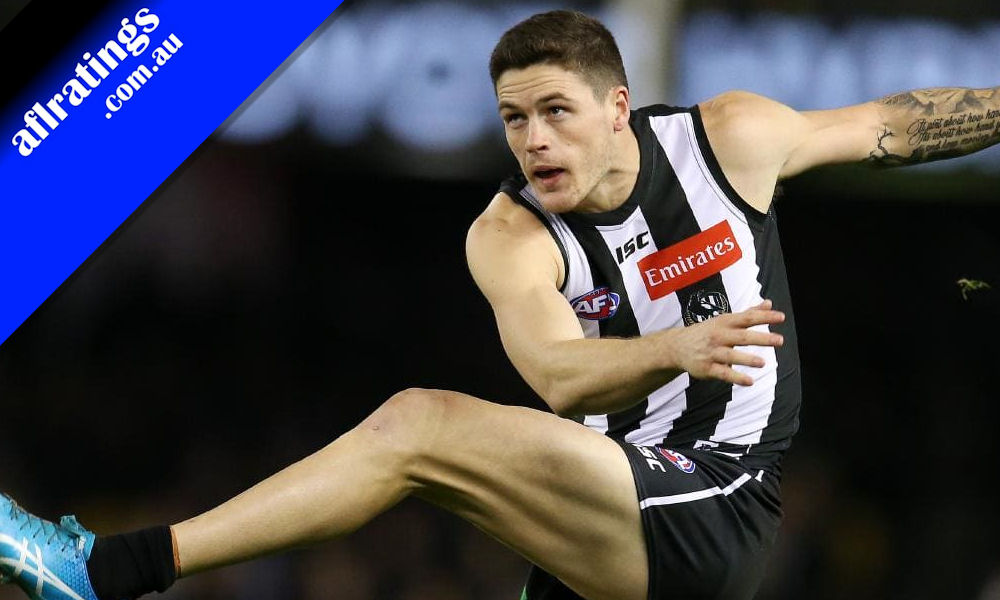 The 2019 H&A season is complete which means the fantasy research for next season has already begun, over the next few weeks we'll take a look at a 2018/19 H&A season player average comparison for each team (Minimum 10 games played each season).
Warnie, Calvin & Roy discussed some of the numbers on the final Traders podcast of the season, it is worth another listen again to hear their thoughts on certain players heading into season 2020. (Starts at 53:35).
Listen to the AFL Fantasy Podcast with The Traders at Apple Podcasts, Spotify and Google Podcasts.
COLLINGWOOD
After a significantly injury interrupted year Taylor Adams (2019 Ave: 95.1) will be high on the radar for many in the 2020 pre-season, Adams managed just 10 games in the 2019 H&A season and does have a questionable injury history having only completed one full 22 game season over his 8 year career (2017 Ave: 114.5, 22 games).
Adam Treloar (2019 Ave: 113.3) was extremely consistent over the 2019 H&A season, he scored 100pts or more in 81.8% of games, he scored 120pts or more in 40.9% of games.
Brodie Grundy (2019 Ave: 122.0) was very reliable at Ruck position in the 2019 H&A season, he scored 100pts or more in 72.7% of games but more importantly scored 120pts or more in 50.0% of games. Nothing to suggest any drop off in 2020 but the price tag will be significant.
Article by @aflratingsPete
2019 AFL FANTASY STATS
| PLAYER | POSITION | GAMES | AVERAGE |
| --- | --- | --- | --- |
| Grundy, Brodie | RUC | 22 | 122.1 |
| Treloar, Adam | MID | 22 | 113.1 |
| Pendlebury, Scott | MID | 22 | 103.6 |
| Sidebottom, Steele | MID | 21 | 98.5 |
| Crisp, Jack | DEF | 22 | 97.7 |
| Adams, Taylor | MID | 10 | 95.1 |
| Phillips, Tom | MID | 22 | 90.5 |
| Beams, Dayne | MID | 9 | 88.7 |
| De Goey, Jordan | FWD | 16 | 84.3 |
| Stephenson, Jaidyn | FWD | 12 | 80.7 |
| Mayne, Chris | MID | 19 | 77.8 |
| Maynard, Brayden | DEF | 22 | 76.8 |
| Hoskin-Elliott, Will | FWD | 17 | 75.4 |
| Mihocek, Brody | FWD | 22 | 72.8 |
| Howe, Jeremy | DEF | 19 | 69.4 |
| Noble, John | MID | 3 | 68.3 |
| Wills, Rupert | MID | 7 | 67.9 |
| Elliott, Jamie | FWD | 14 | 67.6 |
| Wells, Daniel | FWD | 1 | 67 |
| Aish, James | DEF/MID | 13 | 66.9 |
| Brown, Callum | FWD | 20 | 65.2 |
| Langdon, Tom | DEF | 9 | 65.1 |
| Greenwood, Levi | DEF | 16 | 63.5 |
| Daicos, Josh | FWD | 5 | 63.2 |
| Quaynor, Isaac | DEF | 4 | 60.8 |
| Thomas, Josh | FWD | 20 | 59.1 |
| Roughead, Jordan | RUC/FWD | 22 | 55.5 |
| Moore, Darcy | DEF/FWD | 15 | 55.1 |
| Reid, Ben | FWD | 7 | 54.7 |
| Varcoe, Travis | FWD | 16 | 53.7 |
| Scharenberg, Matthew | DEF | 7 | 51.6 |
| Cox, Mason | FWD | 14 | 51.5 |
| Sier, Brayden | MID | 6 | 50.7 |
| Crocker, Benjamin | FWD | 3 | 44.7 |
| Madgen, Jack | DEF | 4 | 44 |
| Appleby, Flynn | DEF | 1 | 25 |
| Broomhead, Tim | MID/FWD | 0 | 0 |
| Goldsack, Tyson | DEF | 0 | 0 |
| Dunn, Lynden | DEF | 0 | 0 |
| Murray, Sam | DEF | 0 | 0 |
| Lynch, Max | RUC | 0 | 0 |
| Brown, Tyler | DEF | 0 | 0 |
| Murphy, Nathan | DEF | 0 | 0 |
| Bosenavulagi, Atu | MID/FWD | 0 | 0 |
| Keane, Mark | DEF/FWD | 0 | 0 |
| Kelly, Will | DEF | 0 | 0 |
| Tohill, Anton | DEF/FWD | 0 | 0 |