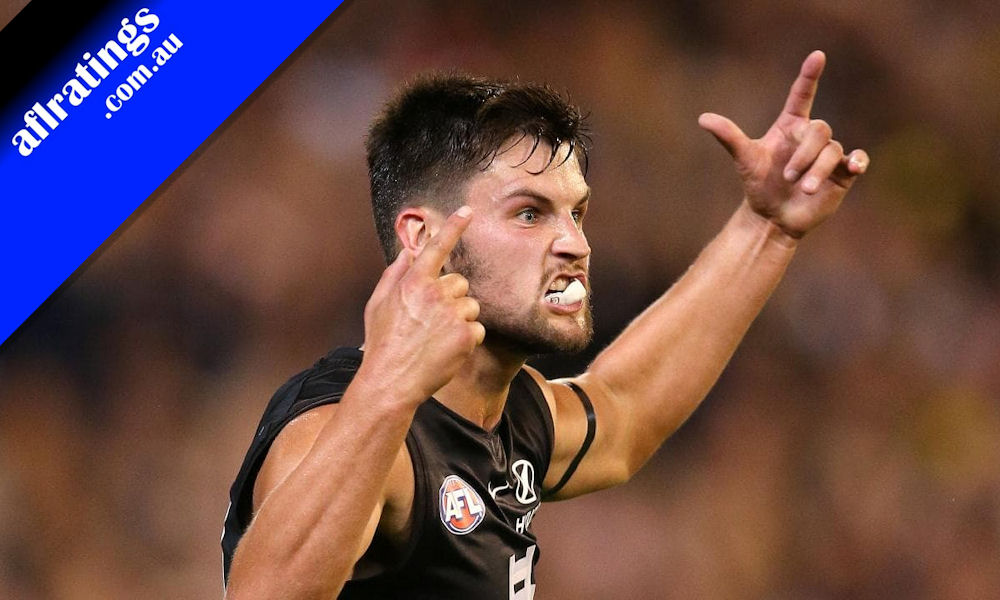 The 2019 H&A season is complete which means the fantasy research for next season has already begun, over the next few weeks we'll take a look at a 2018/19 H&A season player average comparison for each team (Minimum 10 games played each season).
Warnie, Calvin & Roy discussed some of the numbers on the final Traders podcast of the season, it is worth another listen again to hear their thoughts on certain players heading into season 2020. (Starts at 53:35).
Listen to the AFL Fantasy Podcast with The Traders at Apple Podcasts, Spotify and Google Podcasts.
CARLTON
It was a bumpy ride early for those that invested in Nic Newman (2019 Ave: 93.4), he opened with 115pts in Round 1 then proceeded to average 78.2pts from his next 5 games before missing 2 games through injury. Newman bounced back in a strong way by averaging 97.2pts from his final 14 games which included averaging 103.8pts in his final 10 games post Bye, based on his late season form he could be considered value at Round 1 next season.
Patrick Cripps (2019 Ave: 101.4) was enormous in the early rounds of the 2019 H&A season but the volatility in scoring hampered his overall season average, he scored 120pts or more in 30.0% of games but also scored fewer than 80pts in 30.0% of games. If the Blues continue to improve in 2020 then opposition teams may look to lock down further on Cripps, his price tag will still be enticing given his ability to hit multiple high ceiling games.
One to keep an eye on during the 2020 pre-season will be Ed Crnow (2019 Ave: 89.9), he averaged 79.4pts from his opening 13 games of 2019 but turned that around when placed back into the midfield under coach David Teague to average 105.0pts from his final 9 games.
Article by @aflratingsPete
2019 AFL FANTASY STATS
| PLAYER | POSITION | GAMES | AVERAGE |
| --- | --- | --- | --- |
| Cripps, Patrick | MID | 20 | 101.5 |
| Murphy, Marc | MID | 19 | 95.9 |
| Newman, Nic | DEF | 20 | 93.4 |
| Walsh, Sam | MID | 22 | 92.2 |
| Curnow, Ed | MID/FWD | 22 | 89.9 |
| Kreuzer, Matthew | RUC | 15 | 82.7 |
| Phillips, Andrew | RUC | 5 | 80.4 |
| Simpson, Kade | DEF | 18 | 80.2 |
| Thomas, Dale | DEF | 20 | 79.6 |
| Petrevski-Seton, Sam | MID/FWD | 22 | 77.7 |
| Setterfield, Will | MID/FWD | 18 | 67.1 |
| Cuningham, David | DEF | 9 | 66.3 |
| Silvagni, Jack | DEF/FWD | 17 | 66.2 |
| Casboult, Levi | DEF/FWD | 20 | 65.3 |
| Curnow, Charlie | FWD | 11 | 65 |
| Fisher, Zac | MID/FWD | 21 | 63.2 |
| Gibbons, Michael | MID/FWD | 21 | 62.4 |
| Plowman, Lachie | DEF | 21 | 62 |
| McKay, Harry | FWD | 20 | 61.5 |
| Lobbe, Matthew | RUC | 2 | 60 |
| Marchbank, Caleb | DEF | 13 | 56.4 |
| Weitering, Jacob | DEF | 20 | 56.2 |
| Dow, Paddy | MID/FWD | 19 | 53.5 |
| O'Brien, Lochie | MID | 17 | 53.1 |
| McGovern, Mitch | FWD | 16 | 48.8 |
| Kennedy, Matthew | MID | 10 | 48.4 |
| Garlett, Jarrod | FWD | 2 | 48 |
| Lang, Darcy | MID/FWD | 8 | 45.9 |
| Stocker, Liam | DEF/MID | 5 | 45.2 |
| Jones, Liam | DEF | 13 | 44.9 |
| Williamson, Tom | DEF | 2 | 44.5 |
| Schumacher, Angus | DEF | 1 | 43 |
| Fasolo, Alex | FWD | 3 | 33.3 |
| Polson, Cameron | FWD | 3 | 25.3 |
| Goddard, Hugh | DEF | 2 | 23.5 |
| Macreadie, Harrison | DEF | 1 | 8 |
| Docherty, Sam | DEF | 0 | 0 |
| Bugg, Tomas | MID | 0 | 0 |
| Pickett, Jarrod | FWD | 0 | 0 |
| Kerr, Pat | FWD | 0 | 0 |
| Lebois, Kym | FWD | 0 | 0 |
| De Koning, Tom | RUC/FWD | 0 | 0 |
| O'Dwyer, Finbar | FWD | 0 | 0 |
| Owies, Matthew | MID/FWD | 0 | 0 |
| Silvagni, Ben | DEF/FWD | 0 | 0 |